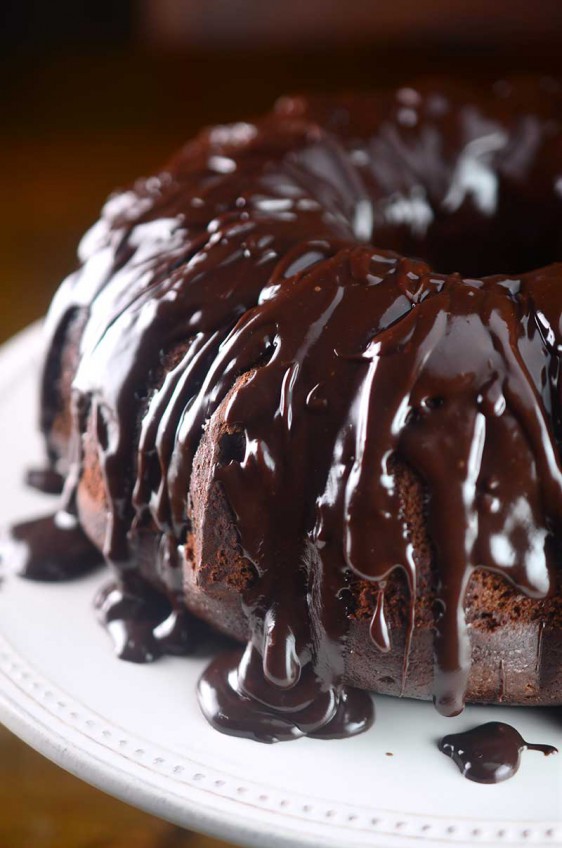 Triple Chocolate Bundt Cake
Chocolate cake studded with chocolate chips and drizzled with chocolate ganache. This Triple Chocolate Bundt cake is decadent, rich and luscious.

Because it's Monday and every Monday needs chocolate, I am sharing this chocolate lusciousness with you. Triple Chocolate Bundt Cake is rich, decadent and loaded with chocolate. Chocolate cake, chocolate chips and a heavenly chocolate ganache. It's a chocolate lover's dream and was quite the labor of love.
What do I mean by labor of love? Well, I made this cake 4 times in 3 days.
The first time I made it 1/4 of the cake stuck in the pan. Turns out my combo of butter and flour didn't work. Not only did it stick in the pan but the flour left unappetizing white spots all over the cake.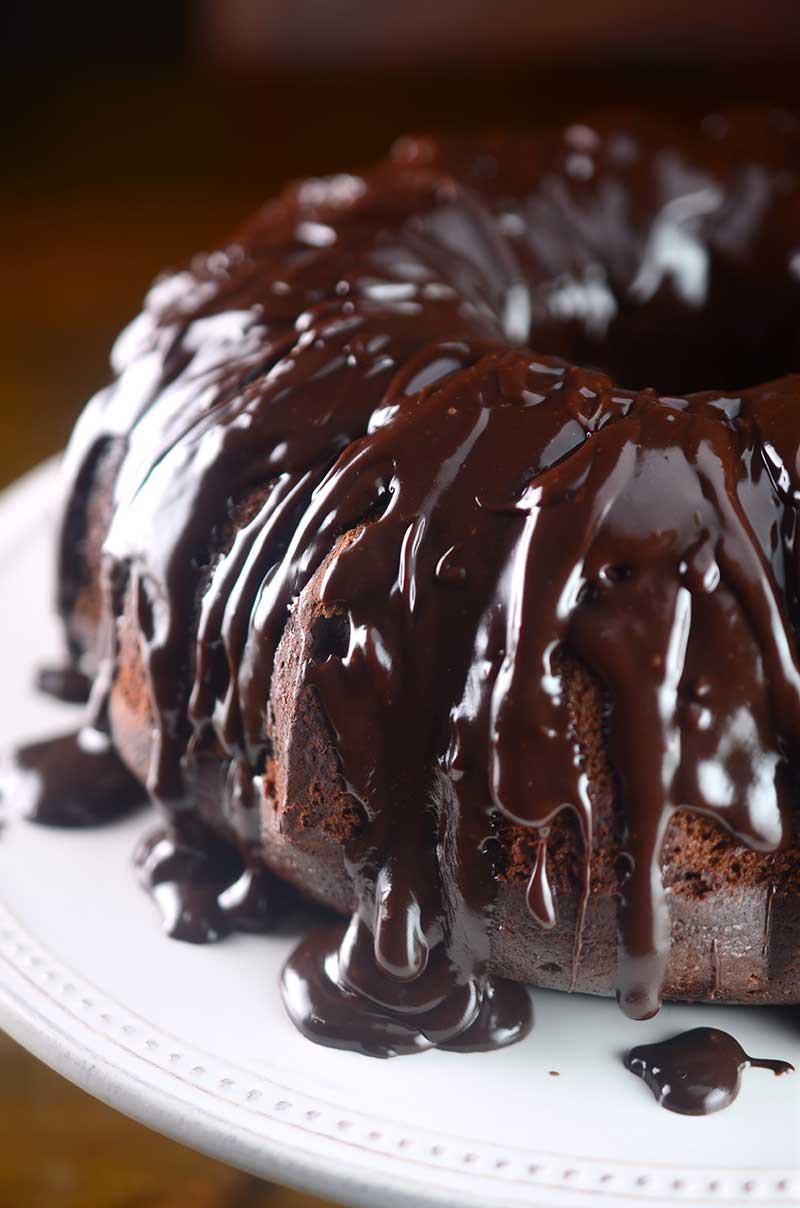 The second time I made it I used non-stick spray. No white spots, but half the cake stayed inside.
The third time I made it, I had to try making it without baking soda. Why? Because I have little sous chefs. And sometimes little sous chefs dump out your entire box of baking soda mid mixing process leaving you with none. And because I was leaving out the baking soda and adding more baking powder to make up the difference, I also swapped out the buttermilk for regular milk.
NO GO.
The cake rose and was moist but even with the decadent layer of chocolate ganache drizzled over the top it just didn't have much of a flavor at all.
Not one to give up, especially when it comes to chocolate cake, I tried again. This time, I nailed this Triple Chocolate Bundt Cake. For starters, I used a coconut oil baking spray. Then I used a paper towel to make sure I got it in every single nook and cranny of the pan. Then, thanks to a tip from some fellow food bloggers, I used cocoa powder to dust the pan instead of flour. So long white spots! Finally, I had made it to the store to get some baking soda so I went back to the original recipe with baking soda and buttermilk.
Oh my heavens, this Triple Chocolate Bundt Cake is a good cake. Like really, really good. It's moist,  studded with chocolate chips and topped with chocolate ganache. Like I said…really, really good.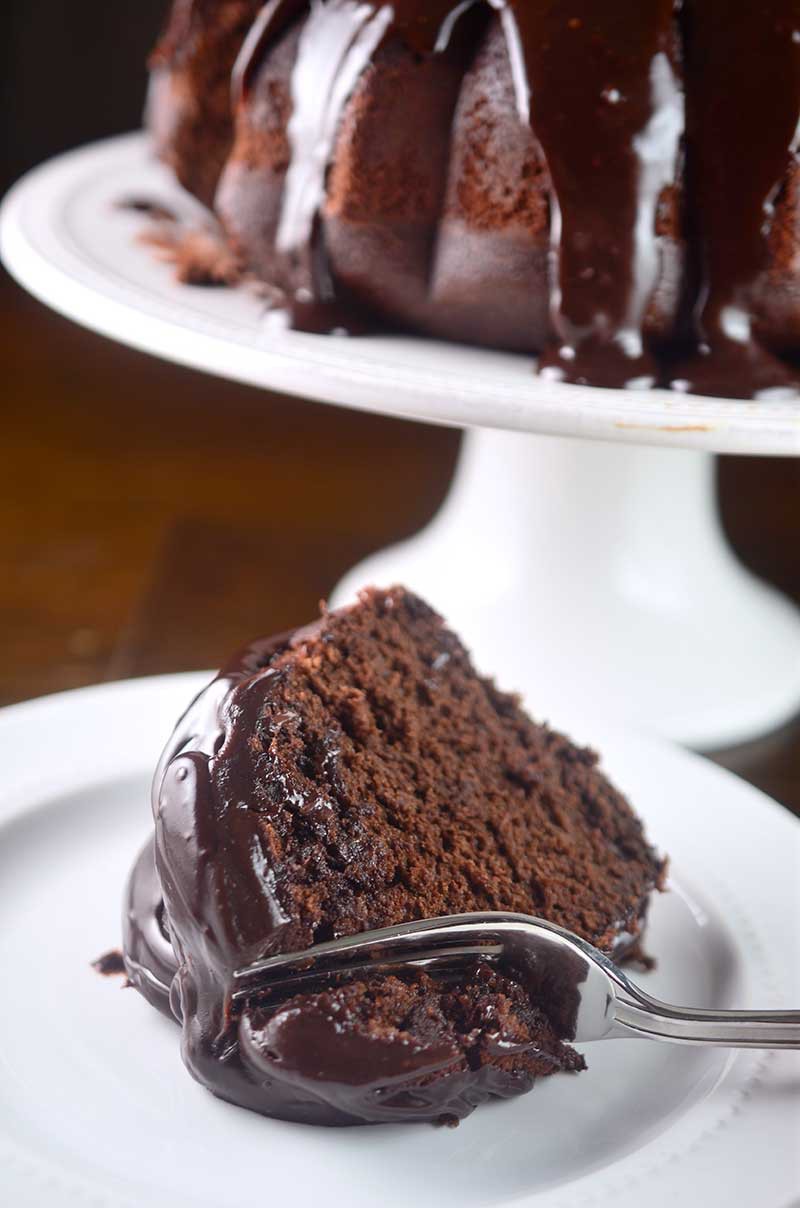 So, who's ready for a slice?
Triple Chocolate Bundt Cake Recipe
Cake Ingredients:
1 1/2 cups granulated sugar
2 cups all purpose flour
1 cup unsweetened cocoa powder, plus more for dusting pan
2 teaspoons baking powder
1 1/2 teaspoons espresso powder
1 teaspoon baking soda
1/2 teaspoon salt
1/2 cup canola oil
1 cup buttermilk
1 teaspoon vanilla
2 eggs
1 cup boiling water
1 1/2 cups semi sweet chocolate chips
Ganache Ingredients:
2/3 cup heavy whipping cream

1 cup semi sweet chocolate chips
Instructions
1
Preheat oven to 350 degrees. Spray bundt pan with non-stick spray. Use a paper towel to make sure spray gets into every corner of the pan and dust with cocoa powder. Turn bundt pan over and shake off any excess cocoa powder.

2
In a bowl of a stand mixer fixed with the paddle attachment, combine sugar, flour, cocoa powder, baking powder, espresso powder, baking soda and salt. Mix together.

3
Add in canola oil, buttermilk, vanilla. Mix on medium speed just until it starts to come together. Mix in eggs one at a time. Slowly pour in boiling water. Mix for 2 more minutes. Batter will be thin.

4
Pour batter into prepared bundt pan. Sprinkle chocolate chips onto cake. Gently mix the chocolate chips in with a spoon. Bake in preheated oven for 35 - 45 minutes or until a toothpick inserted comes out with just a few crumbs on it.

5
Allow cake to cool 10 minutes.

6
Turn cake pan over onto cooling rack and carefully lift pan to remove cake. Cool cake completely. Carefully, transfer to a serving platter.

7
Make the ganache by heating heavy cream in a saucepan over medium heat until steaming. Whisk in chocolate chips just until chocolate chips are melted. Allow to set for 2 minutes. Continue whisking until mixture is shiny and smooth.

8
Drizzle ganache over the cake. Allow to harden, about 15 minutes. Slice and serve. Store leftovers in the refrigerator. Remove 1 hour before serving.