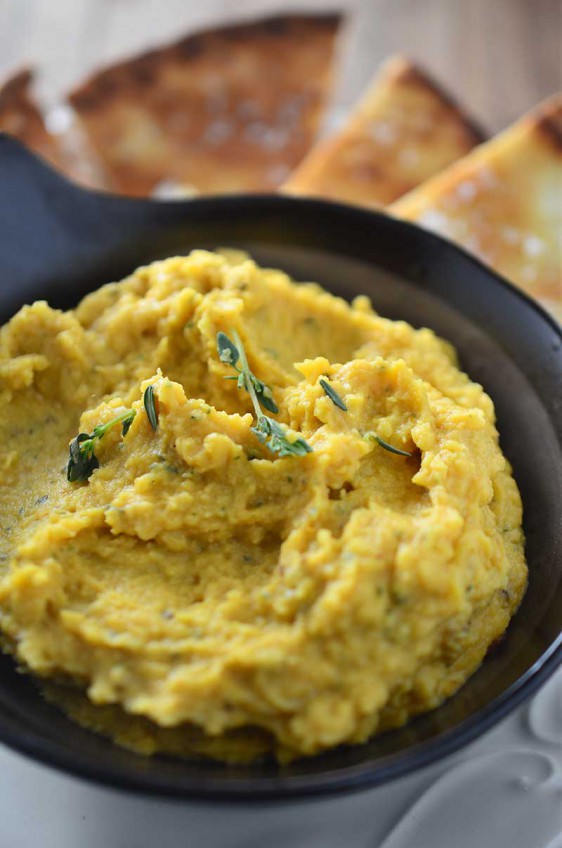 Savory Pumpkin Hummus
Savory pumpkin hummus is made with real pumpkin puree, garlic, thyme and rosemary. The perfect dip recipe for Fall and holiday get togethers!
When Fall rolls around, pumpkin recipes take over the internet. Is it just me or do sweet pumpkin recipes get the bulk of the love? I mean it's easy to see how that could happen with recipes like Bourbon Chocolate Pumpkin Pie, Pumpkin Pull Apart Bread and Pumpkin Cake with Amaretto Cream Cheese Frosting. That being said, savory pumpkin dishes should be getting some of the love too.
I have shared a few savory pumpkin dishes on the blog over the years. Recipes like: pumpkin curry penne,  creamy pumpkin and sage dip and curry pumpkin soup. Today, I've got a brand new savory pumpkin recipe for you.
This Savory Pumpkin Hummus is loaded with chickpeas, pumpkin, garlic, thyme and rosemary. It is going to be the hit of all of your get togethers this holiday season.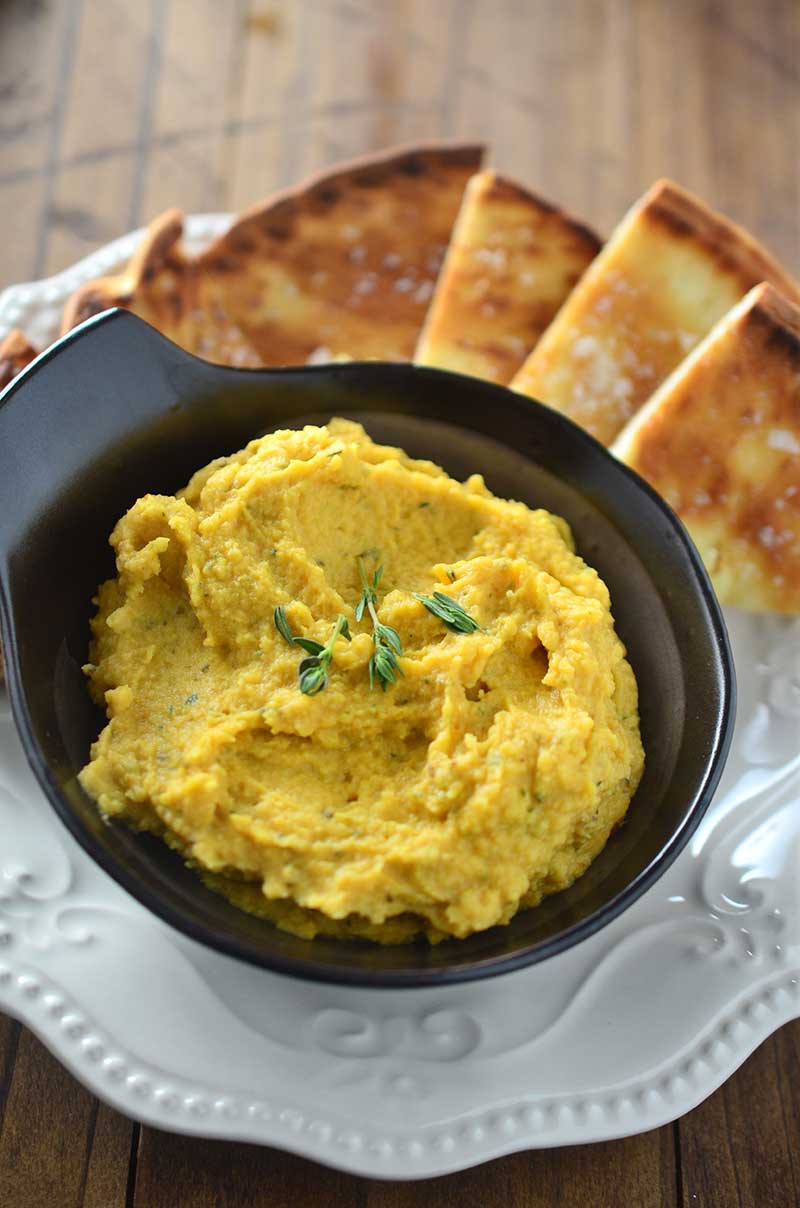 When it comes to what to dip into this Savory Pumpkin Hummus, you've got all kinds of options. Setting out a tray of veggies would be good with baby carrots and celery to scoop up all the deliciousness. My personal favorite is pita chips. If you're short on time, you can buy them. If you've got an extra 10 minutes and some pita bread, you can make homemade pita chips.
I happened to buy a Costco size package of pita bread last week so I made my own. I simply brushed the pita with garlic butter and placed it under the broiler for a couple of minutes. Then I sprinkled the pita with Maldon Sea Salt and cut it into wedges. They were absolutely perfect dipped in this Savory Pumpkin Hummus.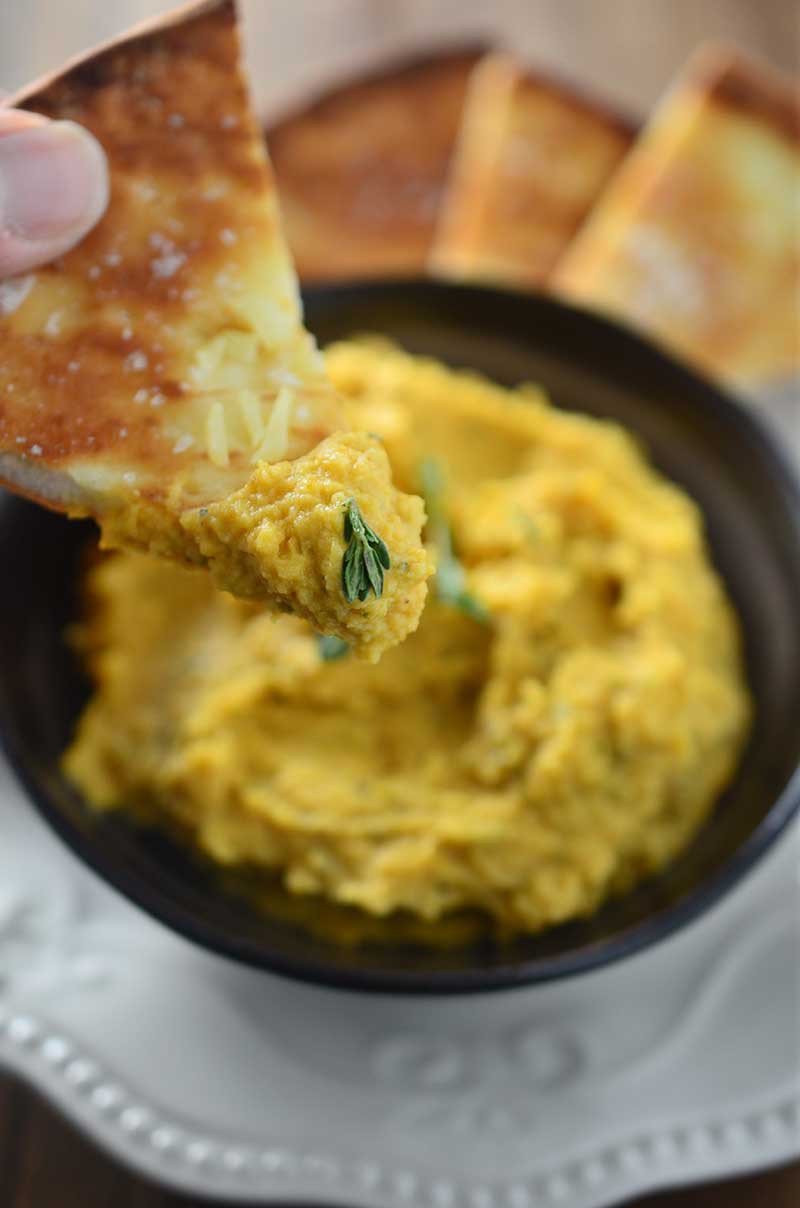 If you are already starting to plan your holiday menu (and pssst – you should start, because it'll be here before we know it!) make sure to include this Savory Pumpkin Hummus. Your guests will love it!

Savory Pumpkin Hummus Recipe
Ingredients:
1 (15 ounce) can garbanzo beans, drained but reserve 2 tablespoons liquid
3/4 cup pumpkin puree
2 cloves garlic
1 tablespoon fresh thyme (1 teaspoon dried)
1 tablespoon fresh rosemary (1 teaspoon dried)
2 - 3 tablespoons olive oil
salt
Instructions
1
Combine garbanzo beans, pumpkin puree, garlic and thyme together in a food processor. Puree until minced fine.

2
Add in reserved garbanzo bean liquid and 2 tablespoons olive oil. Puree until smooth. If too dry add remaining tablespoon of olive oil. Season to taste with salt. Cover and refrigerate for 30 minutes before serving.