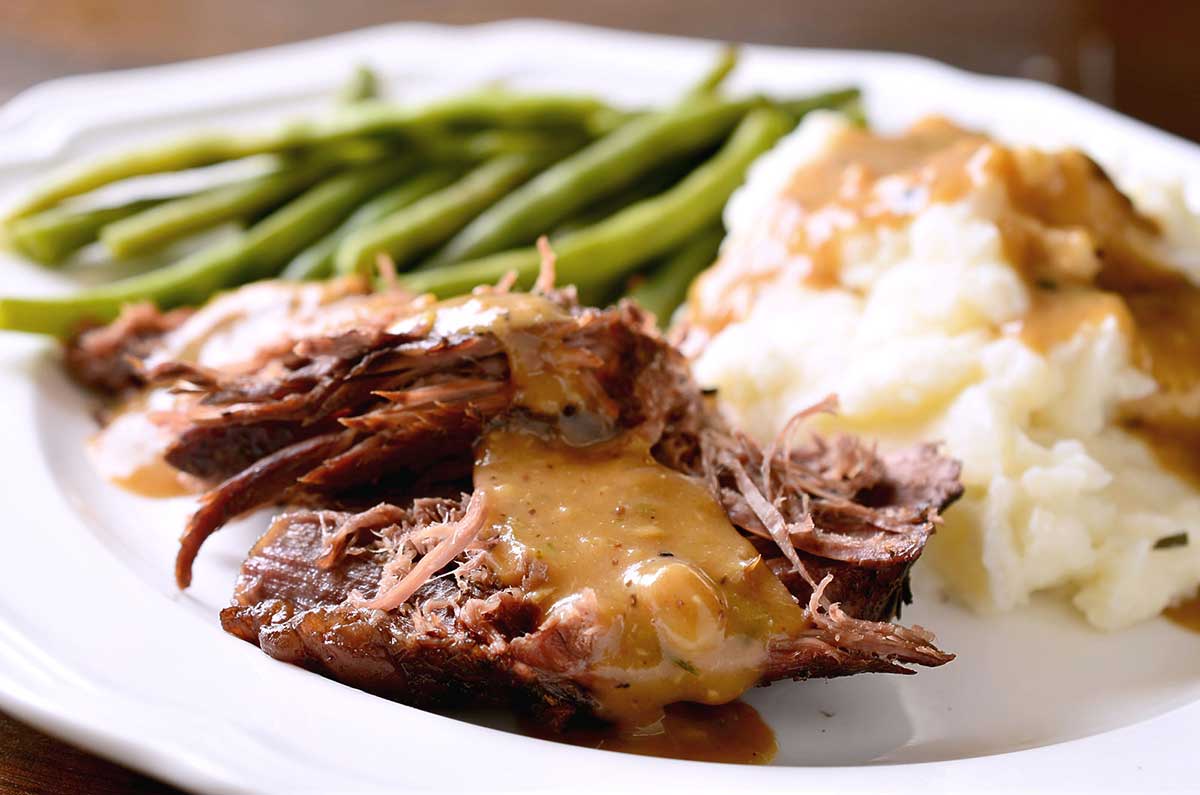 Rosemary Garlic Pot Roast
This past Sunday I did not care that it was 80 degrees outside. It was September 16th. Fall in my book. So I lit my pumpkin spice candle, snipped some green beans, peeled some potatoes and put this rosemary garlic pot roast into the oven. And judging by the response I got on Facebook when I posted a picture of this beauty going into the oven, I'm sure I'm not the only one who is ready for fall and all the comfort food it brings with it.
If pot roast, mashed potatoes and gravy and green beans and do not scream fall Sunday supper then I don't know what does. The gravy for this pot roast comes directly from the pan juices that the roast cooks in. That means that the gravy is loaded with rosemary and roasted garlic. It's the perfect compliment to the tender roast. One word of advice, do make sure you use unsalted broth. I made the mistake of not using it because I didn't have any, and between that and the salt used to season the roast, the gravy was a tad on the salty side. But it wasn't salty enough to keep me from eating two helpings.
Be sure to serve these creamy mashed potatoes on the side. Trust me.
Rosemary Garlic Pot Roast Recipe
Ingredients:
3 pounds pot roast
kosher salt and fresh cracked black pepper
2 tablespoons olive oil
10 cloves garlic
1/2 medium onion, diced
2 tablespoons fresh rosemary, divided
1/4 cup red wine
1 cup unsalted beef broth
2 tablespoons flour
1/2 cup whole milk
Instructions
1
Preheat oven to 300 degrees.

2
Season the roast liberally with salt and pepper.

3
Heat olive oil in a dutch oven over medium high heat. Sear on all sides. Add in garlic, onions and 1 tablespoon rosemary. Cook for 30 seconds.

4
Pour in red wine and beef broth. Cover and roast in the preheated oven for 3 - 3 1/2 hours or until tender and cooked through.

5
Remove roast from the pan. Cover to keep warm.

6
Pour pan juices into a measuring cup. The majority of the fat will rise to the top. Spoon two tablespoons off and add it to the dutch oven. Spoon off as much of the rest of the fat as you can, but don't worry about leaving some. You should have about 2 cups of broth left over. If you don't add more beef broth.

7
Heat dutch oven over medium heat. Whisk flour into the reserved fat in the dutch oven. Whisk in the 2 cups of reserved pan juices. Allow to thicken. Add 1 tablespoon of the hot gravy to the milk to temper it. Pour milk into the gravy. Stir in remaining fresh rosemary.

8
Cut roast. Spoon gravy over the top. Serve.