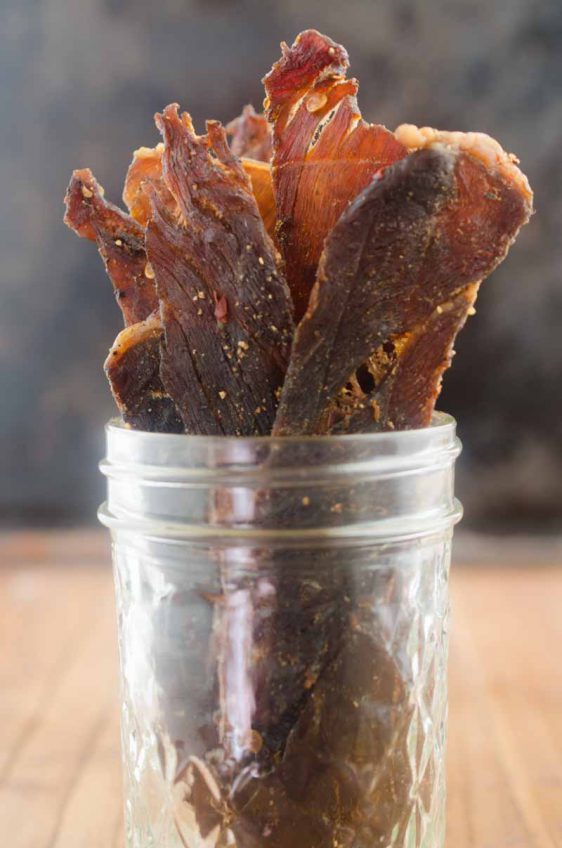 Sweet n' Spicy Beef Jerky
Sweet n' Spicy Beef Jerky is our new favorite snack! You can make it at home, without a dehydrator!
I have always been a huge beef jerky fan. When I was growing up, we would take lots of road trips and beef jerky was always a snack that we had on hand. I was always partial to the spicy beef jerky, because, well, I'm partial to all things spicy.
Despite it being one of my favorite snacks, I don't actually buy beef jerky all that often. For one, it's expensive for such a little bag. Second, I was always a huge fan of the jerky that you buy in the bin at the gas stations (you know the whole road trip thing), but Ryan totally ruined it for me by saying "Ewww people grab that stuff with dirty hands!" And now I just imagine that every time I reach for one.
So what's a jerky loving girl to do? Make her own Sweet n' Spicy Beef Jerky.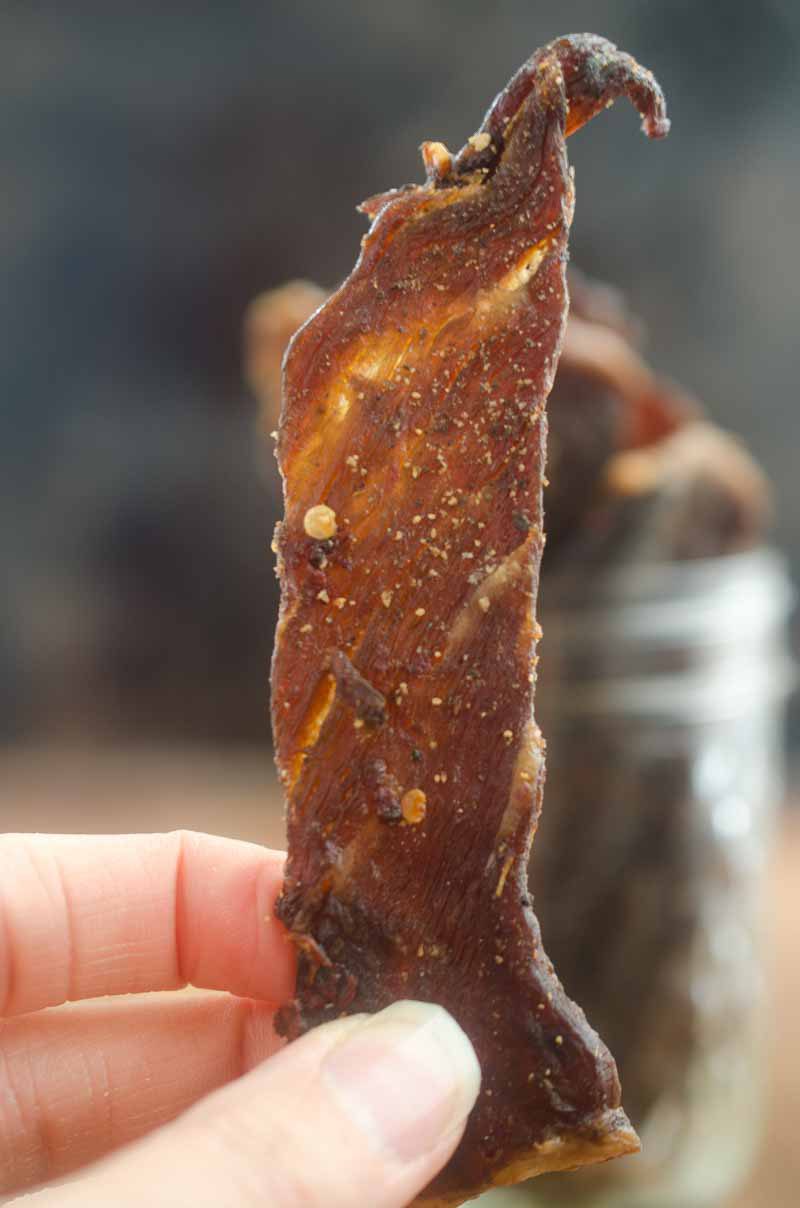 Do you need a dehydrator to make beef jerky?
No! I have always been under the impression that beef jerky had to be made in a dehydrator. That is simply not true. In fact, you can make beef jerky in your oven. All you need is a couple baking sheets, aluminum foil, cooling racks and a wooden spoon to hold the door open.
The other hurdle was what cut of beef to use. For this Sweet n' Spicy Beef Jerky recipe, I use london broil. London broil is inexpensive and can go a long way, especially when you are cutting it thin. I have tried it with flat iron steak too, it was a bit chewier, but totally worked.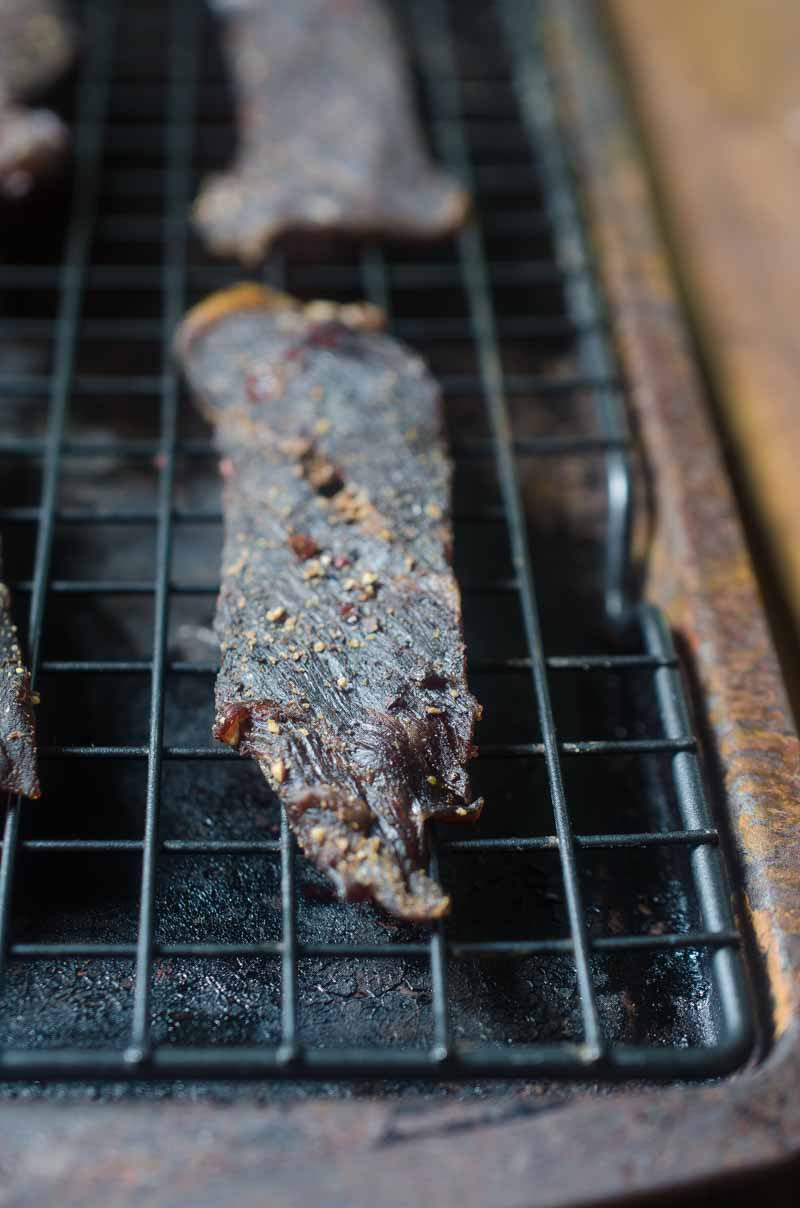 Speaking of cutting the jerky thin, the best way to do that is to freeze the beef before hand, like I do with this beef stir fry. This allows you to cut thin slices of beef. For this Sweet n' Spicy Beef Jerky, I cut the beef about 1/8 of an inch thick. It was the perfect thickness for me. If you like your jerky a bit chewier, cut it a little thicker.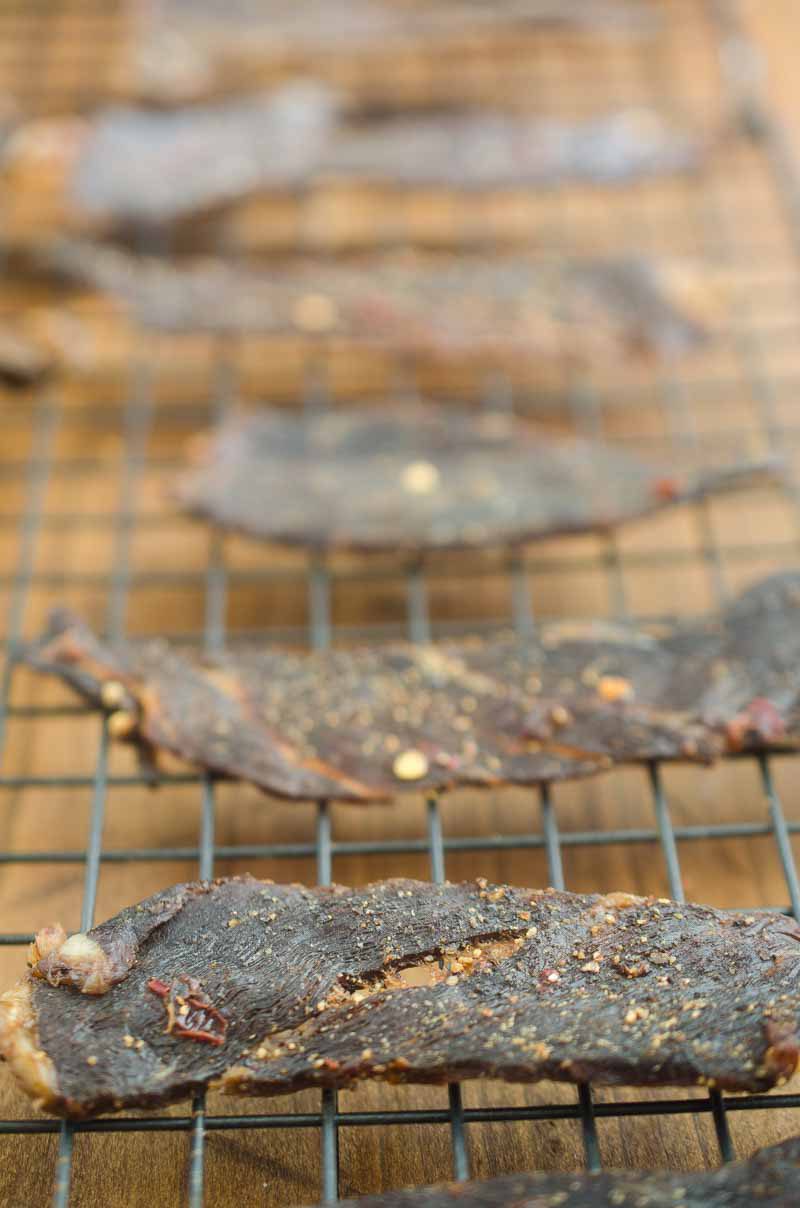 The next step in the homemade jerky process, is the marinade. This Sweet n'Spicy Beef Jerky is marinated in a mixture of soy sauce, brown sugar and chili garlic sauce overnight. Marinating it overnight, really allows the flavor to come through.
Finally, the cooking. Making your own beef jerky does take a bit of time. I cook this jerky anywhere from 3 – 4 hours at 170 degrees. After is has cooked, I let it cool on the counter for another couple of hours before putting it in a air-tight container.
But you guys, it is totally worth it.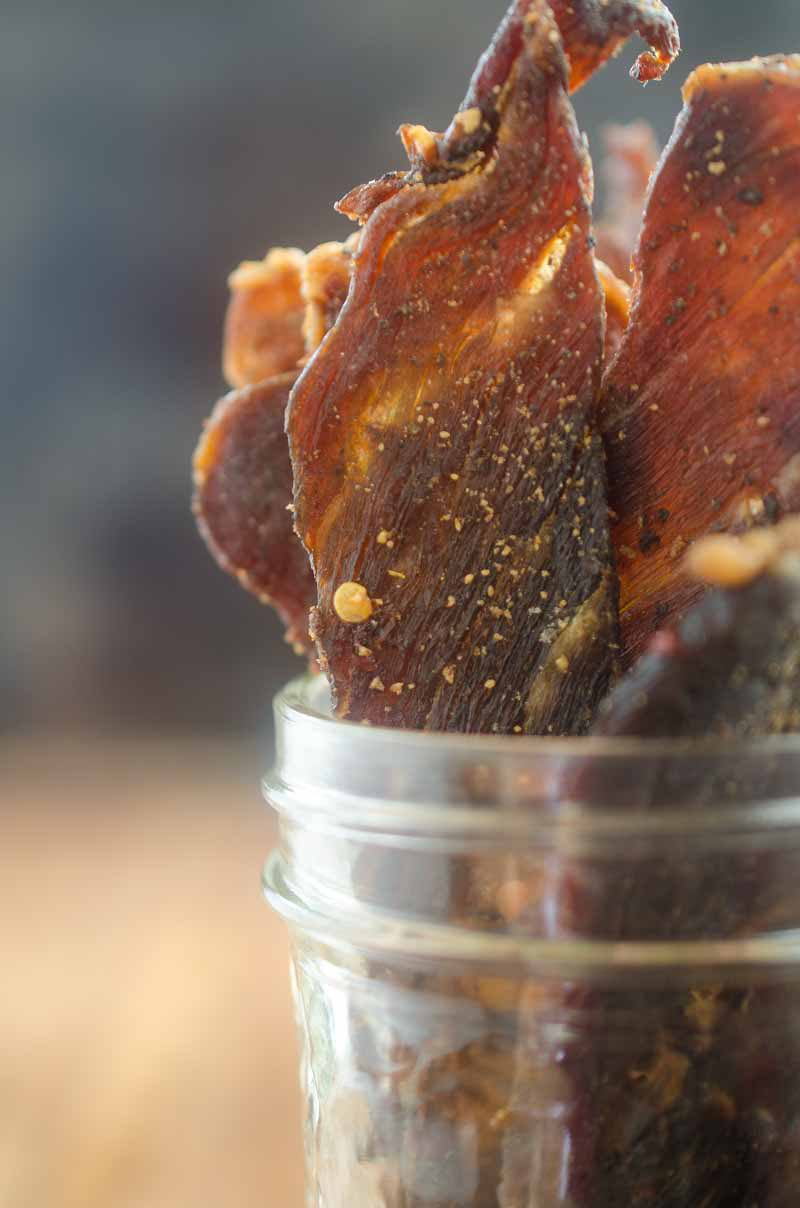 This Spicy Beef Jerky has become a huge snack time favorite around here. I often find Preston sneaking into the container to get himself a snack. It's amazing I was able to have enough to take these photos! ;)
Note: Originally posted 2017. Updated with new video 2019.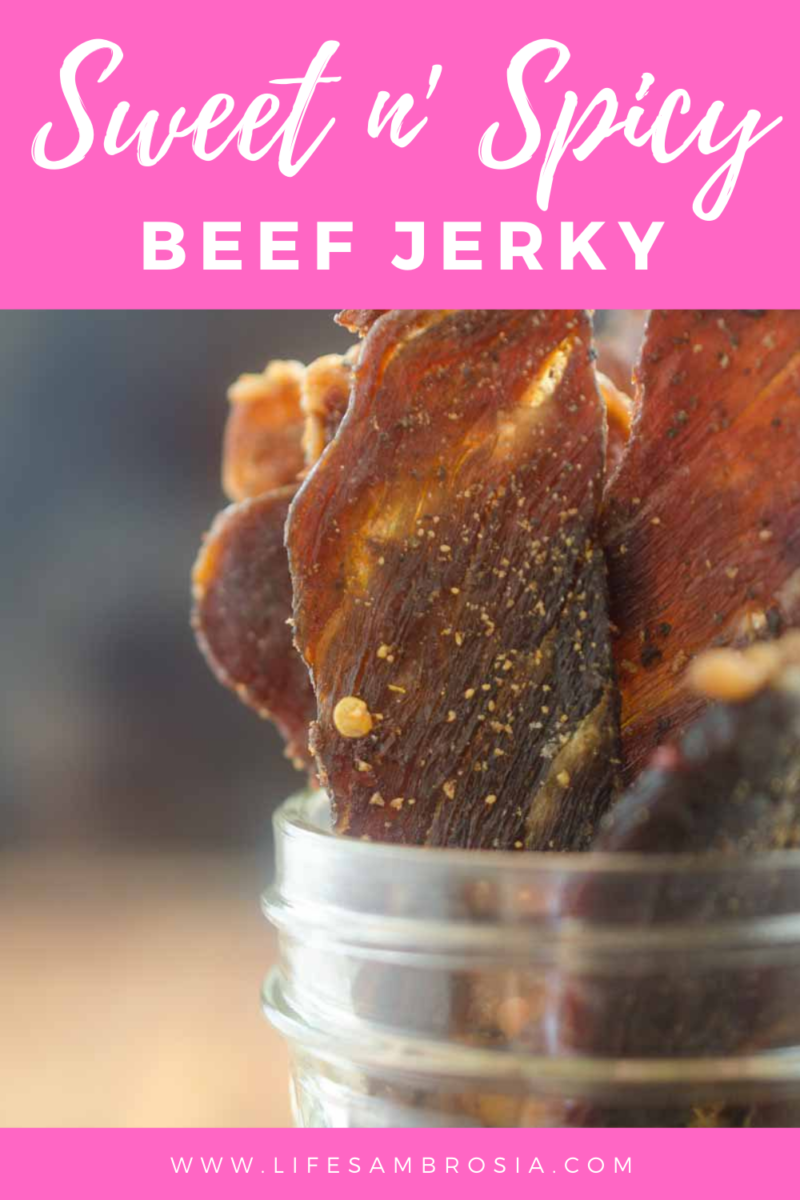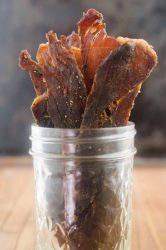 Sweet n' Spicy Beef Jerky
Spicy Beef Jerky is our new favorite snack! You can make it at home, without a dehydrator!
Whisk together soy sauce, brown sugar, vinegar, chili garlic sauce, granulated garlic and 1 teaspoon black pepper.

Place thinly sliced london broil in a resealable plastic bag and pour marinade over the top. Seal and marinate at least 8 hours, preferably overnight.

Remove from refrigerator one hour prior to cooking.

Preheat oven to lowest temperature, mine is 170 degrees.

Line 2 - 3 large baking sheets with aluminum foil. Place cooling racks on top of baking sheets.

Lay slices of jerky, 1/4 inches apart, on the trays. Sprinkle with remaining pepper.

Place trays on oven rack. Place the handle of a wooden spoon in the oven door just top prop it open slightly. Cook for 3 hours.

Remove from oven and allow to cool for another hour. Transfer to a air tight container. Store in the refrigerator.
It has been brought to my attention that the cooling fans in some ovens kick on if it is propped open and it won't cook the jerky as well. If that is the case with your oven, simply cook it with the door closed. It will still cook well! 
Keywords:
beef, beef jerky, jerky, man food, snack, spicy