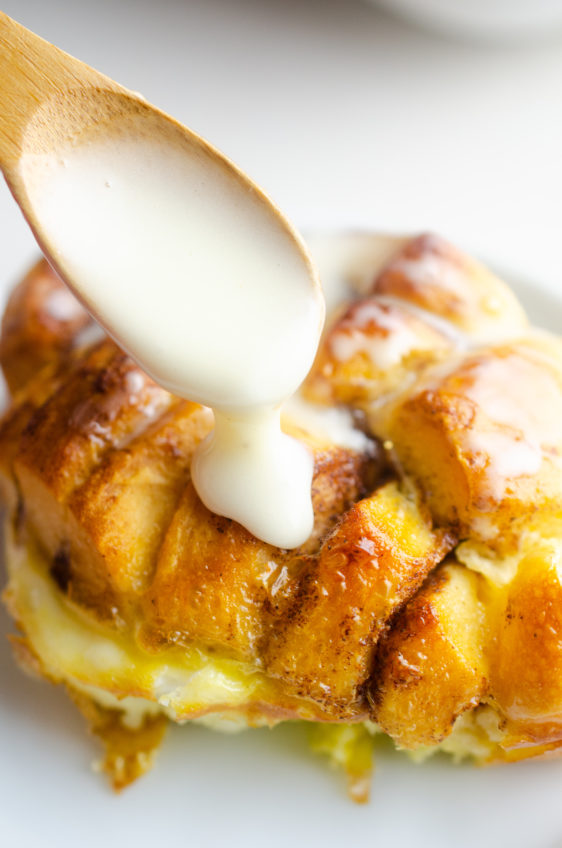 Eggnog French Toast Casserole
Eggnog French Toast Casserole is an easy brunch perfect for Christmas morning! With 3 ingredients and a decadent eggnog glaze, it'll be your new favorite tradition! 
This time of year is always about traditions for me. I think that is what makes Christmas so special. Whether it's baking with the family, watching holiday movies, looking at Christmas lights in the neighborhood or going caroling, traditions make the Christmas season magical.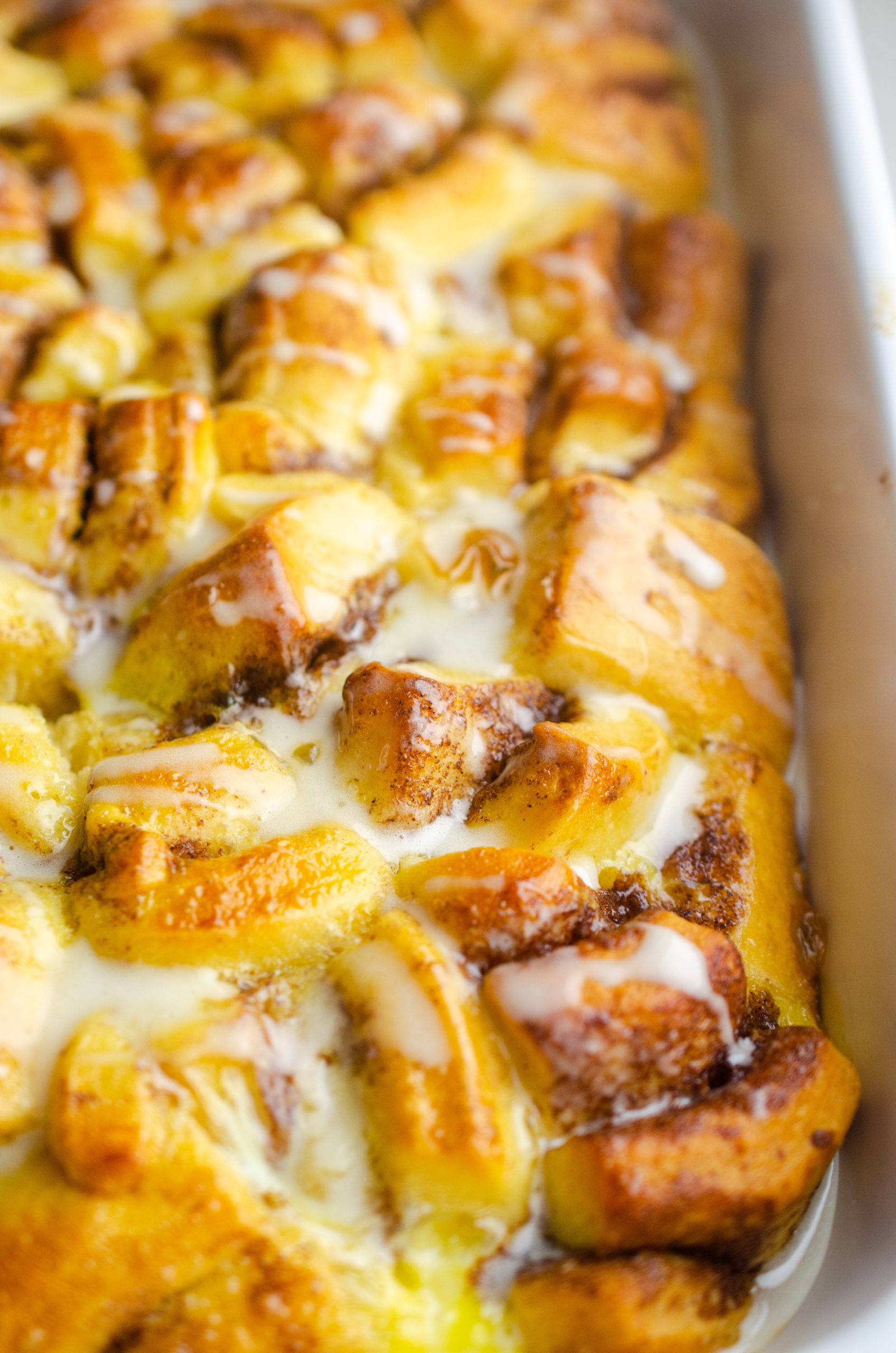 One of my favorite traditions each year during the Christmas season is to make Eggnog French Toast. I make it at least a few times throughout the season and always on Christmas Tree Day.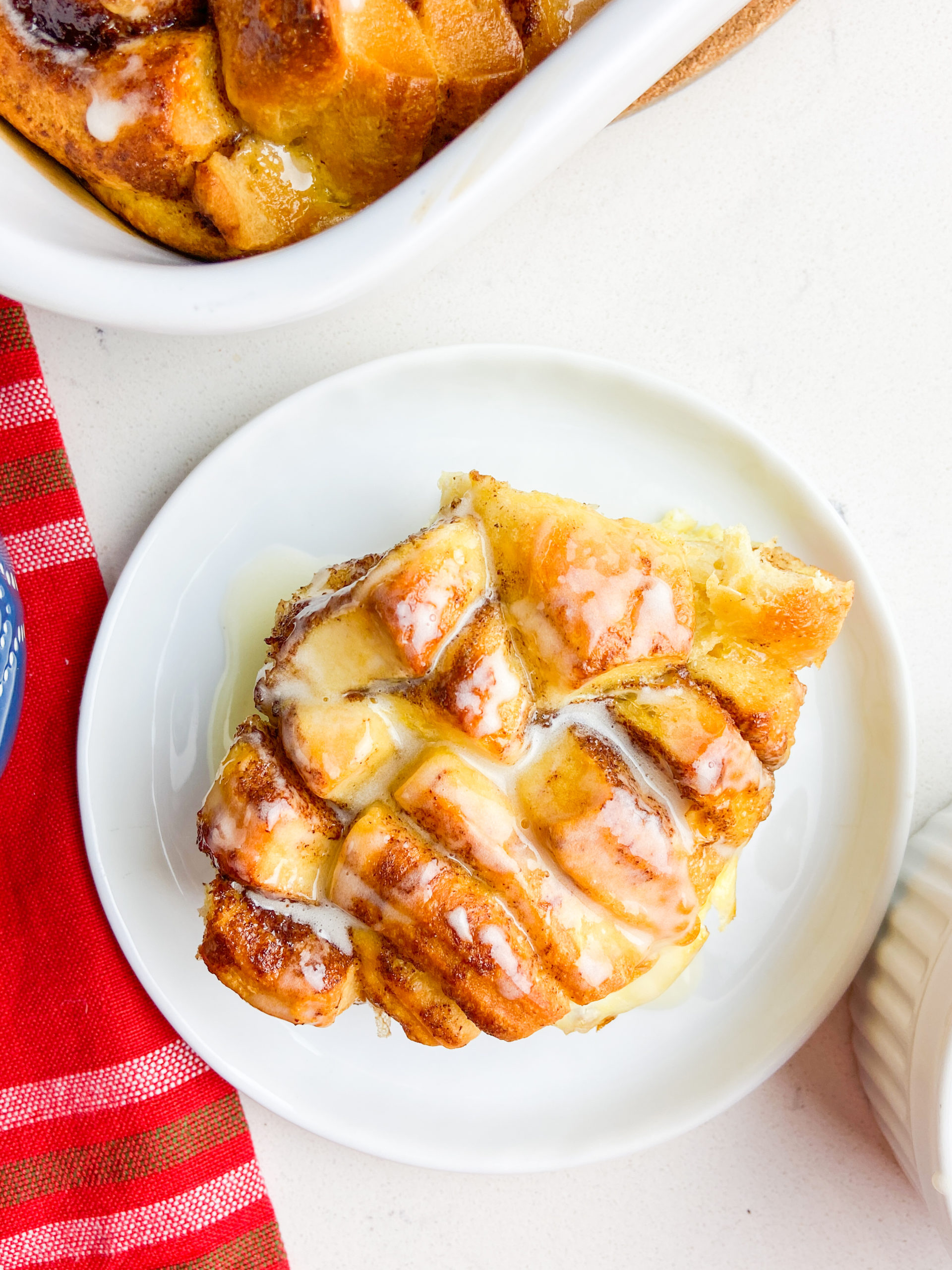 I first got the idea to use refrigerated cinnamon rolls in this recipe after my friend Cathy shared this recipe for her Cinnamon Roll French Toast Casserole.   I've made that a couple times for other family events and it is always a hit. And now we've got this Christmas twist that my boys cannot get enough of.
What ingredients do you need?
Just three! That is what makes this so great for busy holiday mornings!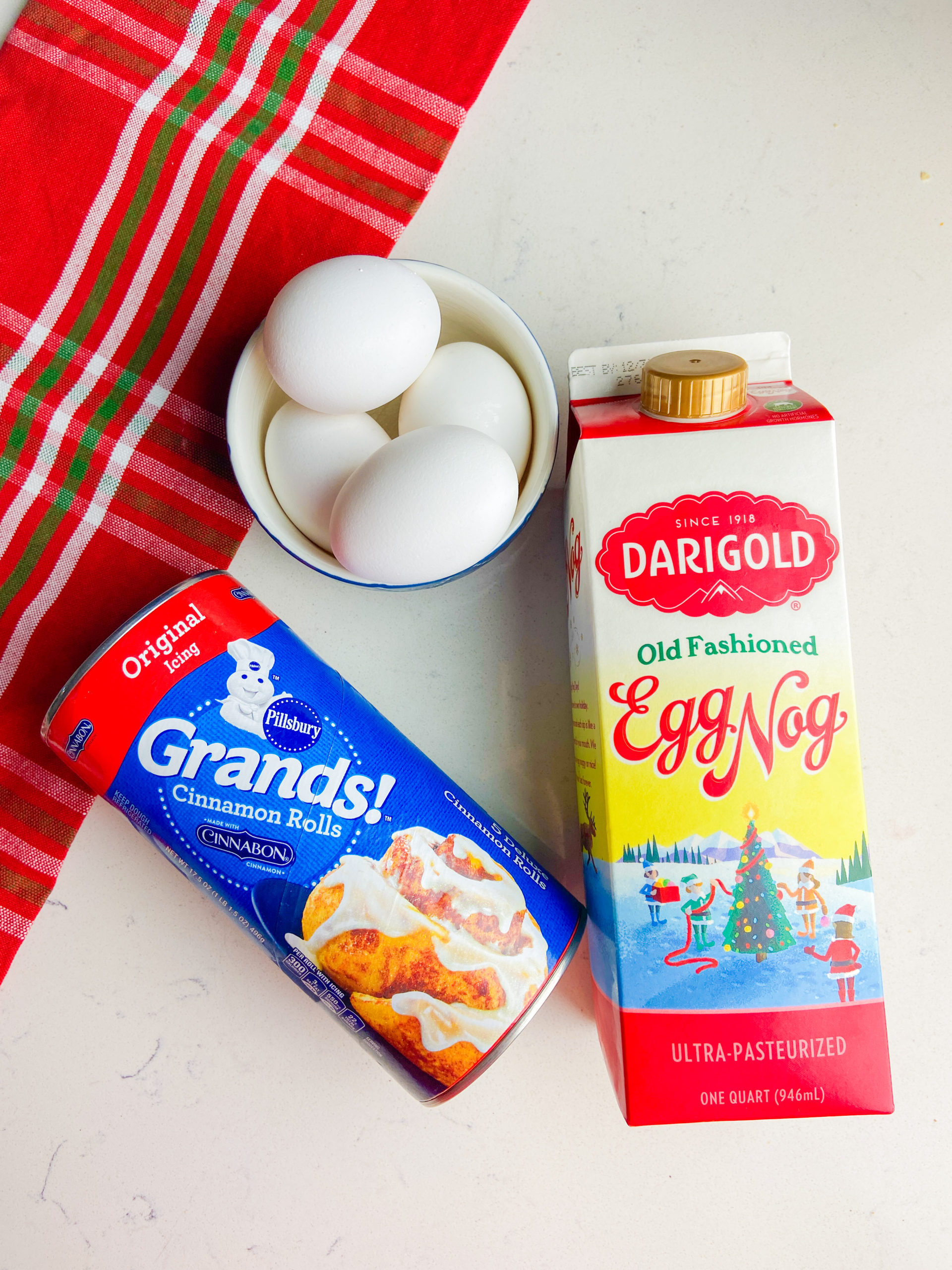 REFRIGERATED CINNAMON ROLLS: I prefer Pillsbury Grands! Cinnamon Rolls.
EGGS
EGGNOG: Use your favorite brand. I use Darigold.
Step by Step Photos and Instructions: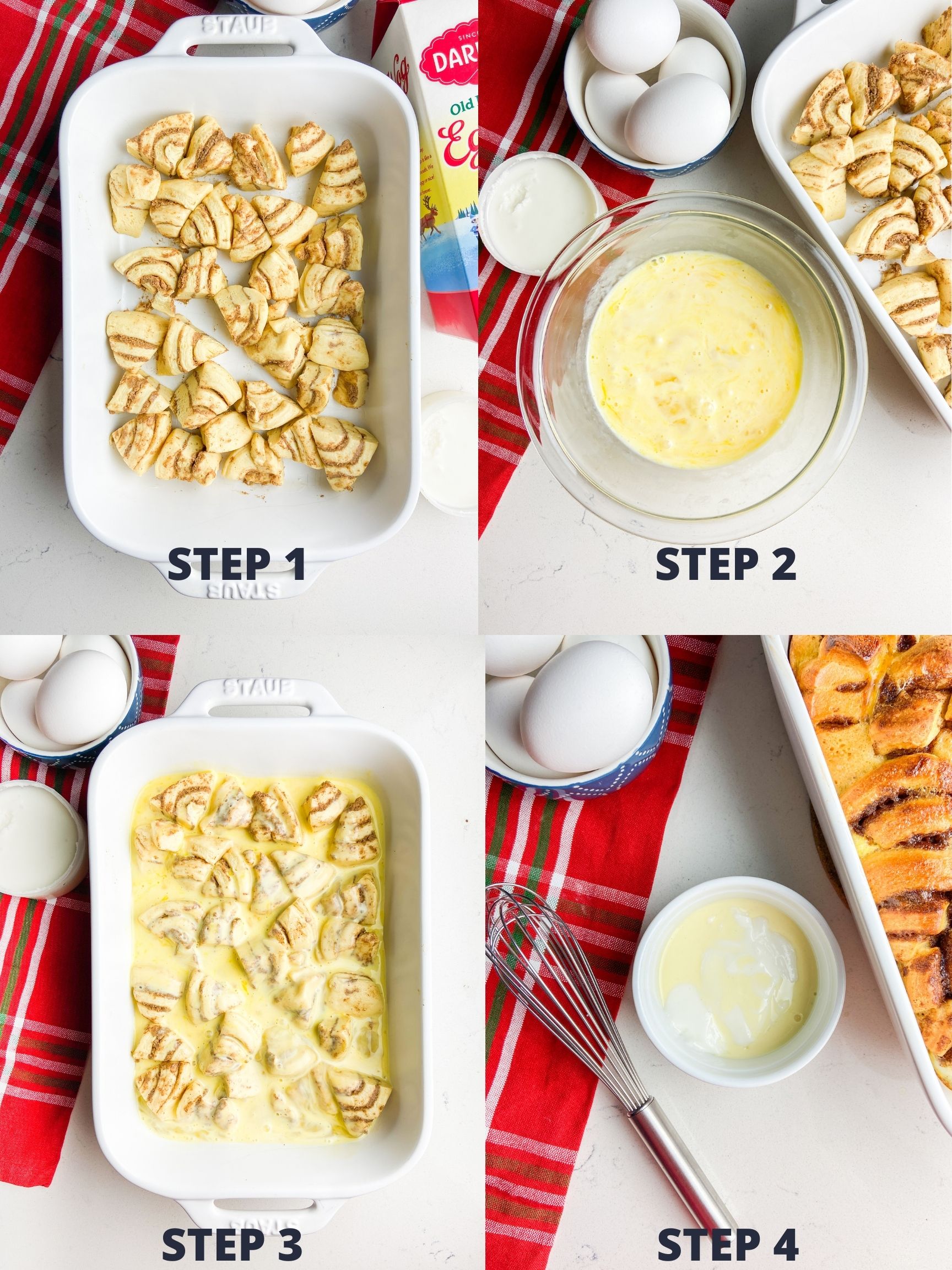 STEP #1: Butter a small baking dish. Cut each cinnamon roll into 6 pieces. Scatter pieces into the prepared baking dish.
STEP #2: Whisk together eggs and egg nog.  Pour mixture over the top of the cinnamon rolls.
STEP #3: Bake at 350 degrees Fahrenheit for 30 – 40 minutes or until the cinnamon rolls are cooked through and browned.
STEP #4: Combine cinnamon roll icing and a couple tablespoons of eggnog together. Drizzle over the top.
I think that this Eggnog French Toast Casserole is perfectly sweet enough on its own. Especially with the drizzle of eggnog glaze over the top.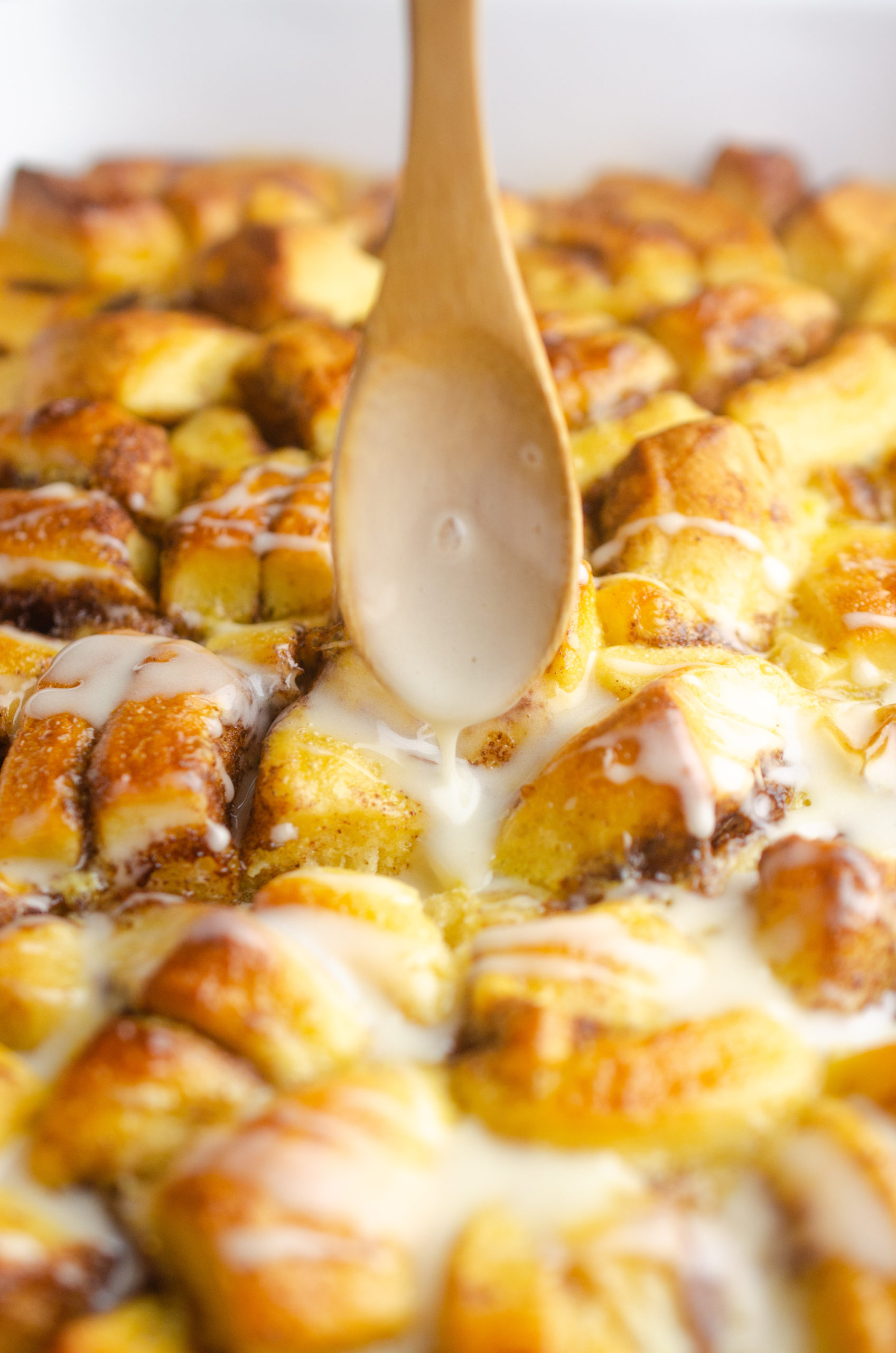 That being said, my guys always like to channel their inner Buddy the Elf and drizzle a little maple syrup on the top too. Whichever you choice, I know this Eggnog French Toast Casserole is going to be a favorite for everyone!
Can you make a smaller batch?
Yes! I have made this for just the four of us by using 1 package of cinnamon rolls, 3 eggs, 1/3 cup eggnog. Then to make the drizzle combine the frosting with 1 tablespoon eggnog.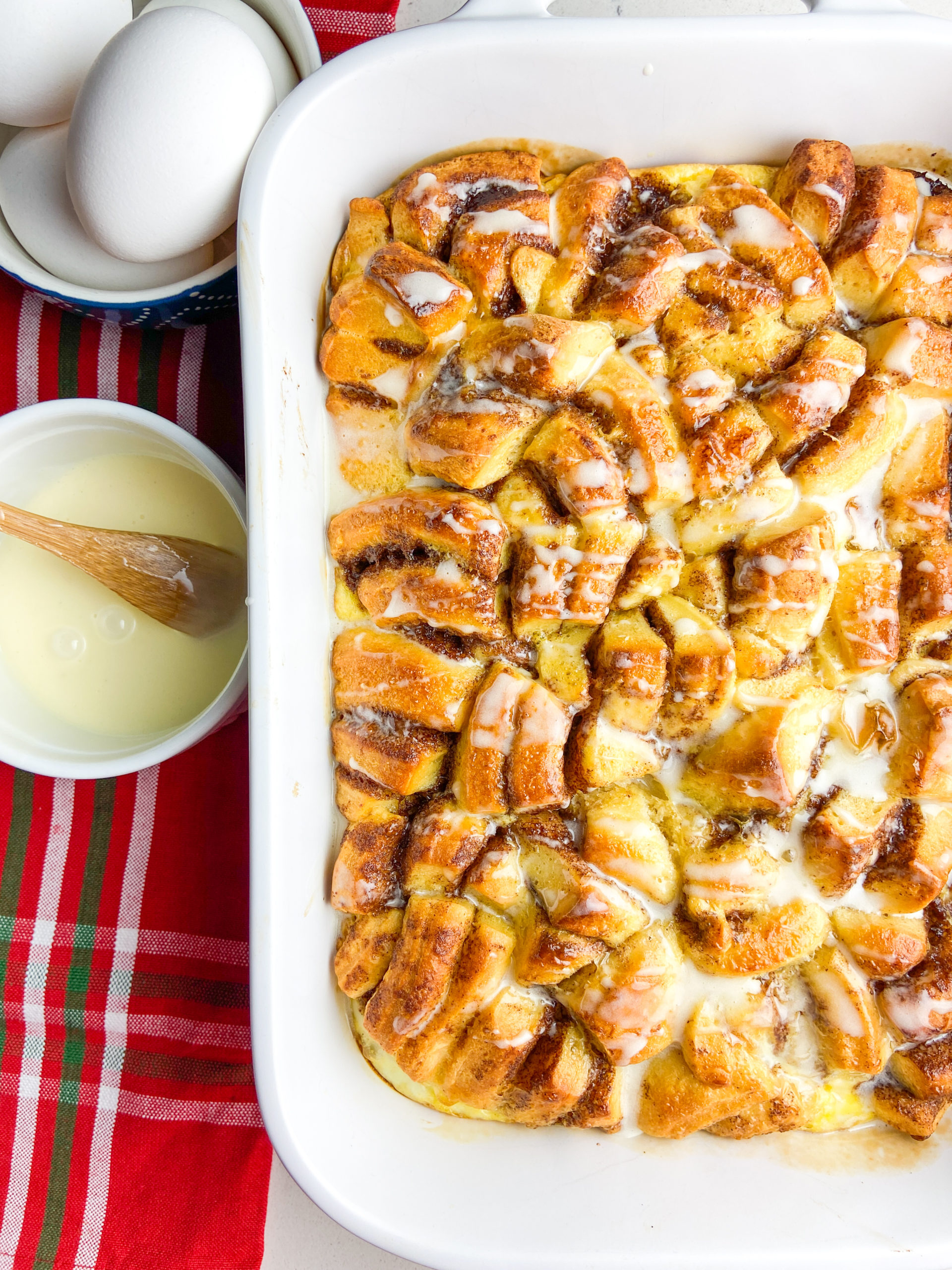 Love eggnog? Me too! If you love this Eggnog French Toast Casserole, you'll love these other eggnog recipes:
Looking for more breakfast recipes? Here are some of my favorites!
Scrambled Eggs with Bacon and Chives
Caprese Avocado Breakfast Toast
Cinnamon Streusel French Toast
Note: This recipe was originally posted in 2017. It was updated with new step by step photos and nutrition facts in 2020.
Eggnog French Toast Casserole Recipe
Ingredients:
2 (17.5ounce) cans refrigerated cinnamon rolls with icing
5 eggs
3/4 cup plus 3 tablespoons eggnog
Instructions
1
Preheat oven to 350 degrees. Butter a 13x9 inch pan.

2
Cut each cinnamon roll into 6 pieces and scatter in pan. Reserve icing.

3
In a bowl whisk together eggs and 3/4 cup egg nog. Pour mixture over cinnamon rolls. Bake in preheated oven for 30 - 40 minutes or until browned and cooked through.

4
In another bowl combine icing and remaining eggnog, whisk until smooth. Drizzle eggnog icing over the top.

5
Slice and serve with maple syrup if desired.
Notes
Nutrition facts for estimation purposes only.
Nutrition information
Calories: 470 , Total Fat: 16.4g , Saturated Fat: 4.8g , Cholesterol: 121mg , Sodium: 868mg , Carbohydrates: 72g , Fiber: 1.3g , Sugar: 31.6g , Protein: 10.9g