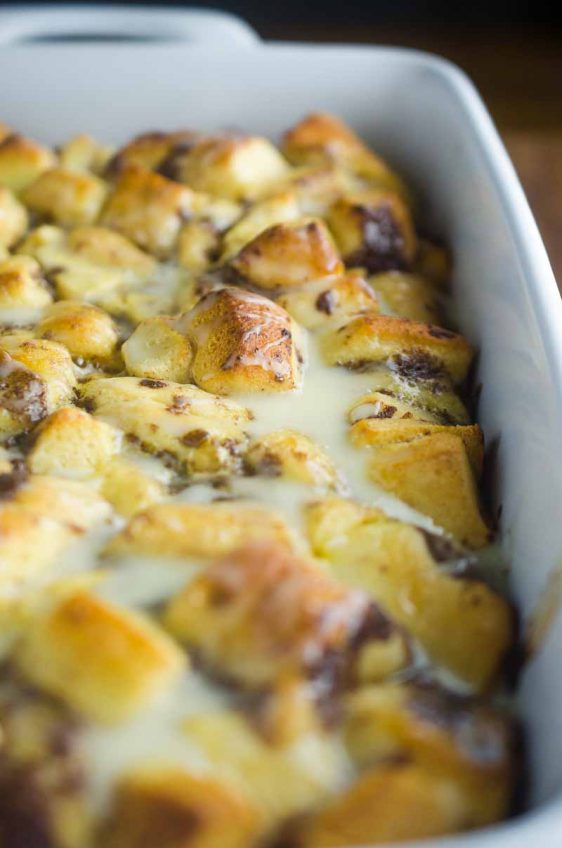 Eggnog French Toast Casserole
Eggnog French Toast Casserole is an easy brunch perfect for Christmas morning! With 3 ingredients and a decadent eggnog glaze, it'll be your new favorite tradition! 
This time of year is always about traditions for me. I think that is what makes Christmas so special. Whether it's baking with the family, watching holiday movies, looking at Christmas lights in the neighborhood or going caroling, traditions make the Christmas season magical.
One of my favorite traditions each year during the Christmas season is to make Eggnog French Toast. I make it at least a few times throughout the season and always on Christmas Tree Day.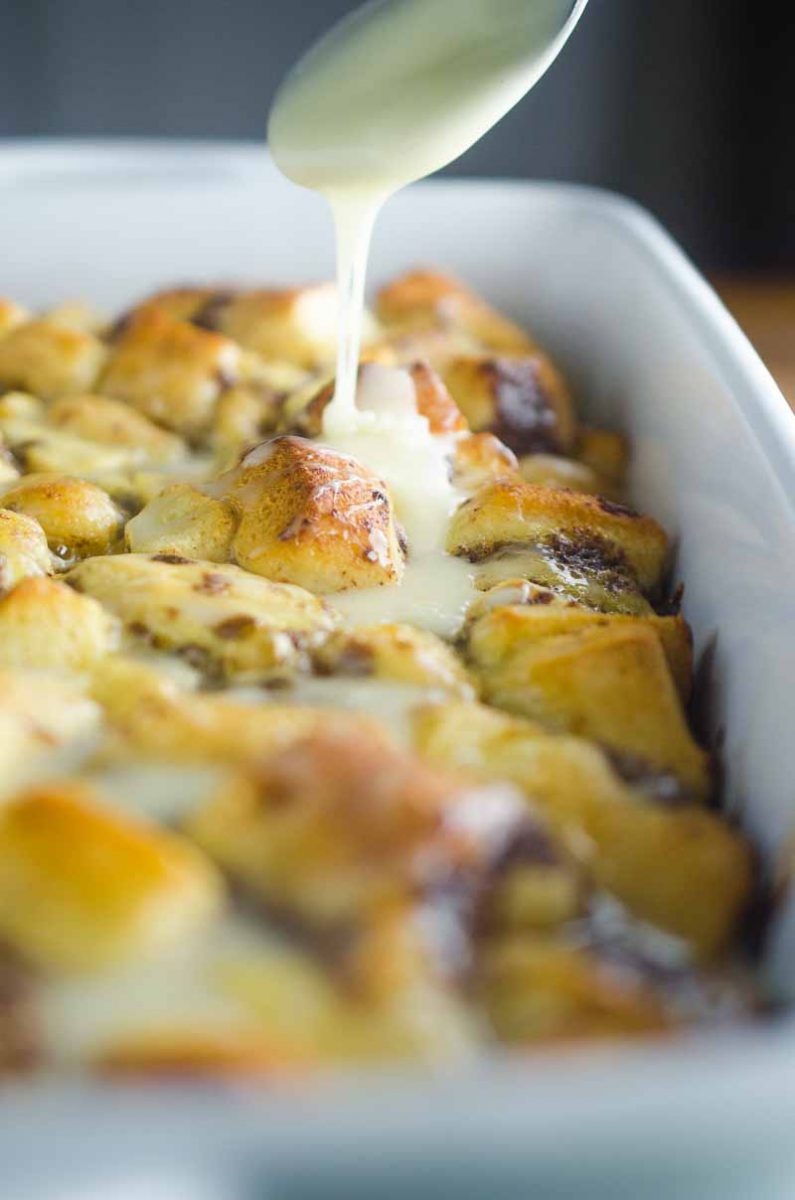 We picked out our Christmas Tree last Saturday and we were kind of short on time when it came to breakfast. I still wanted something hot to fill our bellies before we got to hunting.  I decided to shake things up a bit, and make it even easier, by making this Eggnog French Toast Casserole. It only uses three ingredients (Refrigerated cinnamon rolls, eggnog and eggs) and can be on your table in 40 minutes. It makes it perfect for Christmas morning brunch!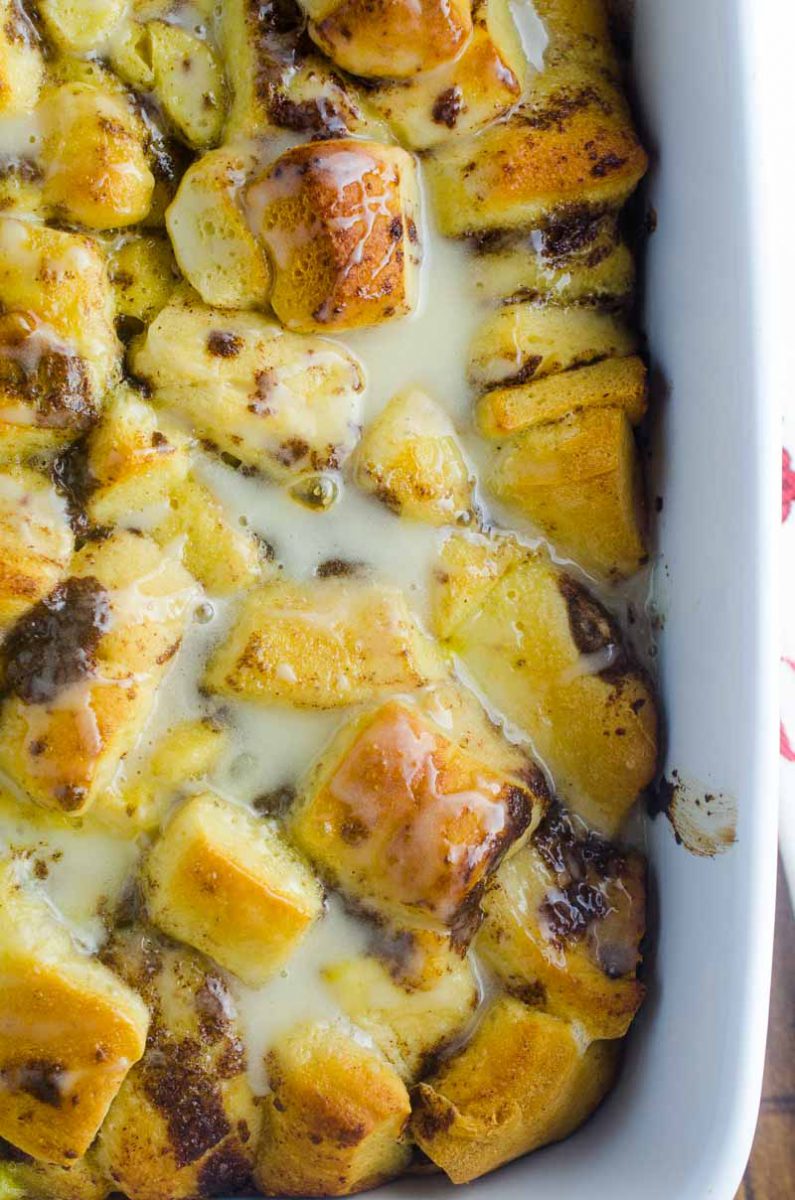 I first got the idea to use refrigerated cinnamon rolls in this recipe after my friend Cathy shared this recipe for her Cinnamon Roll French Toast Casserole.   I've made that a couple times for other family events and it is always a hit. And now we've got this Christmas twist that my boys cannot get enough of.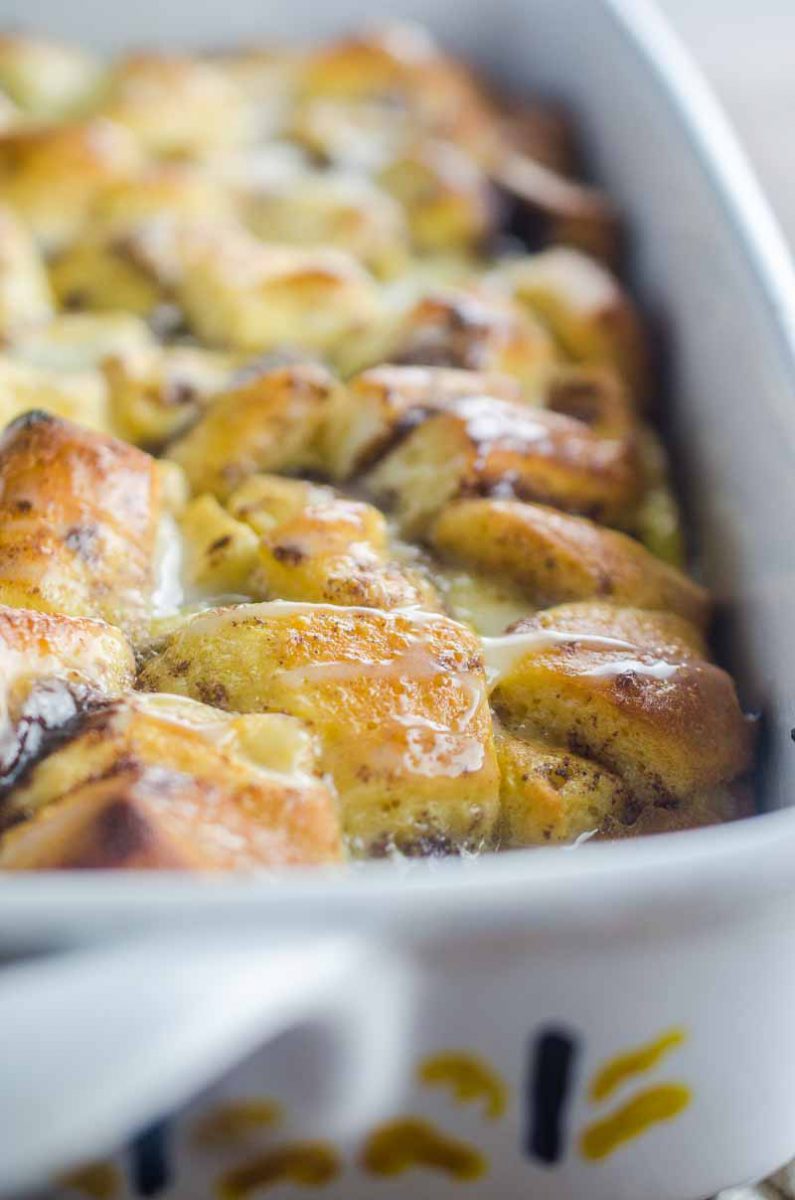 I think that this Eggnog French Toast Casserole is perfectly sweet enough on it's own. Especially with the drizzle of eggnog glaze over the top. That being said, my guys always like to channel their inner Buddy the Elf and drizzle a little maple syrup of the top too. Whichever you choice, I know this Eggnog French Toast Casserole is going to be a favorite for everyone!
For even more eggnog goodness, be sure to try this Eggnog Monkey Bread and Peppermint Eggnog Cheesecake.

Eggnog French Toast Casserole Recipe
Ingredients:
2 (17.5ounce) cans refrigerated cinnamon rolls with icing
5 eggs
3/4 cup plus 3 tablespoons eggnog
Instructions
1
Preheat oven to 350 degrees. Butter a 13x9 inch pan.

2
Cut each cinnamon roll into 6 pieces and scatter in pan. Reserve icing.

3
In a bowl whisk together eggs and 3/4 cup egg nog. Pour mixture over cinnamon rolls. Bake in preheated oven for 30 - 40 minutes or until browned and cooked through.

4
In another bowl combine icing and remaining eggnog, whisk until smooth. Drizzle eggnog icing over the top.

5
Slice and serve with maple syrup if desired.