Caprese Breakfast Toast
Caprese Breakfast Toast is the best way to start the day! Crusty bread, creamy avocado, a fried egg, mozzarella, tomatoes and basil. 
To me nothing says summer like a Caprese salad. The smooth, milky mozzarella, the fresh sweet basil and perfectly sun ripened tomatoes just scream summer. That is why when Galbani® Mozzarella Fresca™ asked if I wanted to participate in the 2013 Galbani Caprese Challenge I was all for it. The fact that I have a slight obsession with mozzarella didn't hurt either.
I have had a love affair with fresh mozzarella since I first went to Italy for our honeymoon. There is really nothing quite like it. It's smooth. It's creamy. It melts in your mouth. It is everything that the processed stuff wishes it was. And when I came back to the US I was sad to think that I would not taste anything like that unless I went back to Italy. I was wrong.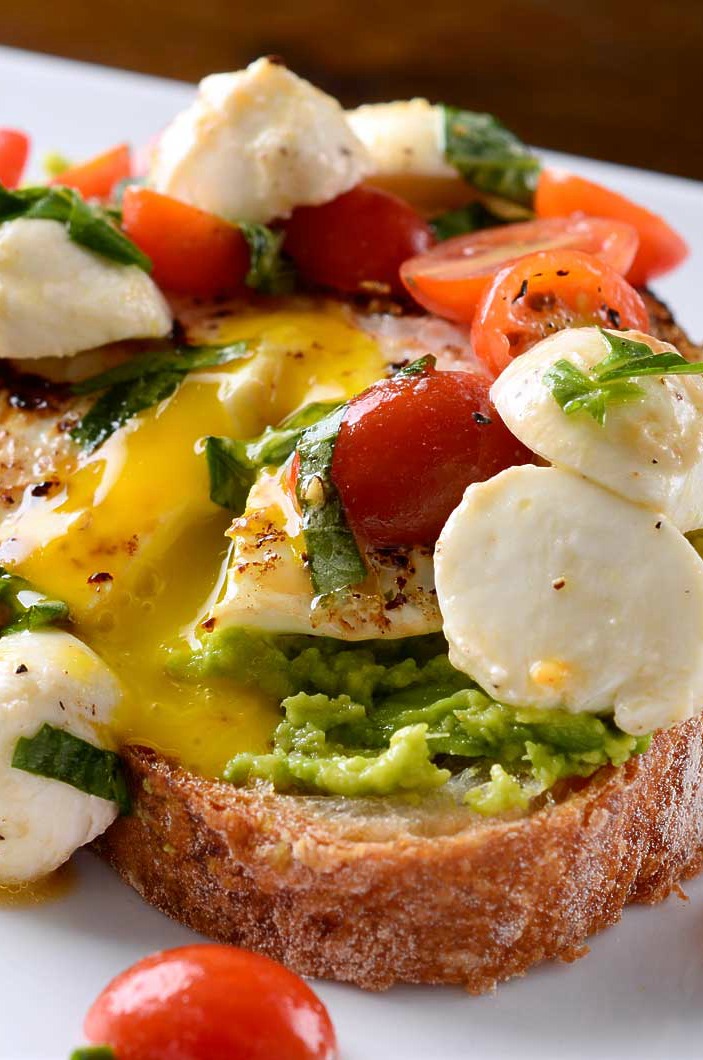 Galbani Mozzarella Fresca is every bit as delicious as the mozzarella that we enjoyed while we were in Italy. One bite of their mozzarella, which can be found in the specialty cheese section at the grocery store, and I am transported back to that restaurant in Fiesole overlooking Florence. It is that good. Don't just take my word for it though–Saveur Magazine recently voted Galbani Mozzarella Fresca as one of their favorite fresh mozzarellas.
What is Caprese?
And while I can (and do) snack on mozzarella by itself, Caprese  is one of my all-time favorite combinations. A traditional caprese is made with mozzarella, tomatoes and basil . The combination works well as a simple salad. It's a great addition to pasta. It would make a fabulous pizza. And in this case, when it's paired with crusty bread, mashed avocado and a fried egg, it makes one heck of a breakfast toast.
To celebrate the Caprese Challenge, Galbani is giving away all kinds of fun prizes to voters through August 9, with a grand prize of $500 given to a random voter at the end of the contest. You can enter once a day, so go check out the other blogger's fun spins on the classic Italian dish, and vote for a chance to win some great prizes!
Looking for more caprese goodness? Try these Grilled Caprese Stuffed Mushrooms.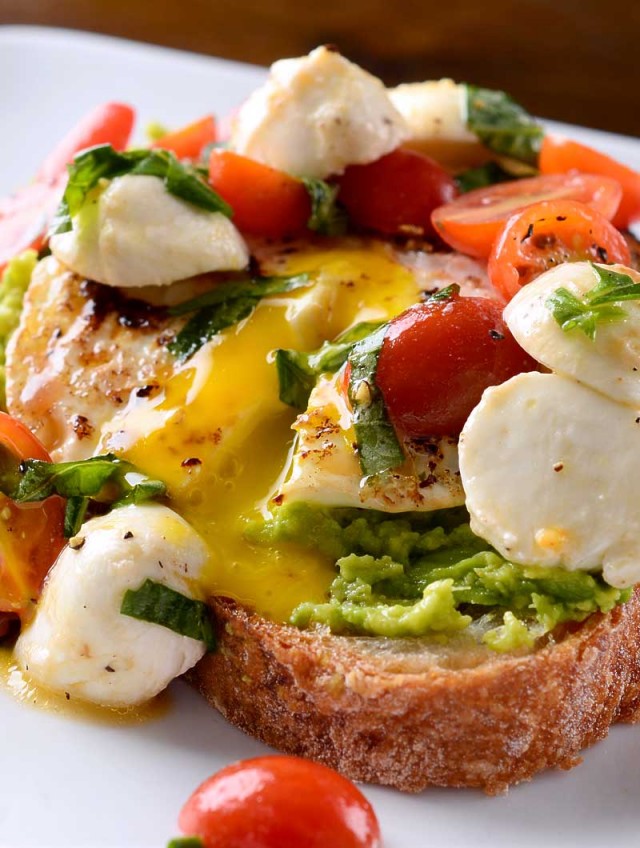 Caprese Breakfast Toast
Caprese Breakfast Toast is the best way to start the day! Crusty bread, creamy avocado, a fried egg and dreamy caprese salad.
Ingredients:
1

cup

grape tomatoes

halved

1

cup

Galbani® Mozzarella Fresca™ Ciliegine

halved

1/4

cup

chopped fresh basil

1

tablespoon

plus 1 teaspoon olive oil

salt and pepper

1

avocado

pitted and mashed

4

slices

crusty bread such as como

4

whole eggs
Combine tomatoes, Galbani® Mozzarella Fresca™ Ciliegine, basil and 1 teaspoon olive oil together in a bowl. Sprinkle with salt and pepper. Cover and let sit at room temperature for 25 minutes.

Heat remaining tablespoon of olive oil in a skillet over medium heat. Cook eggs just until the whites are cooked, 1 - 2 minutes per side.

Toast bread if desired.

To assemble the toast, spread avocado on top of bread, top with a fried egg and top with 1/4 of the caprese mixture. Repeat with remaining ingredients until 4 toasts are made. Serve immediately.
Enjoy!
Disclaimer: This is a sponsored post and I have been compensated for my time but as always all the opinions are my own.
Keywords:
avocado, avocado toast, Breakfast, caprese, caprese challenge, Food, galbani, galbani mozzarella fresca, mozzarella, Recipe, sponsored post