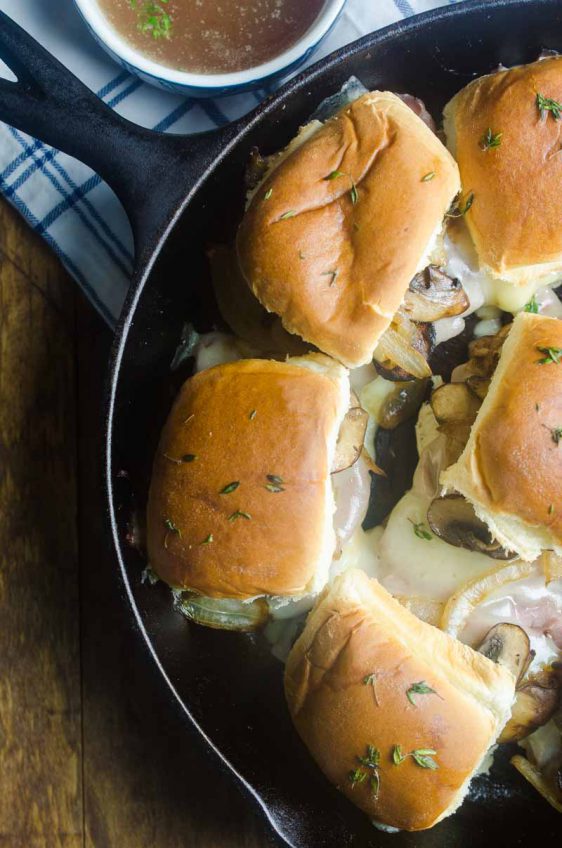 Roast Beef Mushroom Sliders
Quick and easy Roast Beef Mushroom Sliders are perfect for weeknights and game day! Loaded with roast beef, Swiss cheese, sautéed mushrooms and brushed with herb butter. 
When it comes to quick and easy dinners, I noticed that one thing I don't make that often is sliders. I'm not sure why. They are kid friendly. They are group friendly and super versatile. You can make sliders for breakfast, lunch or dinner. These Roast Beef Mushroom Sliders would be perfect for the latter.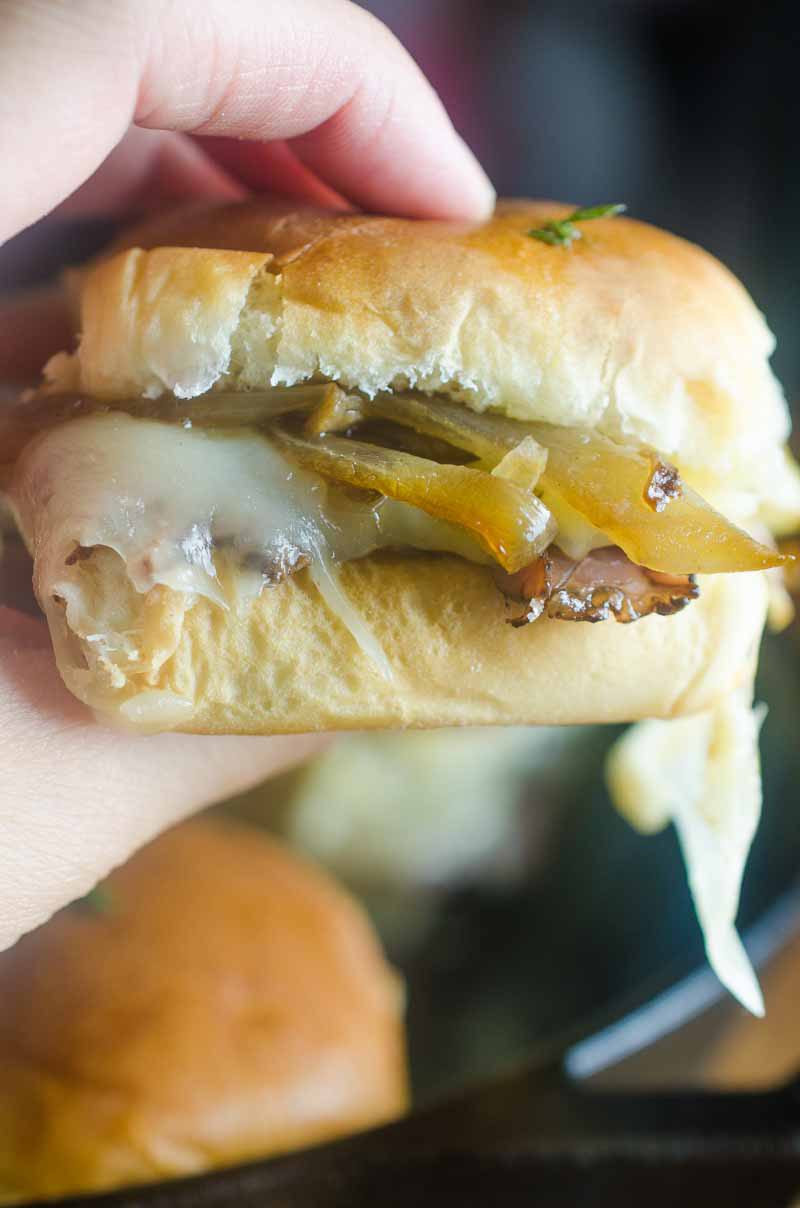 I decided to give these sliders a go the other day because I had a craving for roast beef sandwiches but wanted something that would be kiddo and adult friendly. I knew my kiddos would be happy with the roast beef and cheese but the sautéed mushrooms and onions probably wouldn't go over that well. So I left them off theirs.
Which meant more for us. Woot!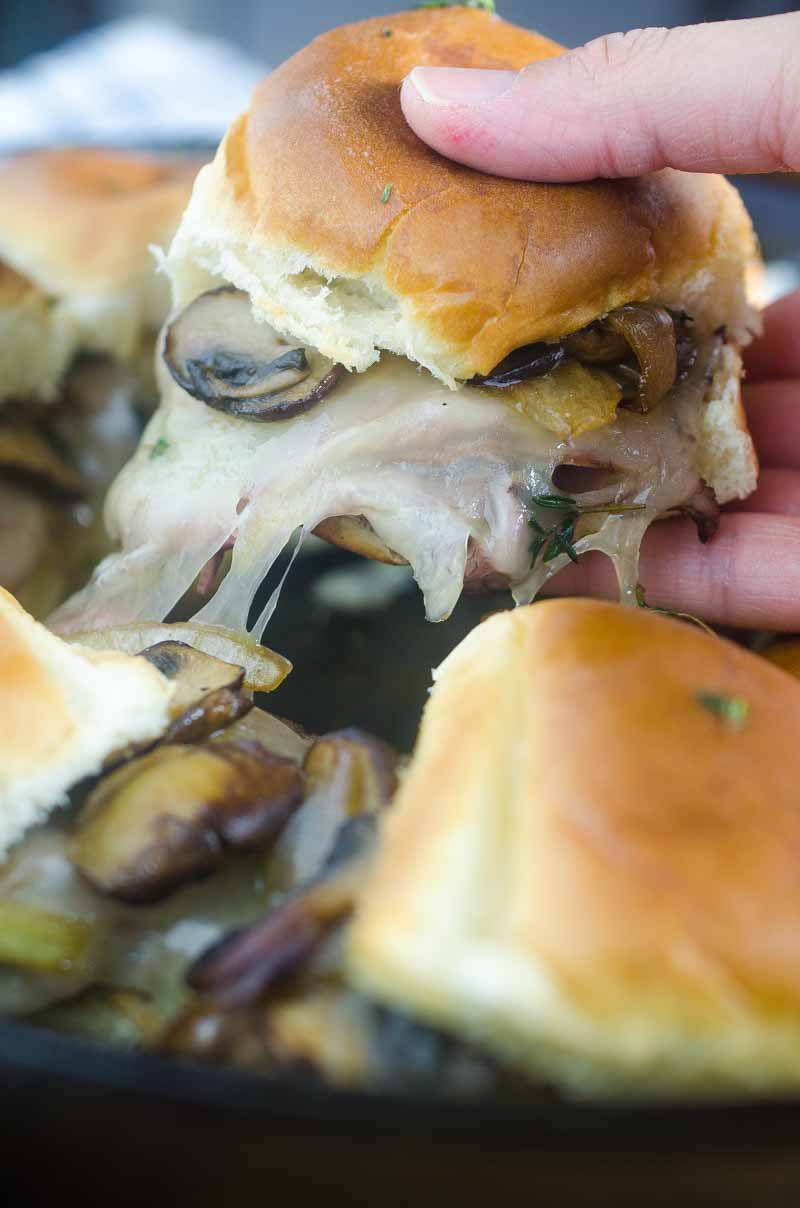 In addition to the mushrooms and onions, these Roast Beef Mushroom Sliders get another flavor boost from herb butter. Herb butter sounds fancy but alas, it's simply melted butter with fresh herbs mixed in. In this case, fresh thyme. Thyme is one of my favorite herbs, it's earthy, peppery and works well in so many things.
Plus, it makes a pretty pop of color on top of these sliders.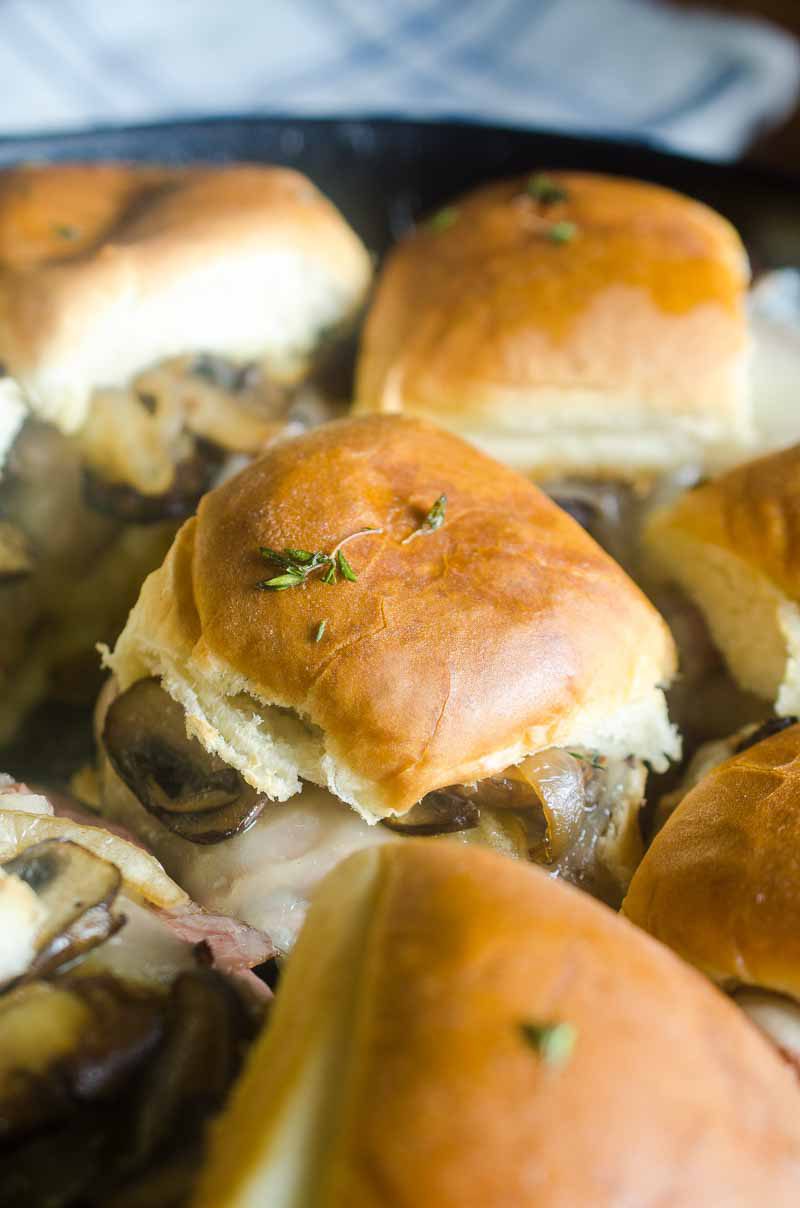 One problem I always had when deciding to make sliders was which buns to use. For these Roast Beef Mushroom sliders, I use potato dinner rolls. They were the perfect amount of light and fluffy and not overly sweet like some dinner rolls can be.
Finally, let's talk cheese. I originally was thinking of making cheddar beef sliders but roast beef and mushrooms just go so well with Swiss cheese. It's subtle but still so cheesy.
And just look at that cheese pull!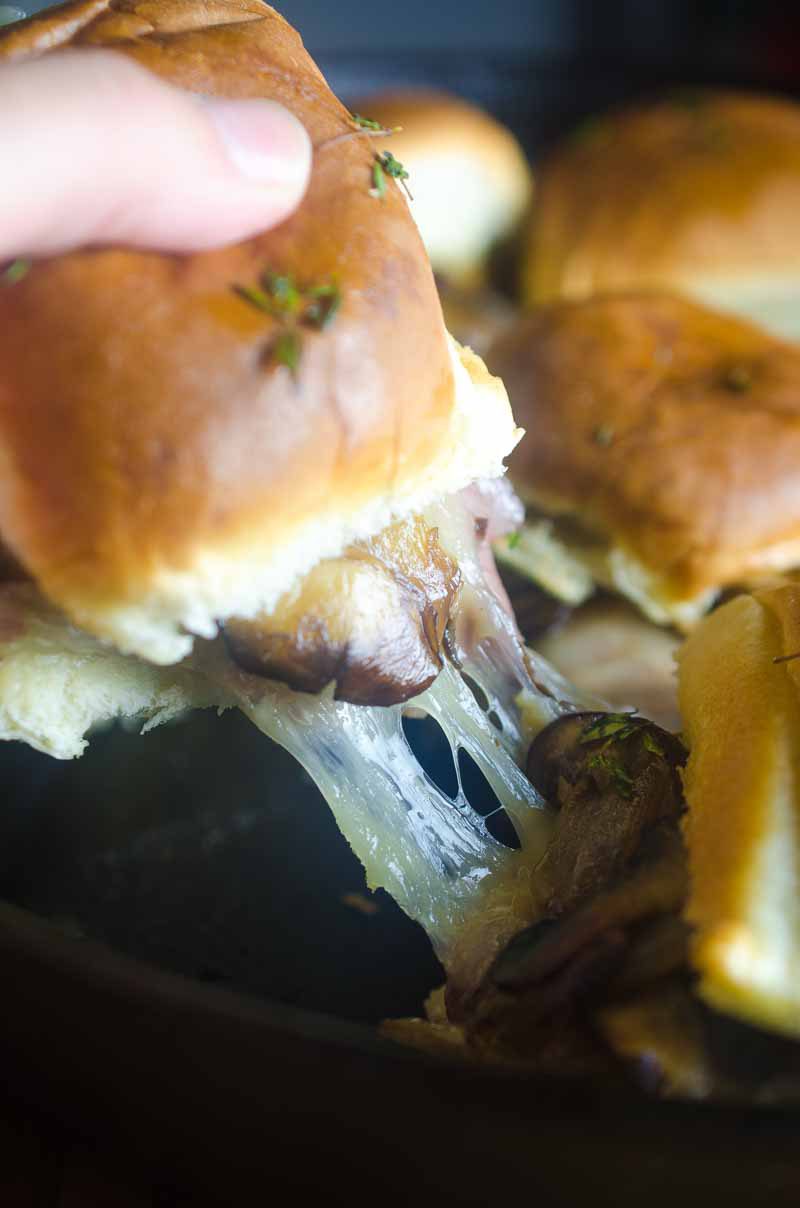 Man, I can never resist a good cheese pull. Can you?

Roast Beef Mushroom Sliders Recipe
Roast Beef Mushroom Slider Ingredients:
1 teaspoon oil
1 tablespoon butter
3 cups sliced mushrooms
1 yellow onion, sliced
8 - 10 dinner rolls
3/4 pound deli sliced roast beef
8 - 10 slices Swiss cheese
Herb Butter
2 tablespoons butter, melted

1 tablespoon fresh thyme leaves
Instructions
1
Preheat oven to 350 degrees.

2
Heat oil and butter together in a skillet until butter has melted. Add mushrooms and onions. Cook until browned. About 15 minutes. Season to taste with salt and pepper.

3
Cut rolls horizontally and place the bottom half of the rolls in a cast iron skillet or onto a baking sheet.

4
Layer roast beef and Swiss cheese on the rolls. Top with sautéed mushrooms and onions.

5
Place the roll tops on top.

6
In a small bowl whisk together melted butter and thyme. Brush onto rolls.

7
Bake 15 - 20 minutes or until cheese has melted and sliders are warmed through. Serve immediately.