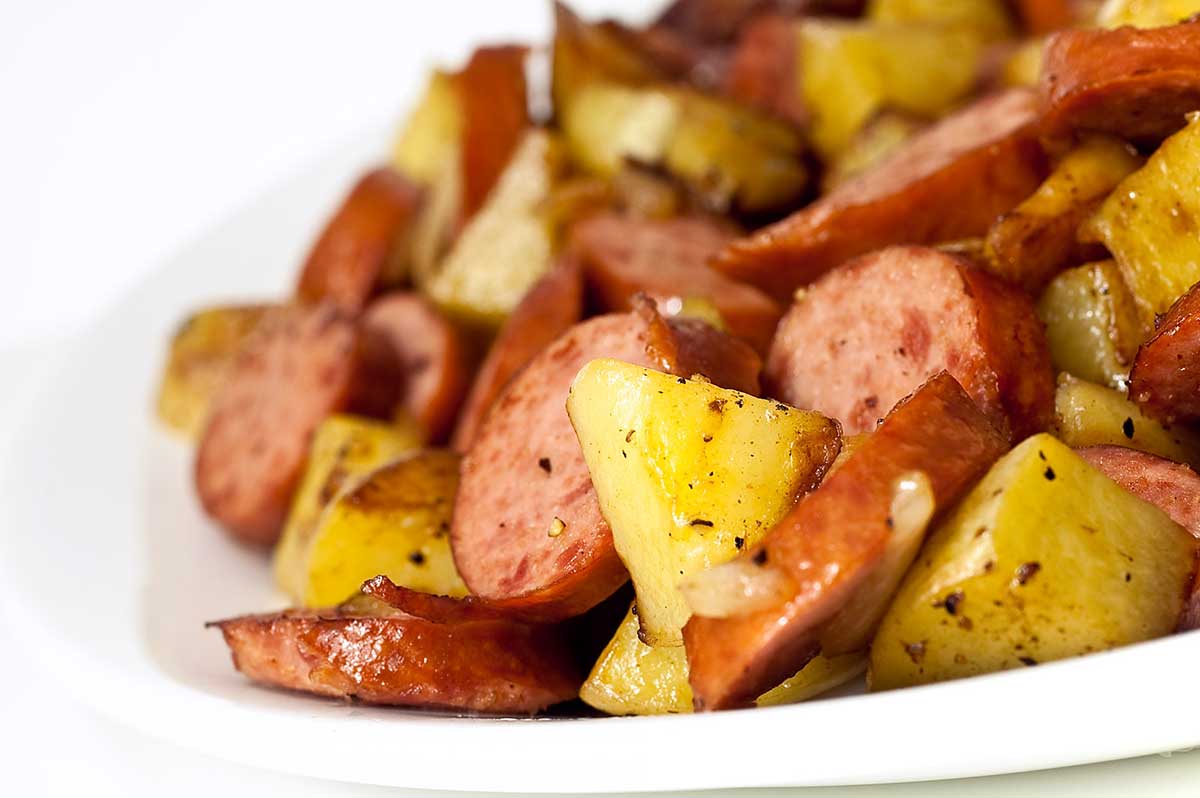 Kielbasa and Potatoes
Yesterday was one of those days. One of those days that seemed to drag on forever. One of those days when after I got home from work (gasp!) I did not want to make dinner. Whenever these days strike, and fortunately its not often, I surprisingly manage to resist the urge to turn to take out menus. Instead, I make Ryan and I something that's comforting and quick. This recipe for kielbasa and potatoes usually fits the bill. The salty sausage, sweet caramelized onions and tender potatoes create the perfect bite.
This is a recipe that was common when I was growing up. My mom used to make it quite often. And I was always a fan. I think my mom turned to this because of its simplicity too. The sausage is precooked, the potatoes don't take long and the onions take even less time. And best of all its all done in one pot so that cleaning is a cinch. This means you can get to the couch and start relaxing a whole lot sooner.
Note: If you use beef kielbasa cut the amount of butter and oil slightly or the dish may turn out a little greasy.
Kielbasa and Potatoes Recipe
Ingredients:
1 tablespoon olive oil
1 tablespoon butter
3 medium Yukon gold potatoes, diced
fresh cracked pepper and kosher salt
1/2 medium onion chopped
1 pound turkey kielbasa, cut in half at the curve and then sliced
Instructions
1
In a large skillet heat olive oil and butter over medium heat. Once butter has melted add potatoes. Sprinkle with salt and pepper. Allow to cook for 4-5 minutes without stirring. Stir after 5 minutes. Cook another 5 minutes. Stir.

2
Stir in onions. Cook 3 minutes. Stir in kielbasa. Continue cooking for 5 more minutes or until sausage is warmed through and pieces begin to brown.

Notes
After about 30 minutes I was on the couch under a blanket with a bowl of this in my lap, a glass of wine in my hand and suddenly the day didn't seem all that bad.Enjoy!