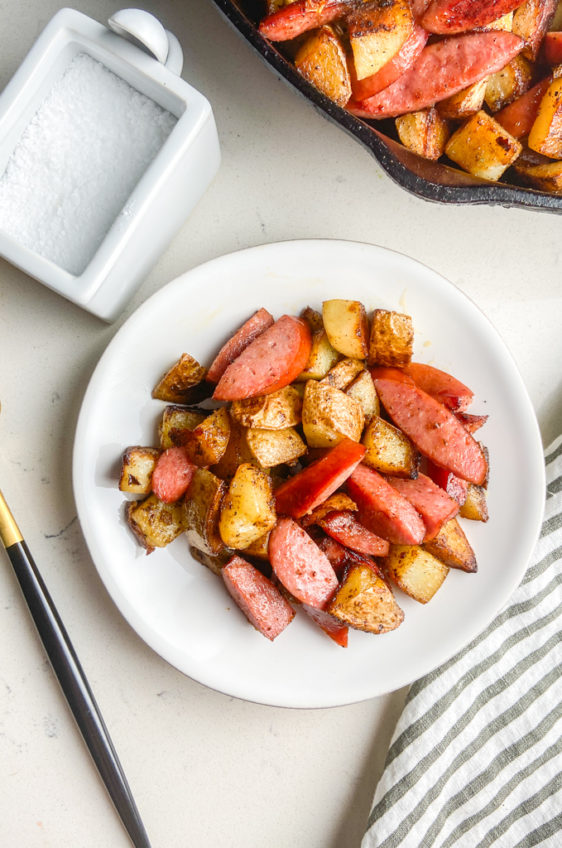 Kielbasa and Potatoes
Kielbasa and Potatoes is one of my go to recipes for weeknight dinners. With just a handful of ingredients and two easy steps you can have it on the table. It's quick, easy and the entire family will love it! 
We all have one of of those meals that brings us back to our childhood right? My mom used to Kielbasa and Potatoes all the time. It was one of her go-to meals in between running my sister and I to orchestra (me) and softball (my sister).
And now that I am a busy mom myself, I find myself turning to it too. it is because it is so easy and the kiddos love it.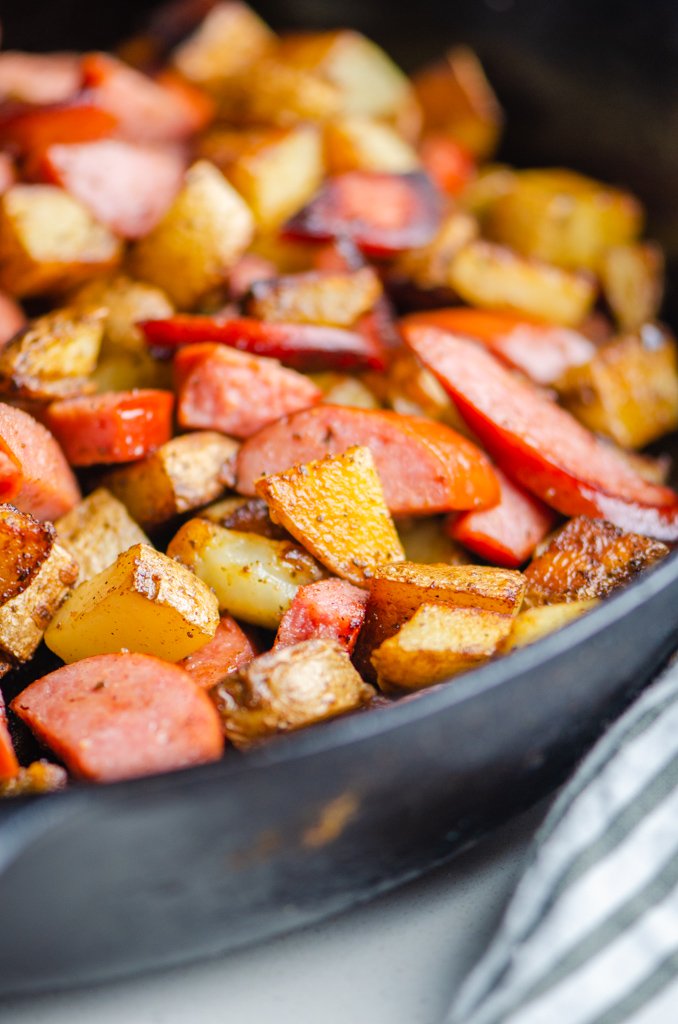 I mean what is not to love. Between the smoky sausage pieces and the crisp yet tender bites of potatoes, it is bound to be a crowd pleaser.
What ingredients do you need?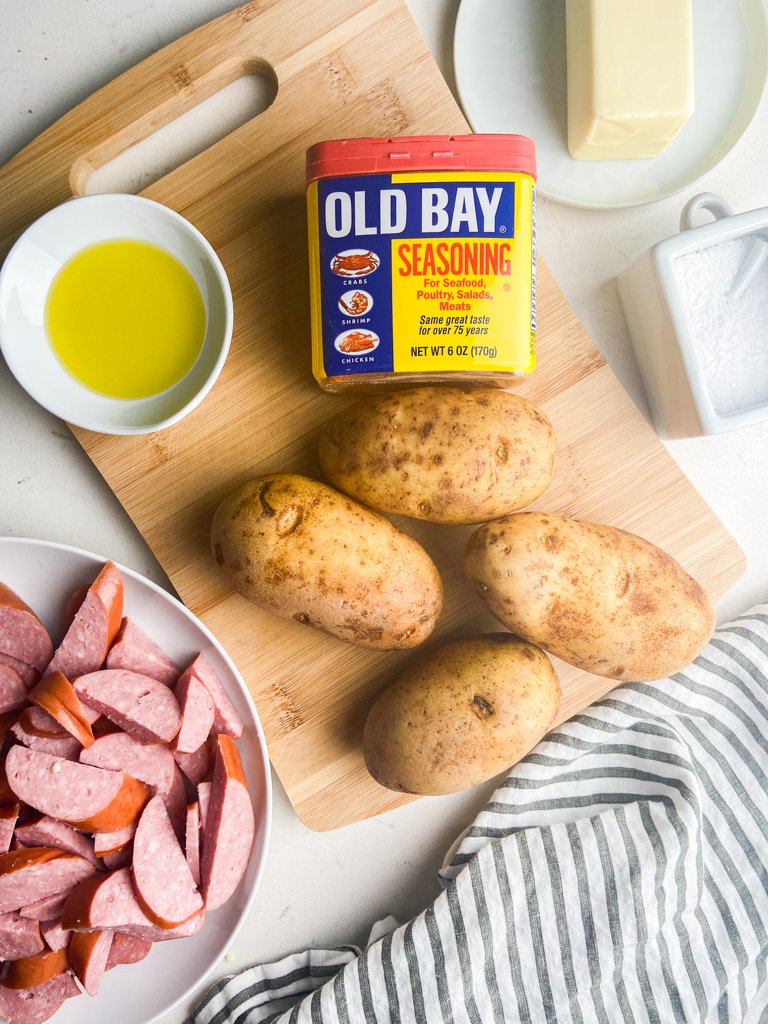 KIELBASA: Kielbasa is one of my absolute favorite sausages. It is a polish sausage that has a smoky flavor. It is pre-cooked and great for adding to all kinds of recipes.
RUSSET POTATOES: To keep with the ease and rustic flare to this dish, I prefer to keep the skin on the potatoes. Cut them relatively small so that they cook faster and you will also want to make sure you dice them all the same size so that they cook evenly.
OLD BAY SEASONING: This has been one of my favorite seasoning blends as of late. It is made with celery salt, bay leaves, mustard and peppercorns. It is great with seafood but I really love using it with potatoes too. If you can't find it in the spice aisle at your grocery store, check the seafood counter. They usually have them there.
BUTTER and OLIVE OIL: I like using a combination or both. You get the buttery flavor from the butter but the added oil helps keep the butter from burning.
ONION (optional): Typically kielbasa and potatoes has onions but let's be honest, they aren't always kid friendly. I left them out of this recipe but it is an easy add if you want. Simply put them in a couple of minutes before you add the sausage.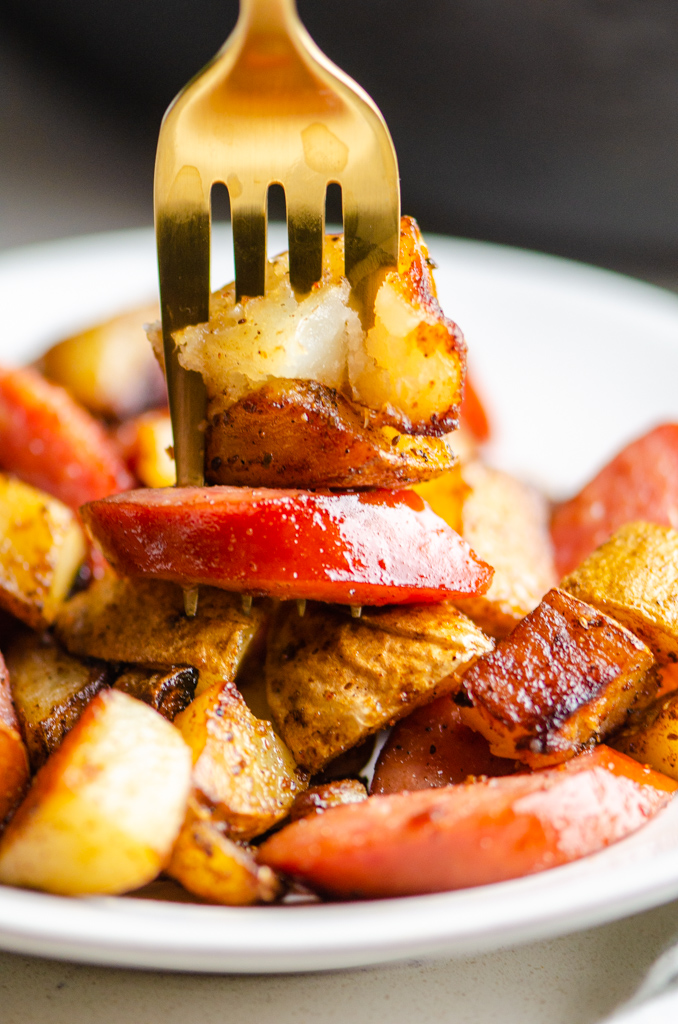 How do you make fried kielbasa and potatoes?
I like to do all of this in one skillet. I find that cast iron works fabulous when I am wanting to get crispy edges on my potatoes but any large skillet will work fine. You just want to make sure that you can get all of the potatoes in a single layer in the skillet.
STEP #1: Heat oil and butter together in a skillet over medium heat. Once the butter has melted add the potatoes. And sprinkle with Old Bay Seasoning.  Allow the potatoes to cook 5 minutes before stirring and then allow the potatoes to cook 10 – 15 minutes or until tender.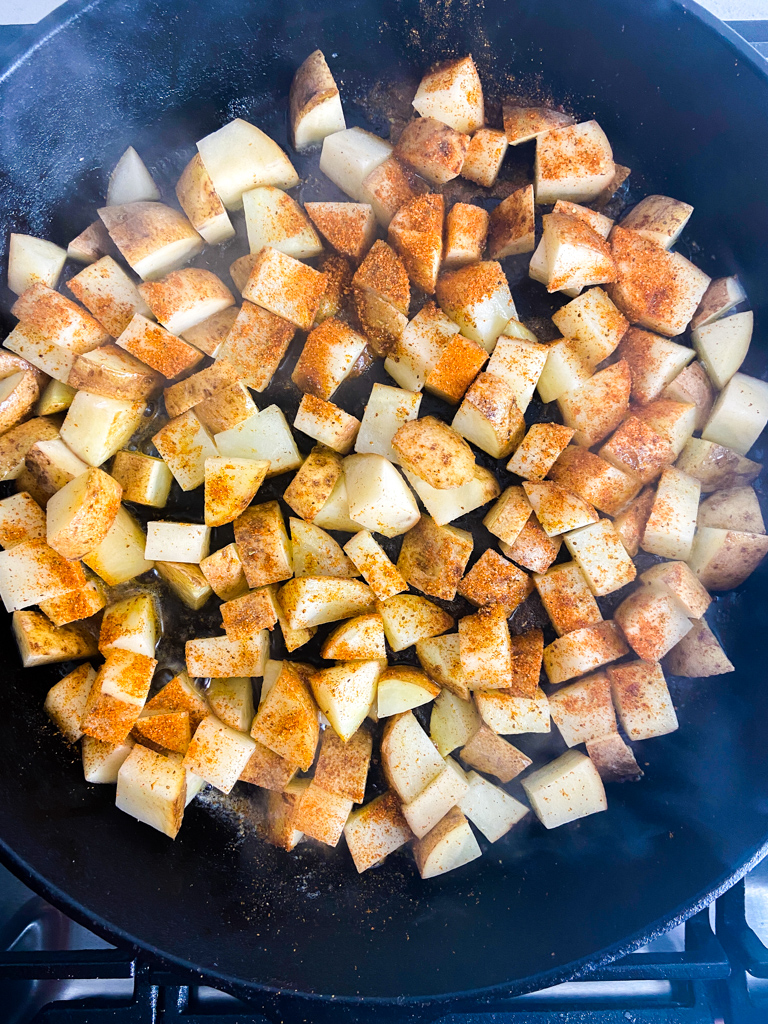 DES' TIP: A key to making crispy, yet tender potatoes is to let them sit and cook for about 5 minutes before you start turning them. This will give them a chance crisp on the outside. The potatoes will be easier to lift from the pan once the outside has crisped. 
STEP #2: Add in the kielbasa. Cook 3 -5 minutes more or until the kielbasa is warmed through. Season to taste with salt and pepper and serve.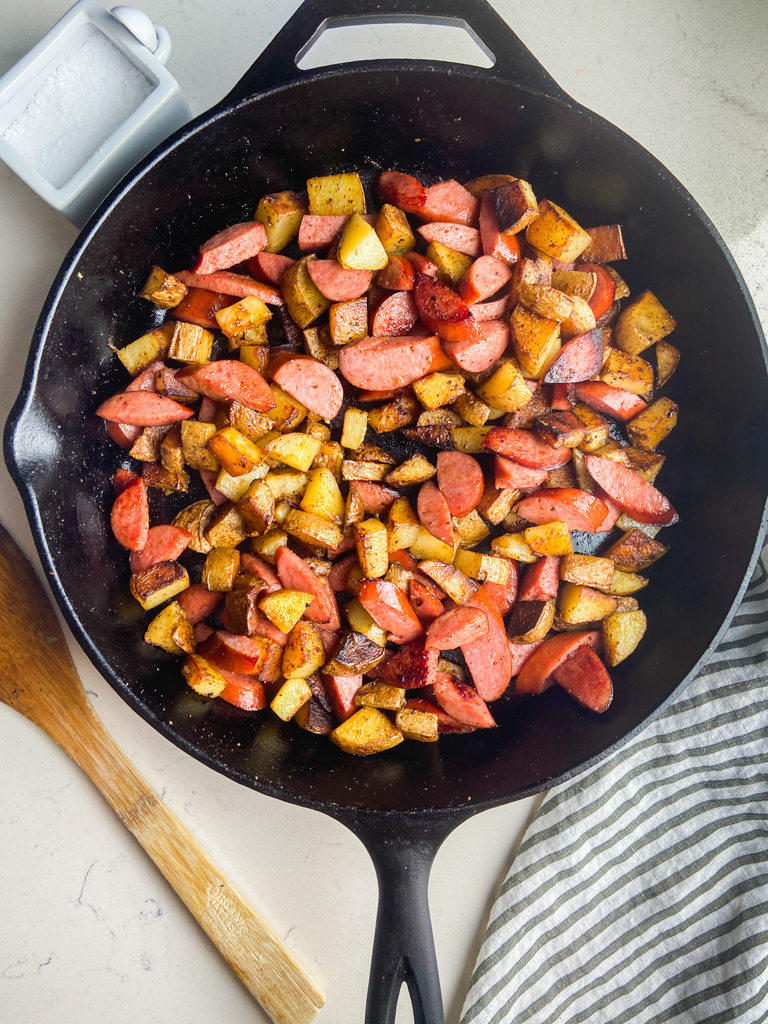 See! How easy is that? Literally two steps and dinner is on the table. This is why this Fried Kielbasa and Potatoes is one of my favorite things to make for dinner on a busy weeknight.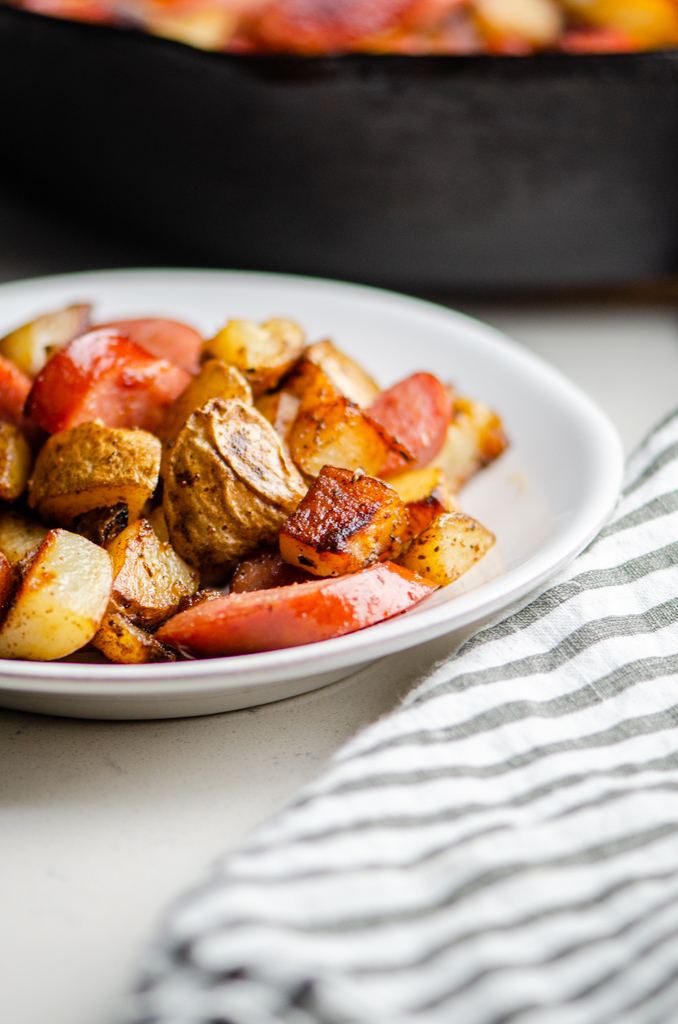 If you want to make sure you get some veggies too, I like to serve it with southern fried cabbage, sautéed broccoli or a green salad with garlic vinaigrette or homemade thousand island dressing.
Note: this post was originally posted in 2010 it was updated with new photos, nutrition information and a modified recipe in 2021.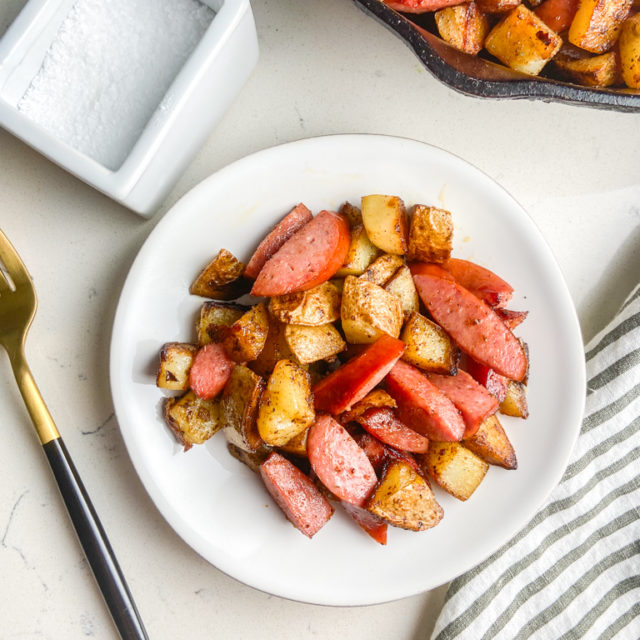 Kielbasa and Potatoes
Kielbasa and Potatoes is one of my go to recipes for weeknight dinners. With just a handful of ingredients and two easy steps you can have it on the table.
In a large skillet heat olive oil and butter over medium heat. Once butter has melted add potatoes. Sprinkle with Old Bay seasoning. Allow to cook for 4-5 minutes without stirring. Stir after 5 minutes. Cook another 10 - 15 minutes or until tender. Stir.

Stir in kielbasa. Continue cooking for 5 more minutes or until sausage is warmed through and pieces begin to brown. Serve hot.
After about 30 minutes I was on the couch under a blanket with a bowl of this in my lap, a glass of wine in my hand and suddenly the day didn't seem all that bad.Enjoy!
Calories:
459
kcal
Carbohydrates:
37.9
g
Protein:
18.5
g
Fat:
26.6
g
Saturated Fat:
9.4
g
Cholesterol:
87
mg
Sodium:
1714
mg
Fiber:
5.1
g
Sugar:
2.5
g
Keywords:
one pot dish, potatoes, quick meal