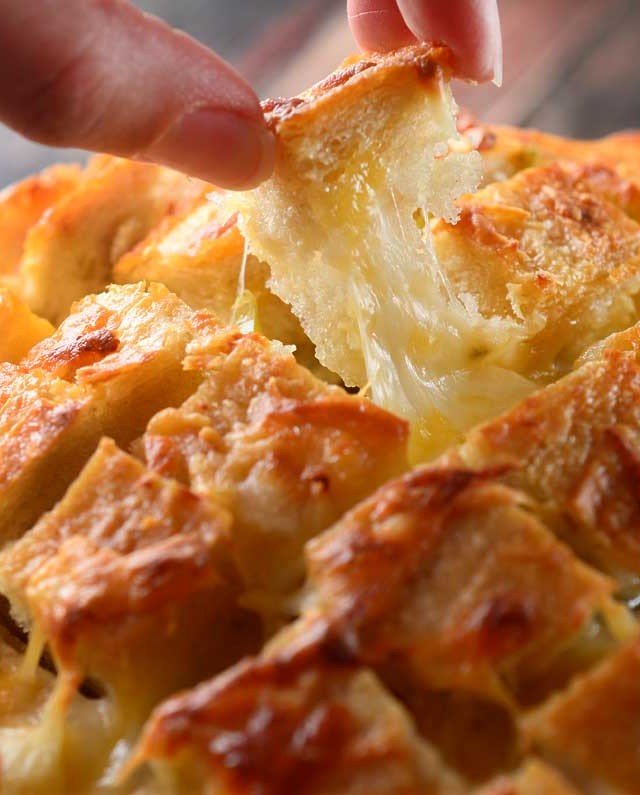 Cheesy Hatch Chile Pull Apart Bread
After sharing the Garlic Parmesan Ranch Pretzels and the BBQ Pulled Pork Tailgate Fries, I thought that I would continue with the football food this week and share this Cheesy Hatch Chile Pull Apart Bread. It's loaded with hatch chiles, onions and three different kinds of cheese. AKA: The PERFECT game day snack.
Speaking of game day, did you catch the game last night?? Sorry to Packer fans (HI GRANDPA!) but how about those Hawks? They were on fire. And boy was it nice to see the Super Bowl Champions flag raised at Century Link Field. Fingers crossed that they can keep that playing up and earn themselves another one! You can all agree with me on that right? ;-)
Football games and teams aside, I think we can all agree that hatch chiles are awesome. And when you cook hatch chiles in butter to make a hatch chile butter, it's even more awesome. And when you drizzle that hatch chile butter over the top of bread and stuff said bread with three kinds of cheese then the level of awesomeness really can't be measured.
But it can sure as heck be enjoyed.
And that is exactly what we did when I made this the other night. We enjoyed every single, cheesy, hatch chile filled bite.
To make this, I used a round loaf of Italian bread that I found at in the bakery section of my grocery store. You can also use a small french bread loaf or a small sourdough boule, really whatever smaller loaf of bread you can find. The important part is to cut deep enough into it that you get the cheese and hatch chile butter spread throughout, but you also want to make sure you don't cut all the way through the bread. Also, if you don't have access to fresh hatch chiles to roast yourself you can use a 7 ounce can of fire roasted diced green chiles instead.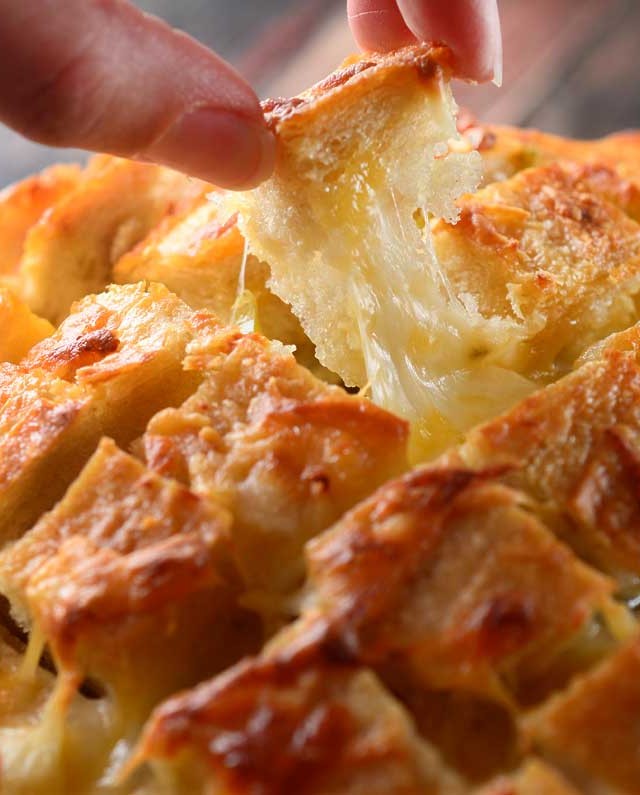 Cheesy Hatch Chile Pull Apart Bread
Bread stuffed with hatch chile butter and three different kinds of cheese. AKA the perfect game day snack!
Preheat oven to 400 degrees.

Slice the bread vertically and horizontally being careful to not cut all the way through the bread, stop about 1/4 inch from the bottom of the loaf. Place on a sheet of aluminum foil.

Melt butter in a skillet over medium heat. Add in chiles, onion and garlic. Cook just until garlic becomes fragrant and onions start to soften, about 1 minute. Remove from heat.

Drizzle the hatch chile butter into each cut of the bread. Gently part the bread to allow the butter mixture to work its way into the tiny spaces. Gently push chiles into the cuts with your finger or a spoon.

Combine cheddar, mozzarella and pepper jack cheese together in a bowl. Gently stuff the cheese into each cut of the bread.

Wrap the bread in the aluminum foil and bake for 15 minutes. Uncover and bake for an additional 10 minutes or until the cheese is bubbly. Remove from the oven and serve immediately.
Keywords:
appetizer, cheese, hatch chile, super bowl food