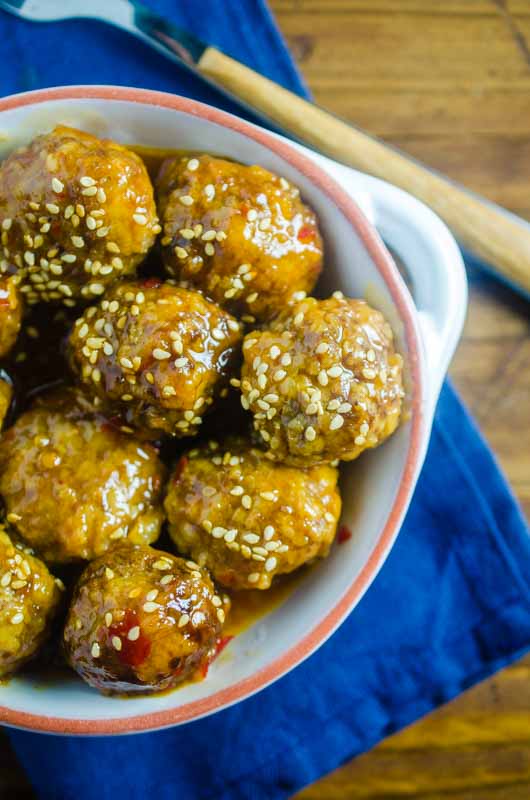 Slow Cooker Sweet Chili Meatballs
Sweet Chili meatballs are so delicious, you'll need to make a double batch! This super easy meatballs recipe perfect for a weeknight dinner, because it's made in a slow cooker.
NOTE: Post was originally posted September 2014. Photos updated and video added November 2017
Happy Monday, friends! I hope you had a wonderful weekend. I had a great weekend attending the International Food Bloggers Conference. If you follow me on Instagram or Facebook, then you saw that we enjoyed some delicious food and learned new things. One of the highlights was, I finally got to meet Karen and Andrew, authors of The Flavor Bible aka the book everyone MUST have in their kitchen. It should be a requirement really. Just my opinion :)
One  of the other highlights of the weekend was getting to talk and visit with old friends and make new ones. As we do, those of us who have them, talked about our children. I talked with Cathy of Noble Pig about what it's like to raise two boys since both of them have older boys. I was mainly interested in how in the heck you feed teenage boys.
What sparked that question was the fact that when I made these delicious Slow Cooker Sweet Chili Meatballs recipe last week, I ate five of them. These are normal sized, not miniature in any way meatballs, Five meatballs is a normal amount right? I was full, but not overly full.  On the other hand, Kellan, my almost 3 year old, ate EIGHT of them, then asked for more.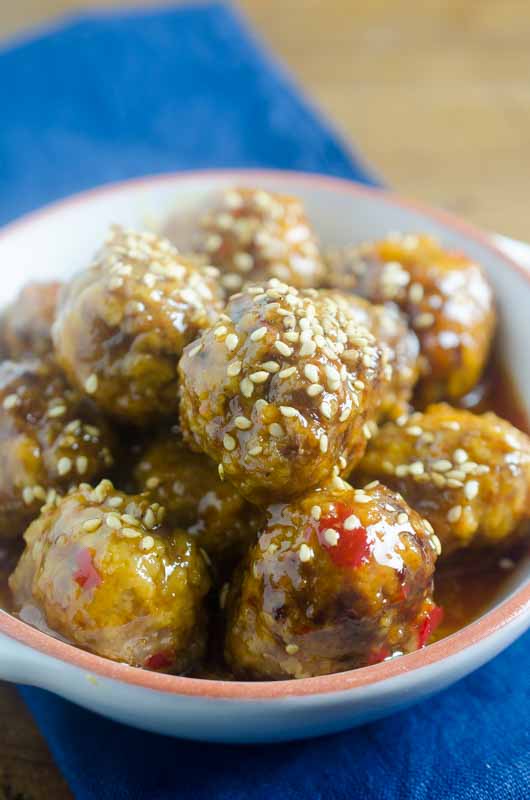 But I didn't have any more.
Seriously, it was the first time that I didn't have at least a little for leftovers for as long as I can remember.
Up until this point, I haven't really had to increase the amount of groceries that I buy. For the first six months of Kellan's life, he nursed exclusively. And while he continued to nurse beyond that, he never ate much. But after seeing him eat all of those meatballs and seeing him eat 1 1/2 to 2 peanut butter and jelly sandwiches at lunch every day, it hit me: I'm going to be feeding boys. Hungry growing boys.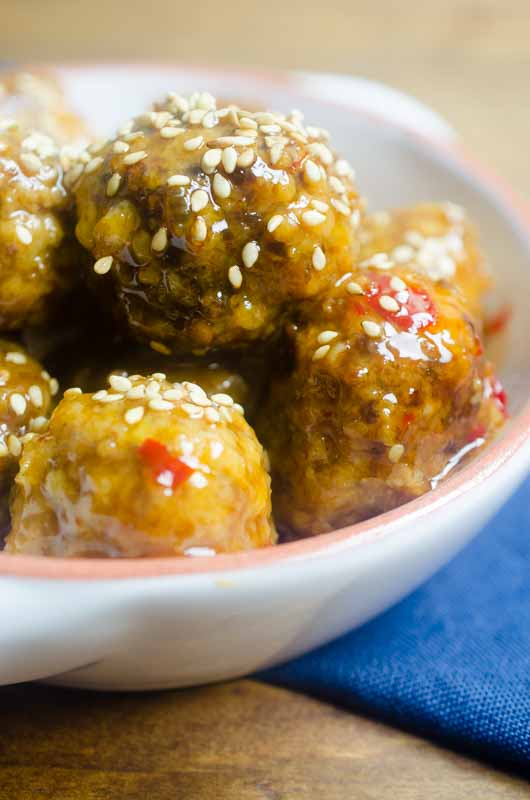 I should probably just buy myself a Costco store right now.
In the meantime, the next time I make these Sweet Chili Meatballs, I'm making a double batch.
And believe me, I'll be making Sweet Chili Meatballs again and again. This slow cooker recipe is super easy to make and, as you now know, totally adult and toddler approved. Serve them with some fried rice or chow mein noodles.
Watch how quickly these Sweet Chili Meatballs come together!
NOTE: Post was originally posted September 2014. Photos updated and video added November 2017

Slow Cooker Sweet Chili Meatballs Recipe
Ingredients:
1 pound ground pork
3 cloves garlic, minced
1/2 cup panko bread crumbs
2 teaspoons soy sauce
2 teaspoons sesame oil
1/2 teaspoon salt
1 tablespoon sesame seeds, plus more for garnish
1 egg, beaten
1/2 cup beef broth
1 1/2 cups sweet thai chili sauce
Instructions
1
Combine pork, garlic, panko, soy sauce, sesame oil, salt, 1 tablespoon of sesame seeds and egg together in a bowl. Work with your hands to mix well. Roll into approximetly 20 meatballs.

2
Place the meatballs in your slow cooker. Pour in beef broth. Cover and cook on low for 4 hours.

3
After 4 hours, stir the meatballs and pour in sweet thai chili sauce. Cover and cook on low for two more hours.

4
Transfer to a serving platter sprinkle with sesame seeds and serve with rice, if desired.