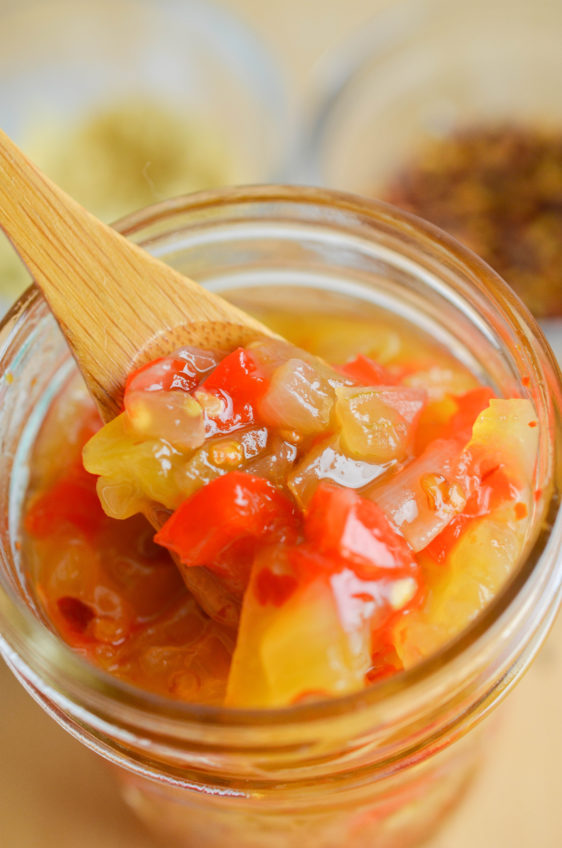 Spicy Green Tomato Relish
Spicy green tomato relish is an easy homemade condiment made with green tomatoes and crushed red peppers. It is a delicious compliment to grilled meats.
Towards the end of each summer, as the weather gets colder, tomato plants are often left with a number of green tomatoes that will never ripen. If your tomato plant is one of those, have no fear, I've got a great recipe to use up some of your summer bounty: Spicy Green Tomato Relish.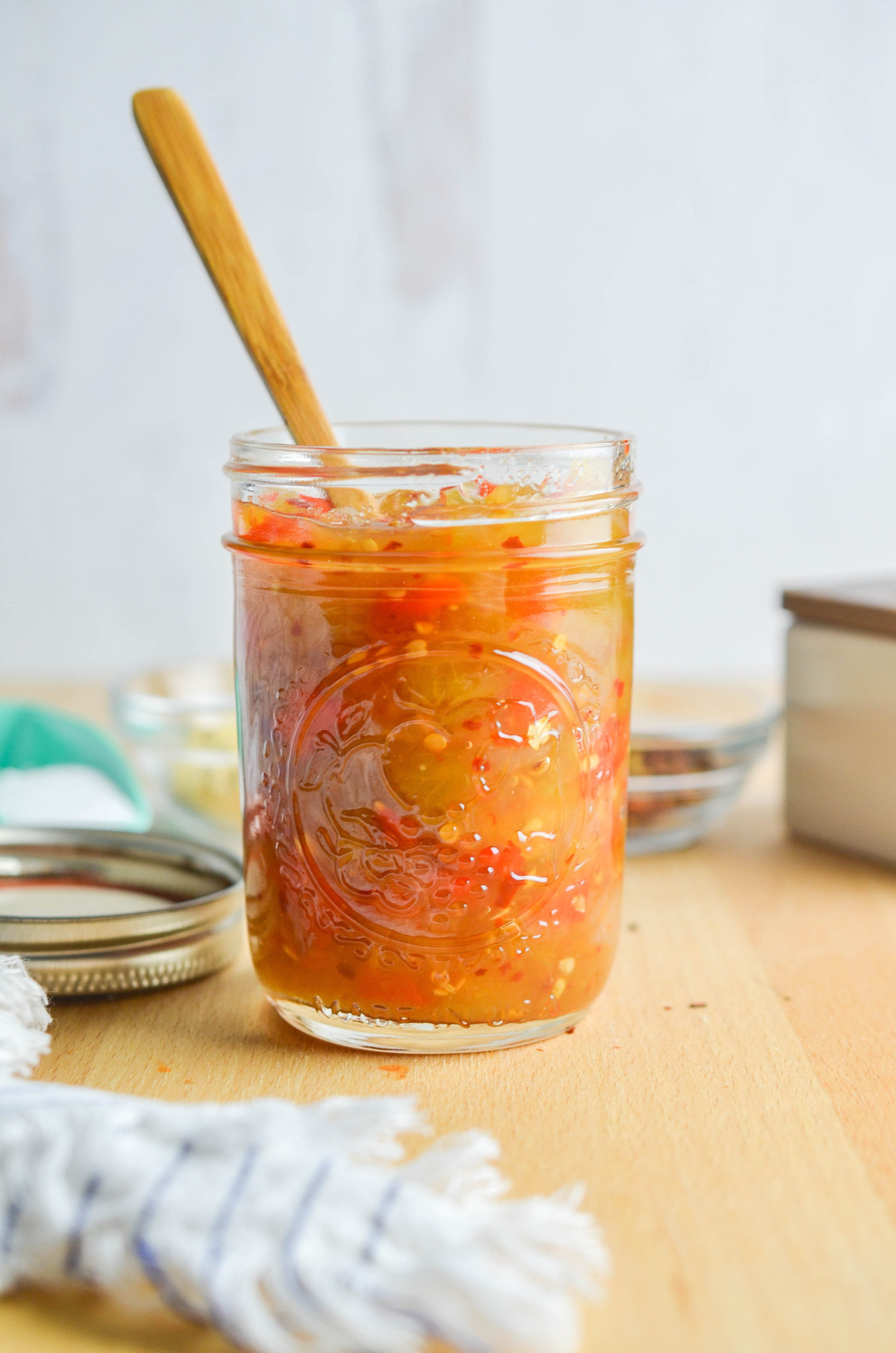 What do you need?
GREEN TOMATOES: Green tomatoes are basically unripened red tomatoes. They are much more tart and firm than their ripened counterparts. Bigger varietals like beefsteak or early girls work the best for this.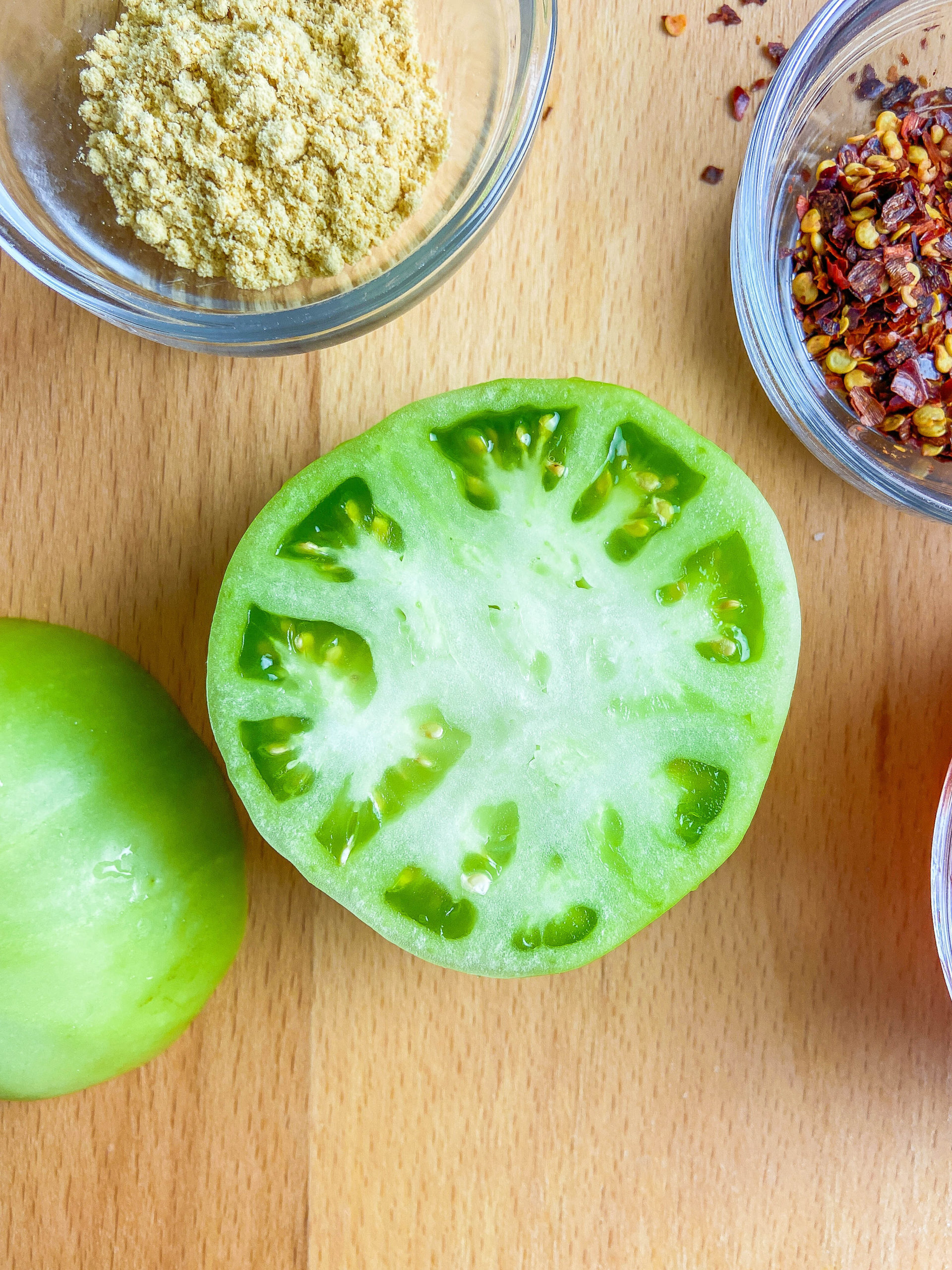 DES' TIP: Despite looking similar once the husk is removed, tomatillos are not the same as green tomatoes. The flesh of tomatillos is slightly more acidic than green tomatoes. However, they do fry up just as nicely as I found out in my Fried Green Tomatillos Recipe.
BELL PEPPER: I chose red for the color but you could really use any kind of bell pepper.
ONION: You could use regular yellow, white or a sweet walla walla in this recipe.
VINEGAR: This gives the relish a distinct acidic flavor that is common with relishes. This recipe calls for distilled white.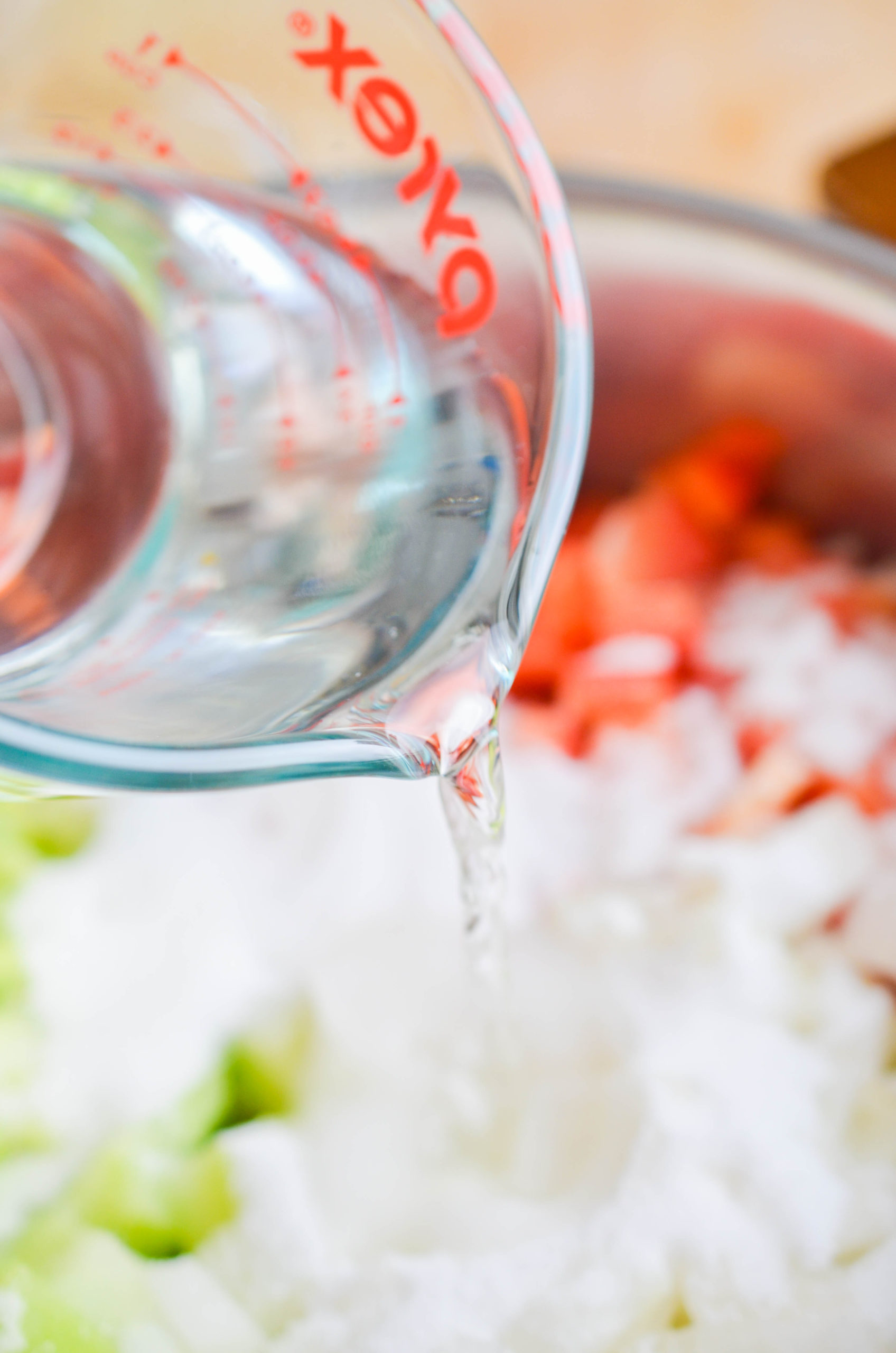 SUGAR: To add sweetness.
SALT: I prefer to use kosher salt but you can use a sea salt as a substitution. Here is a handy list of salt substitutions from Morton Salt incase you need more options.
GROUND MUSTARD: A must have when making relish in my opinion.
CRUSHED RED PEPPERS: This is where the heat comes from in this Spicy Green Tomato Relish. You can totally leave it out and have a basic tomato relish but try it with the heat. It's a perfectly compliment to the sweetness from the sugar.
WATER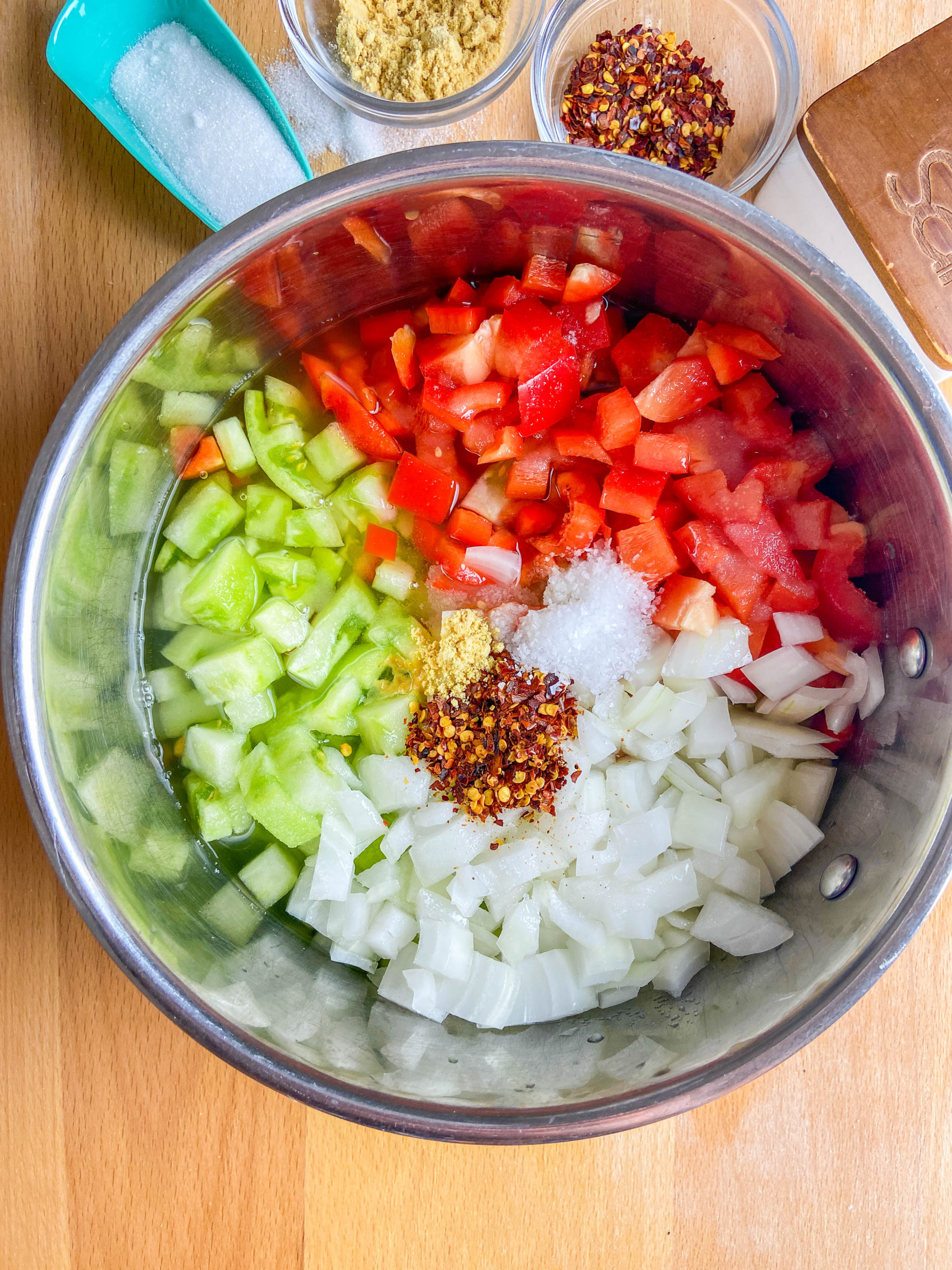 STEP BY STEP PHOTOS AND INSTRUCTIONS:
Step #1: Dice all of your vegetables: tomatoes, onions and bell peppers. You want them to be about the same size so that they cook evenly.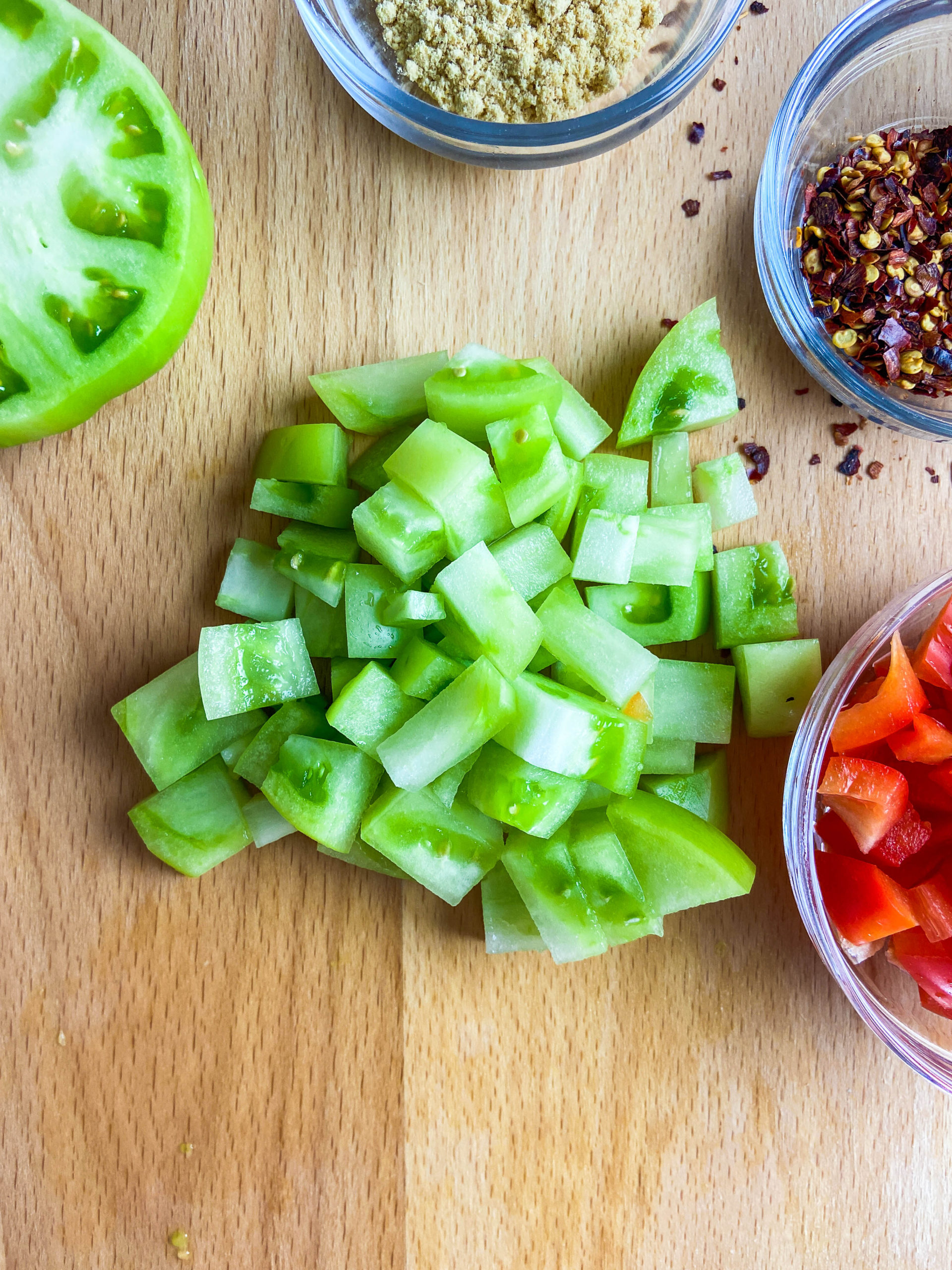 Step #2: Combine all of the ingredients in a medium – large saucepan. Bring to a boil then reduce heat and simmer until it is reduced by 2/3rds. This will take about an hour or so.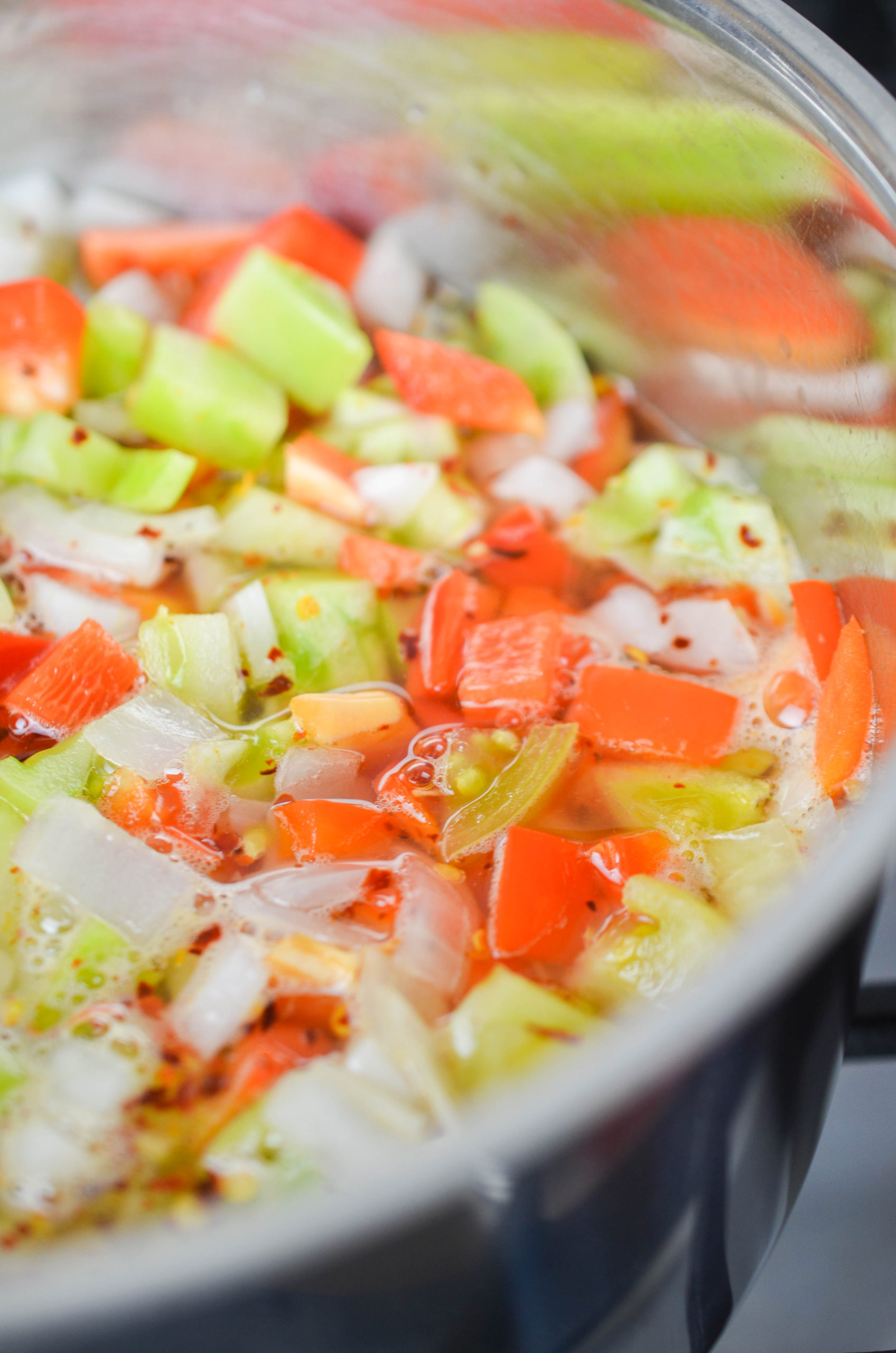 STEP #3: Remove from heat and allow to cool. Store in clean glass jars in the refrigerator for up to 3 weeks.
What do you use this on?
This is FABULOUS on hamburgers and hot dogs, friends. It would even be great with grilled chicken or white fish like cod. Or, for a quick appetizer, pour some over some softened cream cheese and serve with crackers. Divine.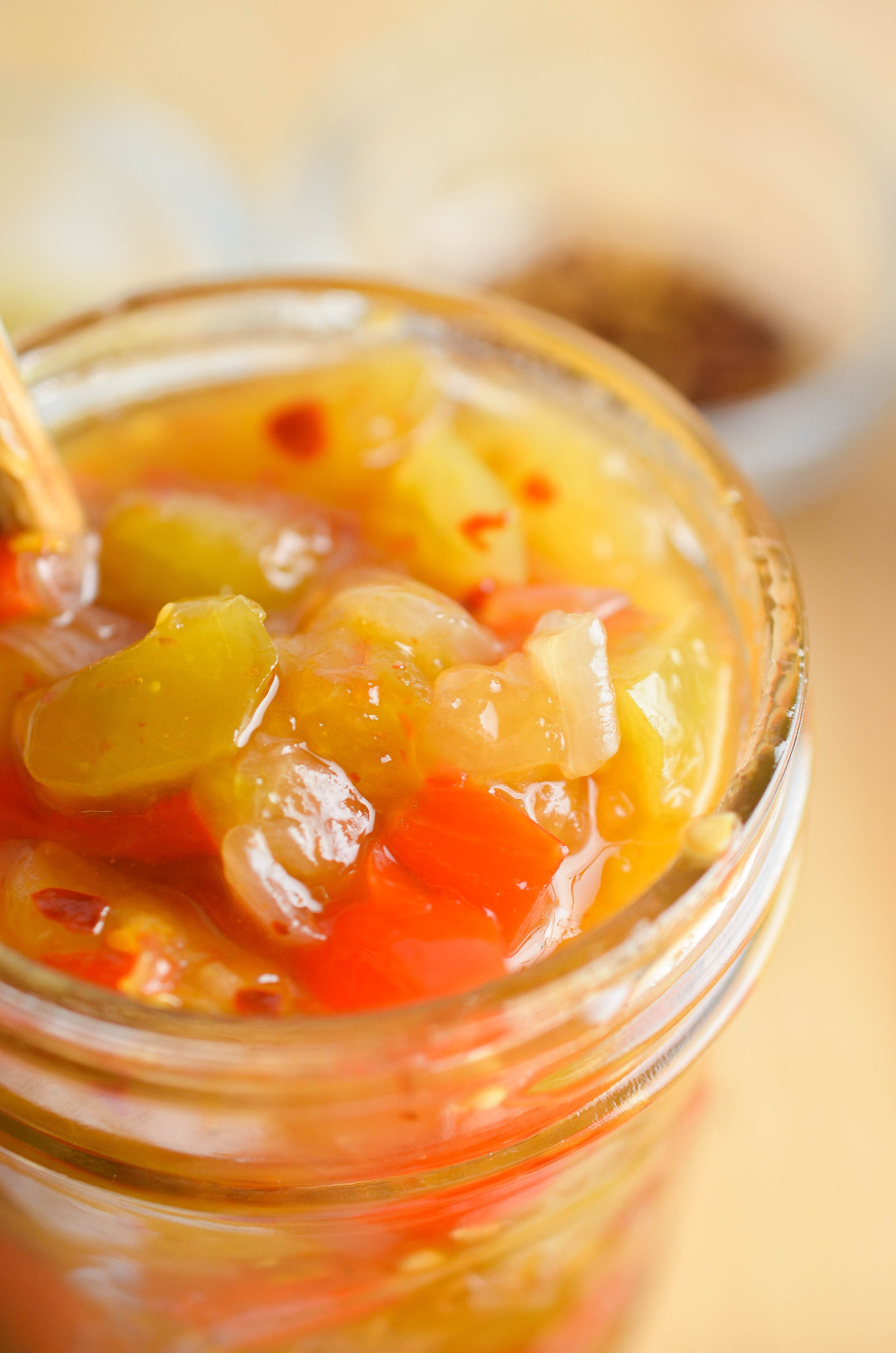 How long does this last?
Unlike most relish recipes, this Spicy Tomato Relish, makes a small batch about two cups. This is great for people like me, that don't can. It'll last a few weeks in the refrigerator. I mean, if you don't put it on all the things.
But you probably will.
If you love making your own condiments like this Spicy Green Tomato Relish, try your hand at these recipes:
Looking for other recipes to use up your green tomatoes? Here are my favorites!
Note: This recipe was originally published in 2012. It was updated with new step by step photos and instructions in 2020.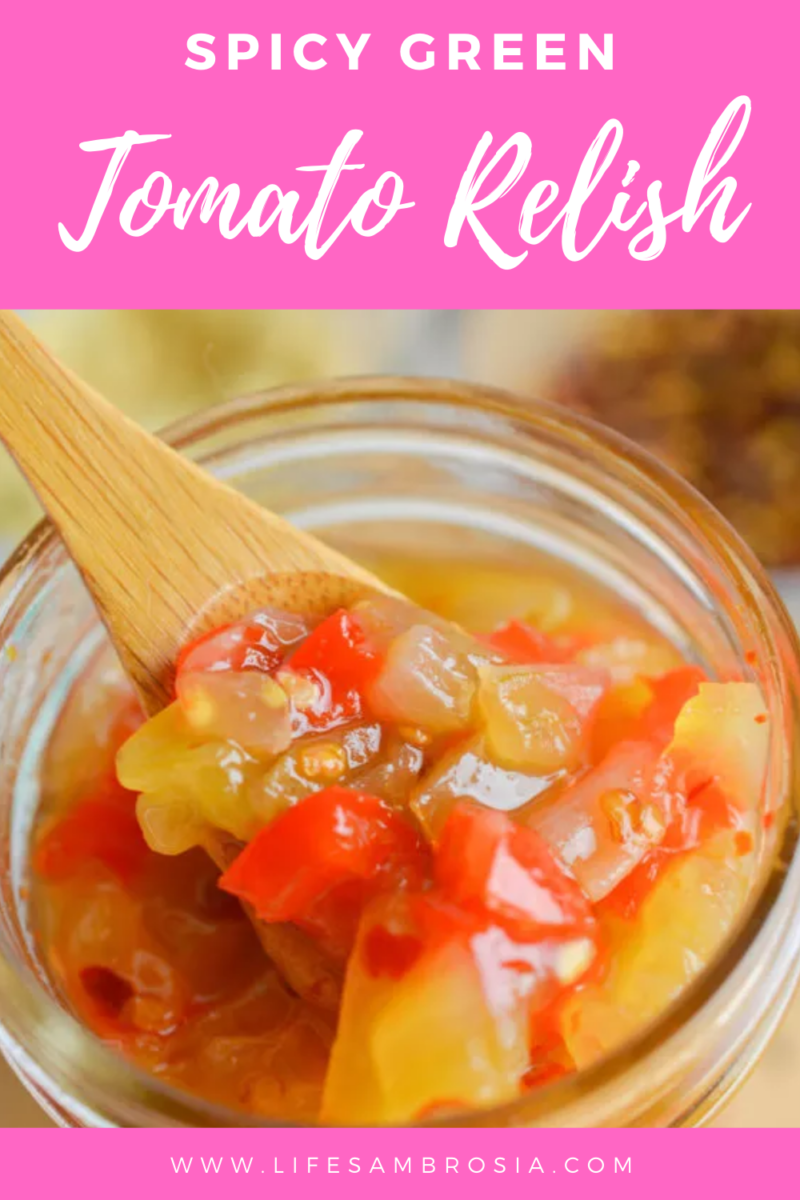 Spicy Green Tomato Relish Recipe
Ingredients:
1 pound green tomatoes, diced
1 medium yellow onion, diced
1 red bell pepper, seeds and ribs removed, diced
1/2 cup granulated sugar
1 cup distilled white vinegar
1/4 cup water
1 teaspoon crushed red pepper
1 teaspoon kosher salt
1/4 teaspoon ground mustard
Instructions
1
Combine all ingredients together in a 3 qt sauce pan. Bring to a boil. Reduce heat and let simmer until it reduces by about 2/3rd's, about an hour.

2
Transfer to a bowl and allow to cool.

3
Store in an airtight container in the refrigerator for up to 3 weeks.
Nutrition information
Amount per serving: 8 servings per batch
Calories: 75 , Total Fat: 0.2g , Saturated Fat: 0g , Cholesterol: 0mg , Sodium: 296mg , Carbohydrates: 17.6g , Fiber: 1.2g , Sugar: 15.5g , Protein: 0.9g