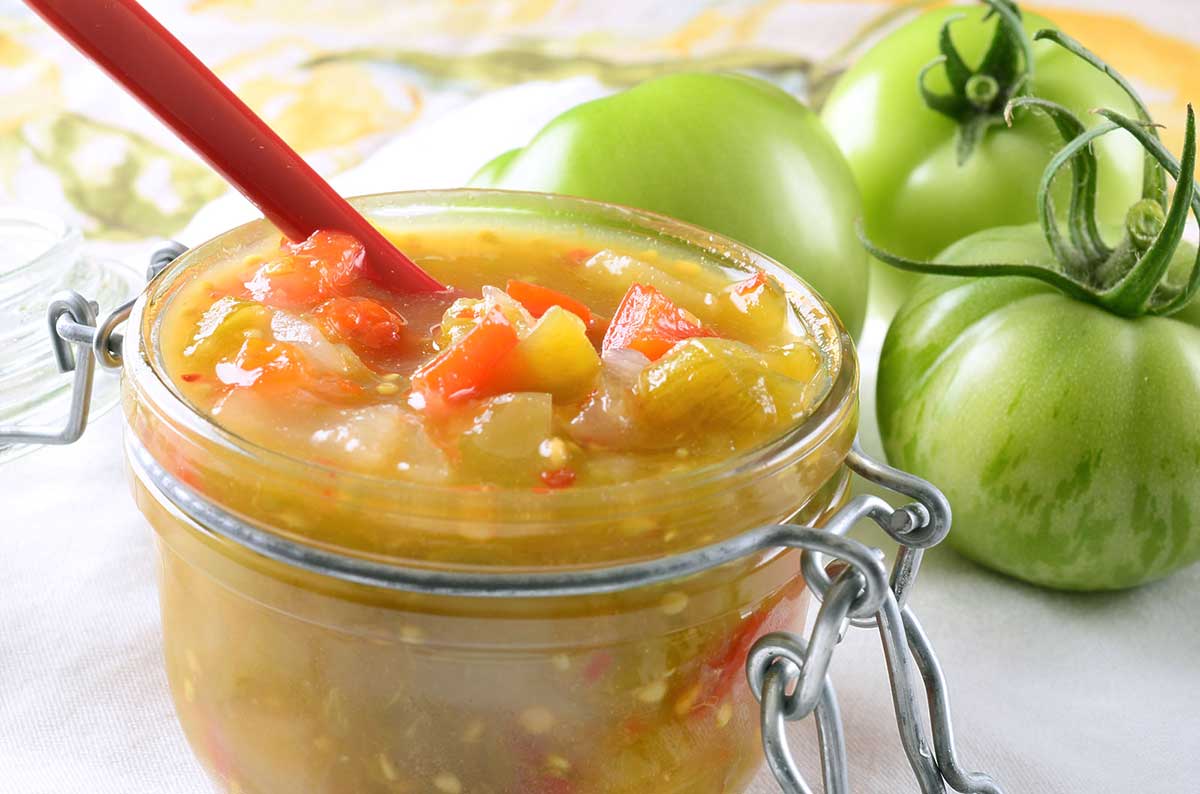 Spicy Green Tomato Relish
Spicy green tomato relish is an easy homemade condiment made with green tomatoes and crushed red peppers. It is a delicious compliment to grilled meats.
I always dreamed of having a garden, but this is the first year that I have actually be able to do it. When I imagined the garden that I would have, I knew it would, without question, have tomato plants.  I envisioned perfect sun-ripened juicy red tomatoes. Apparently I envisioned myself living in a place where tomatoes actually turn red, because from my experience this year, and from what friends have told me, that does not happen in Seattle. But that's ok, because green tomatoes are delicious.
I have had a love for green tomatoes since I first saw the movie Fried Green Tomatoes as a kid. I've fried them, put them in sandwiches, made sandwiches out of them but I had never made a relish out of them. Until now. I have had green tomato relish at a couple restaurants around town and really fell in love with it. The green tomatoes are perfectly tart and in my version, crushed red peppers make things a bit spicy.
And while it does take some time to cook down on the stove, spicy green tomato relish is so easy to make.
Try it on some sausages or burgers at your upcoming Labor Day BBQ.
Spicy Green Tomato Relish Recipe
Ingredients:
1 pound green tomatoes, diced
1 medium yellow onion, diced
1 red bell pepper, seeds and ribs removed, diced
1/2 cup granulated sugar
1 cup distilled white vinegar
1/4 cup water
1 teaspoon crushed red pepper
1 teaspoon kosher salt
1/4 teaspoon ground mustard
Instructions
1
Combine all ingredients together in a 3 qt sauce pan. Bring to a boil. Reduce heat and let simmer until it reduces by about 2/3rd's, about an hour.

2
Transfer to a bowl and allow to cool.

3
Store in an airtight container in the refrigerator for up to 3 weeks.