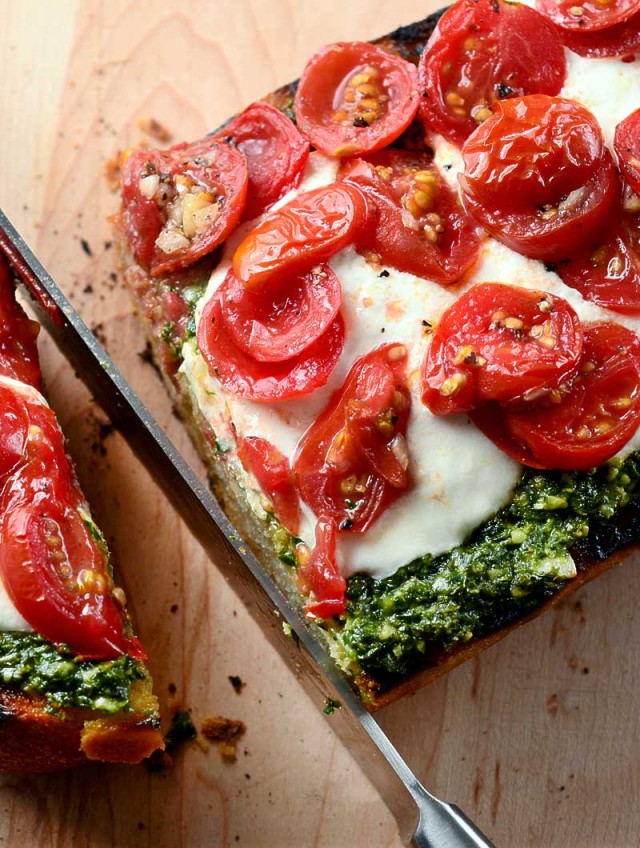 Grilled Bread with Pesto, Burrata and Tomatoes
I've been holding on to this recipe for a few weeks. Cruel I know. And with all this talk of fall and fall recipes and adding pumpkin to my grocery list this week I thought I better share this one fast. Because, you guys, this recipe for Grilled Bread with Pesto, Burrata and Tomatoes, just screams summer. And since summer is winding down you better make this one ASAP.
Tell me you have had burrata cheese before.
Tell me that you know how amazing this cheese is. Tell me you love the perfectly smooth mozzarella outside and the delectably creamy inside as much as I do.
I realize, of course, that not everyone has in fact tried it. I actually didn't try it until last summer. But I've been hooked ever since.
For those of you that are staring at your computer screen saying "what on earth is she talking about?", burrata cheese is going to rock your world. The outside is a thin layer of mozzarella and the inside is a mixture of cream and curd.  It means buttered in Italian. So how could it be anything but delicious right?
When serving burrata some like to simply smear it on a slice of bread. Totally fine.
However, it's still summer. The grill is still ready to go at a moment's notice. My tomato plants are finally producing tomatoes and I've got basil coming out of my ears. So I took the whole smearing it on bread a couple steps further.
First, I grilled the bread.
Next, I smeared pesto on the bread.
Then, I topped the bread with burrata.
And then, I topped the burrata with perfectly sun ripened tomatoes that had been marinating in just a hint of salt and olive oil.
And finally, I put the whole thing back on the grill. Turned it off, put the lid on and let it cook just until the burrata started to melt.
Seriously friends, just describing it to you right now makes me weak in the knees. How about you?
Grilled Bread with Pesto, Burrata and Tomatoes Recipe
Ingredients:
1 cup halved cherry tomatoes
2 teaspoons olive oil
salt
2 cups packed basil leaves
2 cloves garlic
1/4 cup Parmesan cheese
1/2 cup oil, plus more for
1/2 loaf of como or other crusty bread (1 loaf cut in half lengthwise)
4 ounces burrata, sliced
Instructions
1
Place the cherry tomatoes into a bowl pour olive oil over the top and sprinkle lightly with salt. Set aside until ready to use.

2
Make the pesto by placing basil and garlic together in a food processor. Process just until garlic and basil are chopped fine. Add in the cheese. Turn the processor on and with it running, slowly drizzle in 1/2 cup of the olive oil and process until the mixture is smooth. Season to taste with salt. Set aside until ready to use.

3
Preheat the grill to medium heat.

4
Brush the bread with olive oil.

5
Cook cut side down, for 2 - 3 minutes or until strong grill marks form.

6
Flip bread over. Spread pesto over the top. Top with sliced burrata and marinated tomatoes. Cook 1 minute. Turn the grill off. Close lid on the grill and let sit 4- 5 minutes or until the cheese slightly melts. Slice and serve.