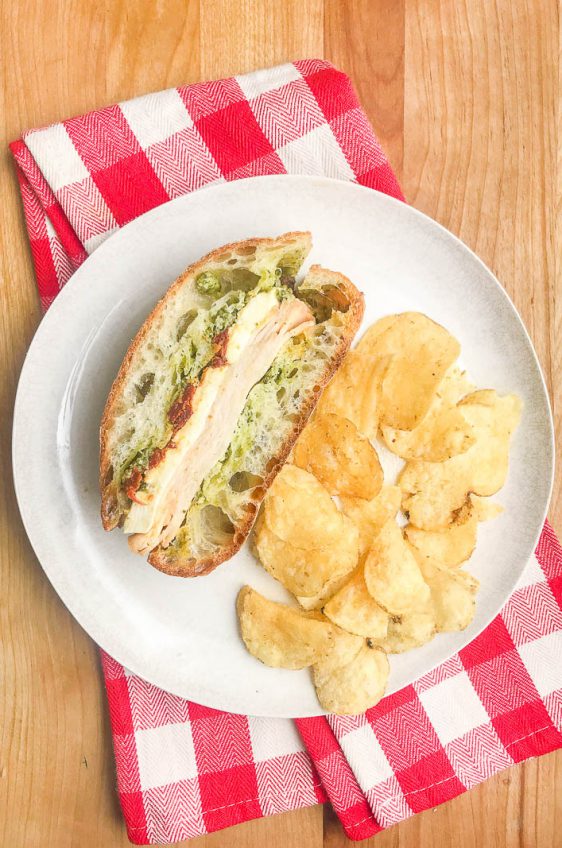 Caprese Chicken Pressed Sandwich
Caprese Chicken Sandwich is THE perfect sandwich for all your picnic outings this spring and summer. 5 ingredients and picnic perfect! 
This post is sponsored by Smithfield PrimeFresh Deli Meat. We are grateful for our sponsors as they allow us to bring you delicious free content every week!
Friends, along with the blue skies, sunshine and warm weather that happens this time of year, also comes one of my favorite seasons: PICNIC SEASON.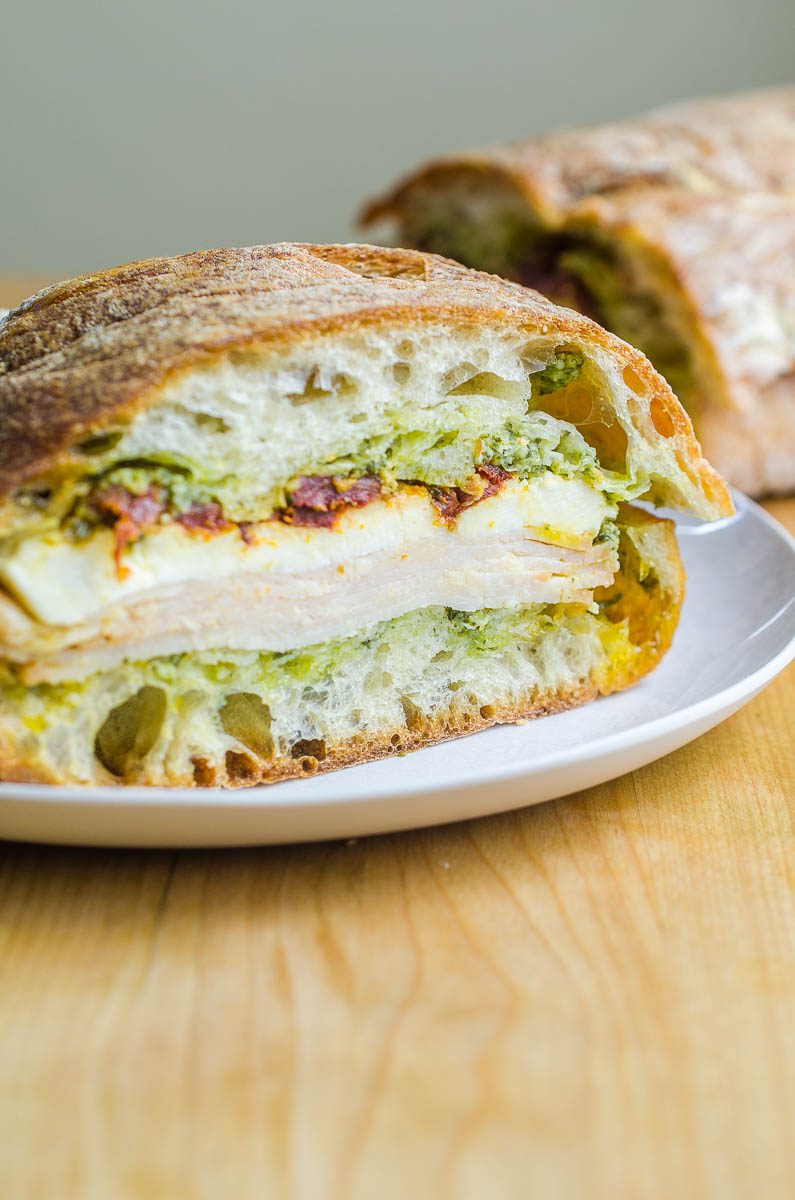 I adore picnics. Spending a sunshine filled day at the park with my kiddos playing games, reading and just hanging out is one of my favorite summer-time activities.
Of course with all of the playing, we're going to need a hearty lunch. That is where this Caprese Chicken Pressed Sandwich, loaded with Smithfield PrimeFresh Deli Rotisserie Chicken, comes in handy.
You only need 5 ingredients and it's even better if you make it the night before. Which means you'll have more time in the morning to get everything packed up and ready to go.
What ingredients do you need for a pressed sandwich?
First Ingredient: DELI MEAT.
PrimeFresh Deli Meat, found in the refrigerated packaged lunch meat section,  is my go-to when it comes to deli meat. There are 6 different varieties: Roast Beef, Smoked Turkey Breast, Smoked Ham, Honey Ham, Oven Roasted Turkey Breast and Rotisserie Seasoned Chicken Breast. All of which are gluten free and contain no MSG.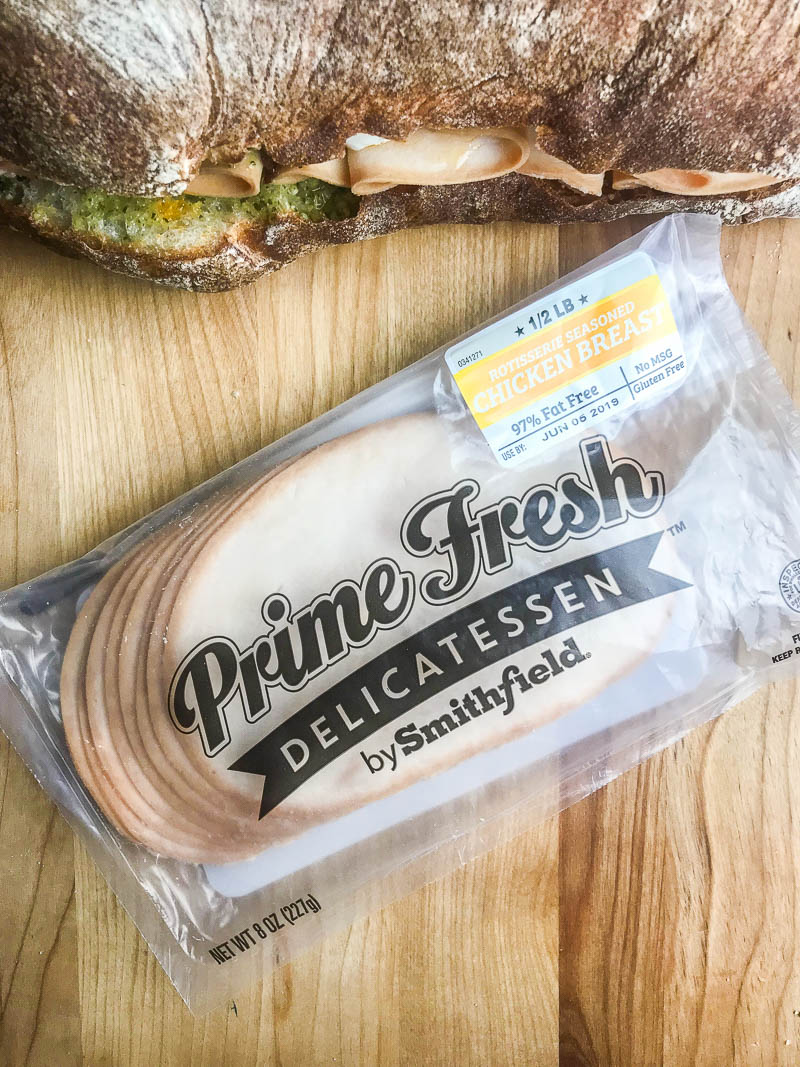 With its natural flavors of garlic and onion, it was easy to pick PrimeFresh Deli Rotisserie Seasoned Chicken Breast to star in this Caprese Chicken Pressed Sandwich
Second Ingredient: Pesto
Most caprese salads have fresh basil. Most pressed sandwiches usually have some kind of spread. That is why I decided to use Pesto as the spread for this sandwich. You can make your own or buy pre-made. Either will work in this recipe.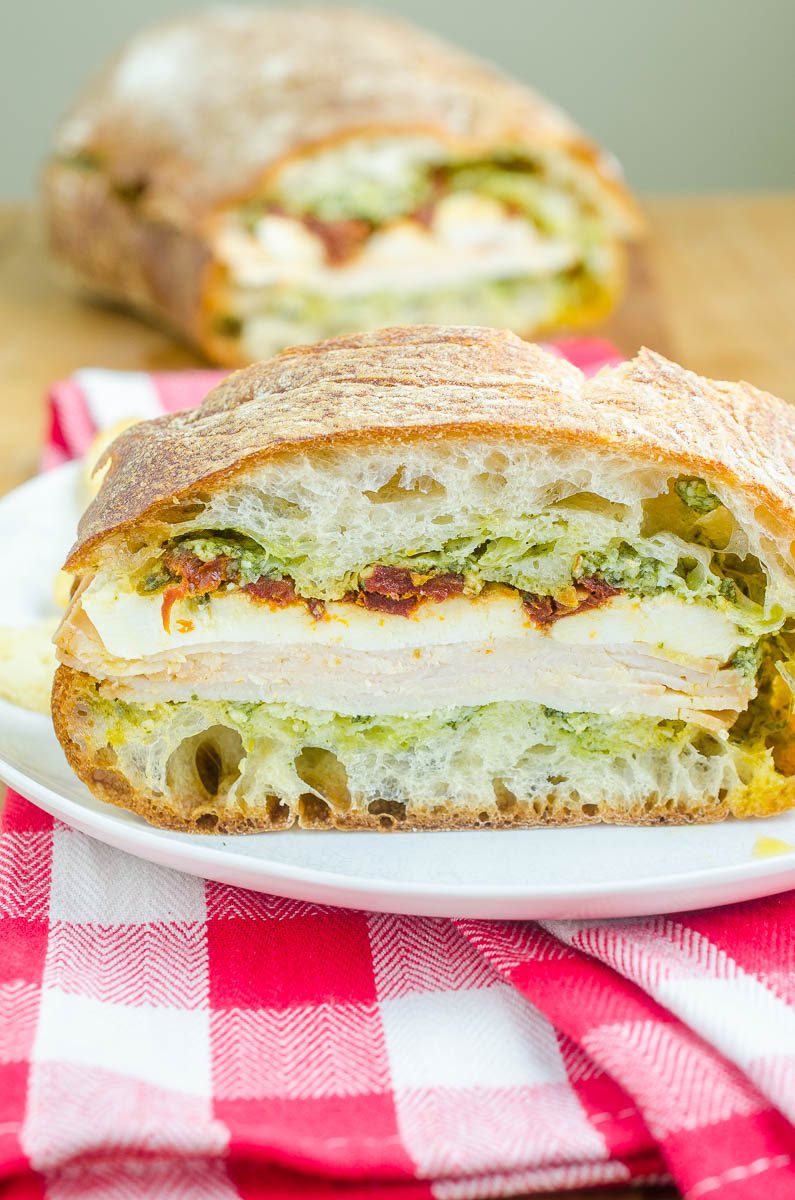 Third Ingredient: Fresh Mozzarella
The high moisture content of fresh mozzarella is perfect for this sandwich.
Fourth: Sun-Dried Tomato
Tomatoes are also a must whenever you have caprese. Since the flavors in a pressed sandwich are so concentrated, I thought super flavorful sun-dried tomatoes would add just the perfect amount of tomato flavor.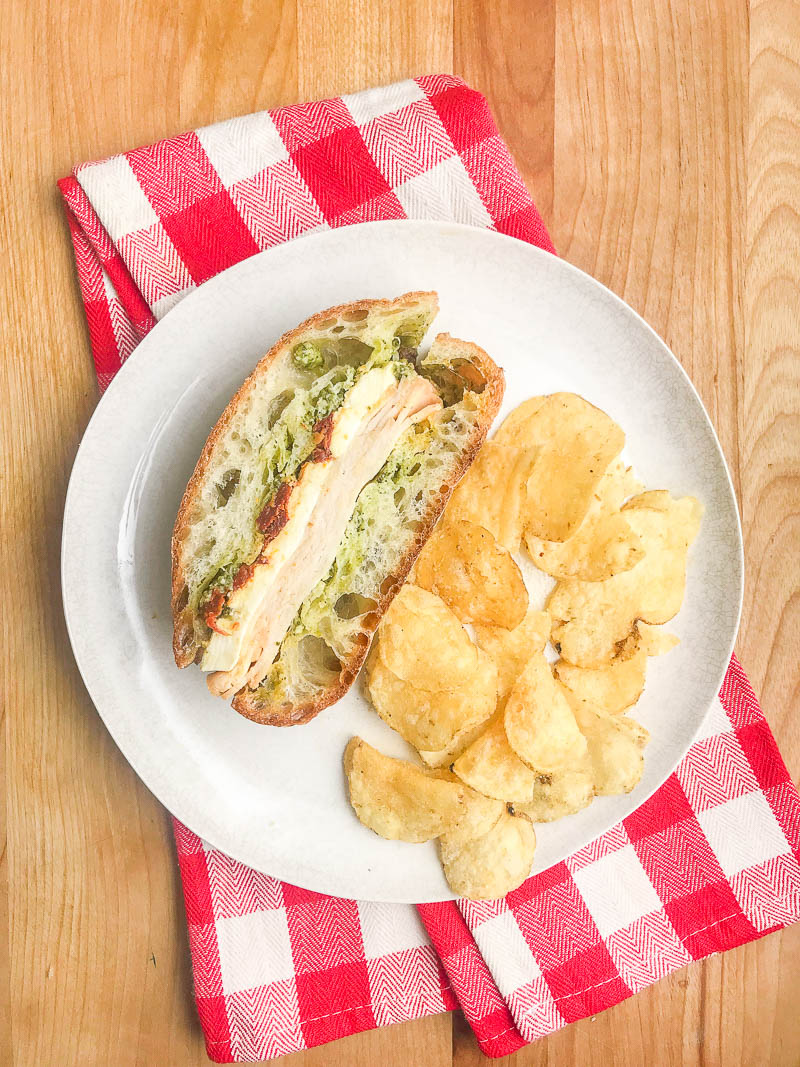 Finally, the bread. You're going to want something that is crusty and can hold up to being pressed together with the other ingredients. I love ciabatta bread for this because the little holes make it perfect for trapping any of the juices from the sandwich.
How do you make a Pressed Sandwich?
Pressed sandwiches are SUPER easy to make and this Caprese Chicken Sandwich is no exception. Simply cut a loaf of bread in half lengthwise. Spread the pesto on both halves. Next, layer the PrimeFresh Deli Rotisserie Seasoned Chicken, Mozzarella and Sun Dried Tomatoes on top. Next spread more pesto on the top half of the bread and place that on top of the sandwich.
Finally, wrap the sandwich in plastic wrap and place it into the refrigerator with a heavy pan on top. I like to use my cast iron skillet.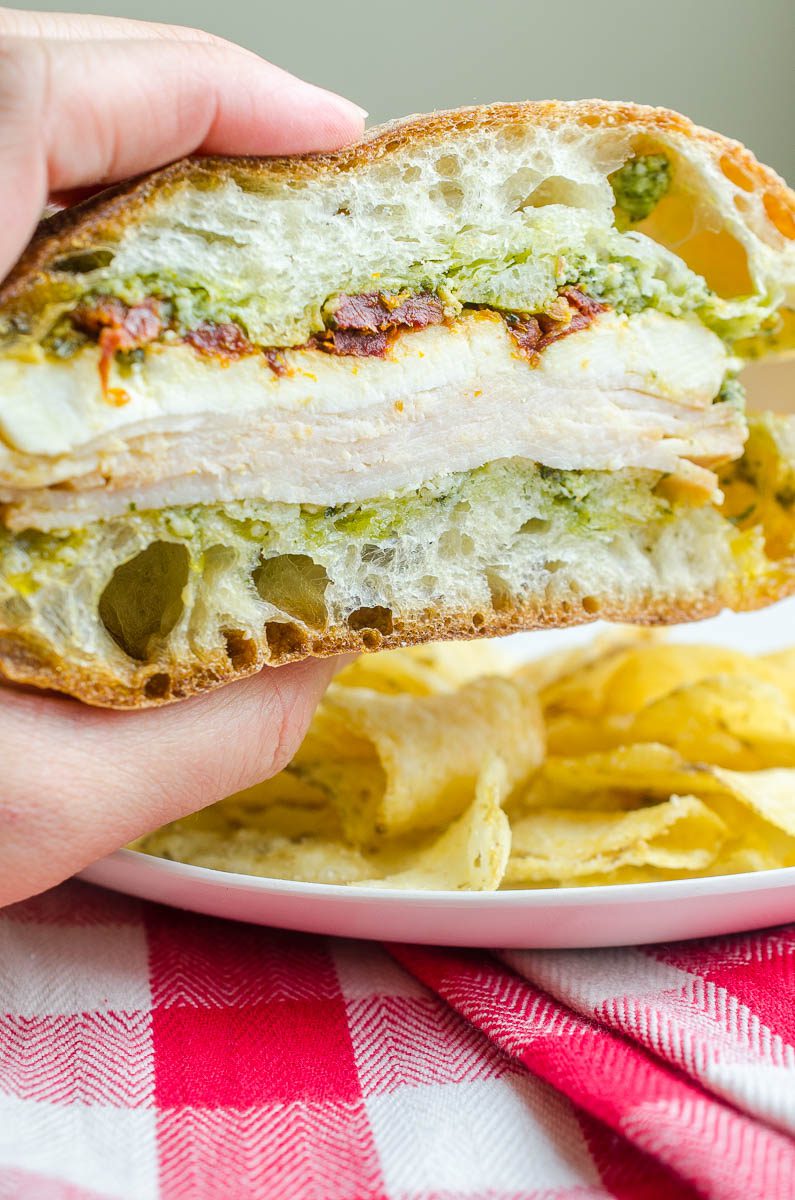 A pressed sandwich is best when it has a chance to set overnight. That is why I love to make it for picnics. I get everything ready the night before and then all we need to do is slice and serve at our picnic.
It doesn't get much easier, or delicious, than that!
Planning a picnic? Here are some more Picnic Must Haves
More Sandwich Recipes: 
Alabama BBQ Chicken Sandwiches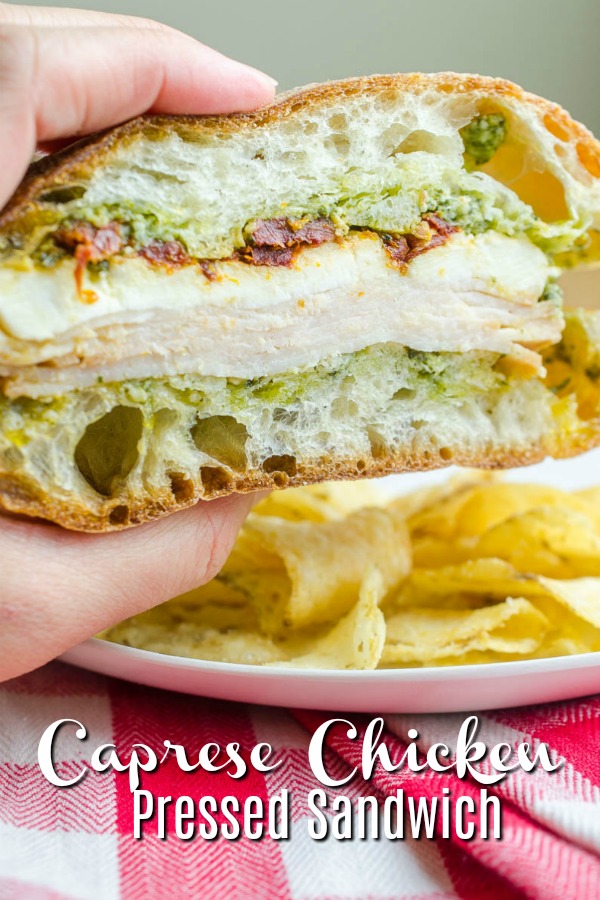 Caprese Chicken Pressed Sandwich Recipe
Ingredients:
1 (½ pound) package Prime Fresh Delicatessen Rotisserie Seasoned Chicken Breast
¾ cup prepared pesto
8 ounces fresh mozzarella, sliced
½ cup sun-dried tomatoes, plus 2 teaspoons oil from sun-dried tomatoes
1 loaf ciabatta bread
Instructions
1
Cut bread in half lengthwise.

2
Spread pesto on both halves.

3
Layer the chicken, mozzarella and sun-dried tomatoes on the bottom half. Drizzle with sun dried tomato oil and top with the top half of bread.

4
Wrap sandwich in plastic wrap (or parchment paper). Place in refrigerator with a heavy bottomed pot (like a cast iron skillet) on top. Let set overnight.