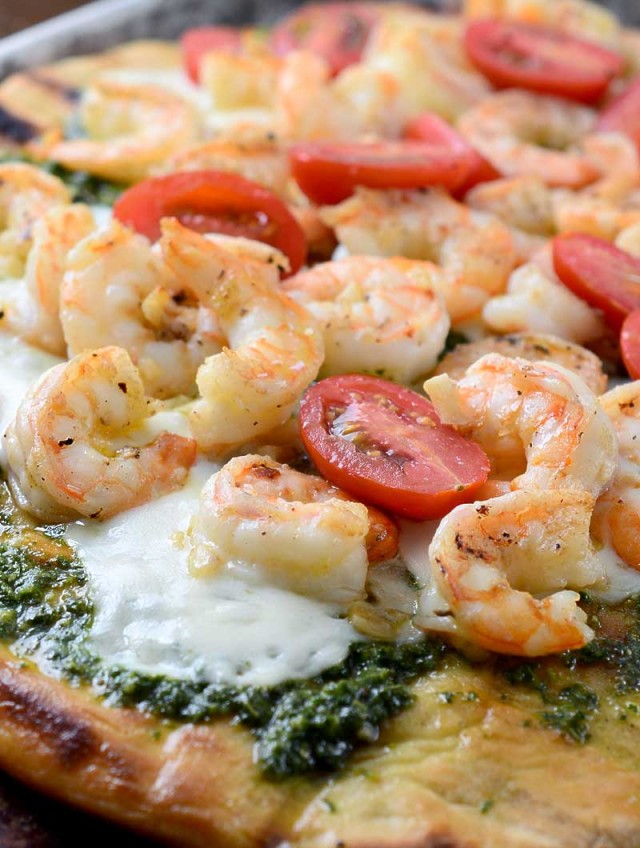 Grilled Shrimp Pesto Pizza
I have been grilling like a mad woman lately.
That is a weird saying I suppose. I mean really, I don't know how a mad woman grills. Or even if she would.
I'm just guessing that if a mad woman did grill though, she would probably grill a lot. And that is what I have been doing.  A few times a week lately. Just call me Des the Grillin' Mad Woman. Or would it be Des the Mad Grillin' Woman?
I should point out that I am not actually mad. Well I don't think I am. Although, when I told Ryan that I was going to make a Grilled Shrimp Pesto Pizza  he did look at me like "Are you mad woman?!"
The whole time I was making it I could see him secretly plotting how he would get in the car and drive himself to Taco Bell instead of having to eat the pizza I was making.
To be fair I did have a pizza night gone terribly wrong the week before. It involved smoked mozzarella. Way too much smoked mozzarella. So his trepidation was understandable.
I told him it would be better this week. I told him there was going to be sauteed shrimp, homemade pesto, melted mozzarella, and sweet grape tomatoes all piled onto a perfectly grilled pizza dough. It would be good.
Trust me I said.
He did.
And for the record, he ate 4 slices.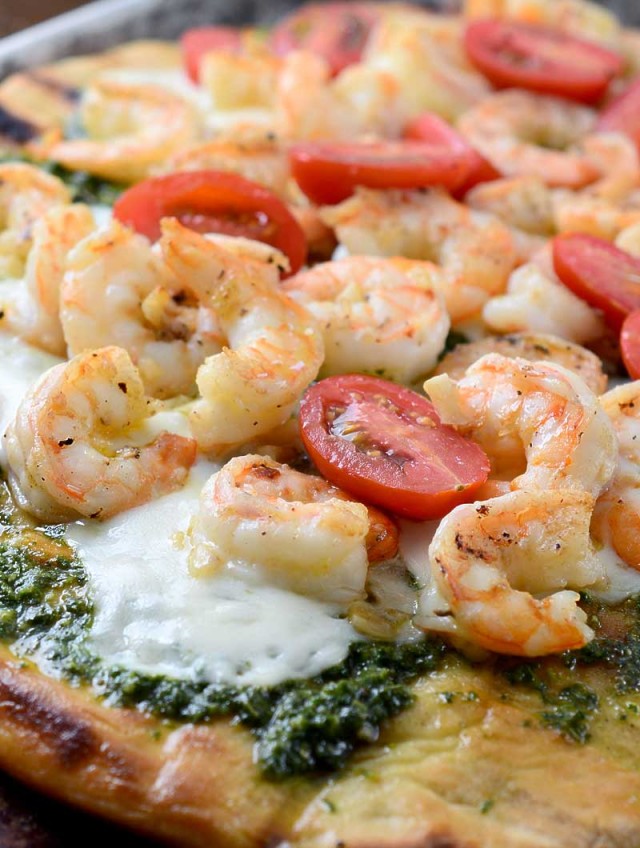 Grilled Shrimp Pesto Pizza
A perfectly grilled pizza topped with basil pesto, cheesy mozzarella, succulent shrimp and sweet grape tomatoes.
Basil Pesto Ingredients
2

cups

packed basil leaves

3

cloves

garlic

1/4

cup

Parmesan cheese

1/2

cup

olive oil

salt
Grilled Shrimp Pesto Pizza Ingredients:
Pizza Dough

Basil Pesto

1

pound

26-30 count prawns, peeled and deveined

1

tablespoon

olive oil ( plus more for brushing the grill grate and pizza crust)

3

cloves

garlic

minced

8

ounces

mozzarella cheese

thinly sliced

1

cup

halved grape tomatoes
Prepare the dough first by pouring the warm water into the bowl of a stand mixer with the dough hook attached. Sprinkle yeast over the top. Allow to proof for 5 minutes. Add in 1 1/2 cups flour and salt. Turn mixer on to medium-high. And mix just until the dough comes together. If the dough seems sticky add remaining tablespoons of flour. Turn the mixer down to medium and continue mixing until a smooth ball forms. Cover with plastic wrap and allow to rise in a warm, dark place for 45 - 60 minutes or until it has doubled in size.

While you are waiting for the dough to rise make the pesto by placing basil and garlic together in a food processor. Process just until garlic and basil are chopped fine. Add in the cheese. Turn the processor on and with it running, slowly drizzle in the olive oil and process until the mixture is smooth. Season to taste with salt. Set aside until ready to use.

Mix prawns with olive oil and garlic. Cook over medium heat just until opaque 3 - 5 minutes. Remove from heat and set aside.

Preheat your grill to medium-high heat.

After the dough has risen, punch it down and roll it out on a lightly floured surface. It does not need to be a perfect circle or square.

Place the dough onto a floured pizza peel or baking sheet with no rim, this will make it easier to slide onto the grill.

Get all of your pizza toppings together near your grill.

Lightly oil the grill grate and use a quick motion to slide the pizza dough onto the grill being careful to avoid letting the edges pizza dough slip through the grates.

Close the lid and allow the pizza to cook 3 - 5 minutes or until the crust starts to brown slightly and it starts to form grill marks. Open the grill, brush the top of the pizza dough with olive oil and use tongs or a grill spatula to flip the pizza dough over.

Immediately spread the pesto over the top of the dough. Lay mozzarella cheese on top. Top with cooked shrimp and halved cherry tomatoes. Close the grill lid and let pizza cook 3 - 5 more minutes or until the cheese is melted and the crust has browned and grill marks have started to form on the bottom. Remove from grill and drizzle with more olive oil if desired. Slice and serve immediately.
Note: I omitted the pine nuts in my pesto because I'm not a huge fan and my grocery store didn't have any. If you want to use them simply add 1/3 cup to the basil and garlic before you start the food processor
Enjoy!
Keywords:
basil pesto, bbq, entree, Food, grill, grilled pizza, grilled shrimp, pesto, pizza, Recipe, seafood, shrimp, summer