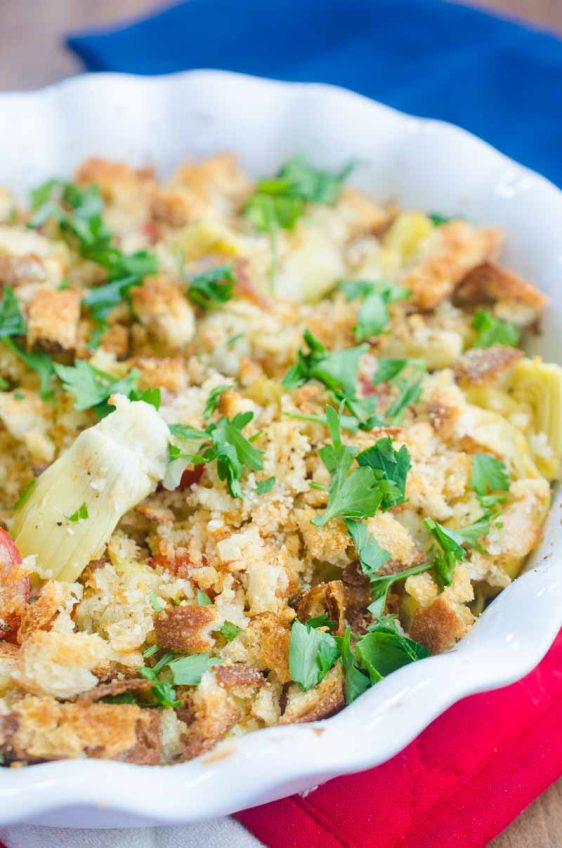 Tomato Artichoke Bake
Tomato Artichoke Bake is the perfect side! It's loaded with artichoke hearts, fresh bread crumbs, tomatoes, grated parmesan and then baked until golden.
Hi guys! It's been a while! We just got back from our vacation to California. We spent 5 days in Disneyland, a couple in San Diego for my Grandpa's 80th birthday and then a couple more days in Portland visiting family. I am exhausted. I can't be the only one who has ever thought "I need a vacation after my vacation!"
But I wouldn't change it for anything. It was so much fun. We visited with friends and family, stayed up late and got up early. We rode all the rides and, of course, ate all the food. There was churros, ice cream, corn dogs, grey stuff (IT WAS DELICIOUS!), tacos, In n' Out, pizza and sushi. With all of this eating though, one thing that I missed were vegetables.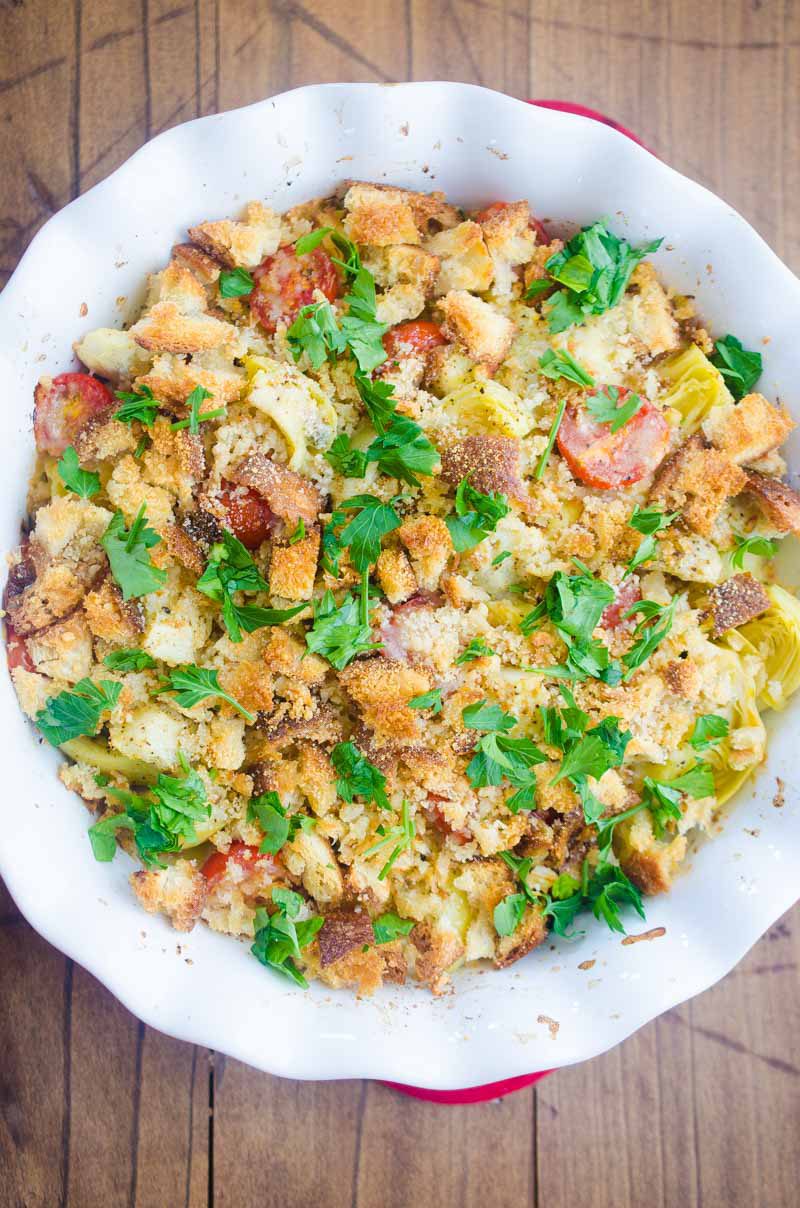 Vegetables always seem to be what we eat the least when we are on vacation. Not that we don't like them. But I mean, if I have to choose between a churro and broccoli, I'm goin' with the churro.
As soon as we get home though, I am all about the veggies. This Tomato Artichoke Bake was the first thing I made when we got back.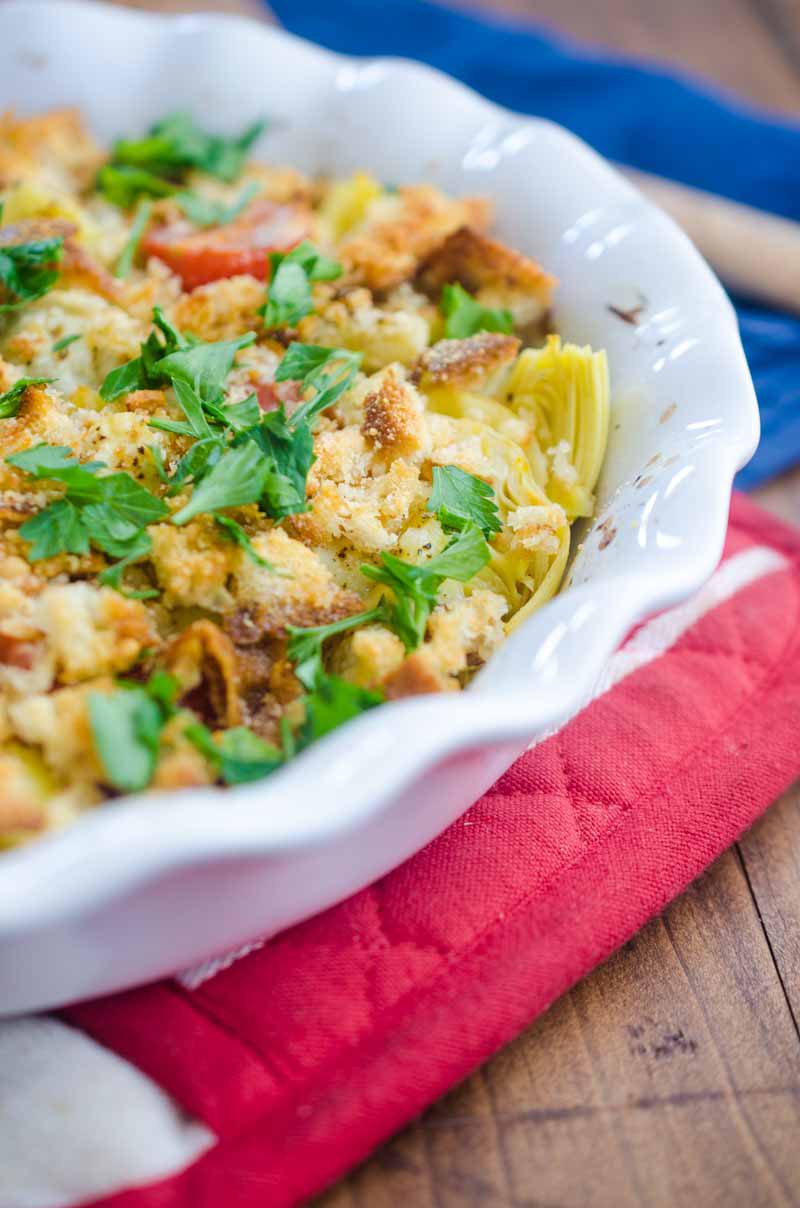 You don't need much to enjoy this Tomato Artichoke Bake. I used canned artichoke hearts because it was all I could find. If you can find frozen artichoke hearts, those would work well too. I also used fresh bread crumbs. I would not use pre-made bread crumbs because they won't give you the crunchy texture that this dish needs.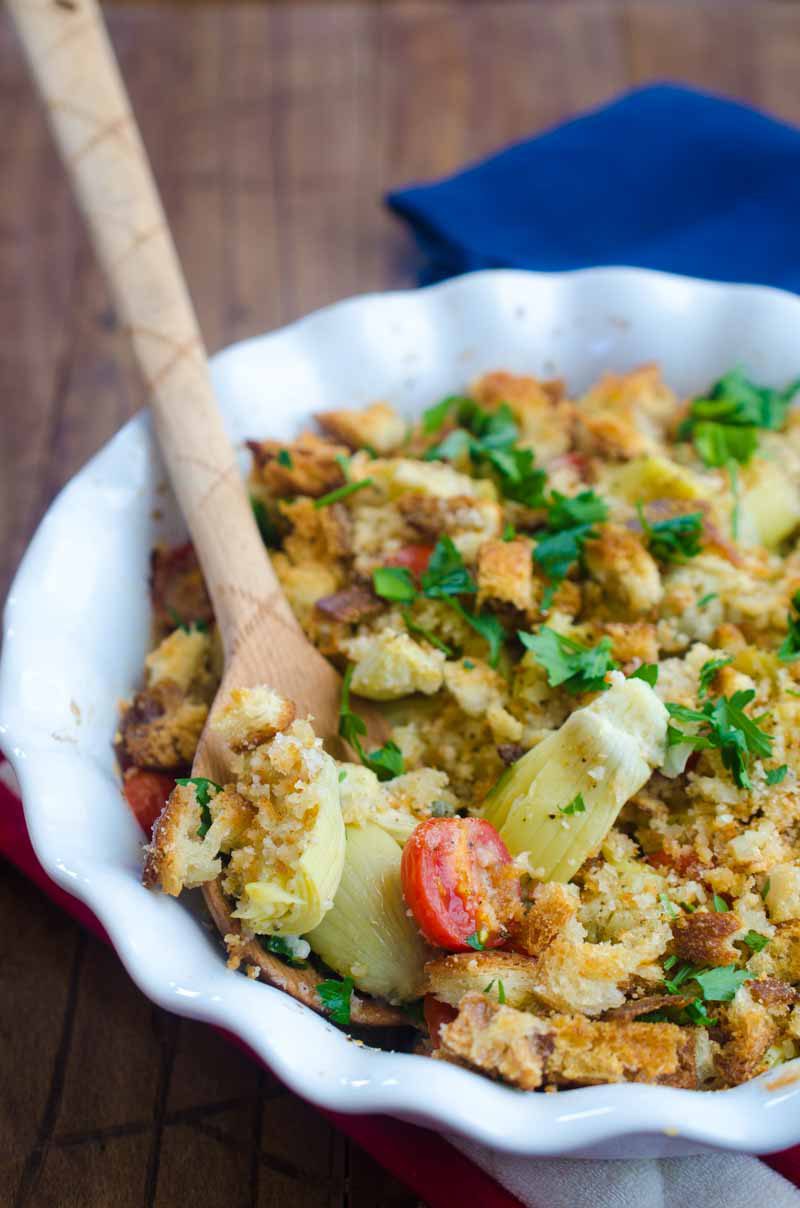 My whole family loved this Tomato Artichoke Bake. It makes a great summer side dish but I can see myself making this all year long!

Tomato Artichoke Bake Recipe
Ingredients:
1 tablespoon butter
1 tablespoon plus 1 teaspoon olive oil, divided
1 garlic clove, minced
2 cups fresh bread crumbs
2 (14 ounce) cans quartered artichoke hearts, drained
1 cup halved cherry tomatoes
2 tablespoons non-pareil capers
black pepper to taste
1/4 cup grated parmesan cheese, divided
fresh chopped parsley
Instructions
2
Heat butter and 1 teaspoon olive oil together in a skillet. Add garlic and cook just until fragrant, about 30 seconds. Add in bread crumbs and cook just until toasted.

3
In a 9 inch pie pan (or other baking dish) combine artichoke hearts, tomatoes, capers and remaining tablespoon of olive oil. Sprinkle fresh cracked pepper over the top. Sprinkle 1/2 of parmesan cheese on top.

4
Spread toasted bread crumbs on top. Top with remaining parmesan cheese. Bake in preheated oven for 10 minutes. Reduce heat to 350 and cook for another 10 - 15 minutes or until golden brown.

5
Top with fresh chopped parsley and serve.