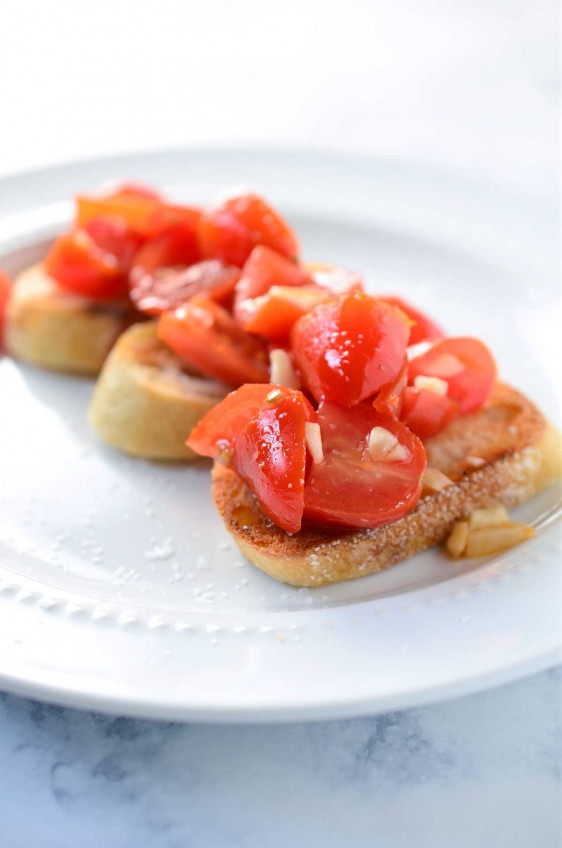 Summer Tomato Bruschetta
Summer tomato bruschetta is a quick and easy appetizer, and a great way to use garden tomatoes!
Is it hot where you are? Good golly it has been hot in Seattle. So hot that there have been days when I haven't even turned on the stove for fear that it would heat my house up to that lovely "I can't even breath in here it's so hot" temperature. It is on days like this that when I'm hungry I turn to snacks like bruschetta. Quick, easy and so versatile. This version right here, happens to be my favorite.
Do you have a snack that you just cannot get enough of? For me, in the summer, it is this Summer Tomato Bruschetta. I mean seriously, when my tomato plants start producing, I eat this snack daily. I cannot get enough. And the fact that it is so simple, yet so perfectly delicious is what makes it one of my favorite snacks ever. And while it may not be much of a recipe, it is one of my favorites, so I thought that today, I would share it with you. But first….confession time.
I know it might not be a popular thing to do but… I eat raw garlic.
Seriously, I like to eat at least one clove a day. I grew up with a mama who touted the health benefits and while I do credit the fact that we don't get sick all that often in our house to the idea that garlic may be upping our immune system a bit, I really, truly love the spicy hot taste of it. I add raw garlic to my salsa. To my guacamole. Salads. Veggies. Anything I can really. But sprinkling it over tomatoes like I do in this bruschetta is totally my jam.
I call for 4 cloves of garlic in this Summer Tomato Bruschetta recipe, but again, I kinda love my garlic.
If you're not sure, or if you want to test the waters a bit, try adding two cloves to start. Then work your way up to four.
And just remember, if everyone eats it, no one has to worry about garlic breath. ;-)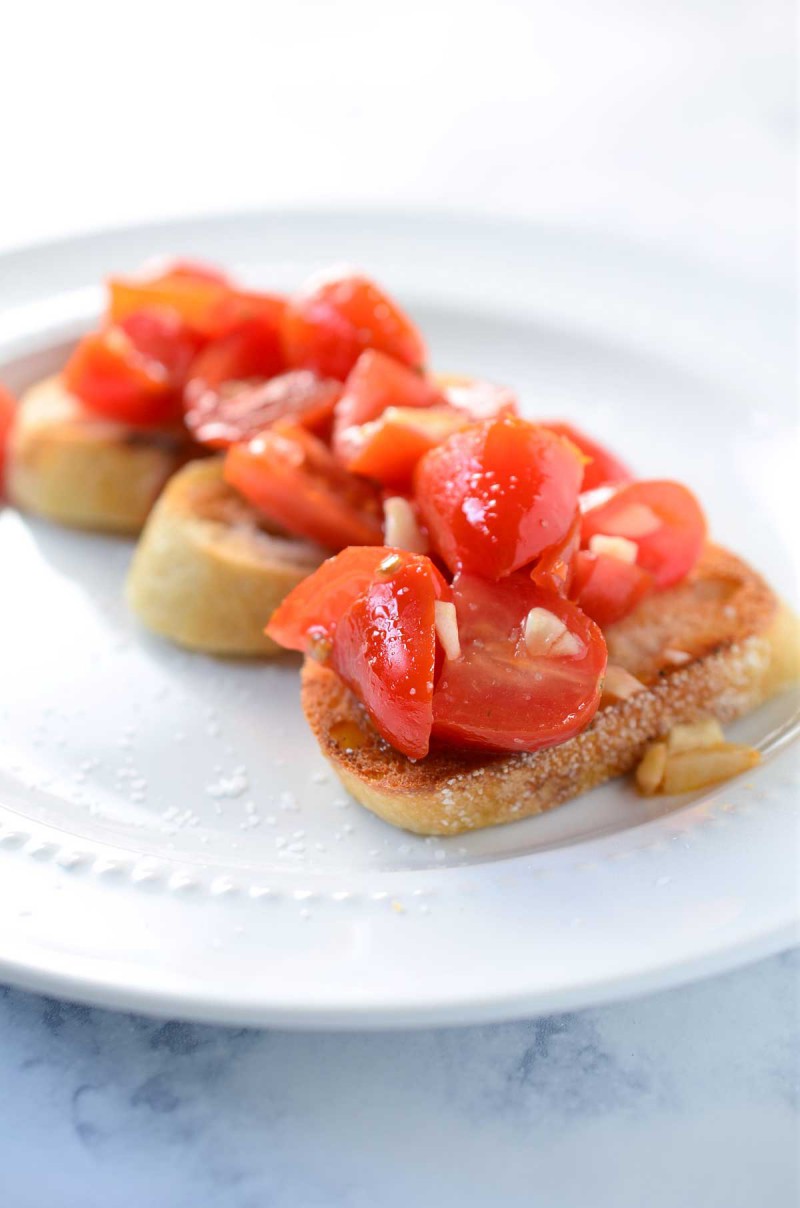 Here are a couple of other great uses for your summer tomatoes:
Bacon Tomato Avocado Pasta Salad
Spicy Tomato and Pineapple Salsa
Summer Tomato Bruschetta Recipe
Ingredients:
1 1/2 cups quartered grape or cherry tomatoes
4 small cloves garlic, minced
1/4 teaspoon salt
1 tablespoon olive oil, plus more for drizzling on bread
8 - 10 baguette slices
Instructions
1
Combine tomatoes, garlic, salt and 1 tablespoon olive oil together in a bowl. Mix well. Allow to set at room temperature for at least 20 minutes.

2
When ready, preheat a grill (or broiler) to high heat. Drizzle a little olive oil over the bread and place on the grill. Grill for 1 - 2 minutes or until toasted.

3
Remove bread from grill and spoon tomatoes, and any juice that accumulated, over the top. Serve immediately.