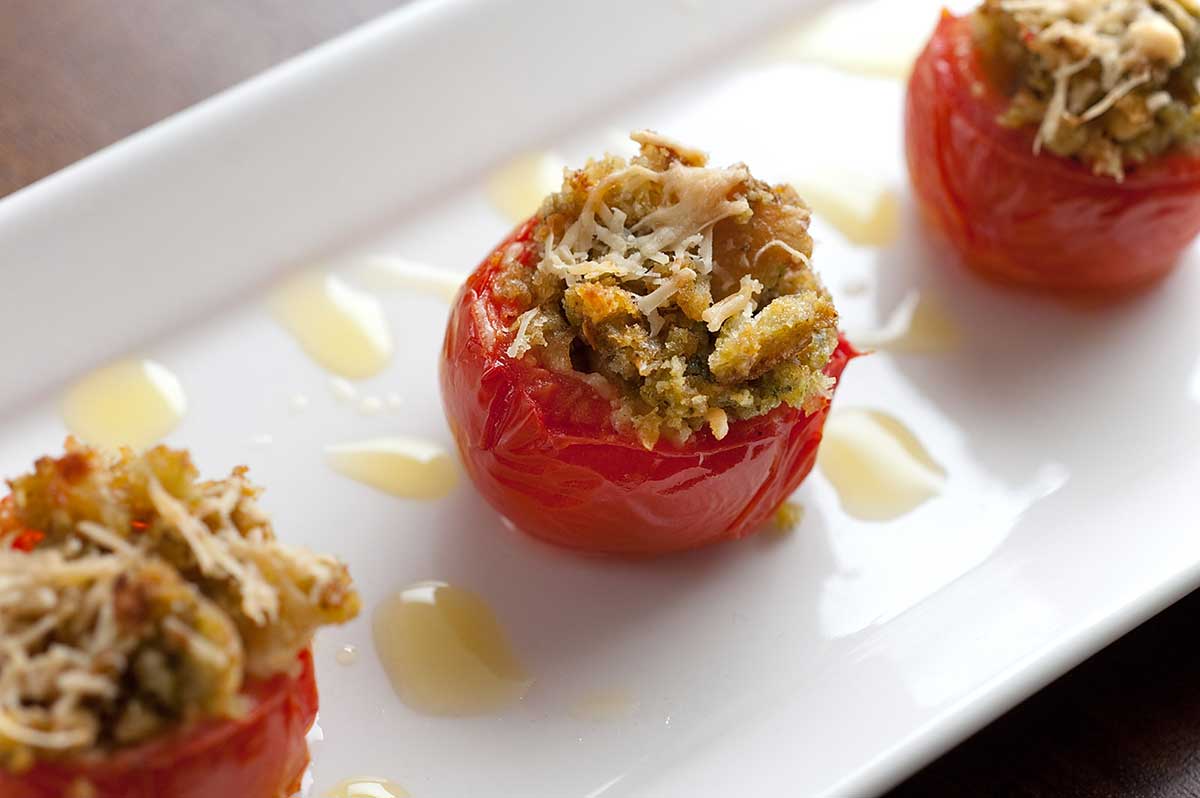 Stuffed Campari Tomatoes
I am trying to stretch summer out as long as possible before I break down, get out my pumpkin spice candle and start cooking mashed potatoes and gravy. That is why when I went to the grocery store on Sunday I happened to pick up what seemed about every kind of fresh tomato they had. I bought grape tomatoes, cherry tomatoes, regular vine ripened tomatoes and some very lovely, sweet campari tomatoes. It was the first time that I purchased campari tomatoes but it won't be the last especially if I keep stuffing them with toasted bread crumbs and a little arugula walnut pesto.
Campari tomatoes are bigger than cherry tomatoes but smaller than your standard tomato. They are perfect for little bite size appetizers such as these. And they couldn't be any easier. Simply remove the insides and stuff them with a little toasted bread crumbs, garlic, olive oil and arugula walnut pesto. The result is a sweet burst of summer flavor.
Stuffed Campari Tomatoes Recipe
Ingredients:
6 campari tomatoes
kosher salt and pepper
1/2 cup fresh bread crumbs
1 clove garlic, minced
1 teaspoon olive oil, plus more for drizzling
1 tablespoon parmesan or romano cheese
Instructions
2
Cut the tops off the tomatoes. Gently remove the flesh and seeds inside and reserve 1 tablespoon. Season the cavity of the tomatoes lightly with salt and pepper.

3
Place olive oil in a skillet over medium heat. Add garlic and bread crumbs. Cook until bread crumbs are toasted. About 2 minutes.

4
In a bowl combine bread crumbs, reserved tomato juices, and pesto. Mix well.

5
Spoon mixture into tomatoes. Sprinkle cheese on top. Place in preheated oven and cook for 15 - 20 minutes or until the top has browned slightly and the tomatoes have softened.

6
Transfer to serving platter. Drizzle with olive oil and serve.