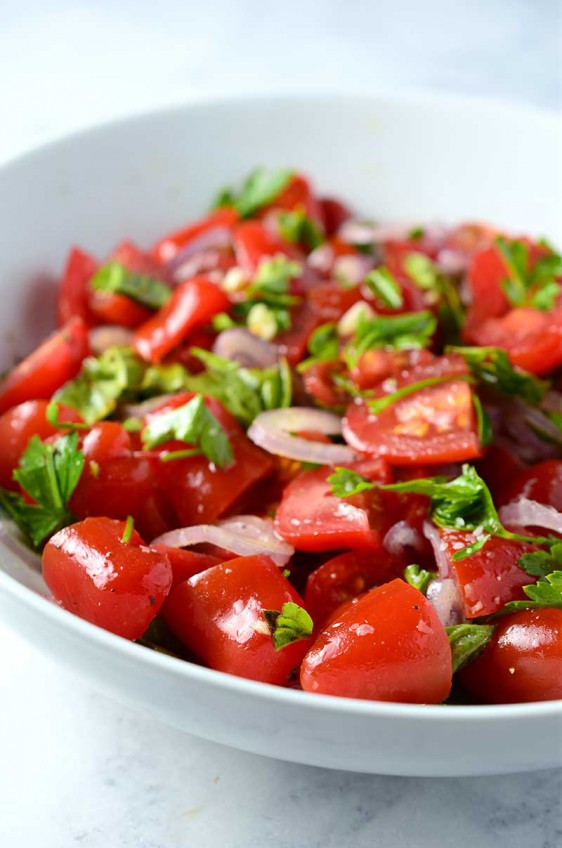 Simple Summer Tomato Salad
Summer tomato salad is the perfect recipe to make with garden tomatoes! It's an easy side salad to pair with grilled meat, fish, or even to eat on its own!
If you read my last post (Fried Green Tomatillos), then you're aware that I have had a heck of a time with my garden this year. And you can probably guess that the gorgeous tomatoes that I used for this salad did not, in fact, come from my garden. However, just because they are not my own garden tomatoes does not make this salad any less delicious. In fact, this Simple Summer Tomato Salad just screams summer and should be on your table weekly.
I love a good salad, but I'll be honest, sometimes I get a little bored of actually having lettuce in my salad. I know it's weird, but sometimes I want salad where the main ingredient is something other than lettuce. Something like kale or Asparagus and Avocado  or zucchini.
But one of my favorite summer salads is the simplest of them all: Summer Tomato Salad.
Nothing beats a summer tomato salad with juicy red tomatoes, a handful of fresh parsley and basil, a few sliced shallots and a little olive oil and salt and pepper It's so scrumptious. It's perfect for hot days. It's great as a starter salad for a summer dinner out on the patio. It just really is the perfect summer salad.  Not too heavy, just pure summer herby tomato bliss.
For this salad, I used the Village Farms mini San Marzano tomatoes that I bought at Costco. Guys, if your Costco has them you NEED to buy them.
They are all kinds of amazing and they really help this summer tomato salad to shine.
That said, if you can't find them, any good quality cherry tomatoes will work fine. But you'd better hop to it. We're entering the middle of August next week. Summer, and all of the tomato deliciousness, is fading fast.
Seriously, I almost lit a pumpkin candle the other day.
Don't judge.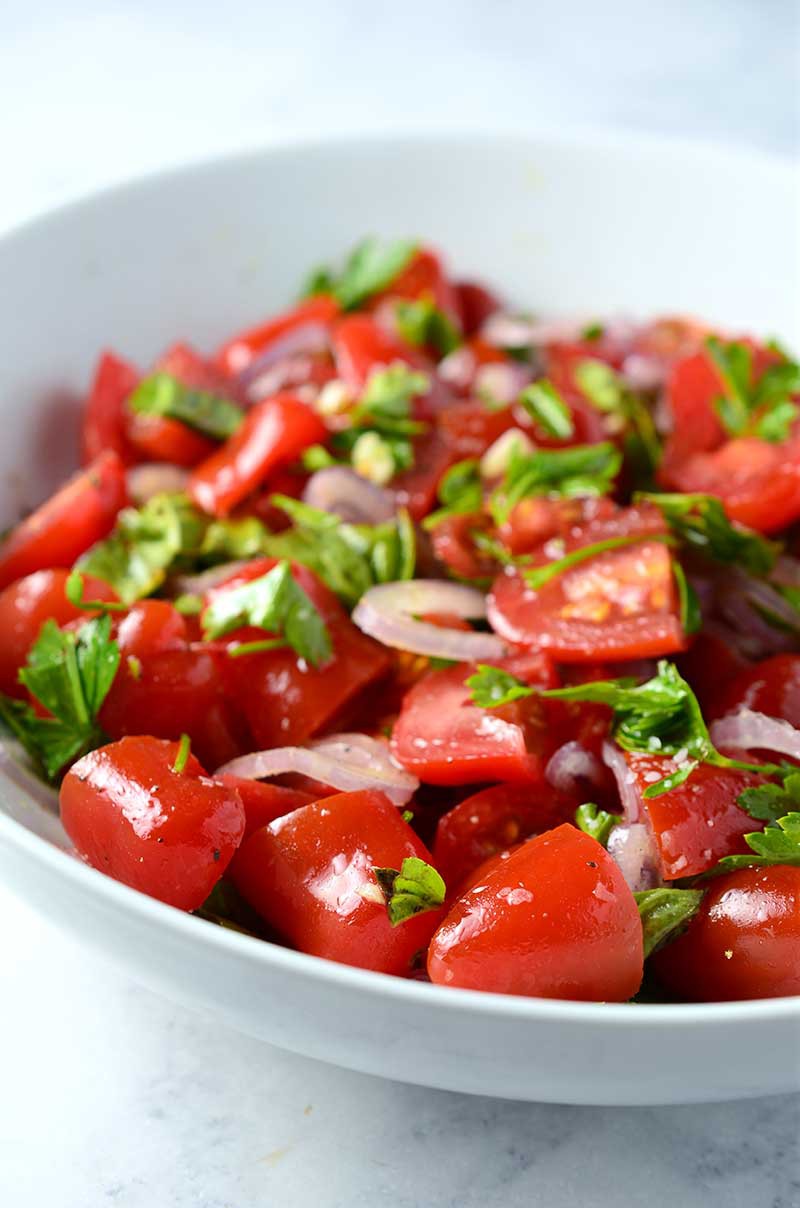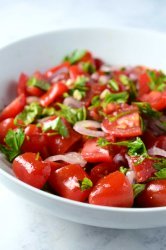 Simple Summer Tomato Salad
This Simple Summer Tomato Salad with tomatoes, shallots, garlic, herbs and olive oil is the perfect salad for any summer get together.
Ingredients:
2 - 3

cups

quartered min san marzano tomatoes

or halved cherry tomatoes

1/4

cup

thinly chopped shallots

2

cloves

garlic

minced

handful fresh basil

handful fresh parsley

2

tablespoons

olive oil

kosher salt and fresh cracked black pepper
Combine tomatoes, shallots, garlic, basil and parsley together in a bowl. Mix well. Drizzle with olive oil and sprinkle with salt and pepper. Let stand at room temperature for about an hour. Serve.
Keywords:
summer, tomatoes, vegan, Vegetarian