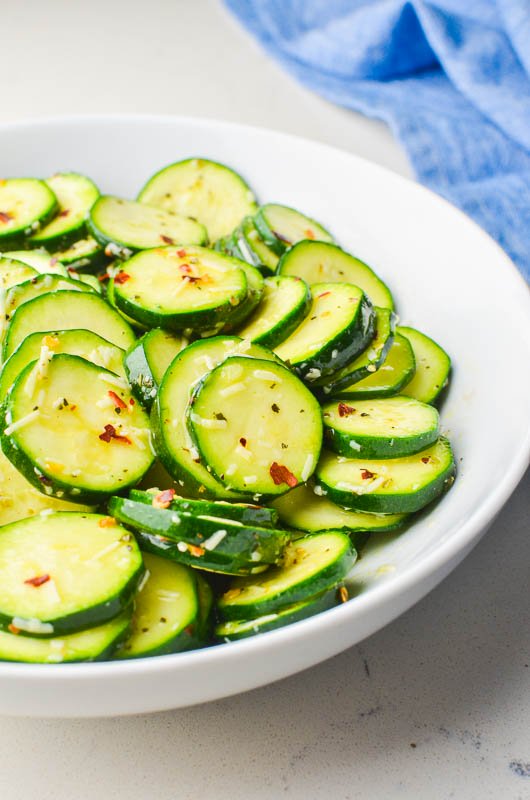 Cold Zucchini Salad
An easy, delicious way to use up garden zucchini! This Cold Zucchini Salad is made with raw zucchini, olive oil, lemon, crushed red pepper, oregano and Parmesan.
When it's time to make dinner on a hot summer day, I am always looking for things to make that won't heat up the kitchen. This means lots of grilled chicken and sous vide steak.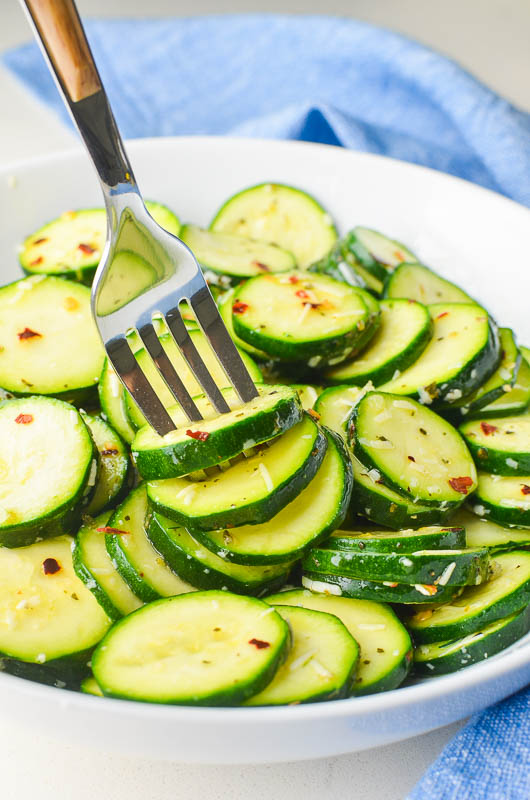 But it also means lots of salads. We eat a ton of salads in the summer because there is no cooking and produce is at it's best. Take this Cold Zucchini Salad for instance. It can be thrown together in a matter of minutes, won't heat up your kitchen and is the perfect accompaniment to just about any summer meal.
What ingredients do you need?
ZUCCHINI: Obviously. If you want to add a bit more fun color, use a combination of green zucchini and yellow summer squash.
EXTRA VIRGIN OLIVE OIL (EVOO): It is important to use the highest quality EVOO you can find. There are not many ingredients in this dish so the flavor of each is likely to stand out. A smoother, milder tasting olive oil is the best, I prefer to use a kalamata olive oil but use whatever one that you prefer.
GARLIC: This recipe calls for fresh raw garlic. Make sure that you mince it fine or use a garlic press. This way you won't be biting into large chunks of raw garlic.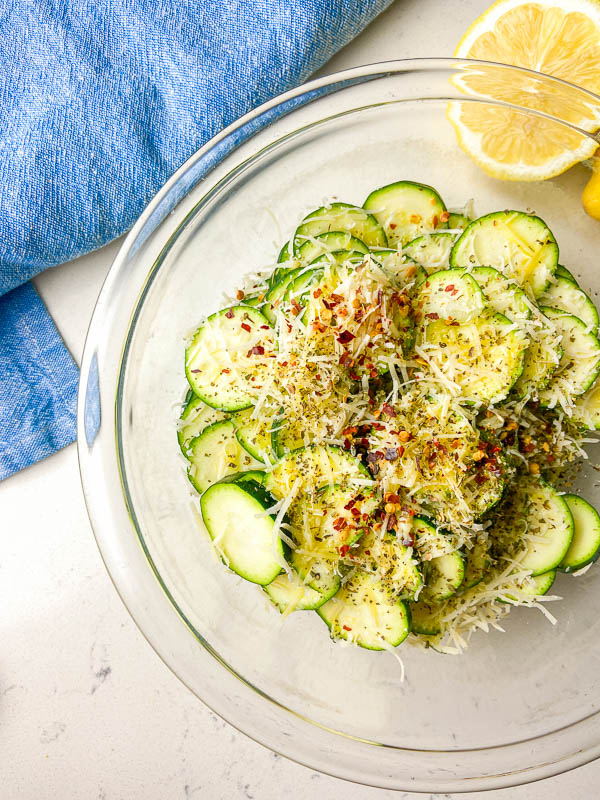 DRIED OREGANO: You can also use fresh here. Just remember the rule 1 tablespoon of fresh herbs to every teaspoon of dried.
CRUSHED RED PEPPER: This is optional but it does add a nice kick to the salad without being overly spicy.
LEMON JUICE: Fresh lemon juice really brightens up the flavor of this salad.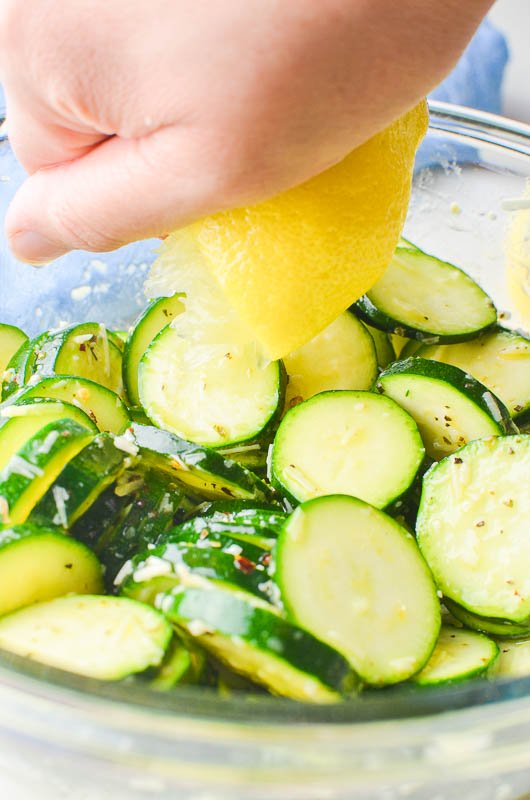 PARMESAN CHEESE: Like the crushed red pepper this is optional and if you'd like to make this salad vegan, simply leave it out. It does add a nice saltiness to the salad though.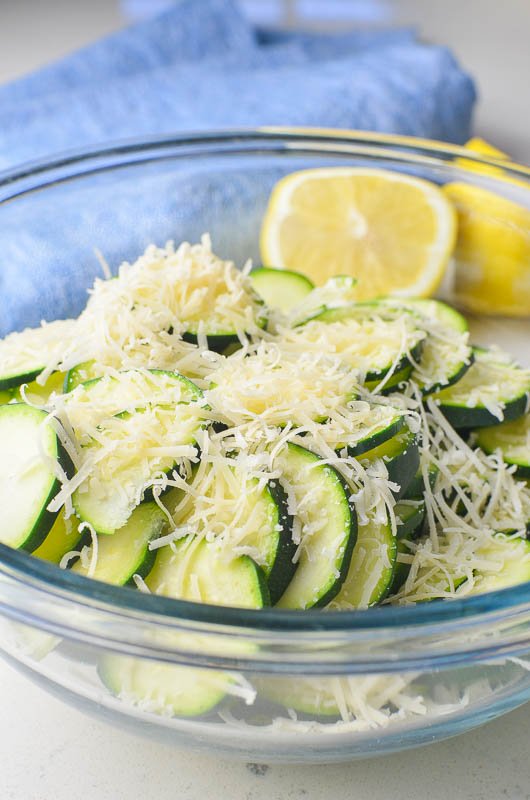 SALT AND PEPPER: As always, use to your desired taste.
How do you make zucchini salad?
The biggest decision you'll have to make while making this zucchini salad is how you want to cut the zucchini. I like to cut it into thin rounds. Not too thin because you want a bit of a crunch. I'd say about 1/8th of an inch or so. I find if it's thin it soaks up the olive oil and lemon a bit better.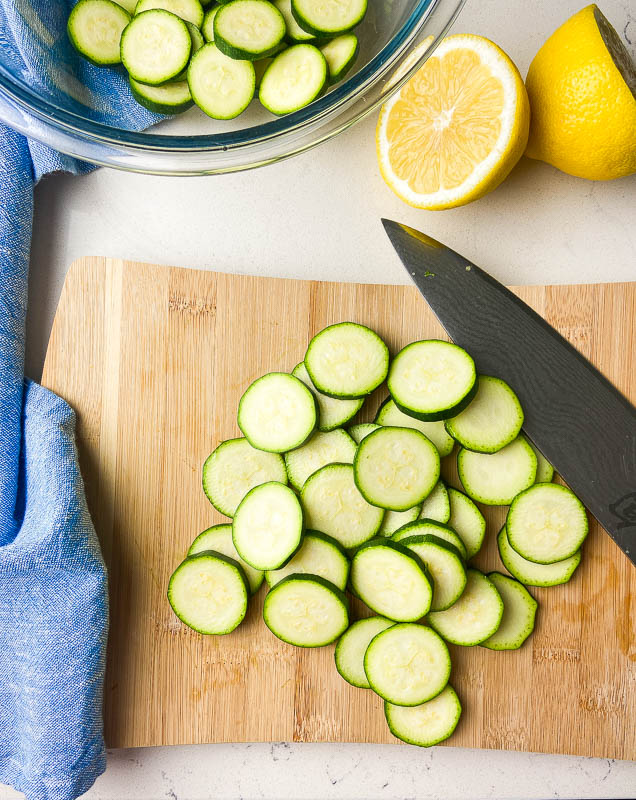 Other than that, to make this salad, all you need to do is combine everything in a bowl and toss until the zucchini is coated.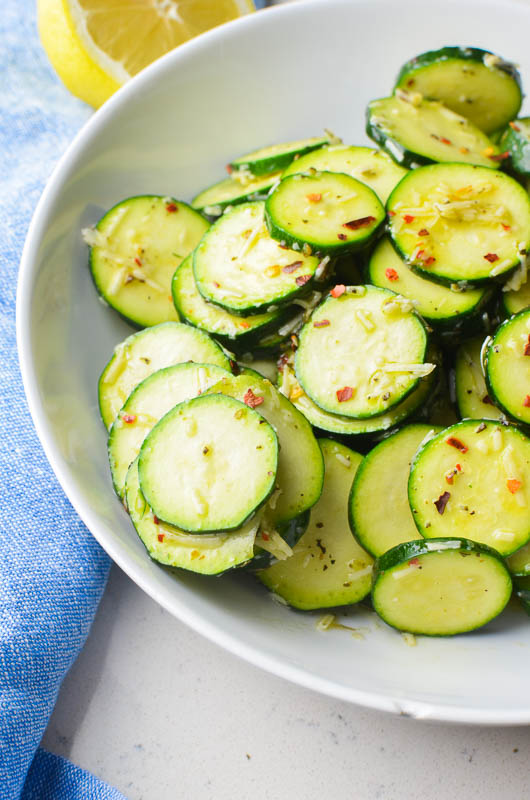 While this salad is excellent right away, I find that if it has a chance to set at room temperature for 20 minutes or so the flavors really have a chance to meld.
How do you store leftovers?
Bonus! This salad is even better the next day. Just think of it as a marinated zucchini salad. Simply store the leftovers in an airtight container and eat within a few days.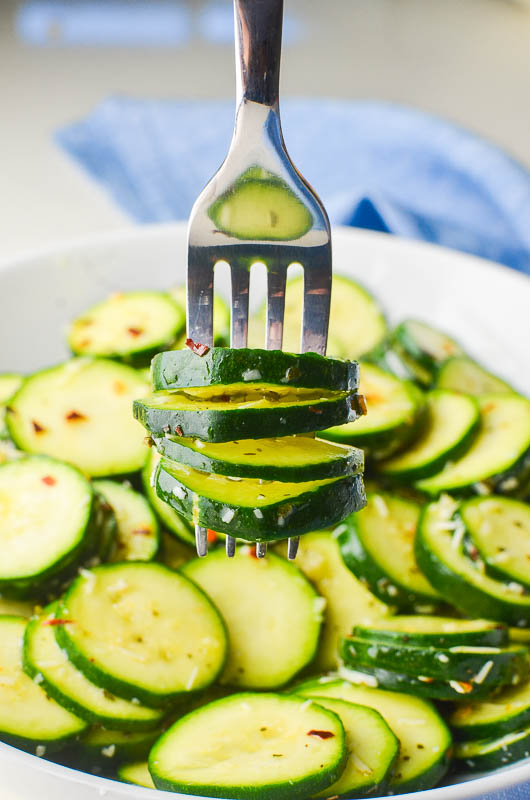 DES' TIP: The olive oil in this salad will coagulate when stored in the fridge so be sure to take it out about 20 – 30 minutes before you want to eat it so that the oil can warm.
Looking for more ways to use zucchini? I've got some recipes you have to try!
Zucchini Cakes (one of the most popular recipes on my blog!)
3 Cheese Zucchini Boats from Lemon Tree Dwelling
And don't forget zucchini flowers! You can eat them too and they are divine: Stuffed Zucchini Blossoms
Can't get enough salad recipes? Here are some of my favorite salads and dressing recipes:
Spinach Salad with Dijon Dressing
Crispy Chickpea and Arugula Salad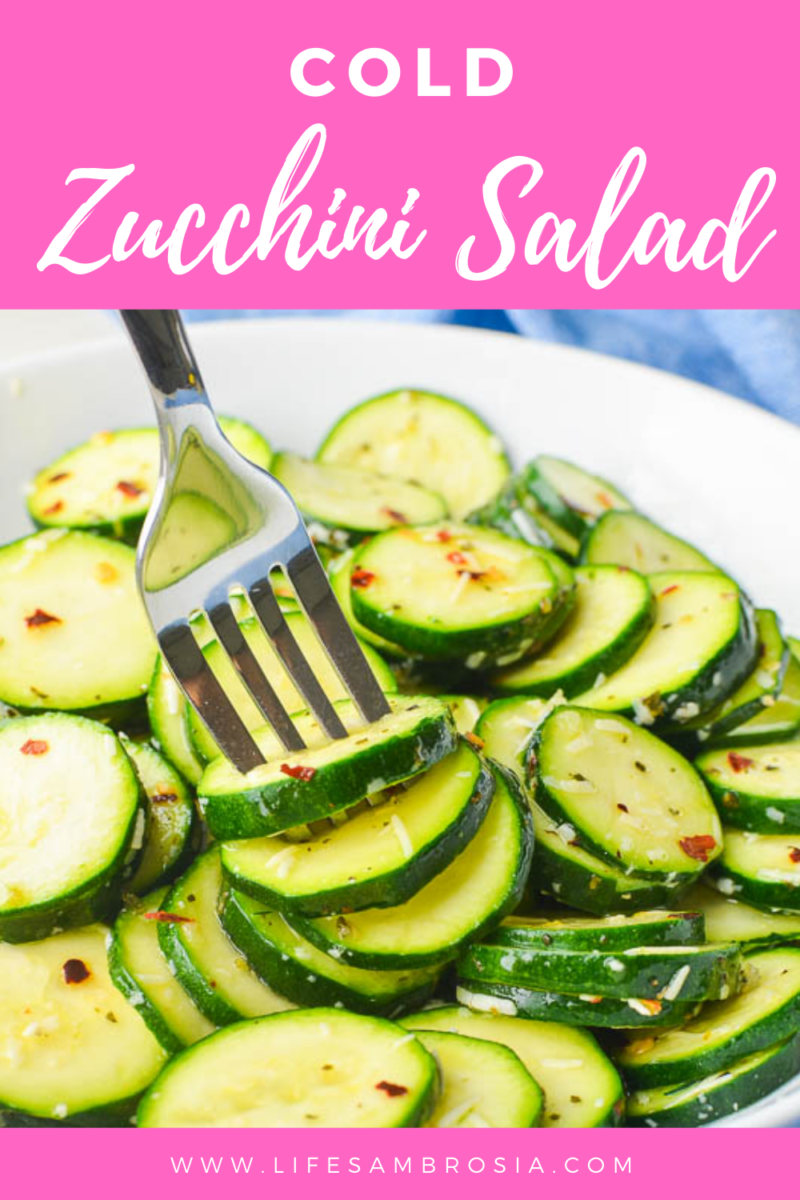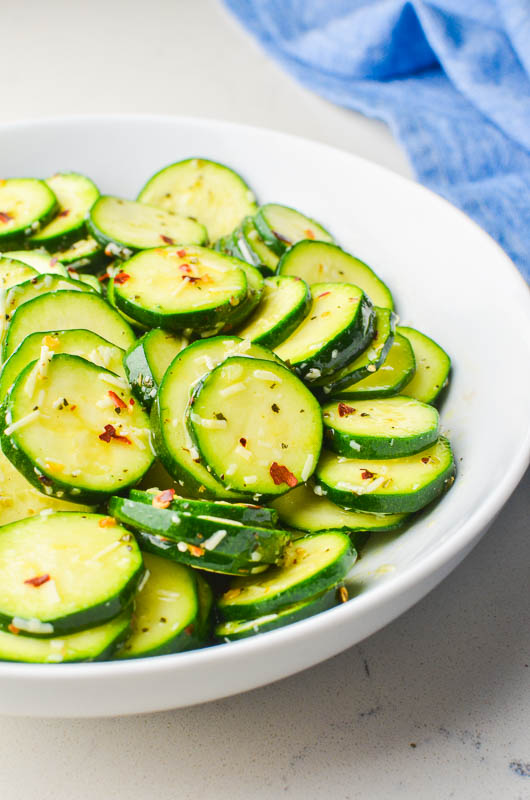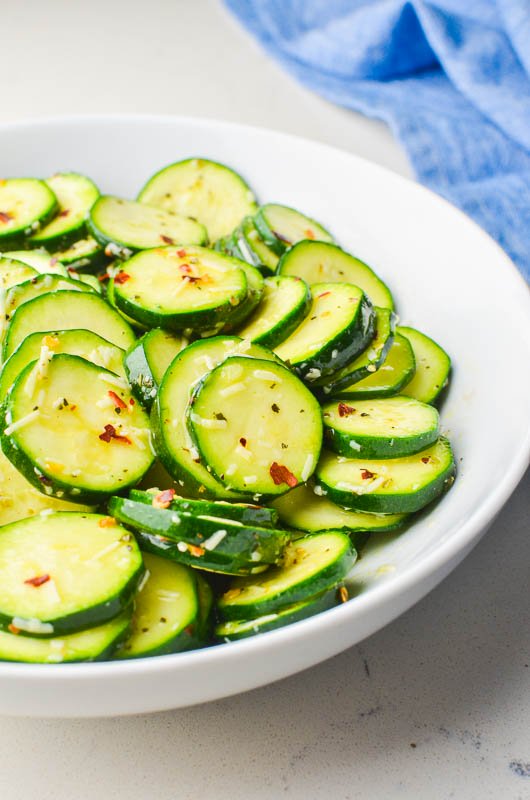 Cold Zucchini Salad
An easy, delicious way to use up garden zucchini! Cold Zucchini Salad made with raw zucchini, olive oil, lemon, crushed red pepper, oregano and Parmesan.
Combine all ingredients together in a bowl. Toss until zucchini is coated.

Store leftovers in an airtight container in the refrigerator. Allow to come to room temperature for 20 minutes before serving.
Nutrition facts are for estimation purposes only.
Calories:
198
kcal
Carbohydrates:
4.6
g
Protein:
10.2
g
Fat:
16.7
g
Saturated Fat:
5.6
g
Cholesterol:
20
mg
Sodium:
708
mg
Fiber:
1.2
g
Sugar:
1.6
g
Keywords:
Vegetarian, zucchini