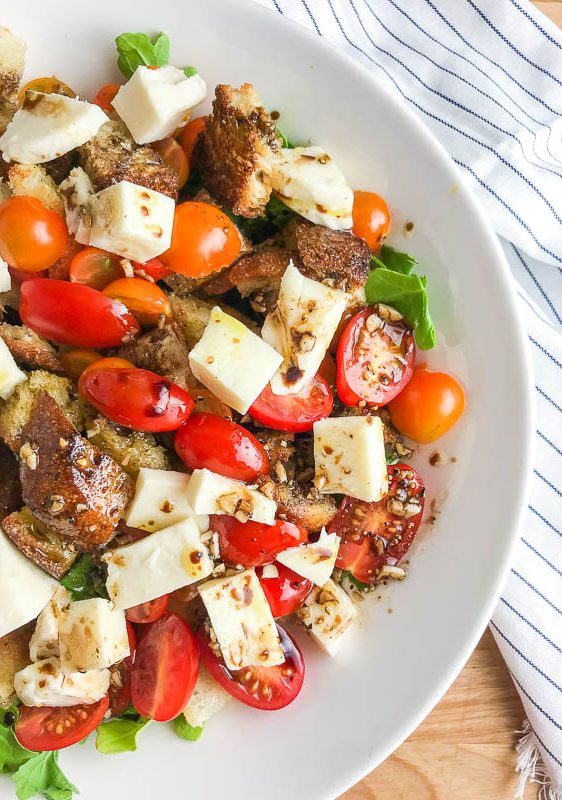 Panzanella Salad
Panzanella Salad is a Tuscan salad with bread, tomatoes, herbs and a simple vinaigrette. It's the perfect way to enjoy summer tomatoes! 
My summer garden is overflowing with tomatoes. OVER. FLOWING. I've got so many tomatoes, I am not sure at all how I am going to use them all.
I started by making these Fried Green Tomatoes. Because obviously. I also see a lot of tomato sauce, tomato sandwiches and homemade salsa in my future.
And also this Panzanella Salad because HOLY MOLY is it good. It's so simple too and that is why I love it.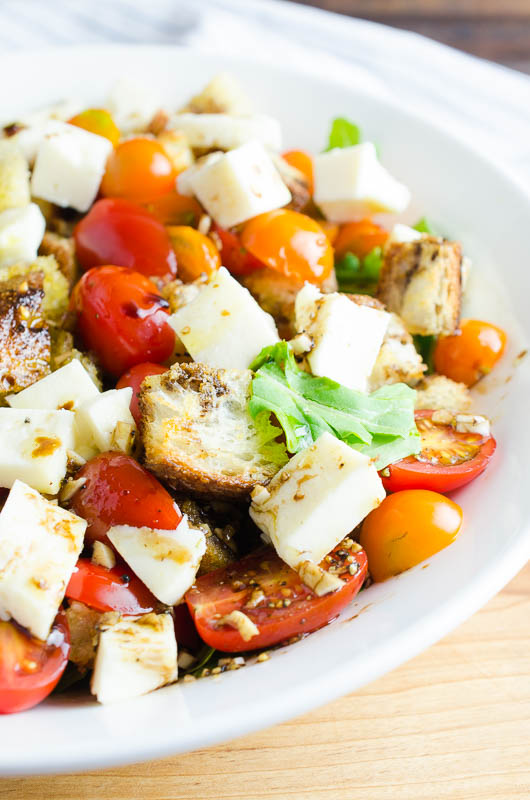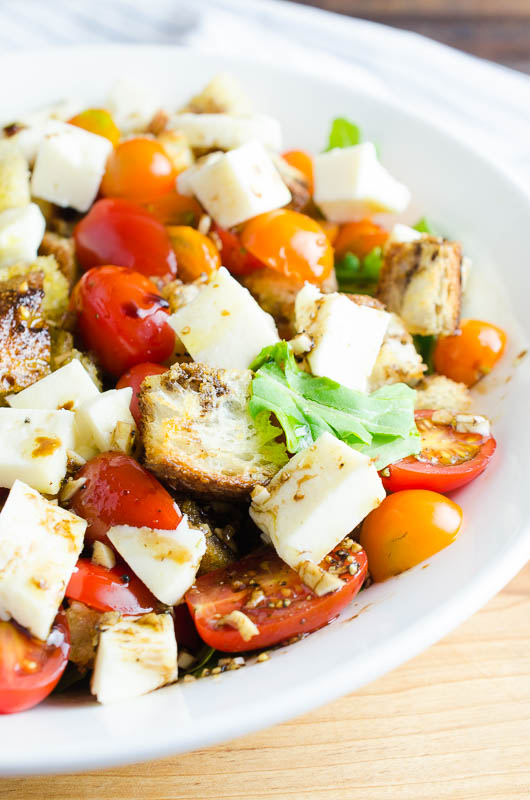 What is Panzanella?
Panzanella originated in Italy and is a classic Tuscan chopped salad dish. It is generally made with bread and vegetables and dressed with olive oil and vinegar. It's simple, rustic and a popular dish in the summer time.
What are Panzanella Ingredients?
Traditionally panzanella salad has stale bread and tomatoes. This Panzanella recipe also has bread and tomatoes but I also threw in some arugula, fresh basil and fresh mozzarella.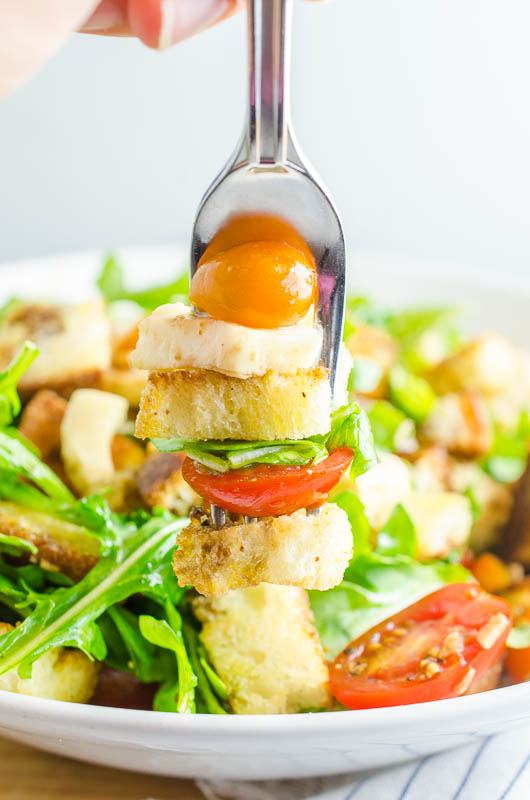 The dressing is a simple dressing made of balsamic vinegar, extra virgin olive oil and garlic.
How do you make Panzanella Salad?
Step one: Toast the bread. When you pour the dressing over the salad, the bread will soak up a lot of it. If you don't toast the bread first, it will be too soggy.
Step two: Whisk together the ingredients for the dressing.
Step three: Combine the ingredients for the salad together in a bowl.
Step four: When ready to eat, toss the salad with the dressing. If you're making everything ahead of time, I would keep the salad and the dressing ingredients separate until you are ready to serve. Then toss the salad with the dressing just before serving.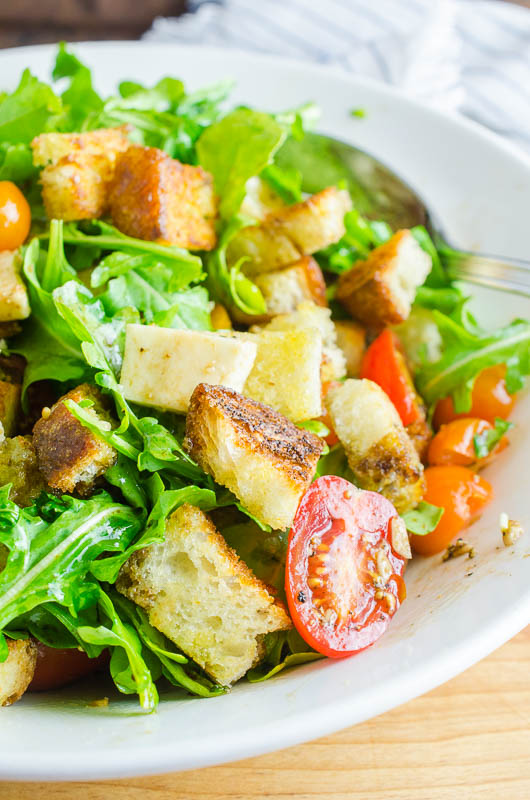 What kind of bread do you need for panzanella?
The best bread for making panzanella is a crusty rustic bread like como. It's even better if it's a day or two old. Rustic breads will hold up a bit better to the vinaigrette.
Speaking of the vinaigrette. Let's talk olive oil.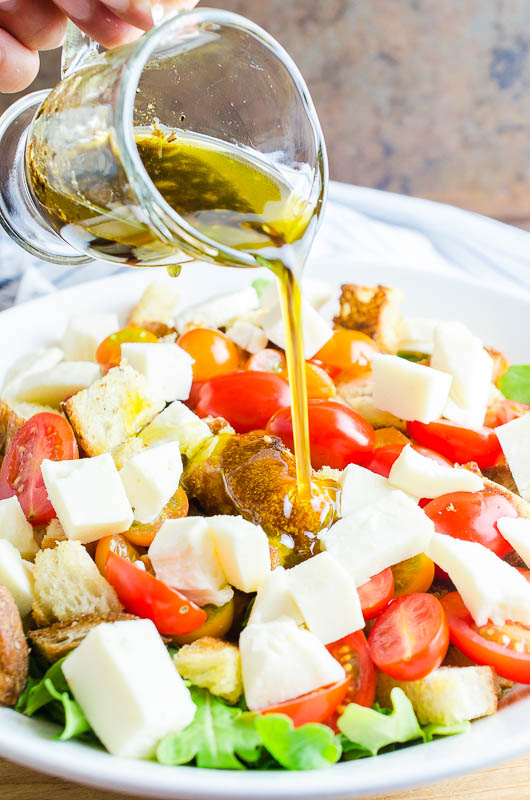 Picking the right olive oil:
With such a simple salad, it is essential that all of the components are the of the highest quality. And in my opinion, nothing can ruin a salad vinaigrette faster than the wrong olive oil.
For this salad, you'll want to use an extra virgin olive oil. Some can be bitter for my taste but I have found that Kalamata Extra Virgin Olive Oil is smooth and has a great subtle flavor. I buy mine at Trader Joe's but have found it in my grocery store as well. With that said, use whatever high quality olive oil that you like.
The point is, the flavor is going to really shine so you'll want to make sure it's something that you love the flavor of.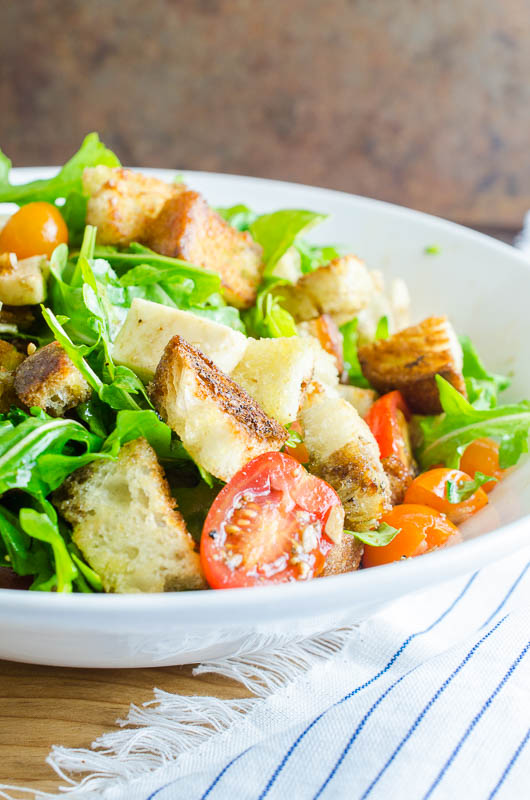 So the next time you're looking for a hearty salad this summer, look no further than this Easy Panzanella Salad.
Wondering what to serve with Panzanella? Check out these recipes! 
Flat Iron Steak with Balsamic Reduction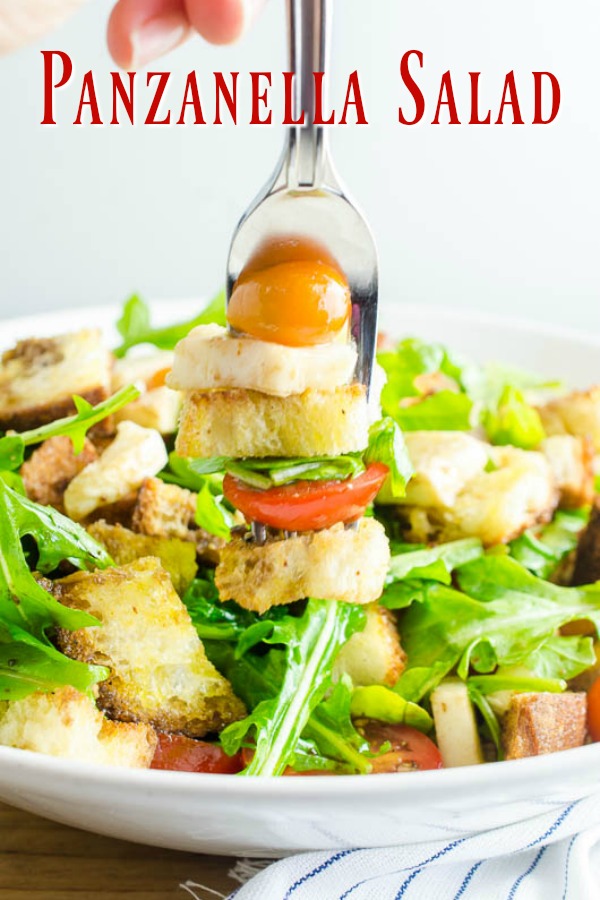 For more Classic Italian Recipes, check these out!
The Best and Easiest Garlic Bread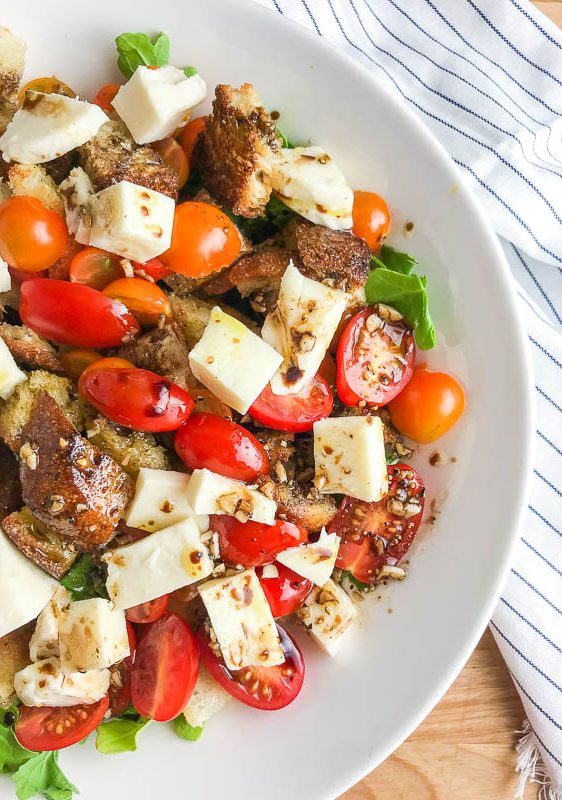 Panzanella Salad
Panzanella Salad is a Tuscan salad with bread, tomatoes, herbs and a simple vinaigrette. It's the perfect way to enjoy summer tomatoes! 
Panzanella Salad Ingredients:
3

cups

1-inch bread cubes

2

tablespoons

olive oil

1/2

teaspoon

salt

1/2

teaspoon

granulated garlic

3

cups

baby arugula

1

cup

halved cherry tomatoes

4

ounces

mozzarella diced

handful of fresh basil

chopped
Balsamic Vinaigrette Ingredients
3

tablespoons

extra virgin olive oil

1

tablespoon

balsamic vinaigrette

1

clove

garlic

minced

salt and pepper
Turn on oven broiler.

Toss bread cubes with oil, salt and granulated garlic. Place in a single layer on a baking sheet and broil 1 - 2 minutes or until toasted. Alternately, this can be done in a skillet. Simply cook the bread until browned. Allow to cool.

Combine toasted bread with remaining salad ingredients together in a bowl.

Whisk together salad dressing ingredients. Season to taste with salt and pepper.

Drizzle vinaigrette over salad and toss to coat. Serve.
Nutrition facts not guaranteed.
Calories:
445
kcal
Carbohydrates:
51.4
g
Protein:
14.6
g
Fat:
20.3
g
Saturated Fat:
5.9
g
Cholesterol:
30
mg
Sodium:
790
mg
Fiber:
7
g
Sugar:
12.5
g
Keywords:
italian, salad, Tuscan