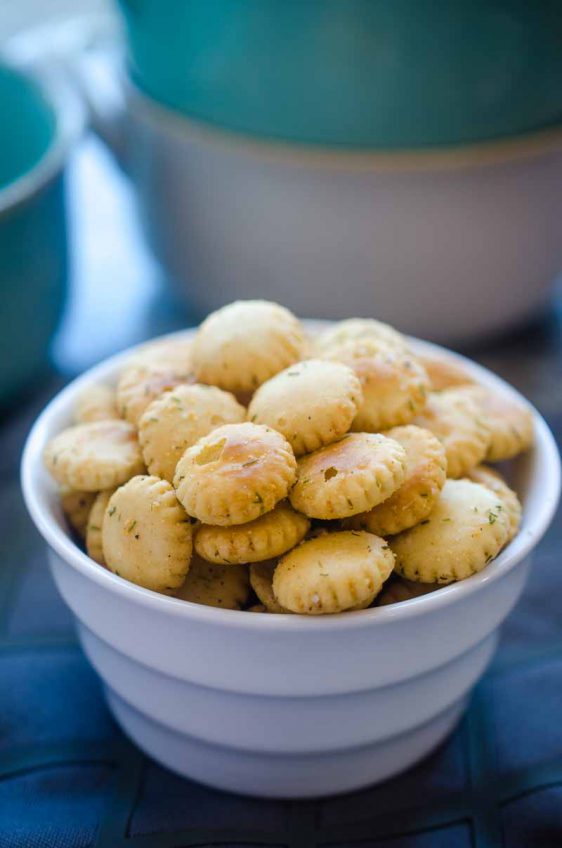 Ranch Oyster Crackers
Ranch Oyster Crackers are the perfect snack for your next party or the perfect addition to a bowl of hot soup. 6 ingredients is all you need for this quick and easy snack. 
Guys, soup season is on the way. It's no secret that fall is my favorite season. I start decorating for fall after Labor Day. I get giddy when I see the fall stuff pop up in craft stores. My wedding was even fall themed.
Like I said, I love fall.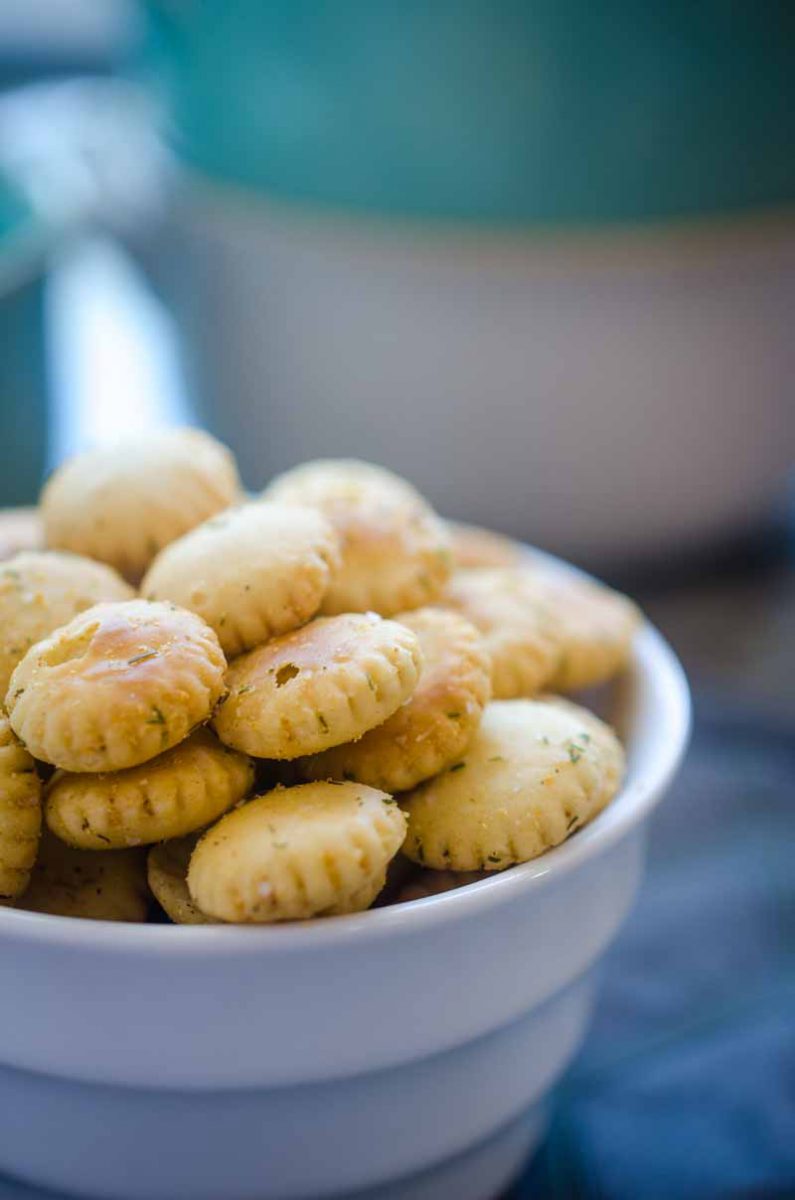 One of my favorite things about fall is that it is the start of two amazing things: football season and soup season. Football season means lots of awesome football food and soup season means lots of awesome tummy warming soups.
These ranch oyster crackers will come in handy for BOTH of those. They are a quick and easy snack that you can put on a game day spread. And a handful of these crackers added to the top of a steamy bowl of Roasted Garlic & Chicken Chowder is fall dinner perfection.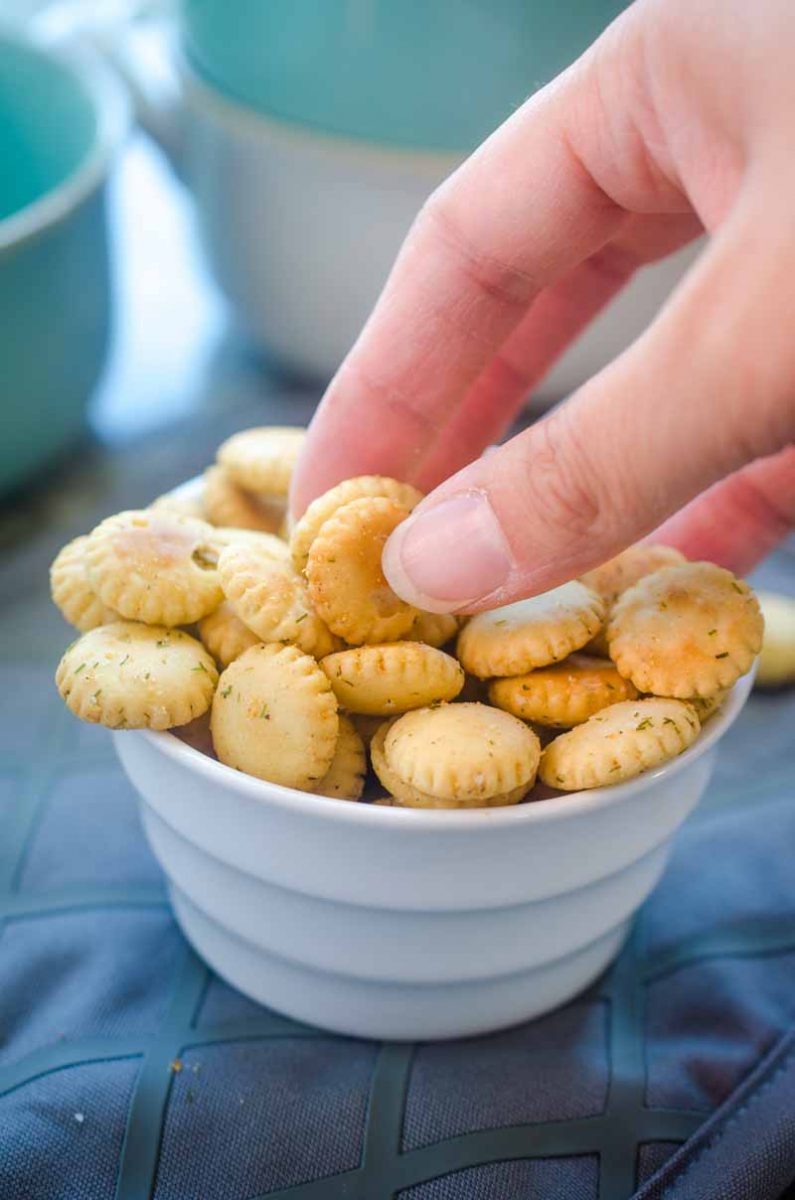 How to make ranch oyster crackers:
To make the ranch oyster crackers could not be easier. You simply mix the seasonings together with canola oil, coat the oyster crackers with the mixture and bake them in the oven for 15 minutes.
Many ranch oyster cracker recipes call for using ranch dressing mix. I don't usually have that on hand so this recipe is made without ranch dressing mix. Instead, I use what I always do have on hand: granulated garlic, dill, salt and pepper. 4 simple seasonings and that's it!
If you want to add some cheese, I would recommend parmesan. I would use grated parmesan instead of shredded. You want a finer texture to coat the crackers.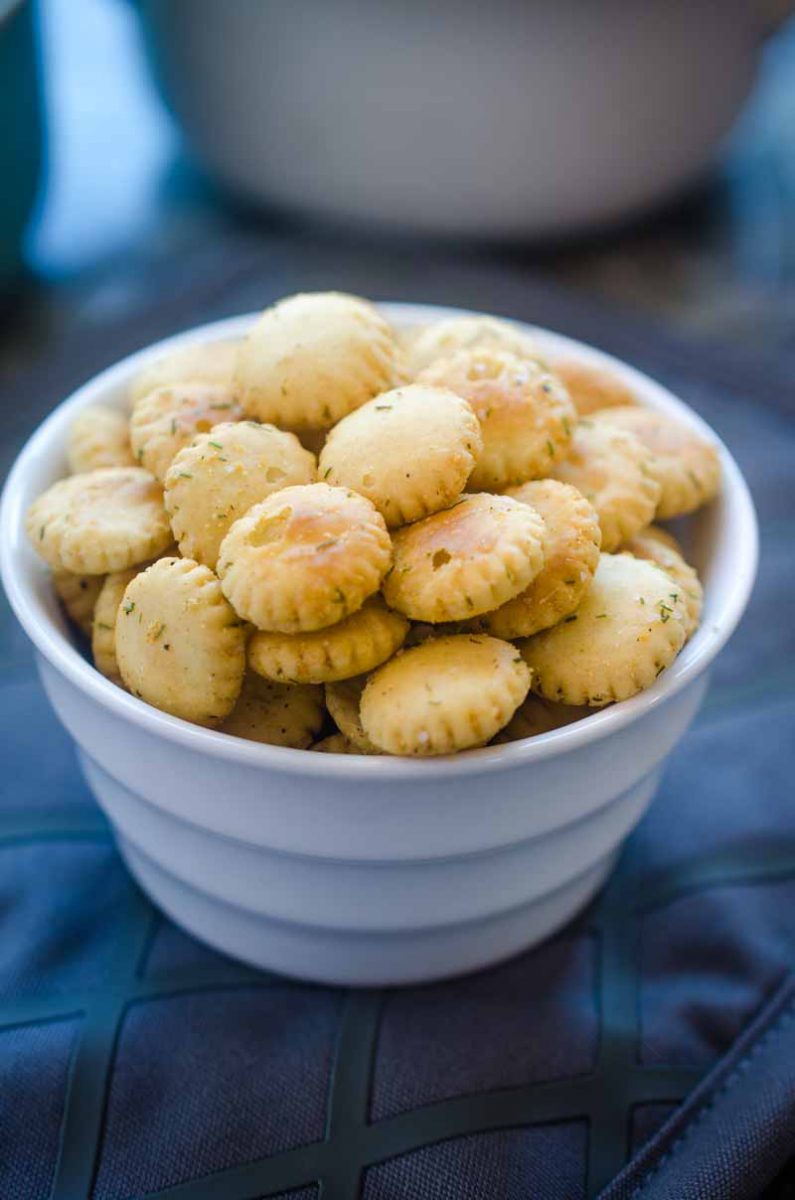 Seasoned Oyster Cracker Variations:
Ranch Oyster Crackers are just the tip of the iceberg when it comes to seasoned oyster crackers.
You could make a spicy version with Cajun Oyster Crackers .
Taco Seasoned Oyster Crackers are also irresistible!
Buffalo Oyster Crackers are perfect for game day!
You could even do a sweet version with these Salted Toffee Oyster Crackers.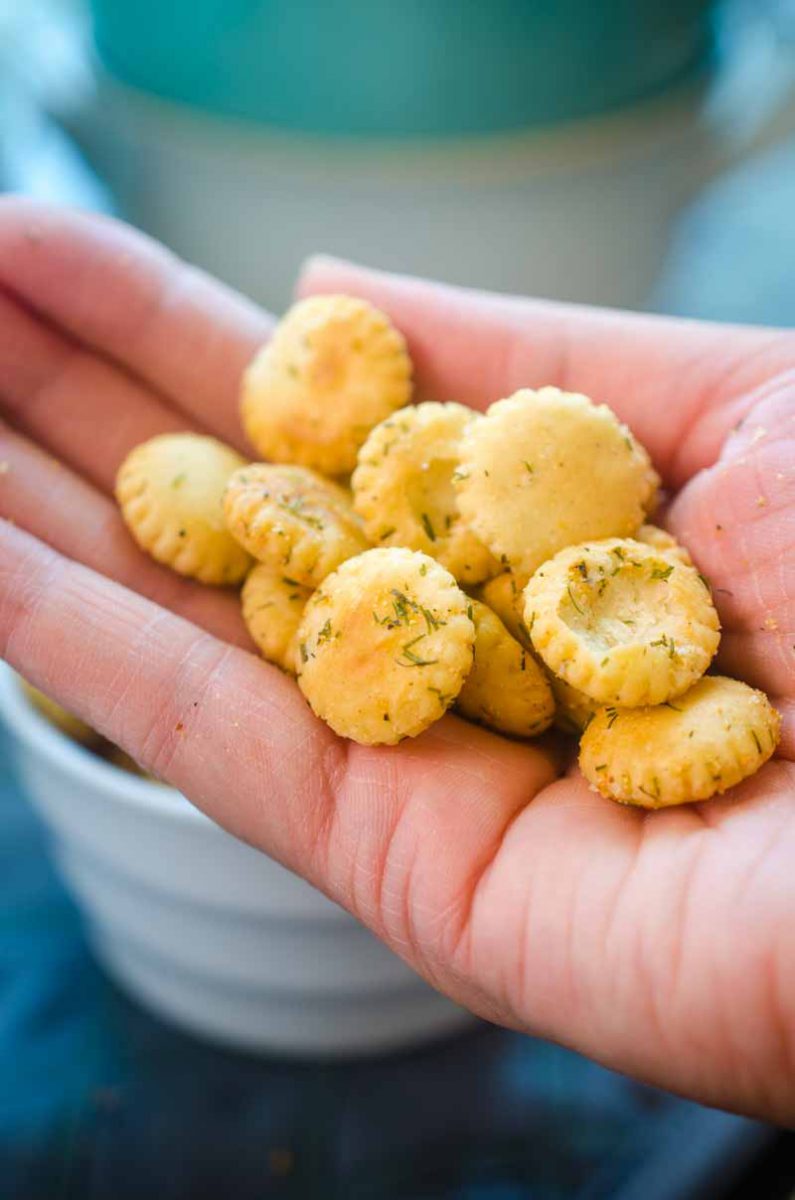 So the next time you are throwing a party or sitting down to a bowl of warm soup, make sure you grab a handful of these Ranch Oyster Crackers. You'll be glad you did.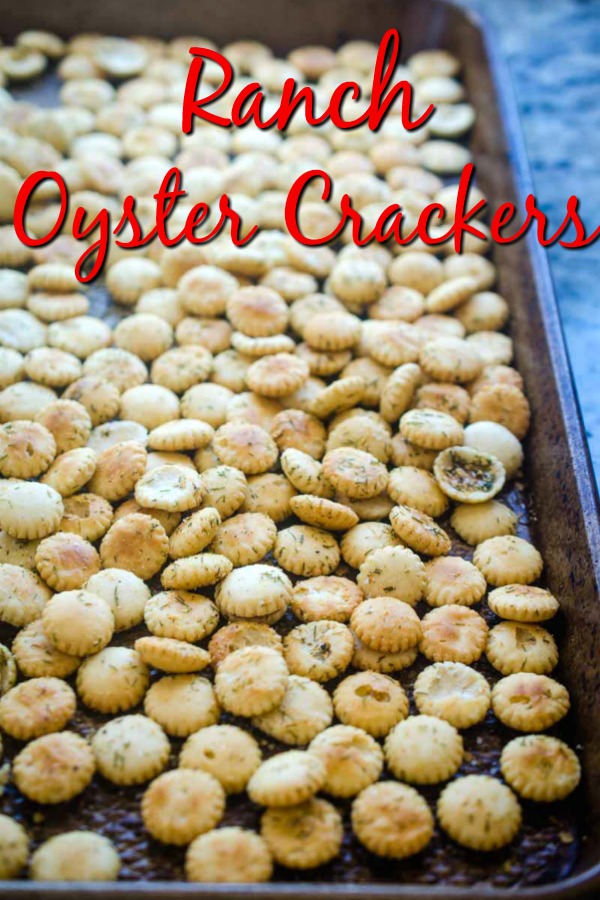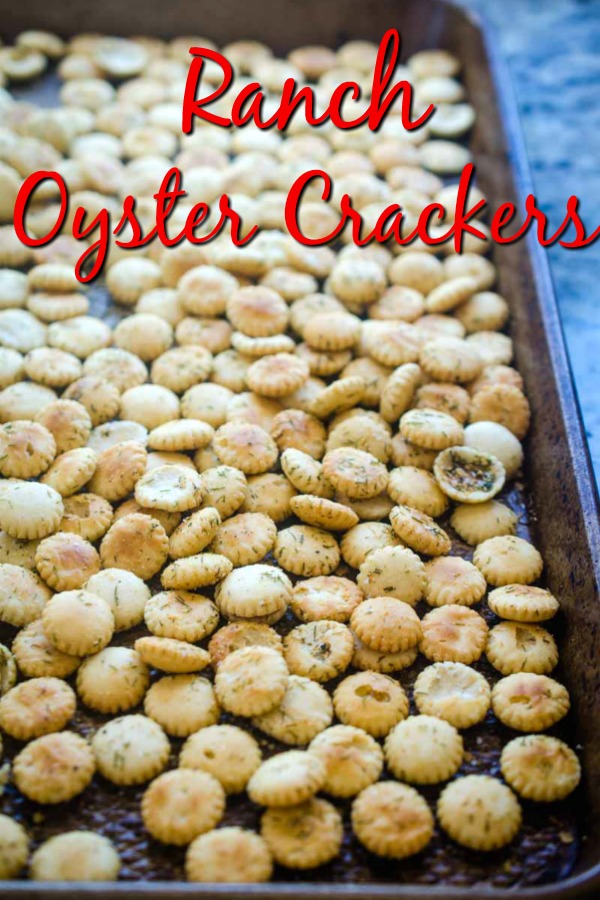 Ranch Oyster Crackers Recipe
Ingredients:
1/4 cup canola oil
2 teaspoons dried dill
1 1/2 teaspoon granulated garlic
1/2 teaspoon kosher salt
1/4 teaspoon black pepper
1 (9oz) bag oyster crackers
Instructions
2
Whisk together canola oil, dill, garlic, salt and pepper.

3
Place oyster crackers in a bowl and pour seasoning mixture over the top. Stir to coat all the crackers.

4
Spread crackers in a single layer on a large baking sheet. Bake in preheated oven for 15 minutes.

5
Allow to cool and serve. Store leftovers in an airtight container.
Notes
Nutrition facts not guaranteed.
Nutrition information
Calories: 105 , Total Fat: 6.9g , Saturated Fat: 0.6g , Cholesterol: 0mg , Sodium: 254mg , Carbohydrates: 9.5g , Fiber: 0.5g , Sugar: 0.2g , Protein: 1.3g