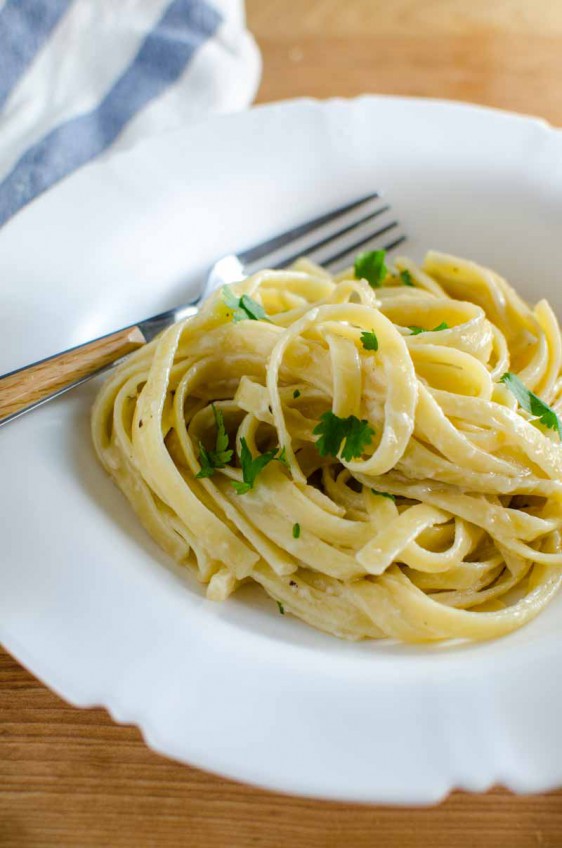 Roasted Garlic Fettuccine Alfredo
This rich and decadent Roasted Garlic Fettuccine Alfredo is loaded with cream, butter and sweet roasted garlic. 
I made this dish yesterday for our stay-at-home Valentine's day celebration. It was a hit with Ryan and both boys. I'm not really surprised though because this Roasted Garlic Fettuccine Alfredo has been my go-to meal for special occasions for several years now. I like to serve it on birthdays and Valentine's day. I think it's perfect for special occasions because it feels like a fancy dinner. But also, it's not everyday that you eat a pasta that is loaded with cream, butter and sweet roasted garlic.
Well….at least it shouldn't be everyday.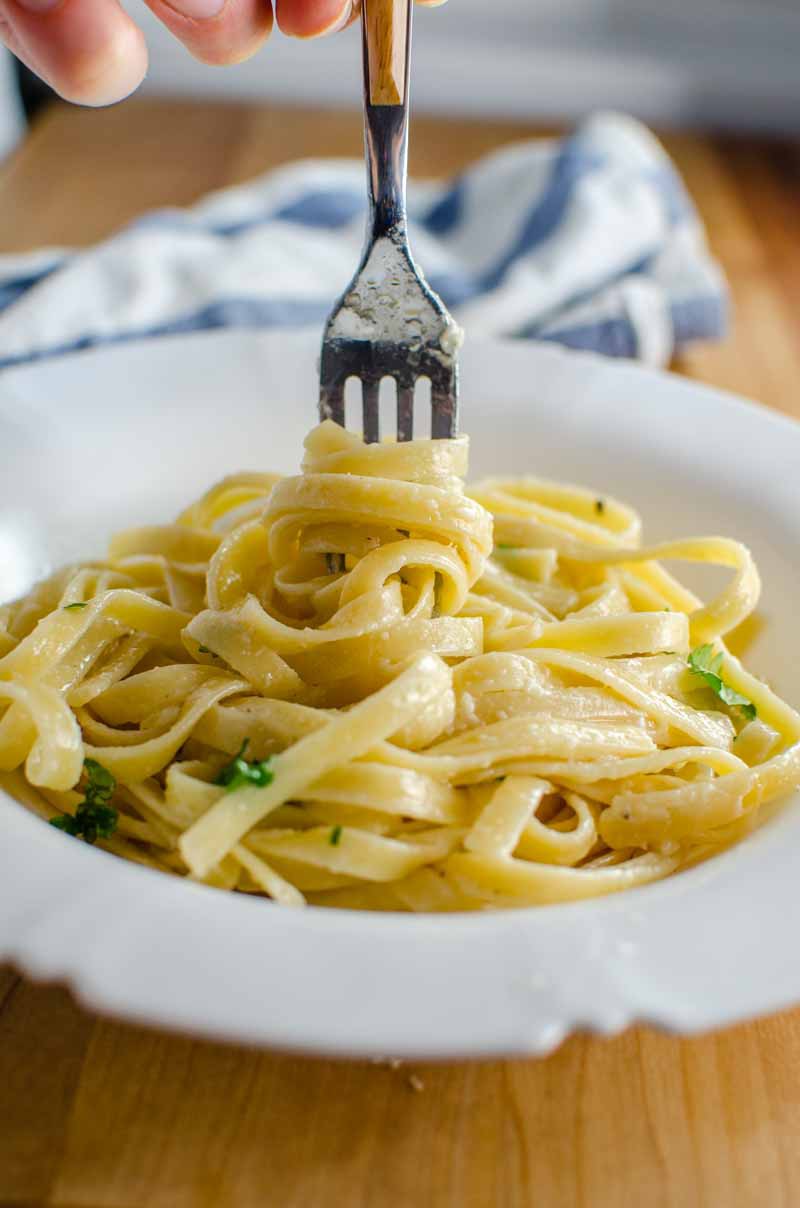 On second thought maybe it should.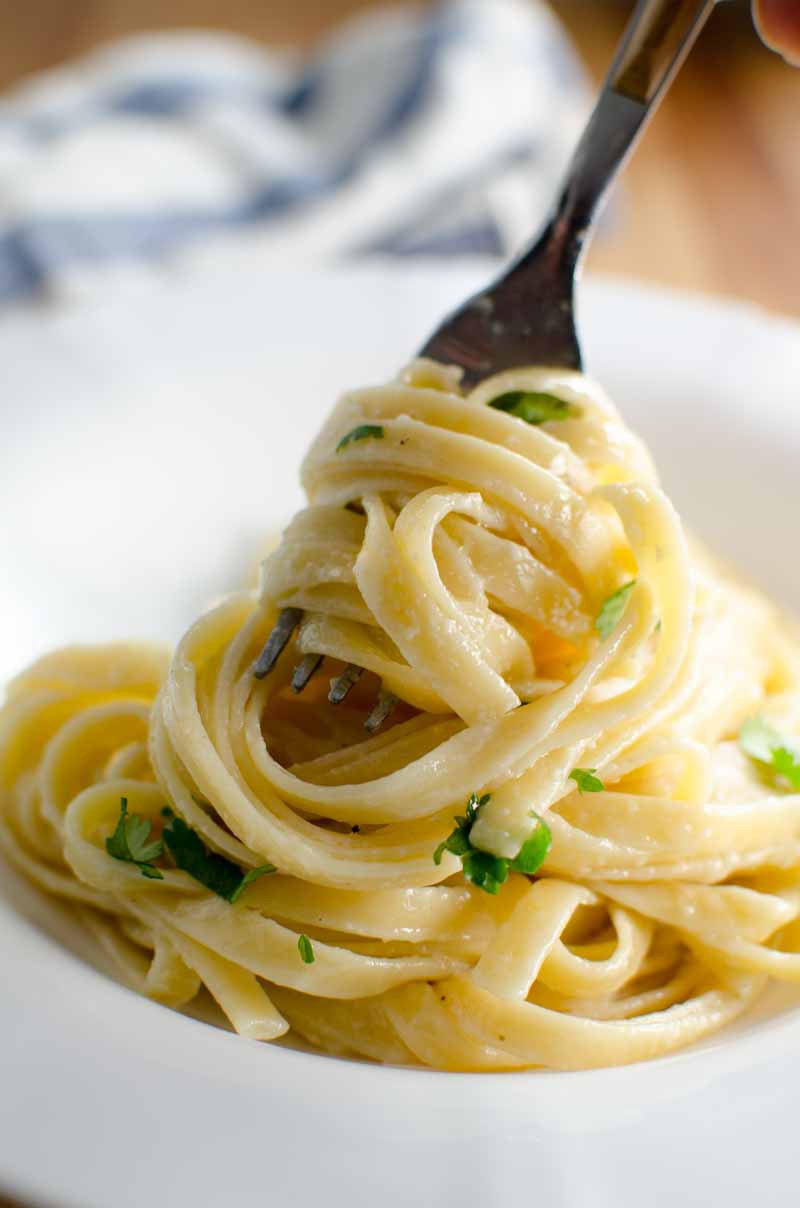 Fettuccine Alfredo has always been one of my favorite dishes, but the added edition of the roasted garlic in this fettuccine Alfredo really takes it over the top. It's the subtle sweetness and garlic flavor that the creamy Alfredo sauce is just begging for. I don't make Alfredo any other way now.
And if I can be so bold…neither should you ;-)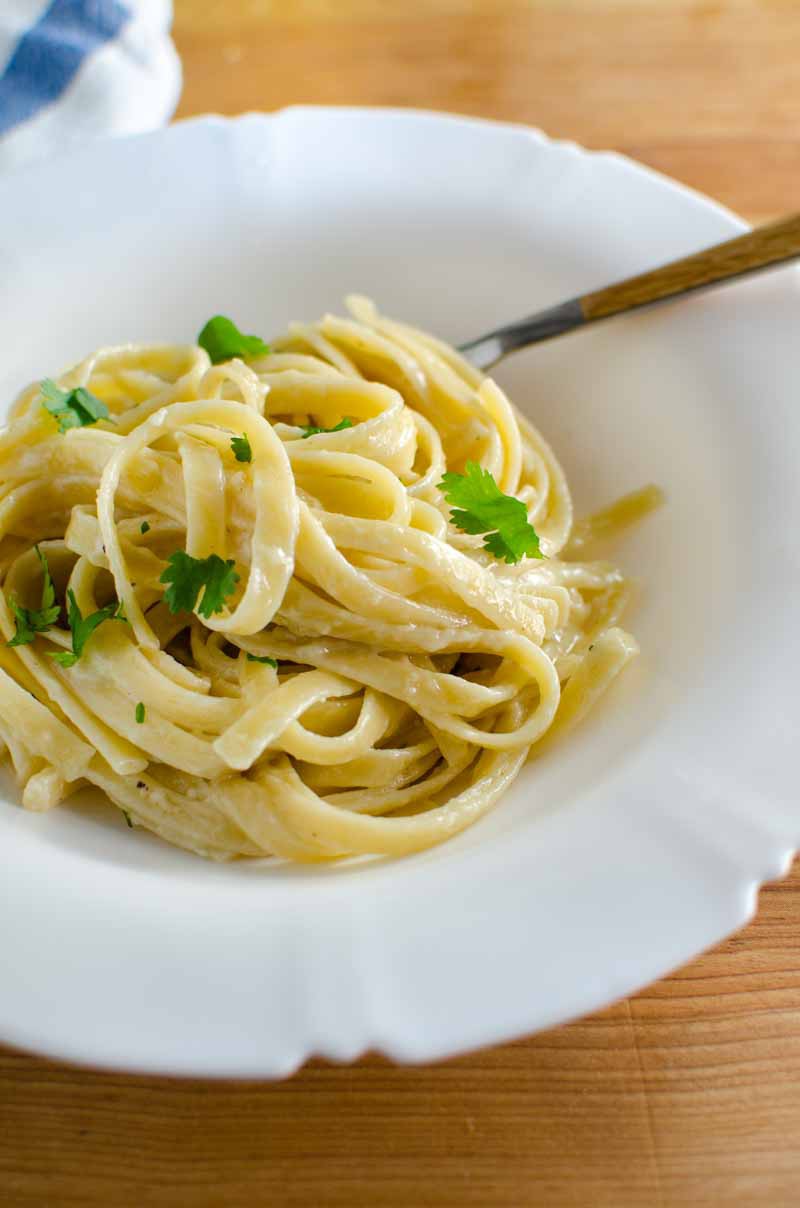 Note: This post was originally posted in 12/2013 and updated 2/2017
Original Post 12/2013: Sometimes, just sometimes, you need a dish like this. A dish that is loaded with cream. And butter. And more cream. And more butter. Especially when it's so cold outside you shiver just thinking about opening your door.
So here's the thing. I am so not made for the cold.
For the record, I am not made for the heat either.
I can handle weather from around freezing to 80. Anything below or above that and I'm not a happy camper.
And really, I only like it to be freezing if it's going to snow. If it's not going to snow then the temperature has no business being 32 degrees.
And that is exactly what it has been like in Seattle. They say it's the coldest it's been in 15 years, and it's been like this for several days now. I know, I know, it's much colder in some places. But I am just not used to it!
So I cope with it by making dishes like this creamy, supremely comforting roasted garlic fettuccine alfredo. I didn't skimp on the cream, I didn't skimp on the butter and I didn't skimp on the cheese. And you shouldn't either. This is a good one folks.
Roasted Garlic Fettuccine Alfredo Recipe
Ingredients:
1 head garlic
1 teaspoon olive oil
1 pound dried fettuccine pasta
1/2 cup (1 stick) butter
1 cup heavy cream
2 cups freshly grated Parmesan cheese
1/2 teaspoon fresh cracked black pepper
1/4 cup chopped fresh parsley
salt
Instructions
1
Preheat oven to 425 degrees.

2
Cut the top 1/4 inch off the garlic. Place garlic on a piece of aluminum foil. Drizzle oil over the top. Wrap in the foil and roast for 40 - 45 minutes or until browned and soft. Remove from oven. Allow to cool. Use a fork to remove cloves. Mash together in a bowl.

3
Bring a large pot of water to boil and cook pasta according to package directions. Drain, reserve 1/2 cup pasta water.

4
While the pasta is cooking, melt butter in a skillet over medium heat. Add in roasted garlic and cook until garlic is fragrant, 30 seconds - 1 minute.

5
Stir in 1/2 of the cheese and cook just until it starts to melt. Stir in 1/2 of the cream and whisk until the cheese melts. Add in remaining cheese and cream. Continue whisking until smooth. Add pepper and parsley. If sauce appears to thick, thin with a little of the reserved pasta water.

6
Add hot pasta and toss to coat. Add salt if needed. Serve immediately.