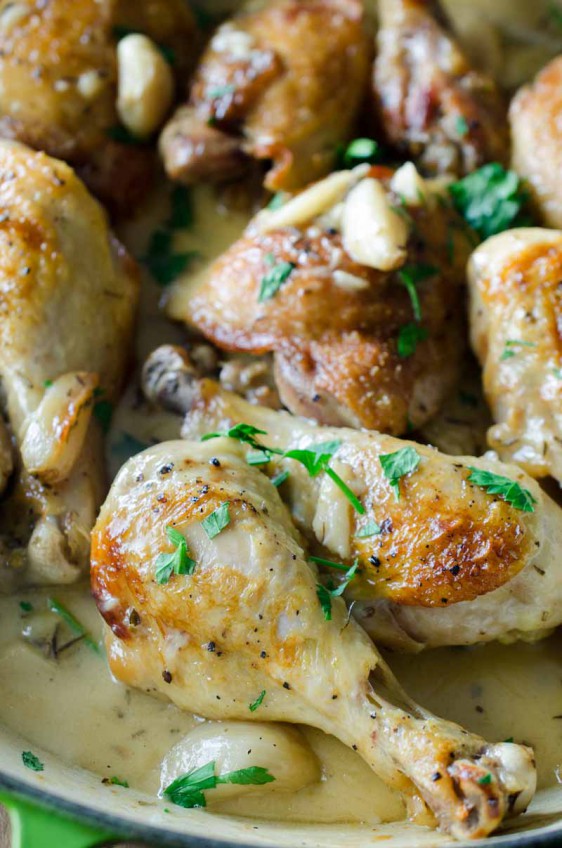 Chicken with 40 Cloves of Garlic
Chicken with 40 Cloves of Garlic is a baked chicken recipe, with 40 cloves of garlic, white wine, thyme, rosemary and a little cream. This easy dinner comes together in less than an hour!  Be still my heart.
Yep that's right, 40 cloves of garlic. That's two, or in some cases, three entire heads of garlic. Sounds lovely doesn't it? But that's not all. This recipe also has chicken, white wine, chicken stock and herbs. To top it off, a splash of cream is added at the end. All of this makes a deliciously creamy garlic sauce, perfect for pouring over chicken.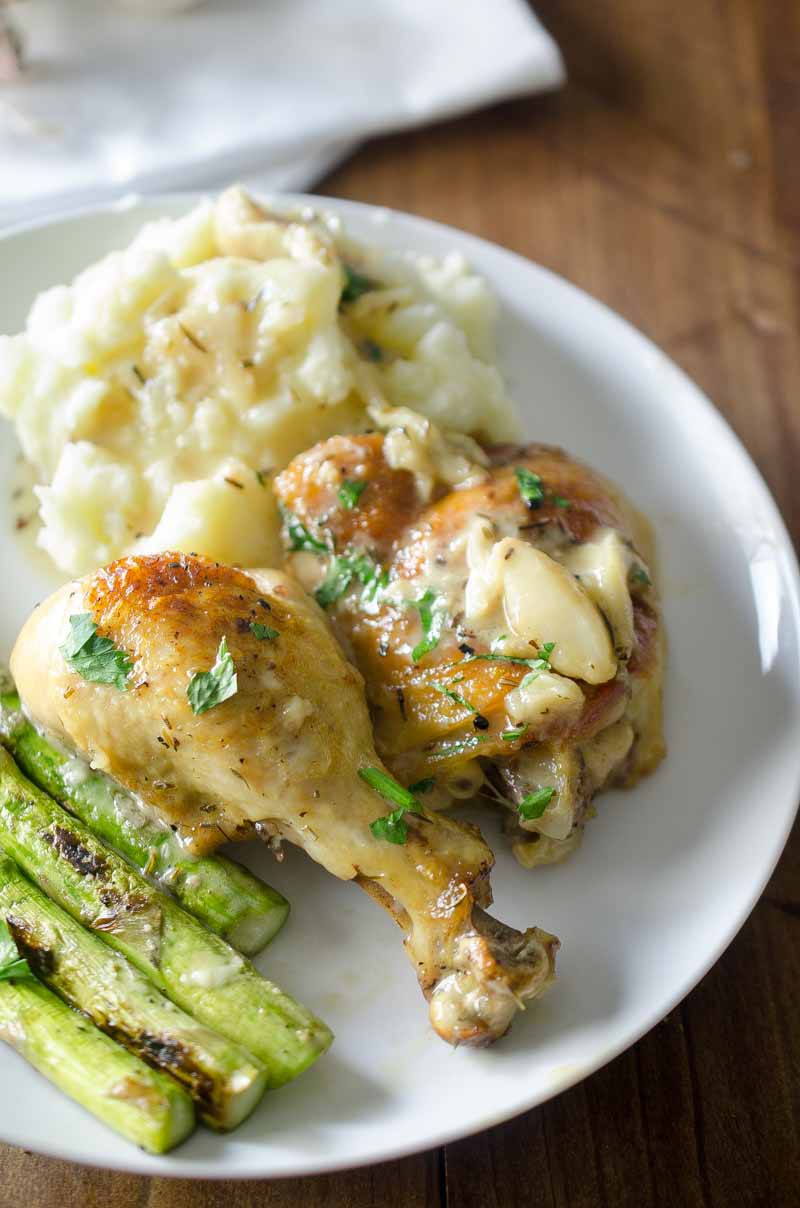 As a garlic lover, I wanted to try Chicken with 40 Cloves of Garlic ever since I first read about it in The Garlic Lover's Cookbook. It was a birthday present when I was 17.
My garlic love runs deep, friends.
Over the years, I have tried and failed to make 40 clove garlic on many occasions. One disastrous attempt involved me cooking rice in the dish, removing the lid and finding all of the cloves dissolved. That's right, 40 cloves dissolved into the rice. We ate it anyway, but man oh man was the garlic taste overwhelming. We probably could've scared vampires away for several days after eating it.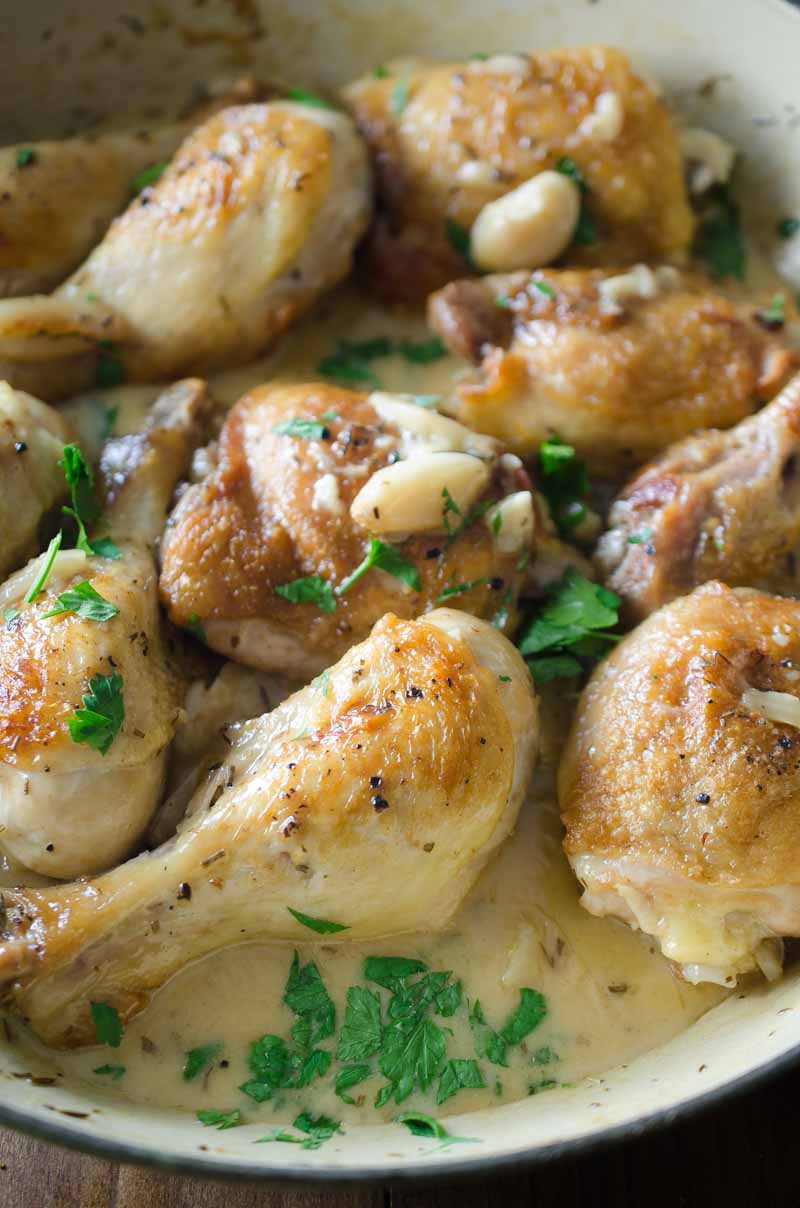 But, not one to give up, I kept at it. Finally, after a few tries, I am happy to say that I have perfected the 40 clove chicken recipe.
Unlike my first attempt, the garlic cloves remain mostly intact in this recipe. This provides a sweet, garlicky taste that is not too over powering. But garlicky enough to please even the most devout of garlic lovers.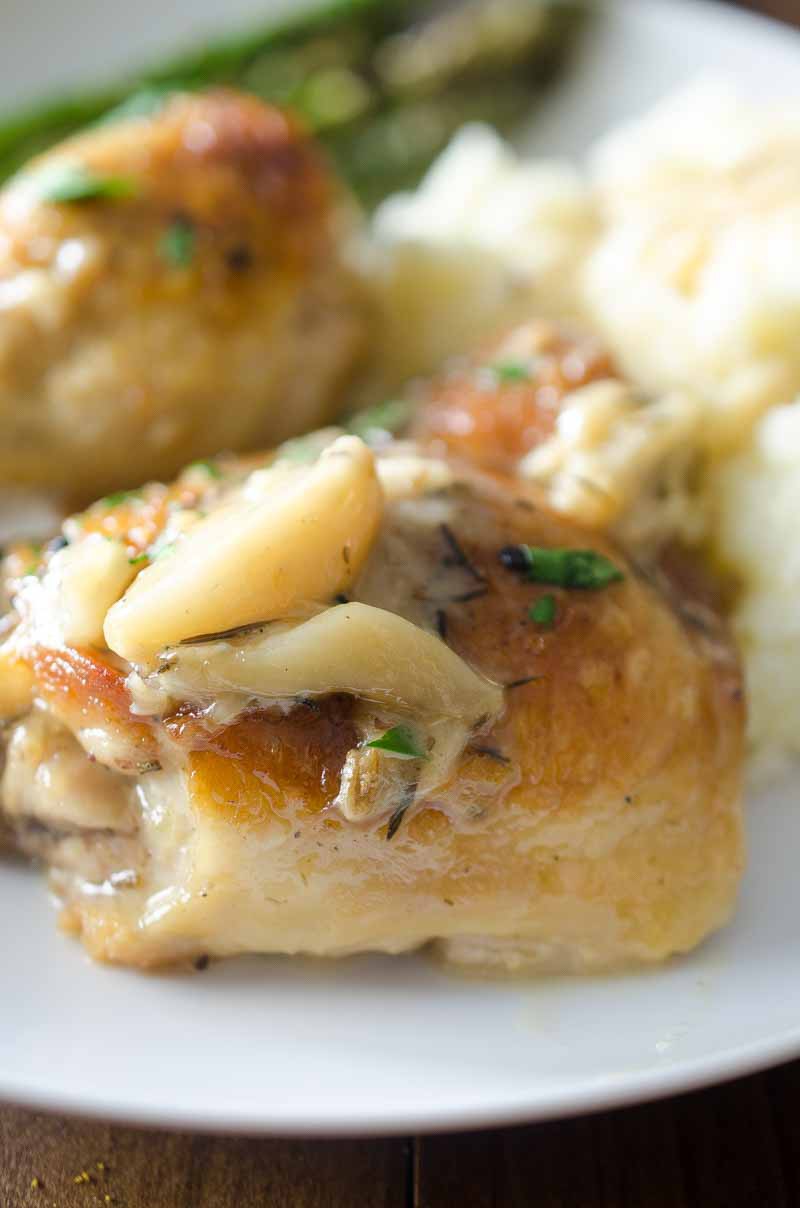 If you are looking for side dishes to serve along side your Chicken with 40 Cloves of Garlic,  rosemary mashed potatoes and a healthy salad or steamed veggies are all excellent choices.

Chicken with 40 Cloves of Garlic Recipe
Ingredients:
2 tablespoons olive oil
kosher salt and fresh cracked pepper
4 chicken drumsticks
4 chicken thighs
40 cloves garlic, peeled
1 teaspoon dried thyme
1/2 teaspoon dried rosemary
1/4 cup chicken stock
1/4 cup dry white wine
1/4 cup heavy cream
chopped fresh parsley
Instructions
1
Preheat oven to 350 degrees.

2
Heat olive oil in a large dutch oven or other oven proof pot over medium heat. Season both sides of chicken with salt and pepper. In batches, cook chicken until browned. About 5 minutes per side. Transfer to a separate platter. Set aside.

3
Reserve 2 tablespoons of pan drippings, add in garlic, thyme and rosemary. Cook until garlic browns slightly, stirring often, about 2 minutes.

4
Return chicken to pan, pour chicken stock and wine over the top. Cover and bake for 30 minutes. Remove lid and bake an additional 10 minutes. If you would like the chicken skin crispier turn on the broiler for a couple of minutes.

5
Remove chicken from oven. Transfer chicken to a serving platter and cover to keep warm. Place dutch oven back on the stove and turn heat to medium. Bring to a boil. Stir 1 tablespoon of hot pan drippings into the heavy cream to temper it. Reduce heat and slowly whisk tempered heavy cream into sauce. Cook 3 - 5 minutes or until sauce thickens slightly. Spoon sauce over chicken, sprinkle with parsley and serve.