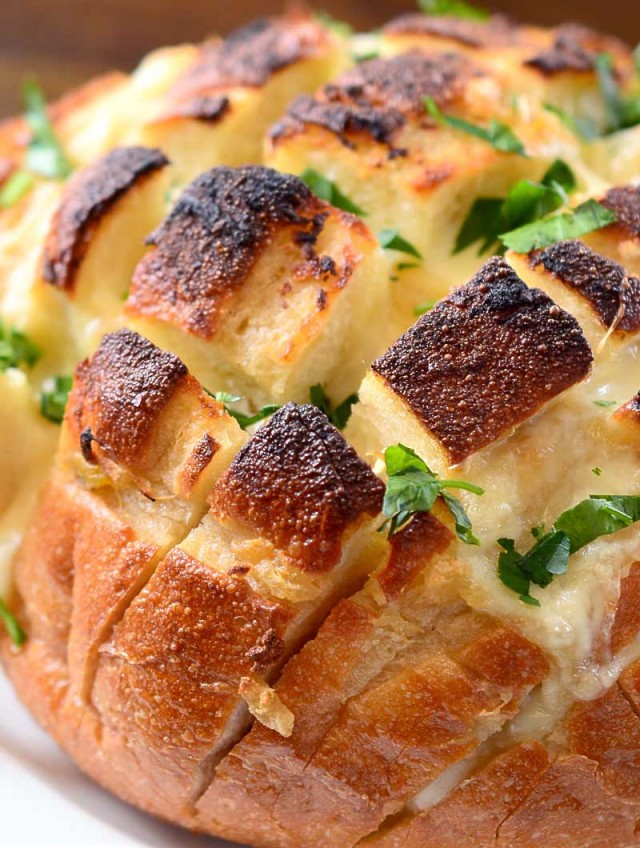 Roasted Garlic and Brie Pull Apart Bread
I've been seeing pull apart bread everywhere. It is all over Pinterest. I first saw it on Beantown Baker's site where she made a Cheesy Mushroom Pull Apart Bread. One look and the ideas started to flood in. The one I finally decided to make was this Roasted Garlic and Brie Pull Apart Bread. It is fantastic. Cheesy. Garlicky. And super easy to make.
I have been really excited to make this for a long time. But for some reason I just never got around to it, until last weekend. One pull of the bread revealed fantastic roasted garlic cheesy goodness and the only thing I could think of was "Why oh why did I wait so long?!"
And now that I know just how easy and delicious pull apart bread is, look out, I think I'll be sharing many more variations in the future.
Roasted Garlic and Brie Pull Apart Bread Recipe
Ingredients:
1 large sourdough boule
1 bulb garlic
8 tablespoons butter, divided
1 teaspoon lemon juice
kosher salt
8 ounces double creme brie cheese, rind removed
2 tablespoons chopped fresh parsley
Instructions
1
Preheat oven to 400 degrees.

2
Cut 1/4 inch off the top of the bulb of garlic to expose the cloves beneath, but do not peel the garlic, you want to roast it in the skin. Place clove on a piece of aluminum foil, place 1 tablespoon butter on top, pour lemon juice over the garlic and sprinkle with kosher salt. Bring up all sides of aluminum foil and twist together to close. Cook for 45 minutes or until garlic cloves are soft and golden in color. Allow to cool. Remove cloves with a fork. Reduce oven temperature to 350 degrees.

3
Slice the bread vertically and horizontally being careful to not cut all the way through the bread, stop about 1/4 inch from the bottom of the loaf. Place on a sheet of aluminum foil.

4
Melt the remaining 7 tablespoons of butter with roasted garlic cloves in a saucepan over medium-low heat.

5
Pour melted butter over the top of the sliced sourdough, gently parting the bread to make sure the butter works its way in to all the little spaces.

6
Press diced brie into the cuts of the bread. Wrap the bread in aluminum foil and bake for 15 minutes.

7
Uncover and bake for 10 more minutes. Turn on the broiler and broil for 2 minutes or until the cheese is bubbly.

8
Remove from oven, sprinkle parsley on top. Serve.