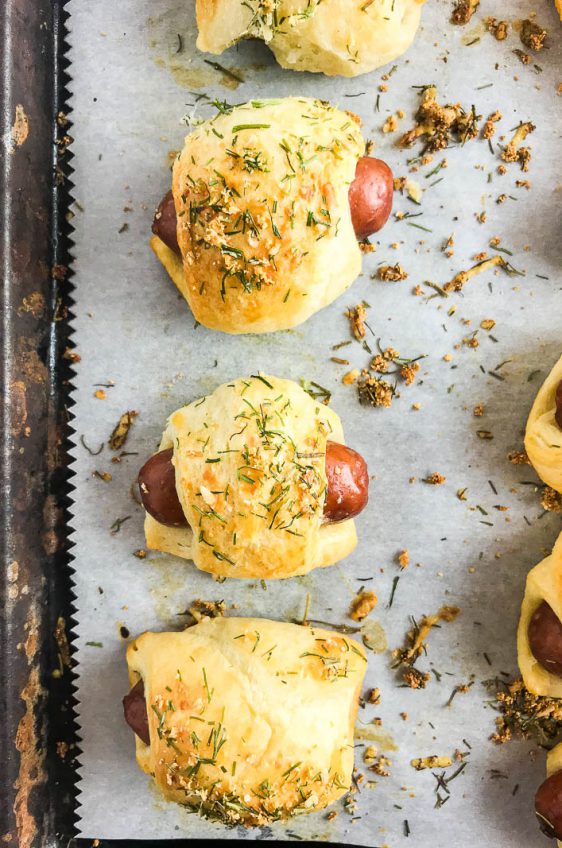 Mini Pigs In A Blanket
A cocktail party and game day must have! With just a handful of ingredients, mini pigs in a blanket are the easy appetizer you need for all of your parties.
I've said it before and I'll say it again, appetizers are my absolute favorite part of a meal. And I don't know about you but, they are my favorite part of parties too.
Planning a party can be a lot of work. You've got to plan the guest list, the drinks and the food and you still want to enjoy the party. That is why it is essential to have a few party perfect appetizers that are easy to put together, easy to eat and a hit with everyone.
That is where Mini Pigs in A Blanket come in.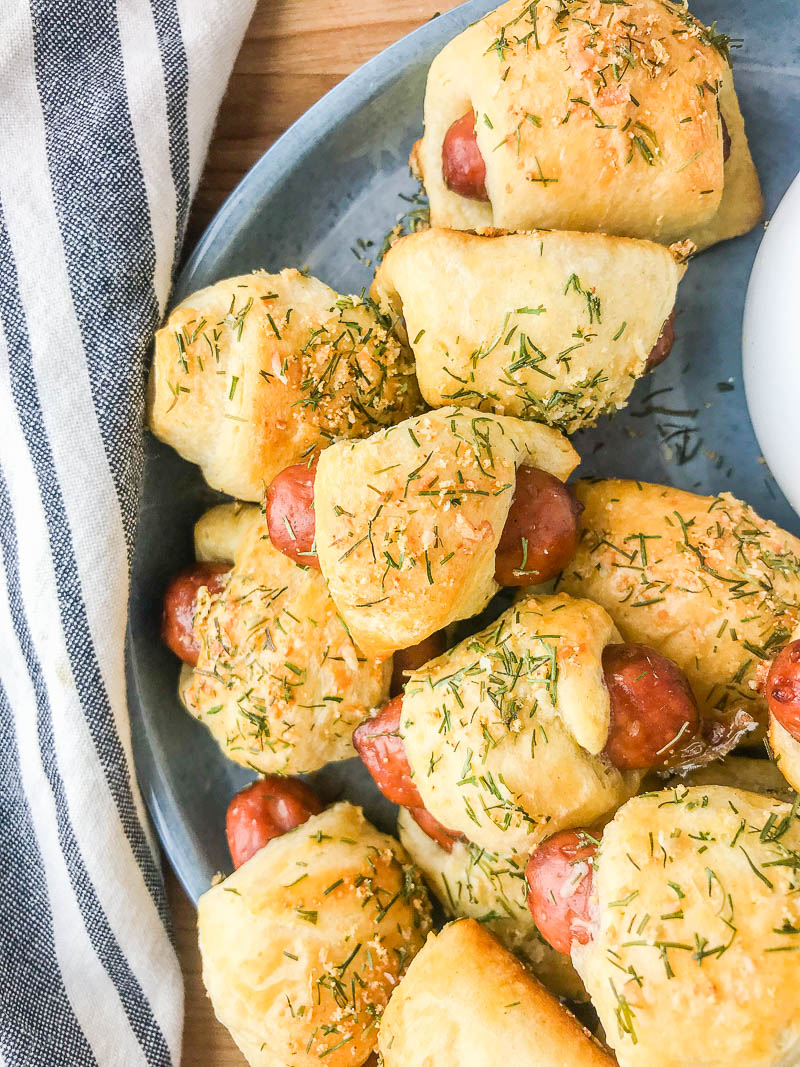 Why are they called pigs in a blanket?
If you're not familiar with "pigs in a blanket" they are a party staple in North America. The recipe first appeared in a Betty Crocker kids cookbook way back in 1957. In the recipe the sausage is the "pig" and it's wrapped in a dough (croissant, biscuit, pancake) blanket. And then baked.
Pigs in a blanket can be made with hot dogs and dough or, as in this recipe, with lil' smokies or other small cocktail size sausages.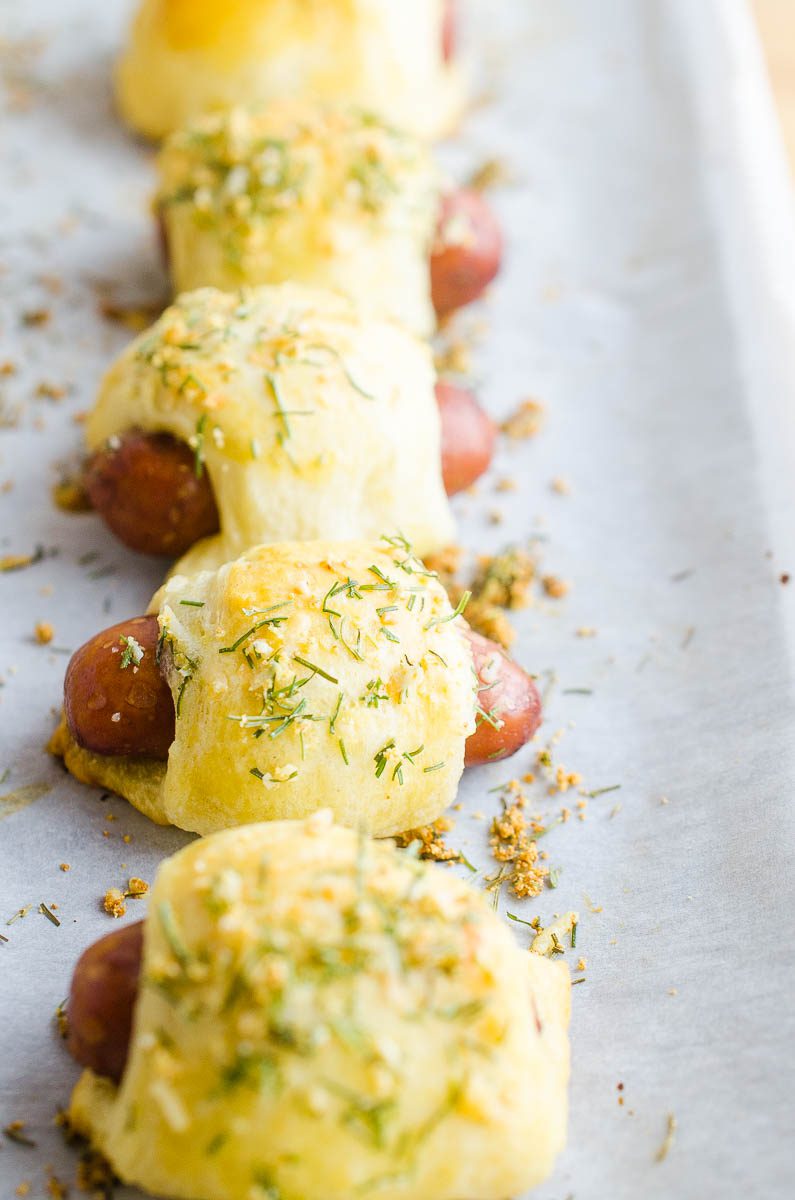 What ingredients do you need to make mini pigs in a blanket?
The reason this recipe is so easy is because it gets a helping hand from some ready made ingredients: crescent rolls and cocktail sausages.
Most pigs in a blanket recipes leave it at that, but I wanted to make this one a bit more interesting by adding garlic, parmesan and dill.
Sure, crescent roll dough is fine and all, but crescent roll dough with parmesan, garlic and dill? Even better.
How do you make pigs in a blanket?
The hardest part of this recipe (and it's not really that hard) is cutting the crescent dough into triangles. You don't really need to be precise here. You're just going to want 24 pieces that are roughly the same size. I cut each crescent roll sheet of dough into 3 pieces.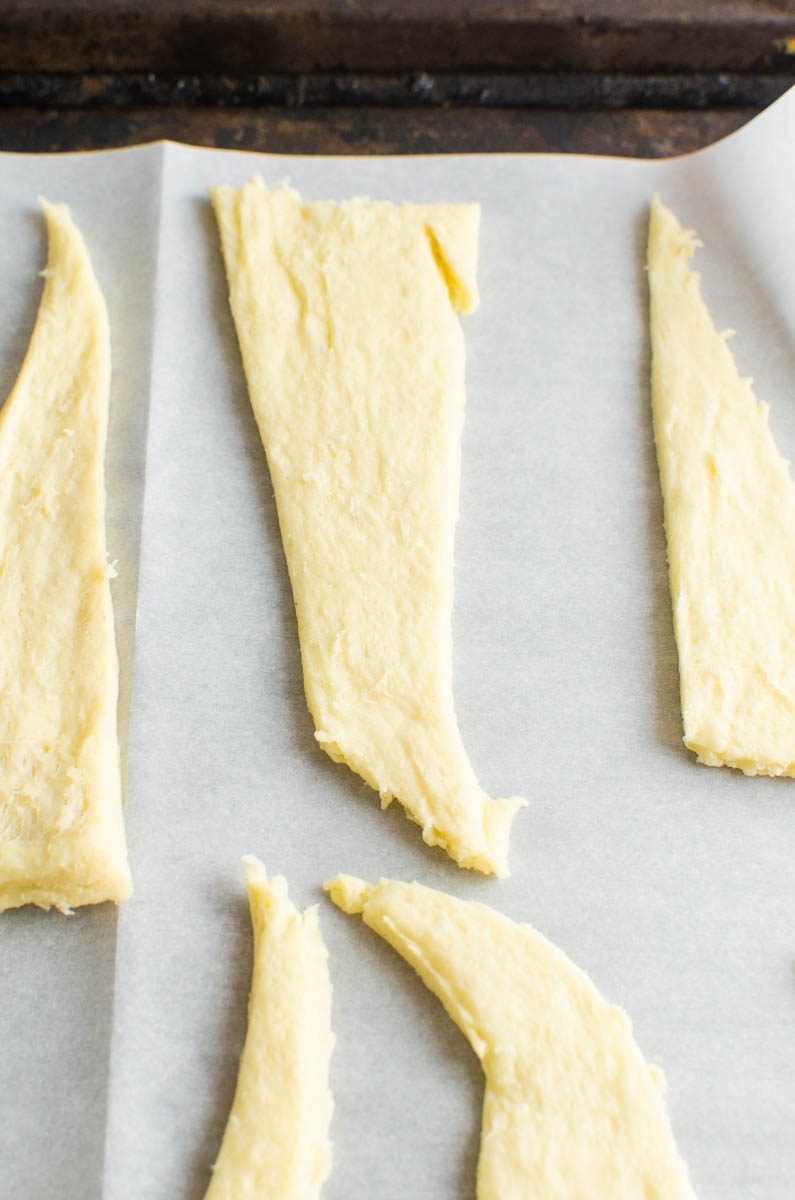 After they are cut, place a sausage at the end and roll up.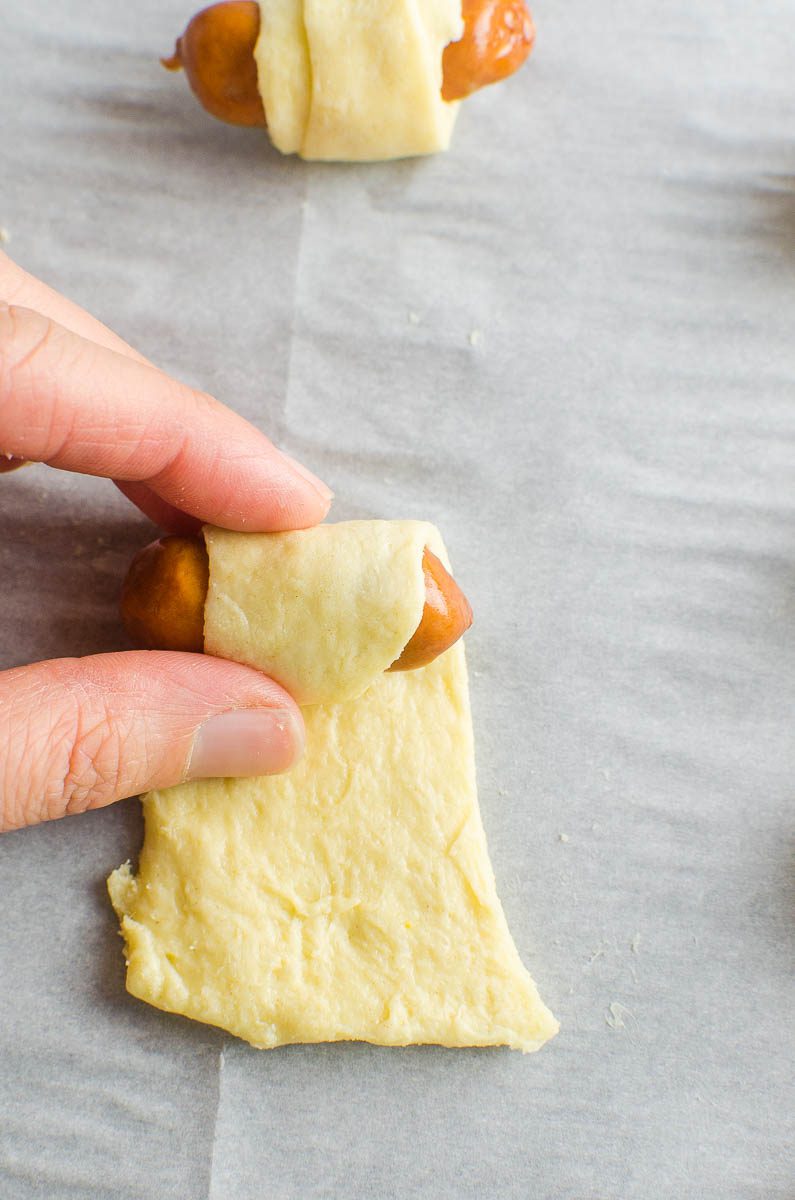 Next, brush them with egg. This will help the seasoning stick to them, as well as give them a nice golden brown color during baking.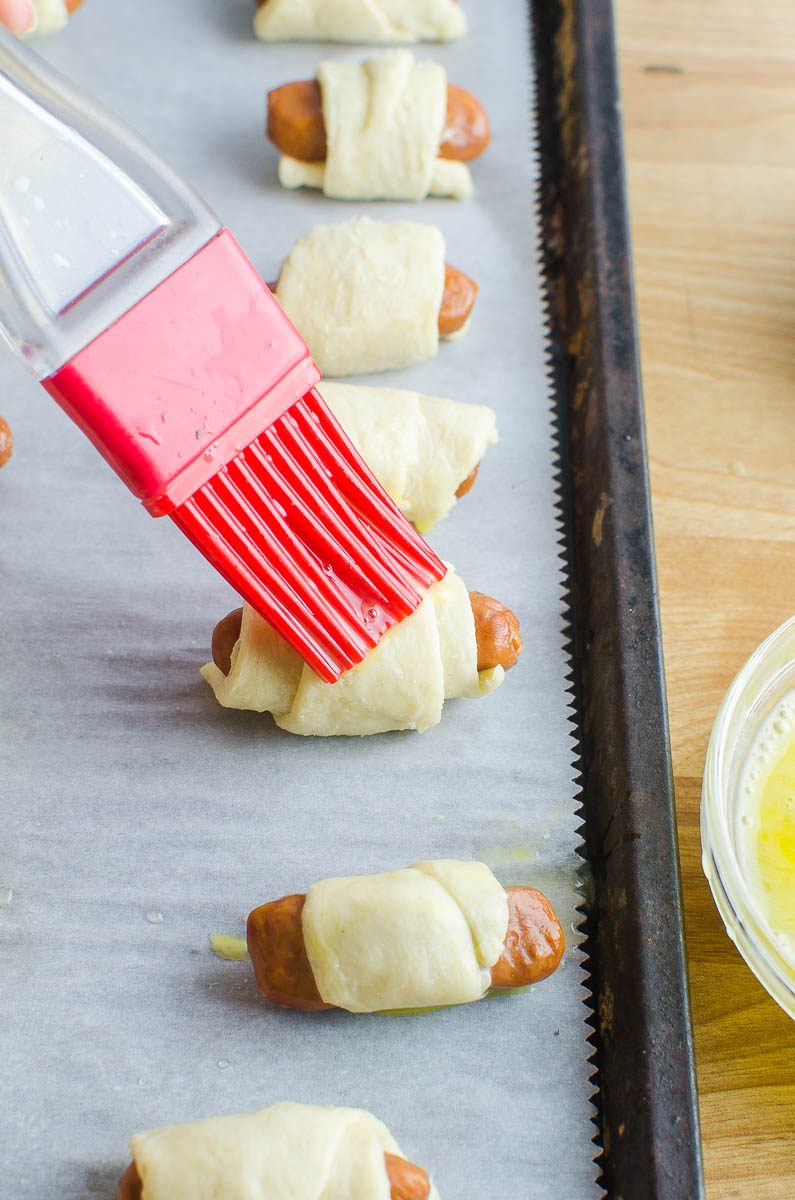 Next sprinkle the tops with garlic seasoning blend and bake until golden. It'll take about 15 minutes.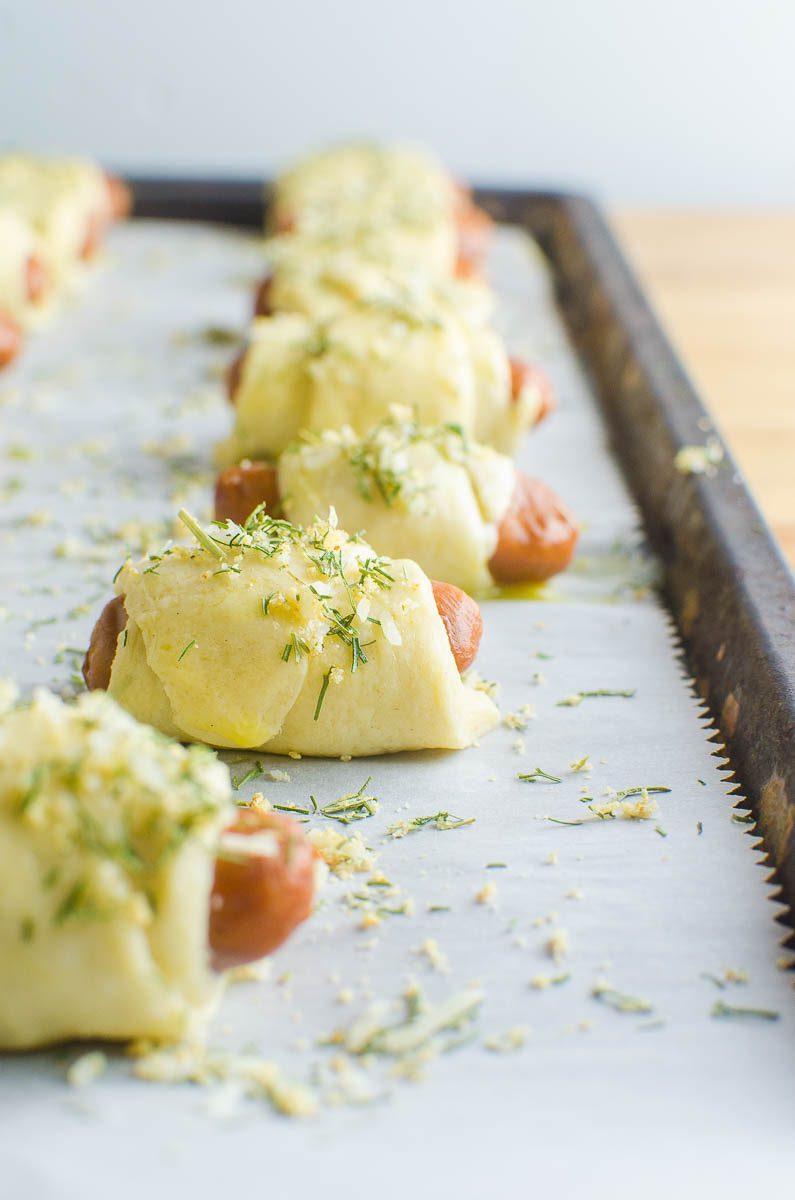 What sauce goes with pigs in a blanket?
If you're looking for a great dip for these bites, I've got a few suggestions. Honey mustard dressing would be a fabulous. To go with the parmesan, garlic crust my recipe for the perfect pizza sauce would also be a good option.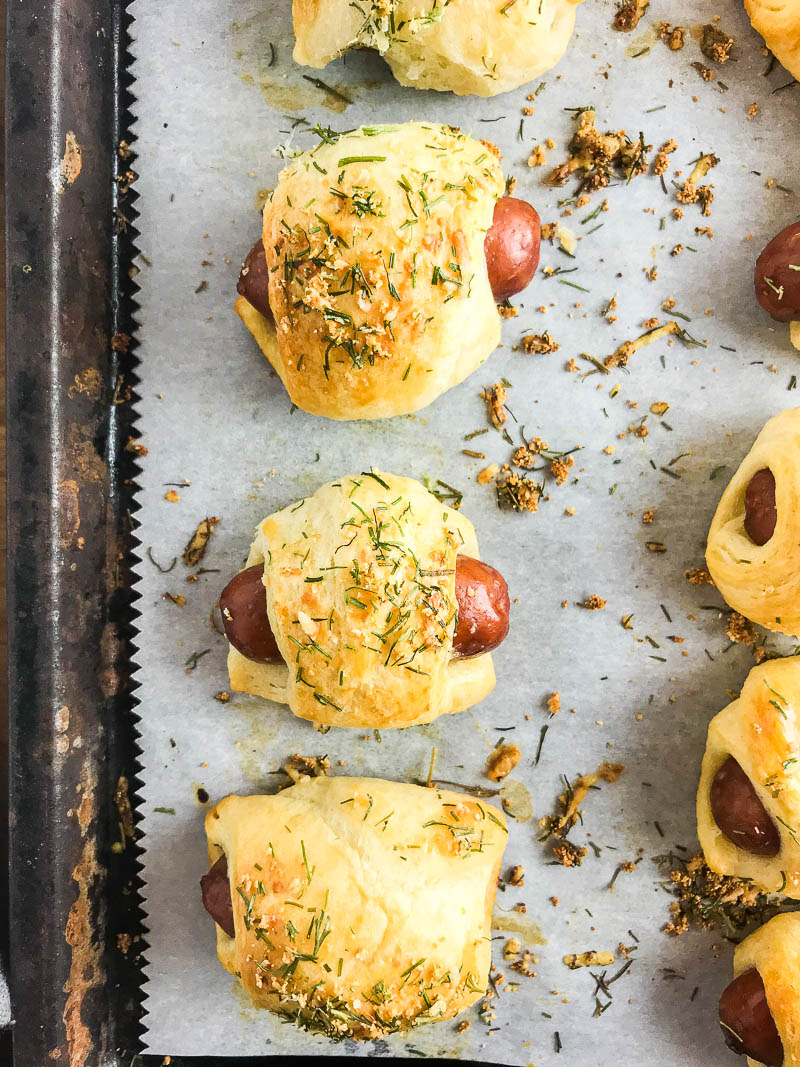 If you're planning a party be sure to check out my collection of 300+ party perfect appetizers!
Here are some of my favorites :
And remember! If you try this recipe or any of my others be sure to tag me on Instagram and #lifesambroisa! I'd love to see it and share it in my stories.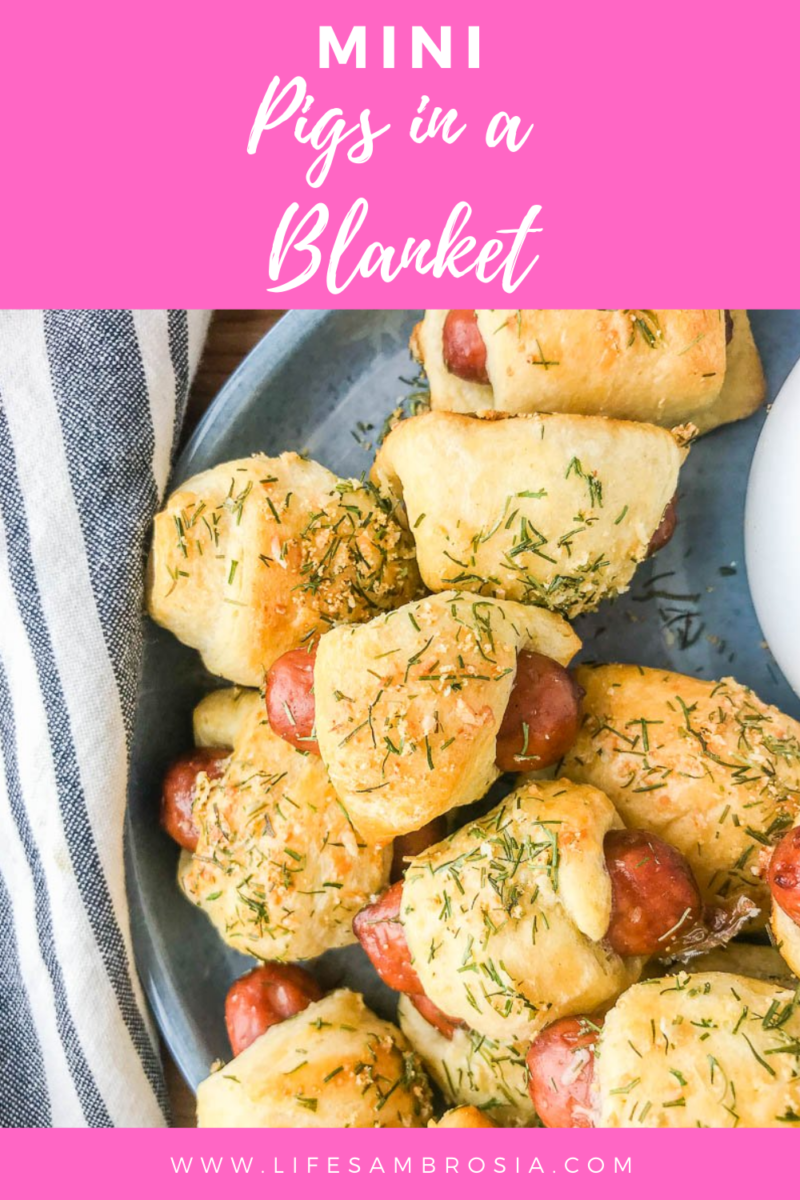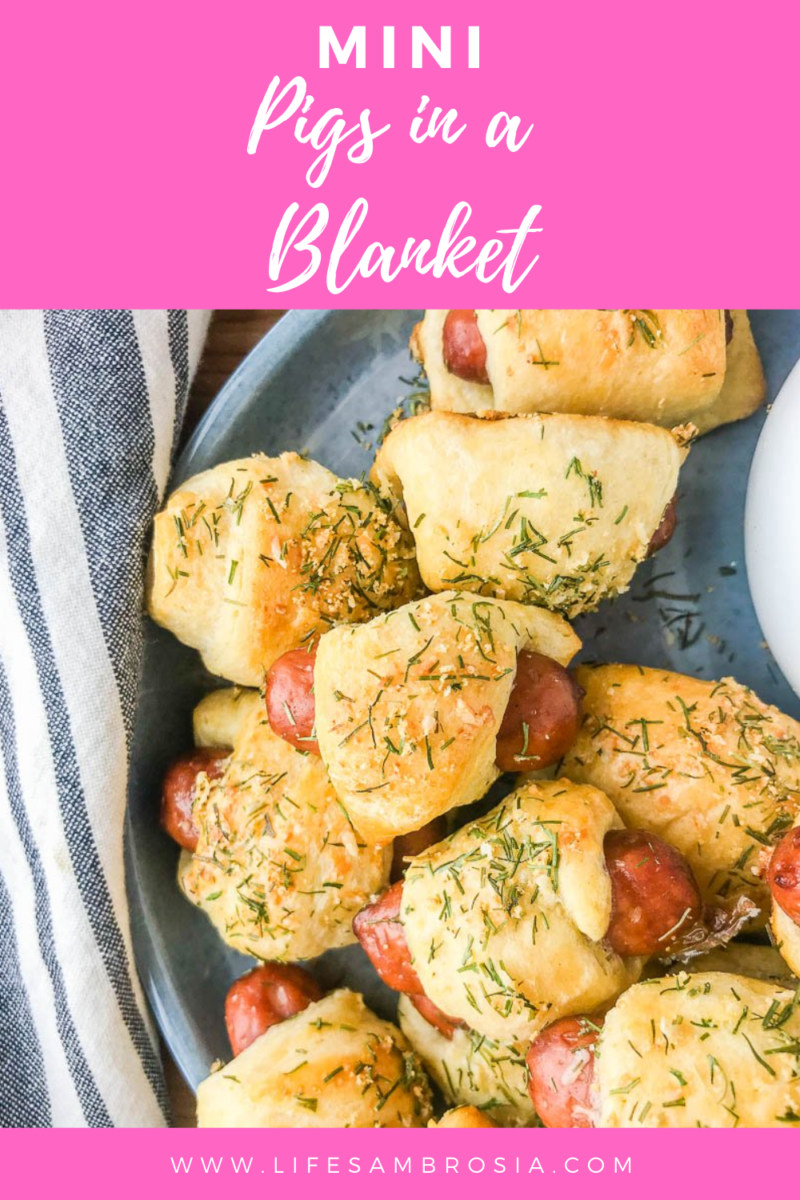 Mini Pigs In A Blanket Recipe
Ingredients:
1 (8 count) package crescent rolls, each roll cut into 3 triangles
24 lil' smokies, cocktail sausages
1 egg, beaten
1 teaspoon dried dill
1 teaspoon freshly shredded parmesan cheese
1/2 teaspoon granulated garlic (or garlic powder)
Instructions
1
Preheat oven to 350 degrees. Line a baking sheet with parchment paper.

2
Cut each crescent roll into 3 triangles for a total of 24 pieces.

3
Place a sausage at one end of a triangle piece and roll up. Place seam side down on prepared baking sheet. Repeat with remaining sausages and crescent rolls.

5
In a small bowl combine dill, parmesan and garlic. Sprinkle over the top of crescent rolls.

6
Bake in preheated oven for 10 - 15 minutes or until golden brown. Serve.
Notes
Nutrition facts for estimation purposes only.
Nutrition information
Calories: 221 , Total Fat: 19.2g , Saturated Fat: 6.8g , Cholesterol: 42mg , Sodium: 659mg , Carbohydrates: 4.8g , Fiber: 0g , Sugar: 1.7g , Protein: 7g