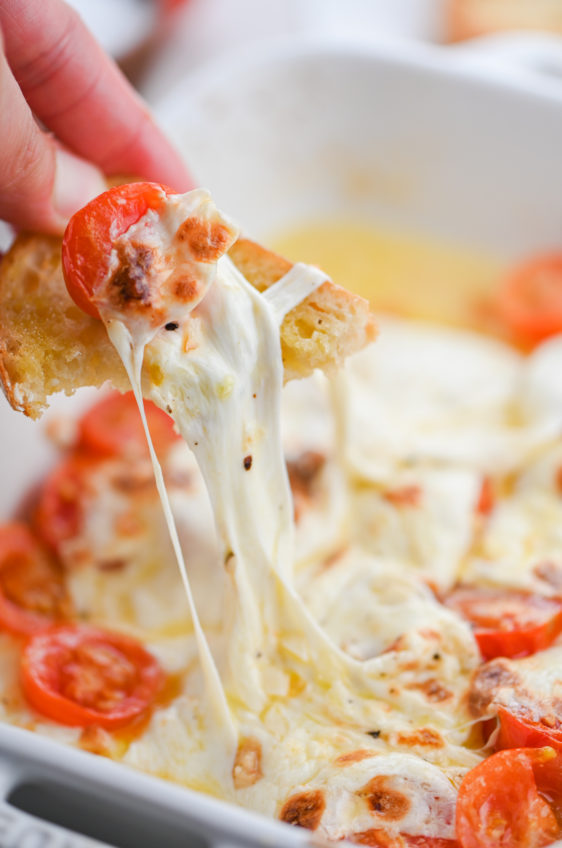 Baked Mozzarella
Baked Mozzarella with Tomatoes is a quick and easy appetizer! Baked until the mozzarella is melted and the tomatoes burst, it's perfect with crunchy bread.
So I am going to confess something to you all, I have an addiction to mozzarella. There is just something about this semi- soft cheese that leaves me craving it morning, noon and night. My obsession started when Ryan and I were fortunate enough to go to Italy for our honeymoon. Along with gelato, and wine, Ryan and I enjoyed copious amounts of mozzarella. Of course there was mozzarella on pizza and the traditional Caprese salad but it was at a restaurant in Florence where we were first introduced to this dish of baked mozzarella and let me tell you, my world has never been the same.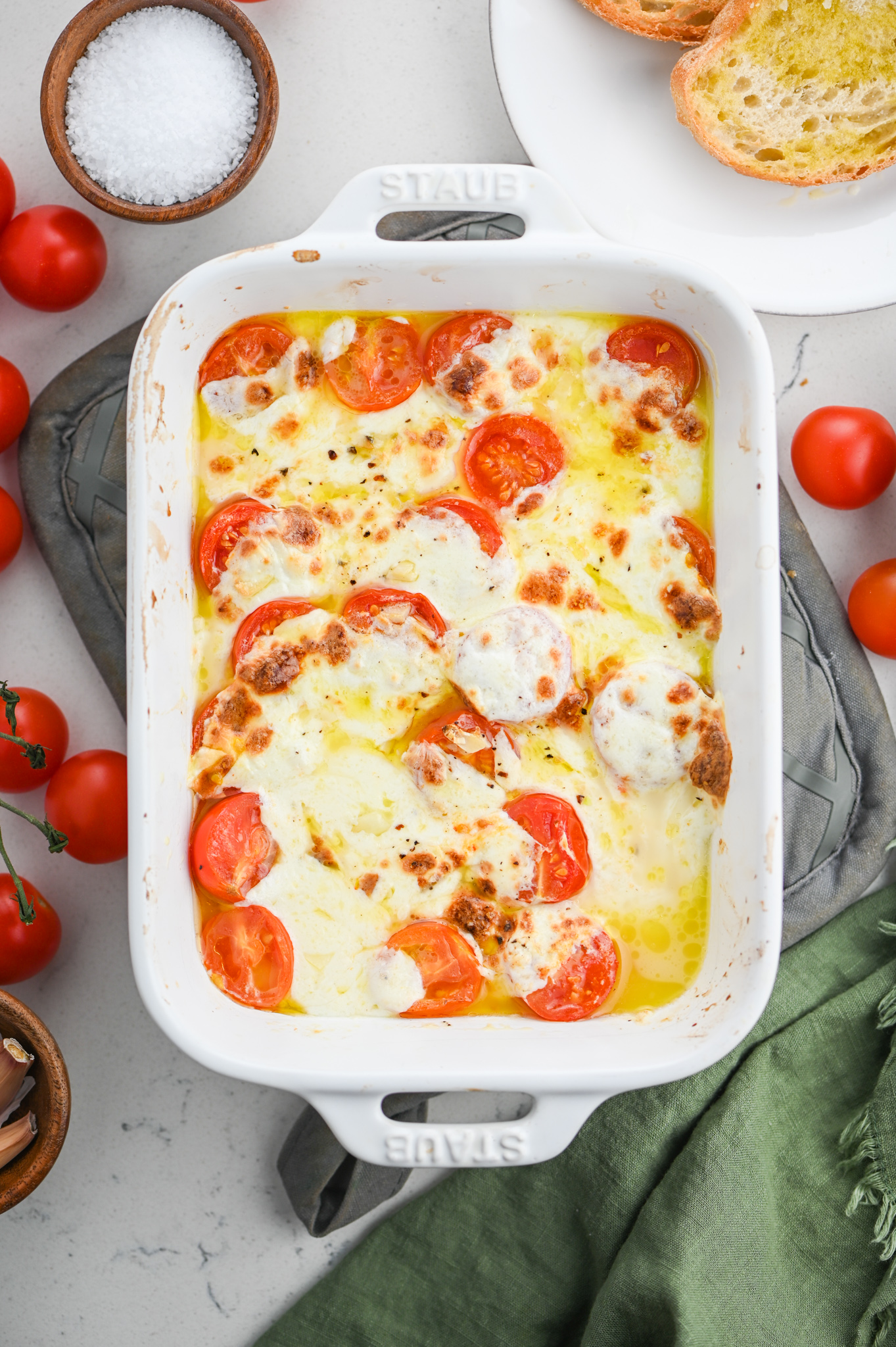 The mozzarella is melted just enough. The tomatoes burst just a little releasing just a bit of their juice that combines with the olive oil and garlic to make one of the most delicious sauces to soak up with some crusty french bread. I'm telling you guys, this one is a winner.
What I love about this dish, and most of the dishes that we had in Italy, is the simplicity. Not too much seasoning, you just cook it to showcase the flavors of your ingredients. It is therefore important to use the highest quality ingredients you can find. So let's talk about what you'll need to make it happen.
What ingredients you'll need: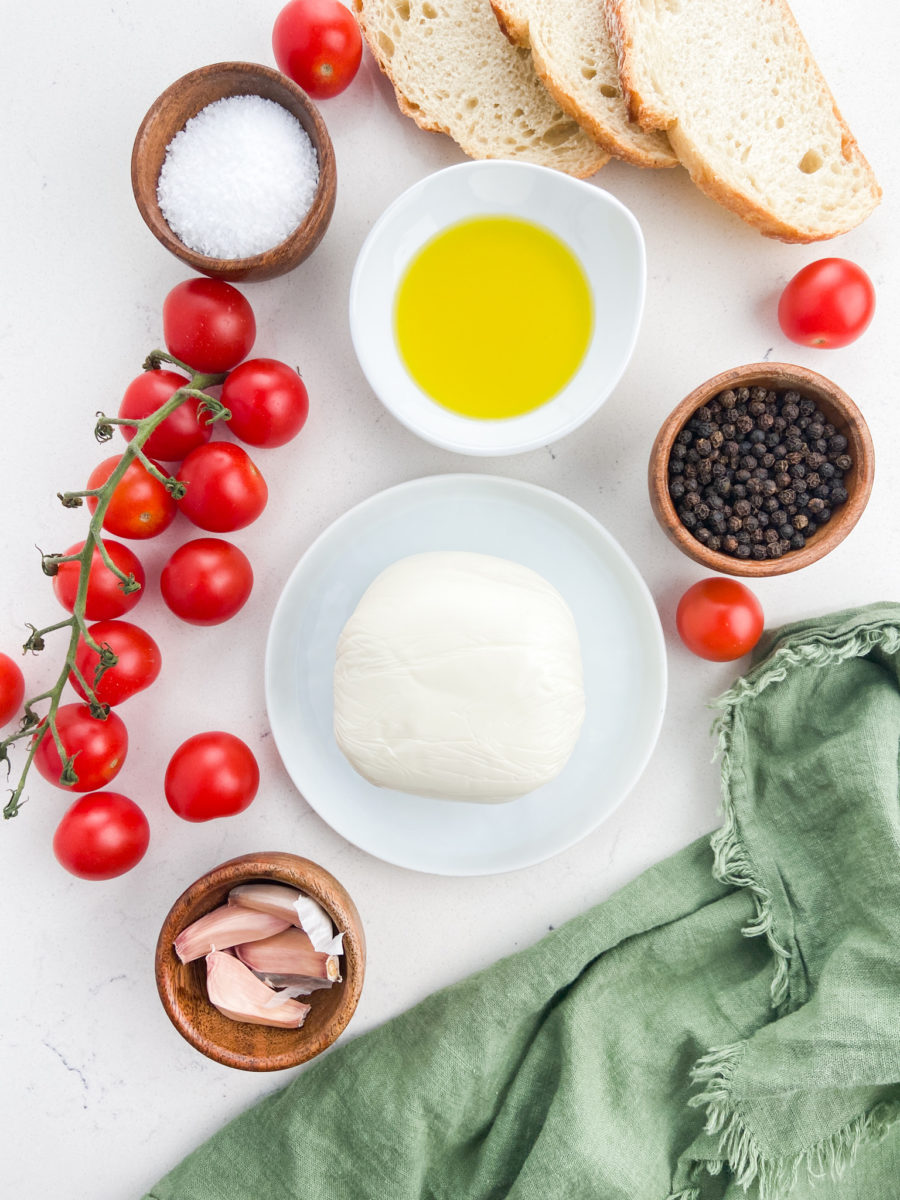 MOZZARELLA: For this dish it is best to buy a ball of fresh mozzarella that is vacuum sealed package. Using fresh mozzarella that is in water will make the finished dish too watery. If you can find smoked mozzarella that is a great option too!
CHERRY TOMATOES: You can also use grape tomatoes. You just want them small enough that they start to burst when cooking. A diced tomato won't give you the same flavor.
GARLIC: Just a couple of cloves is all you need.
EXTRA VIRGIN OLIVE OIL: I've been stocking kalamata olive oil in my pantry for several years now because I love how smooth it is but use whatever olive oil you prefer!
SALT AND PEPPER
How to make Baked Mozzarella:
Guys! This could not be easier!
Simply grab a small baking dish and layer the mozzarella with the tomatoes. Sprinkle the garlic over the top and then drizzle with extra virgin olive oil. Then pop it under the broiler for 5 – 6 minutes until the mozzarella is melted and bubbly around the edges.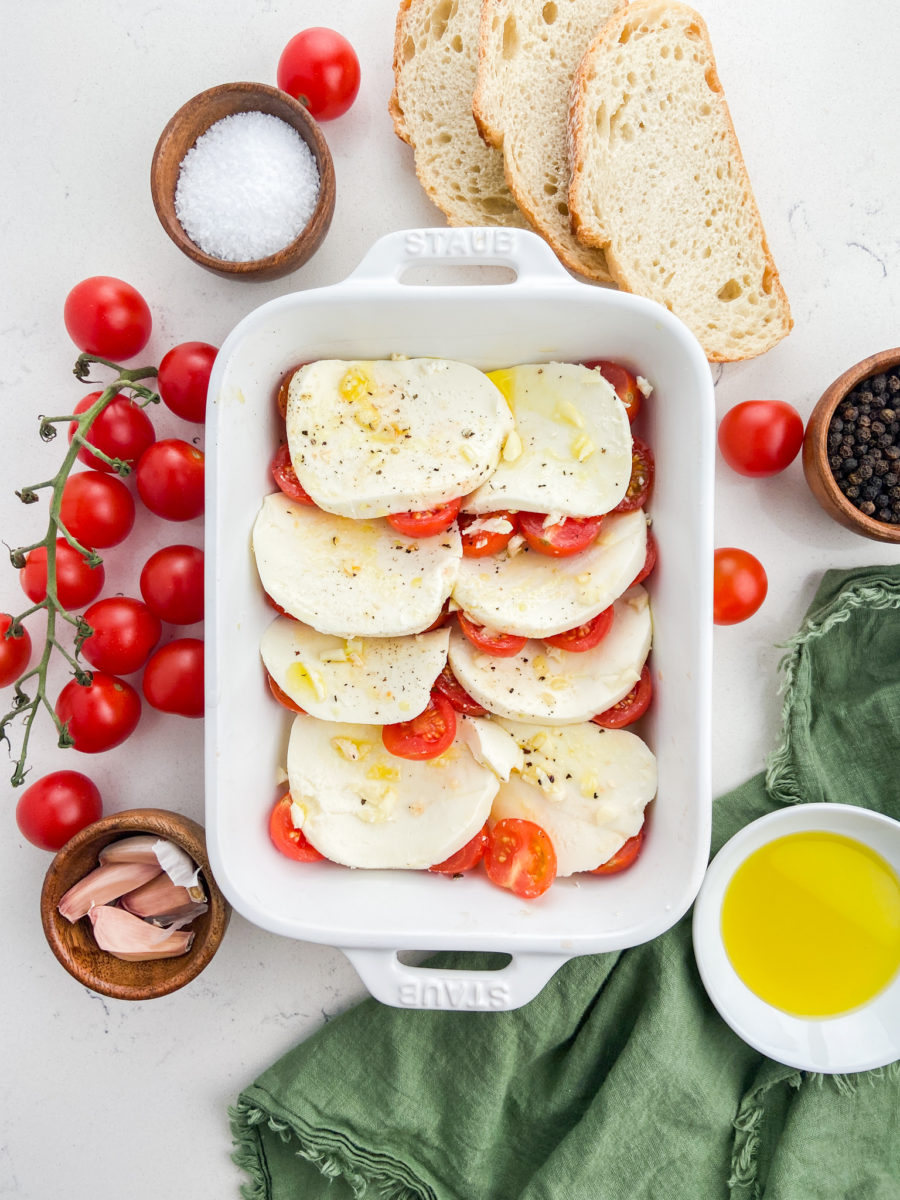 Watch it carefully just so it doesn't burn. Season lightly with salt and pepper. Serve immediately on it's own or with your favorite crusty bread.
Love this Baked Mozzarella but looking for more cheesy appetizers? Check these out!
Bring your favorite fair food home with these Fried Cheese Curds!
For a twist on the Southern Classic, try this Green Chile Pimento Cheese.
Like brie cheese, roasted garlic and bread? You've GOT to try this Roasted Garlic Brie Bread it is out of this world!
Note: This post was originally published in 2009. It was updated in 2022 with new photos and nutrition information in 2022.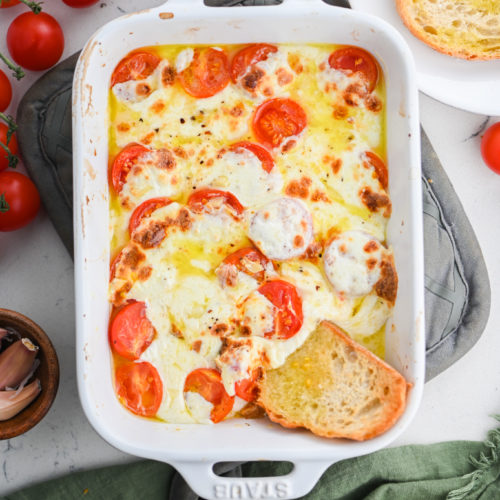 Baked Mozzarella
Mozzarella and tomatoes baked together until the mozzarella is golden and bubbly.
Preheat your oven broiler.

Grease a small ovenproof dish with a little extra virgin olive oil. Layer half of the mozzarella, then tomatoes, then garlic, then the rest of the mozzarella. Drizzle with a little extra virgin olive oil.

Place on the middle rack under your broiler for 5-7 minutes or until the mozzarella is melted and bubbly around the edges. Serve hot.
Use fresh mozzarella that is vacuum packed not water packed. If it is packed in water the final dish will be more watery. 
As the mozzarella cools, it will start to harden so try to use a dish that will keep the heat. Or  simply pop back in the oven for a few minutes so that the cheese can melt again. 
Nutrition information for estimation purposes only 
Calories:
177
kcal
Carbohydrates:
3
g
Protein:
13
g
Fat:
13
g
Saturated Fat:
7
g
Polyunsaturated Fat:
1
g
Monounsaturated Fat:
4
g
Cholesterol:
45
mg
Sodium:
359
mg
Potassium:
120
mg
Fiber:
1
g
Sugar:
1
g
Vitamin A:
550
IU
Vitamin C:
8
mg
Calcium:
291
mg
Iron:
1
mg
Keywords:
cherry tomatoes, garlic, mozzarella, tomatoes