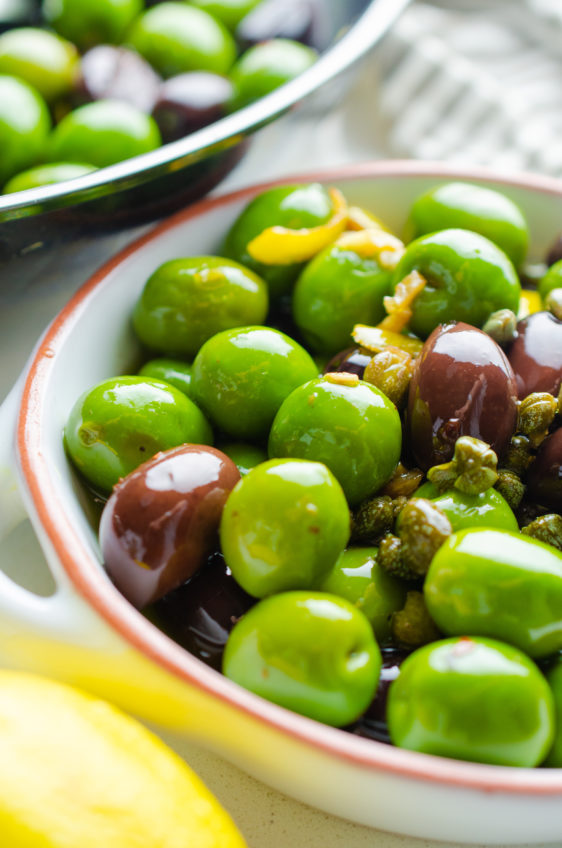 Marinated Olives
Easy Marinated Olives are a great addition to a cheese board or for holiday parties. A blend of olives, olive oil, garlic, capers and lemons make these the perfect party appetizer. 
If you are looking for an easy addition, but gorgeous addition to your appetizer spread, you've got to try these warm marinated olives. The colors are gorgeous, they are so flavorful and absolutely perfect for snacking.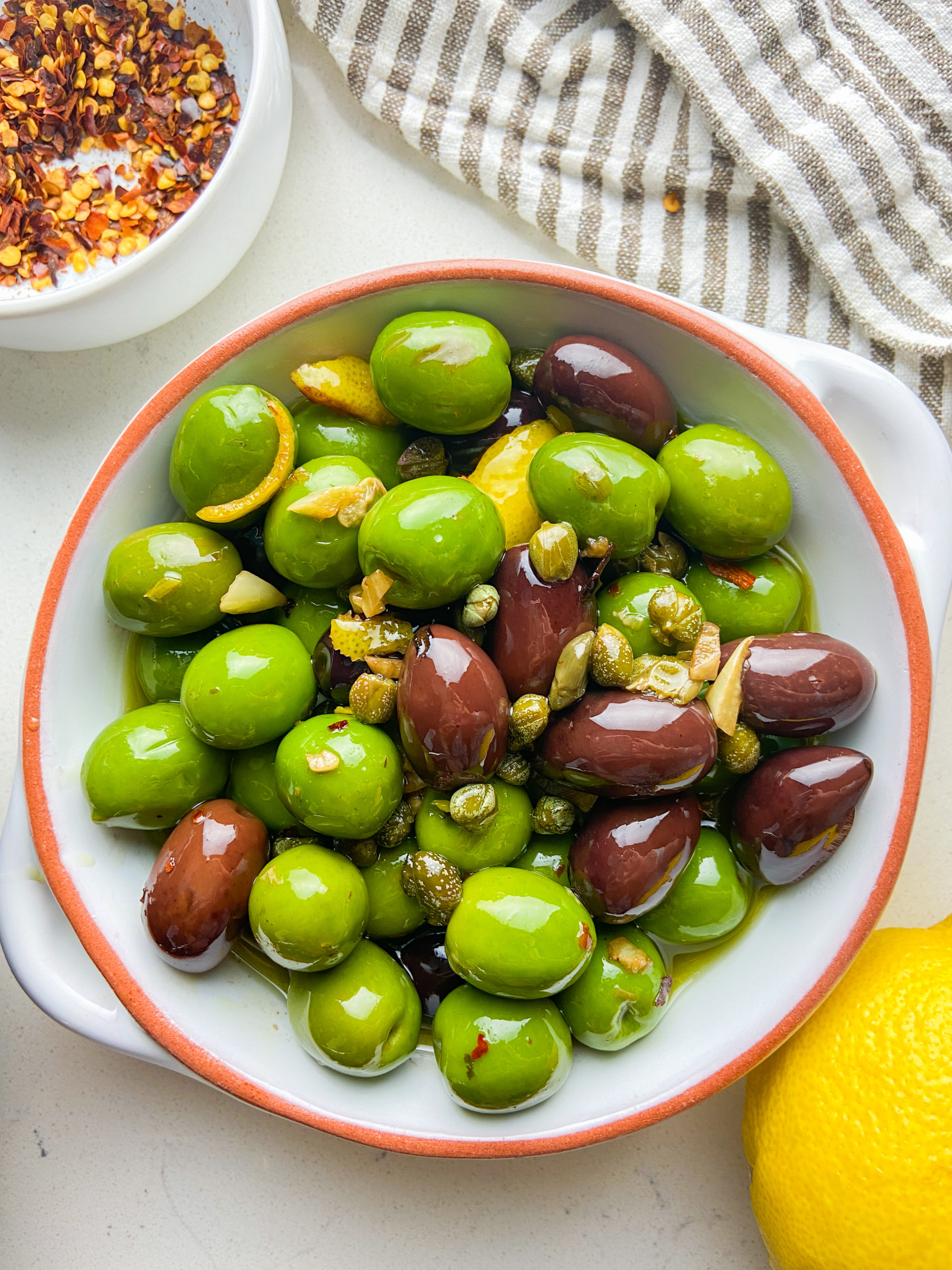 If we had to pick one course that reigns supreme around here, it  would  be appetizers. They are always the favorite. I could sit down and make an entire meal out of them.  Appetizers like Hot Crab & Spinach Dip, Artichoke Tapenade, Rosemary Cranberry Spread, and Fig and Goat Cheese Bites.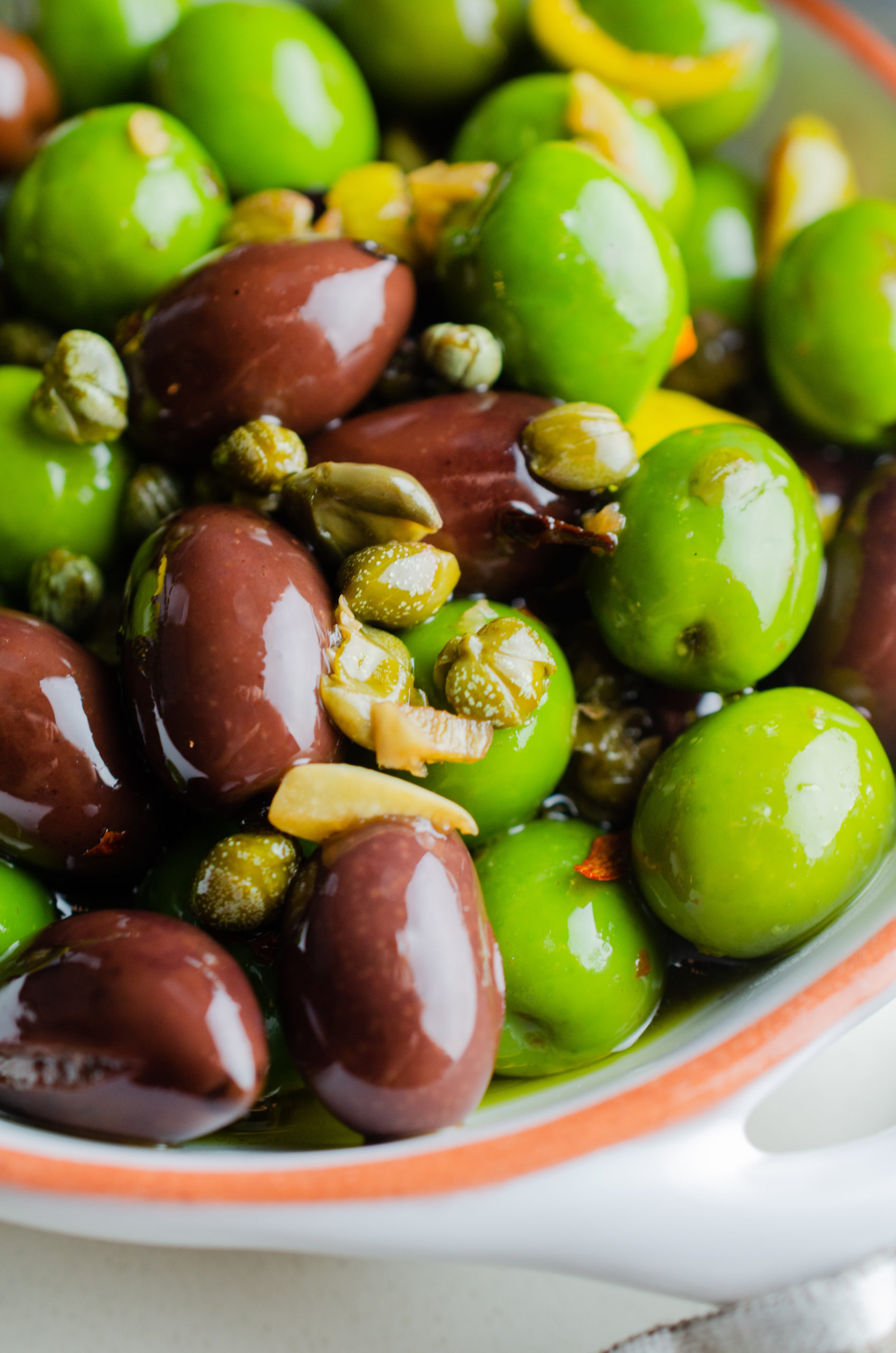 In addition to all of the deliciousness mentioned above, when it comes to snacking, I cannot forget olives. They are great as an addition to cheese boards. Obviously they are great in cocktails. And, honestly, they are simply great to just snack on by themselves. Especially when the olives are marinated as they are in this recipe.
What ingredients do you need?
Castelvetrano Olives:  These are pretty much my favorite olives. They are firm, buttery and mild.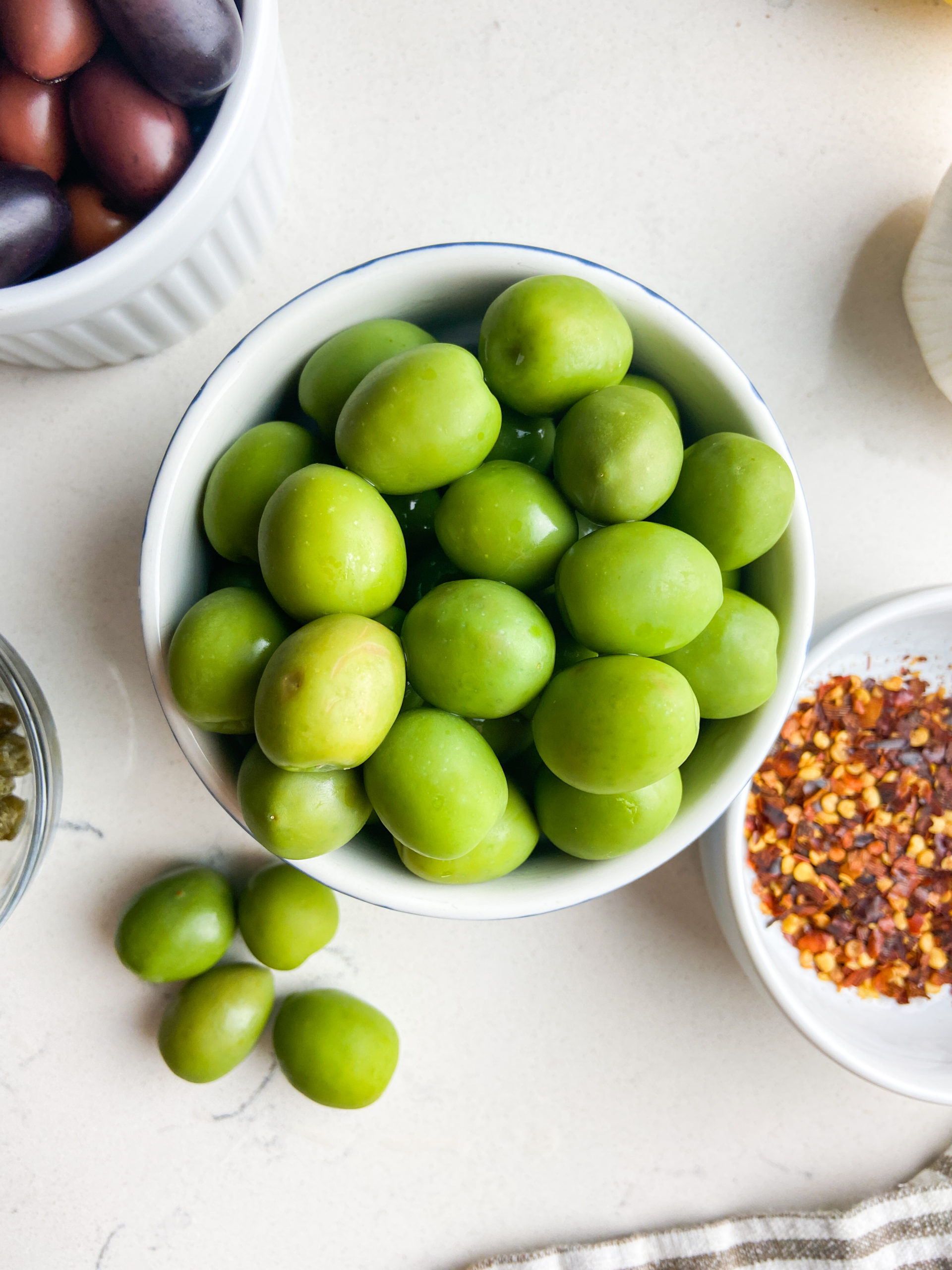 Kalamata Olives: Gorgeous, dark purple olives with an almost fruity taste.
DES' TIP: I recommend using whole olives with their pits in this recipe. The olives with their pits will have more flavor. Just make sure to warn people to be careful of pits when eating. 
EXTRA VIRIGN  OLIVE OIL: This is SUPER important so use a high quality oil. One that is not bitter. I love the Trader Joe's Kalamata Olive Oil. It's inexpensive but has a fantastic smooth flavor.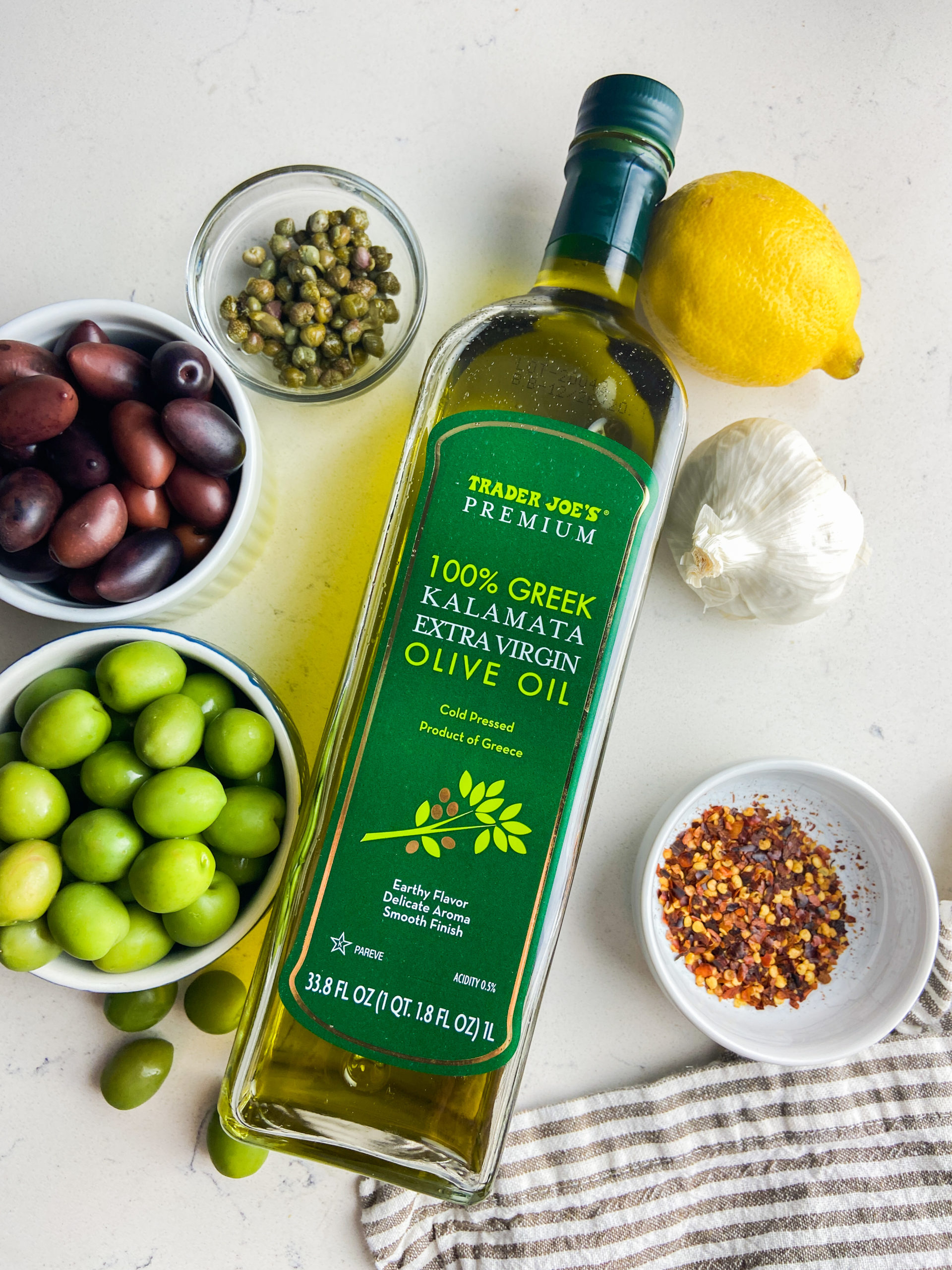 GARLIC: I mean, obviously!
LEMON PEEL: Citrus to add a brighten the flavor.
CAPERS: I just love the salty brininess they add.
CRUSHED RED PEPPER:  Totally option but the adds a nice kick.
How to make Marinated Olives from scratch?
Much like other marinated snacks, you can find marinated olives pretty easily at the grocery store. But, also like other marinated snacks, they can be pretty expensive. Instead, you can make them at home. All you really need is a olives, seasonings, citrus and a high quality olive oil.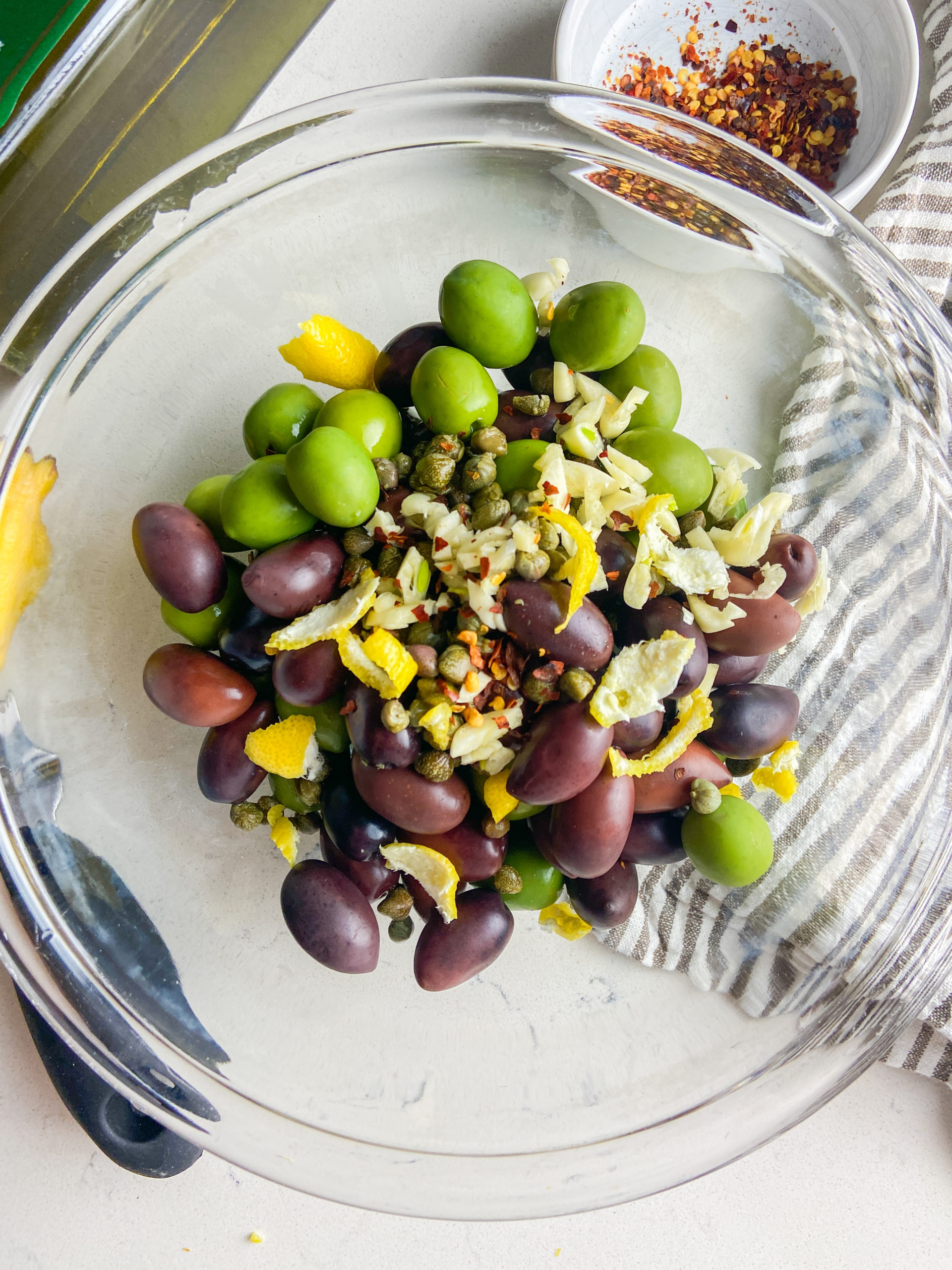 To make marinated olives, you could simply marinate them in the seasonings and olive oil but for this recipe, I actually warm them. I got the idea from this Ina Garten recipe I found in the Food Network Magazine. The warm olives are even more flavorful!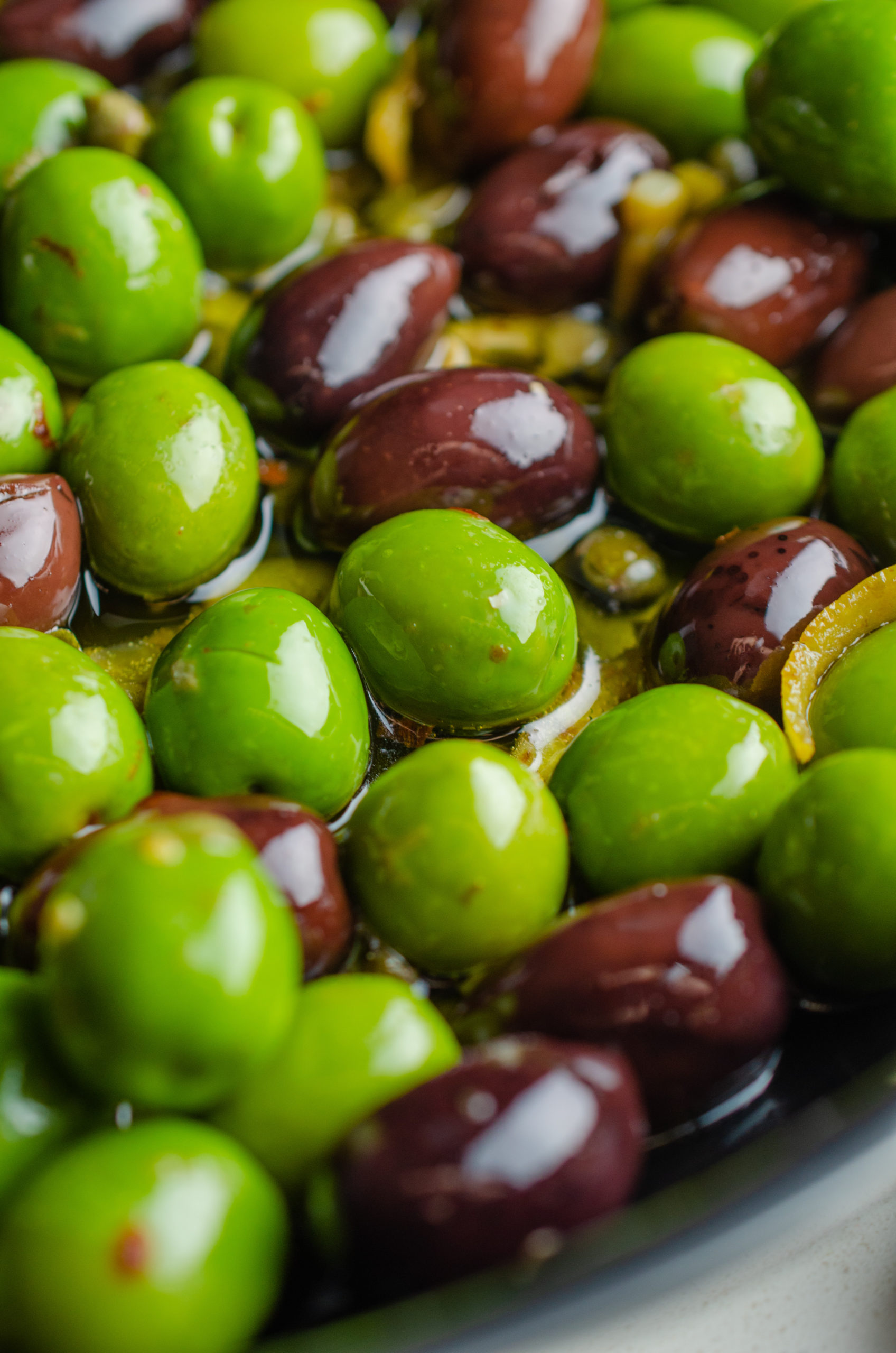 How long will marinated olives last?
The olives will last a few days in the refrigerator. To serve them you can simply reheat them or remove them from the refrigerator about an hour before serving to allow them to come to room temperature.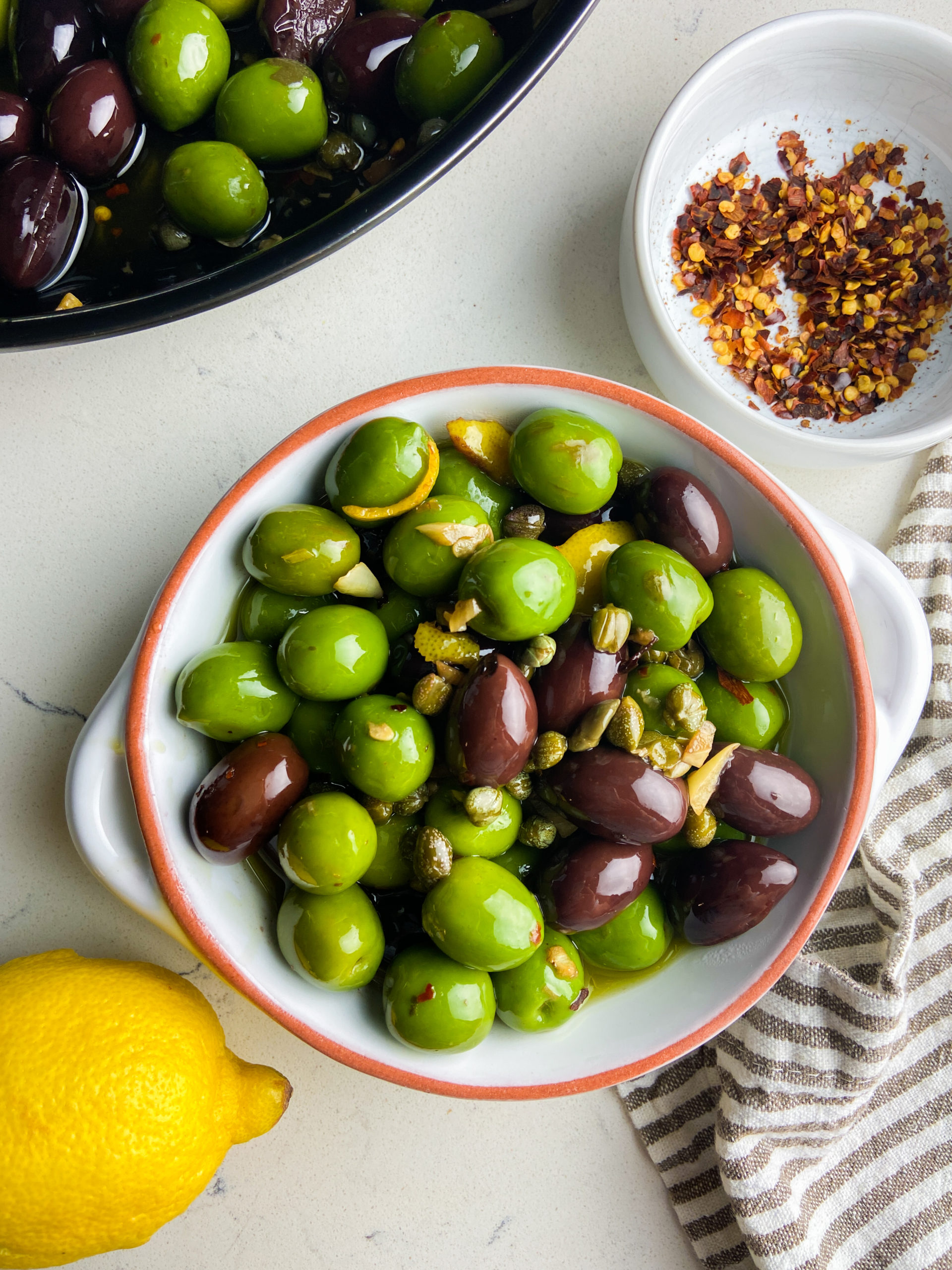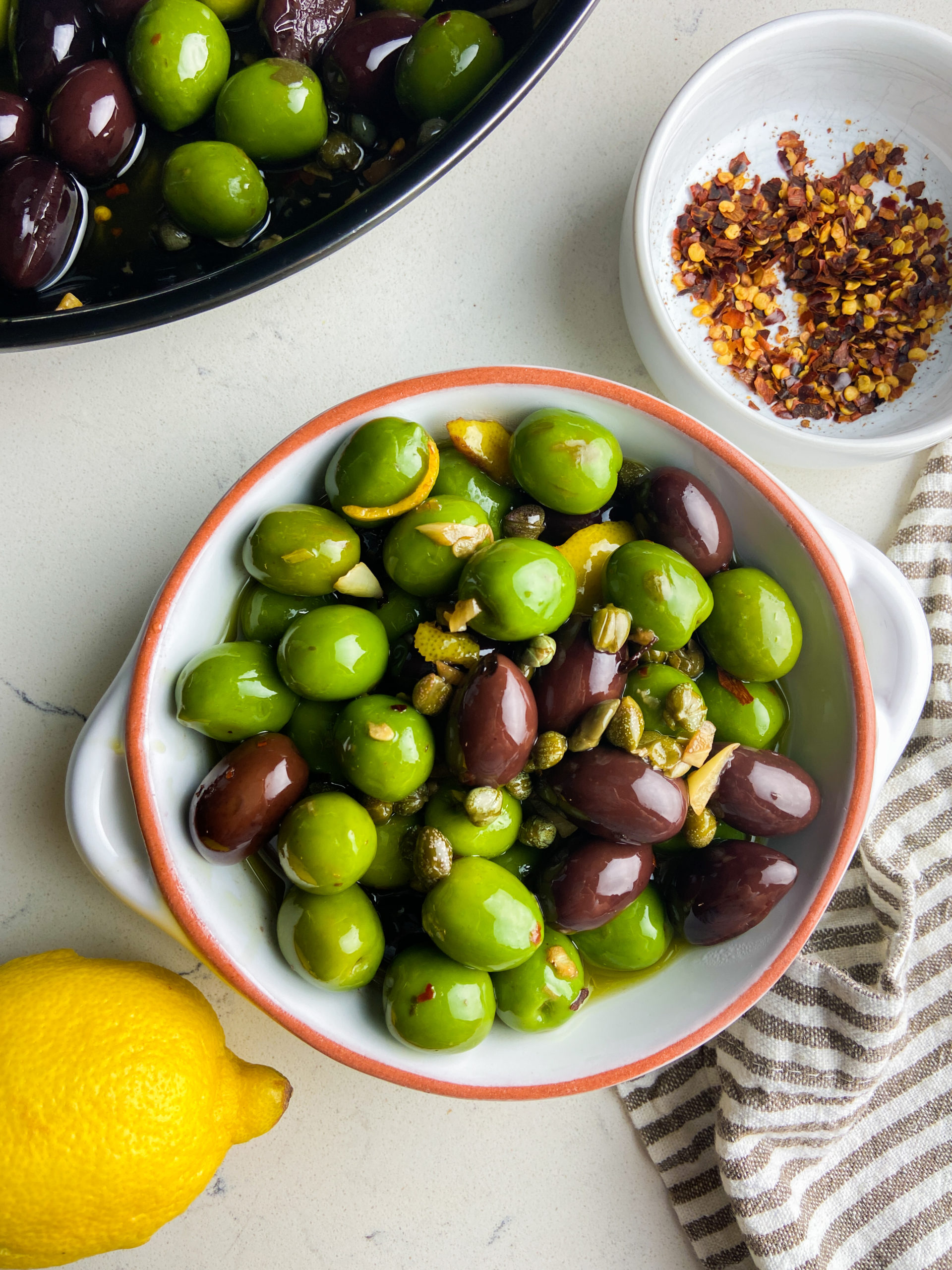 Serve these warm marinated olives at your next get together and they will be the hit of the party! If you don't snack on them all first, that is.
Looking for more appetizers to add to your party planning? Here are some of my favorites!
Note: This recipe was originally written and posted in 2018. It was updated with new photos and nutrition facts in 2020.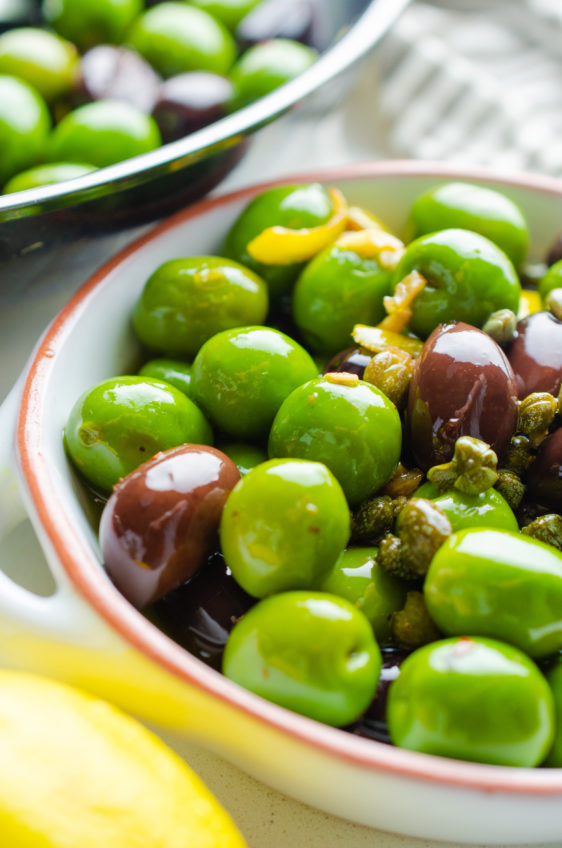 Marinated Olives
Marinated Olives are a great addition to party spreads. A blend of olives, olive oil, and seasonings make these the perfect party appetizer. 
Combine all ingredients together in a bowl. Mix well to coat the olives completely.

Add all ingredients, except parsley, to a pan and heat over medium heat just until the olives start to sizzle a bit. Reduce heat slightly and continue cooking for 5 minutes. Remove from heat, transfer to a serving bowl and serve.

If you are making them ahead of time, you can reheat them or simply remove them from the refrigerator about an hour before serving to allow them to come to room temperature.
Nutrition facts for estimation purposes only.
Calories:
273
kcal
Carbohydrates:
2.4
g
Protein:
0.1
g
Fat:
29.5
g
Saturated Fat:
2.4
g
Sodium:
1500
mg
Fiber:
0.1
g
Sugar:
0.1
g
Keywords:
marinated olives, olives, snack