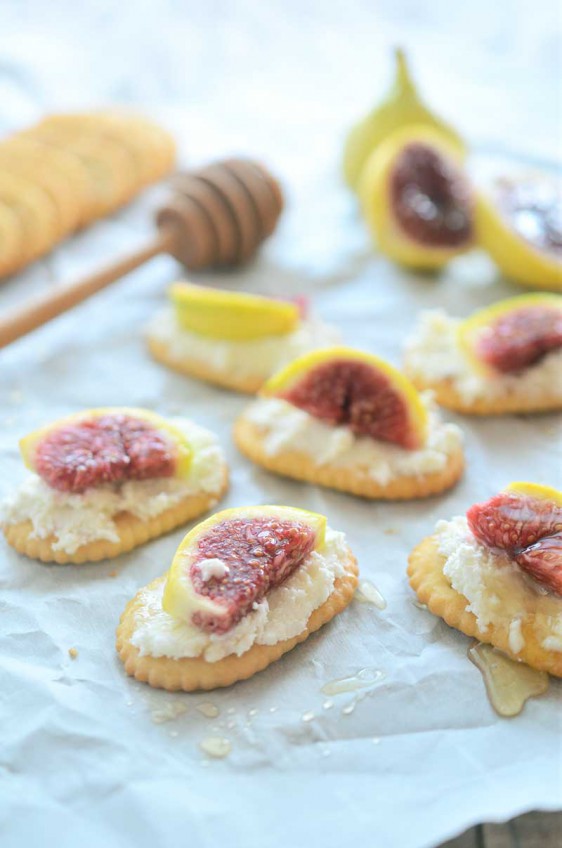 Fig and Goat Cheese Bites
Disclosure: I was given the figs to try. No other compensation was received. As always, all opinions are my own.
Creamy goat cheese, sweet figs atop a buttery cracker and drizzled with honey make these Fig and Goat Cheese Bites the perfect cocktail party appetizer. 
If you are following along on Instagram, then you know that last week I received four cases of fresh figs. That's right, four.  When the nice people at California Figs contacted me and asked me if I wanted to give some a try, I had no idea they were going to be so generous!
I also had no idea what I was going to do with figs.
I admit, I don't have that much experience with figs. They aren't something I ate a lot growing up (read: at all). They aren't something I use a lot in cooking. Until now that is. Holy smokes guys, I. Am. Obsessed. Figs are SO SO good!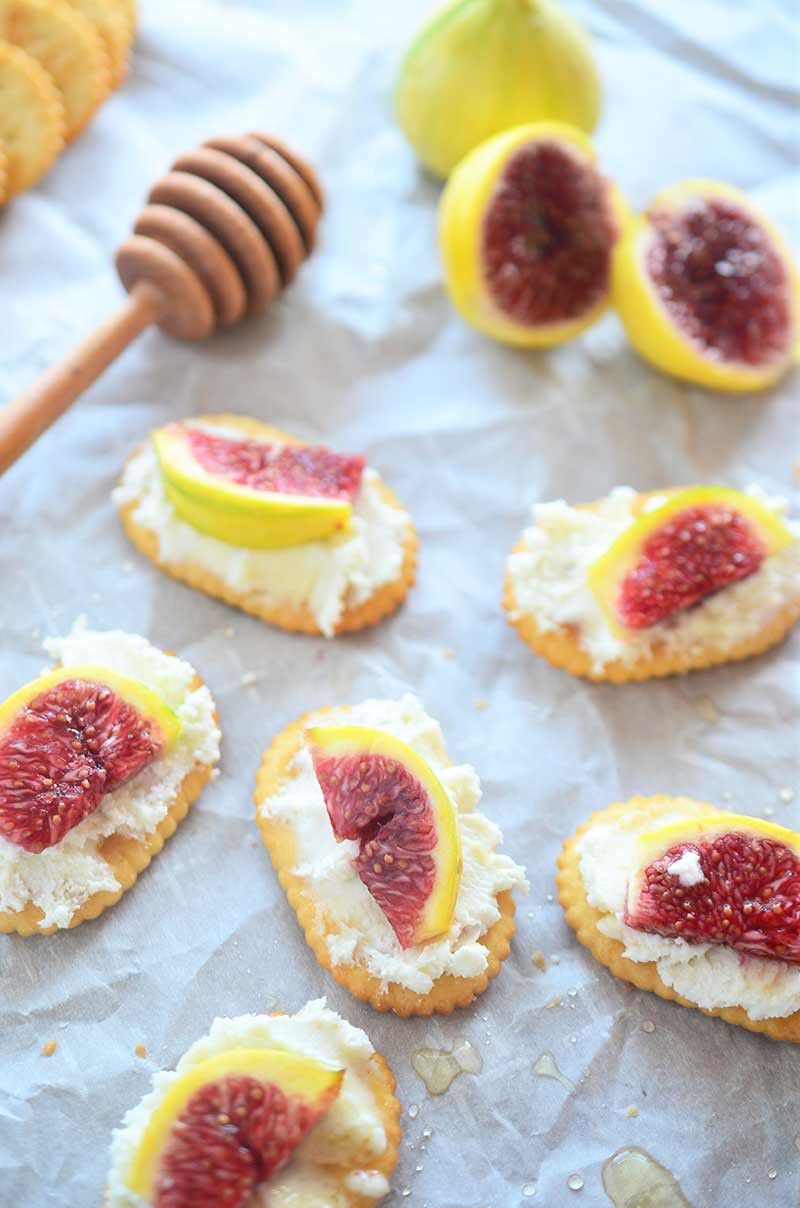 When I first got them I simply cut into them and started snacking. Next I added them to salads. And then I made these scrumptious Fig and Goat Cheese Bites. The buttery cracker, the creamy goat cheese, the sweet fig and the drizzle of honey. Oh man, I could eat these every. single. day.
As someone who didn't have much experience with figs, I wasn't sure which variety to use. I was sent 4 different varieties: Brown Turkey, Black Mission, Sierra and Tigers. After trying all 4 varieties, I decided to use the Tigers for this recipe. They were sweet without being overly sweet. Since, I was adding honey, that was important.
When I first had the idea to make these Fig and Goat Cheese Bites, I was mid shopping trip at Target (because that's when everyone thinks of recipes right?!) and I originally though to make crostini. Alas, my Target had no bread that would work for that and I really didn't feel to taking the boys to another store because…carseats.  So, I made due and found buttery crackers.
And if we're being honest, the crackers were a MUCH better idea.  These Fig and Goat Cheese Bites are PERFECT on the buttery cracker. The cracker adds just the right amount of salty, crunchiness to these bites.
And that drizzle of honey? SWOON.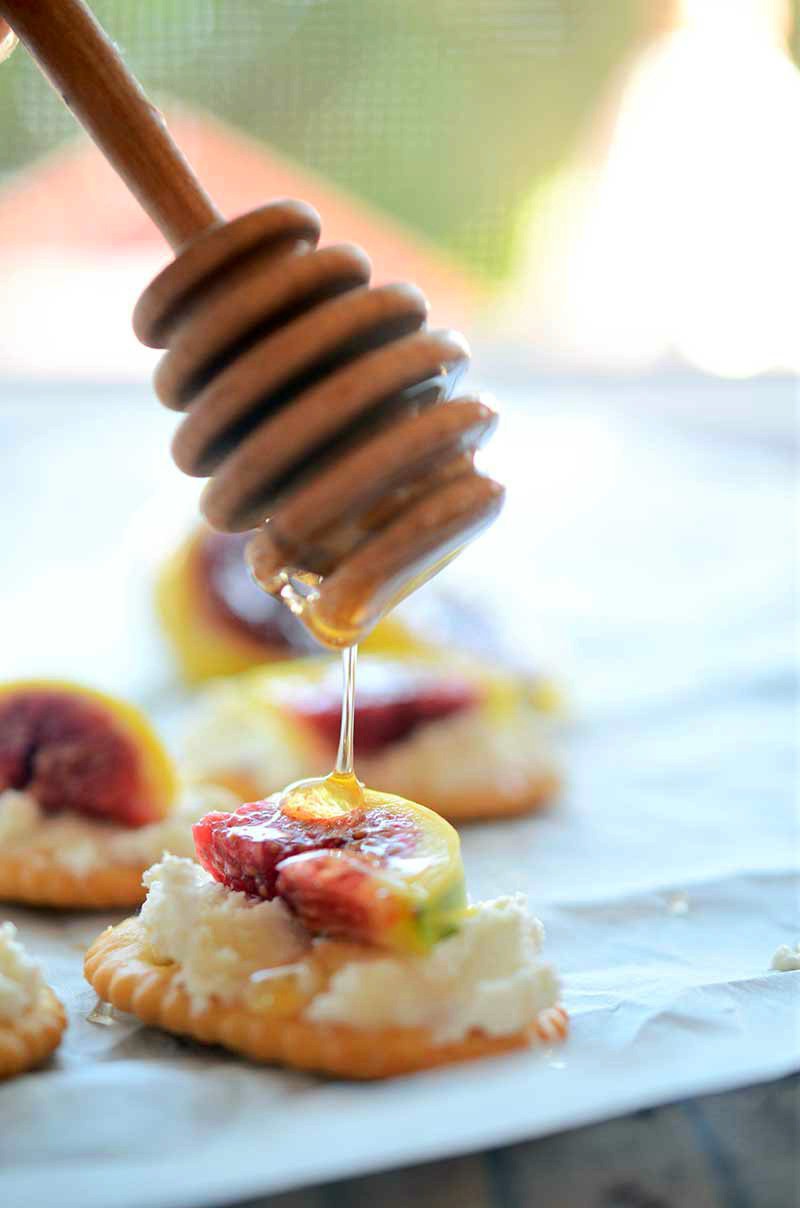 And friends, these Fig and Goat Cheese Bites are ridiculously easy to make. That means that they are perfect for parties, or when you just need a quiet snack and a glass of wine after the kiddos go to bed :)
Fig and Goat Cheese Bites Recipe
Ingredients:
10 - 12 Butter Crackers (eg Townhouse, Ritz)
4 ounces softened goat cheese
2 - 3 Tiger figs sliced
honey
Instructions
1
Spread goat cheese on crackers. Place a sliced fig on top. Drizzle with honey. Serve.