Fig and Goat Cheese Bites
Creamy goat cheese, sweet figs atop a buttery cracker and drizzled with honey make these Fig and Goat Cheese Bites the perfect cocktail party appetizer. 
If you are looking for a quick and easy, yet elegant appetizer to serve you have got to try these Fig and Goat Cheese Bites. You only need 4 ingredients but don't let that fool you, this flavor bomb will wow your guests. 
What are figs:
I admit, I don't have that much experience with figs. They aren't something I ate a lot growing up (read: at all). They aren't something I use a lot in cooking. Until now that is. Holy smokes guys, I. Am. Obsessed. Figs are SO SO good!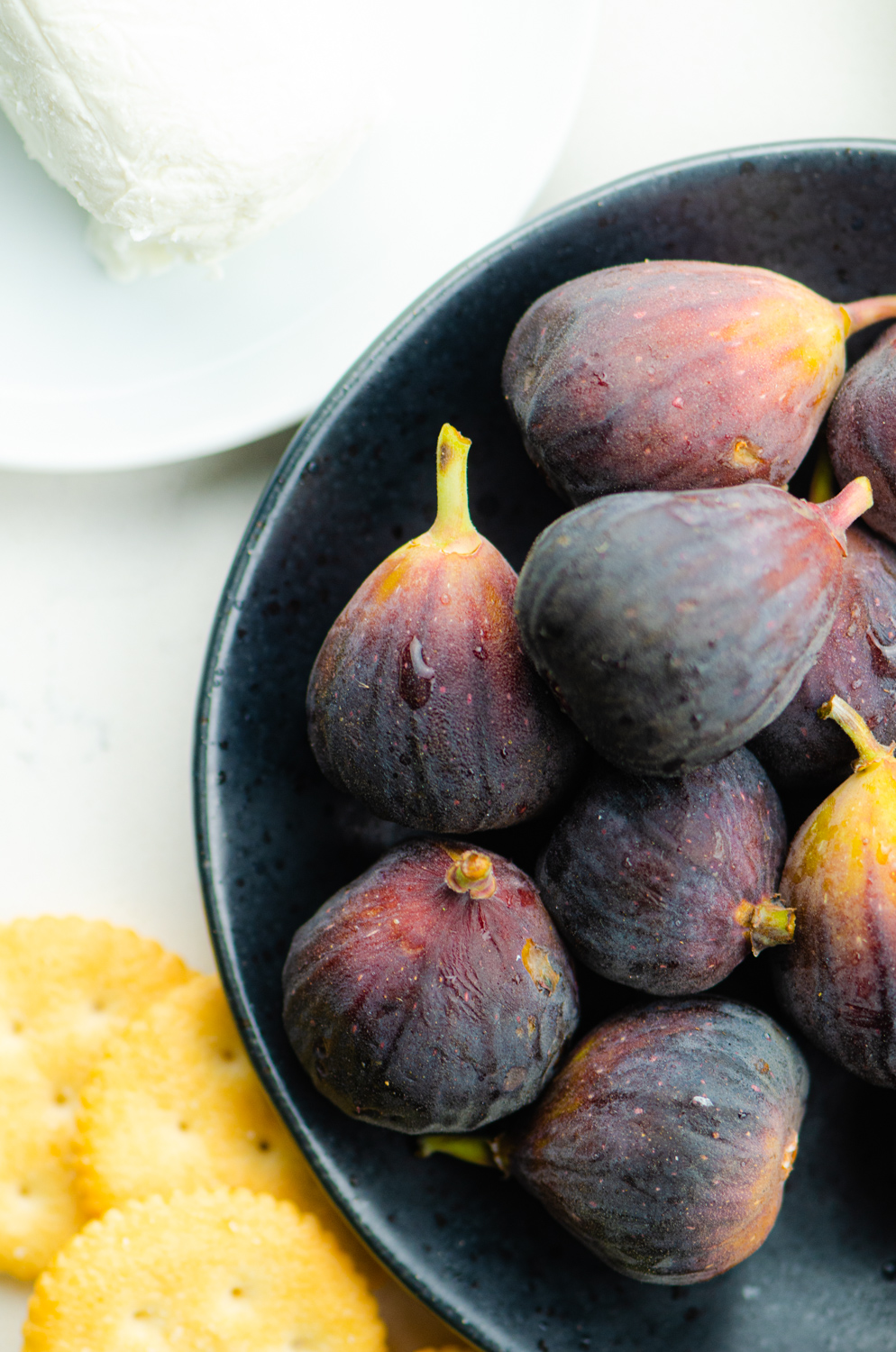 If you don't have a lot of experience with figs, you may not know that there are over 800 different kinds of figs around the world.  The most common here in the US are Brown Turkey and Black Mission. Figs are usually quite sweet and have a subtle berry taste. To learn more about figs, read this Perfection is a Fresh Fig article from NPR. 
Are great on their own, added to baked goods or salads but honestly, pairing them with a buttery cracker, goat cheese and a drizzle of honey is one of the absolute best ways to enjoy them!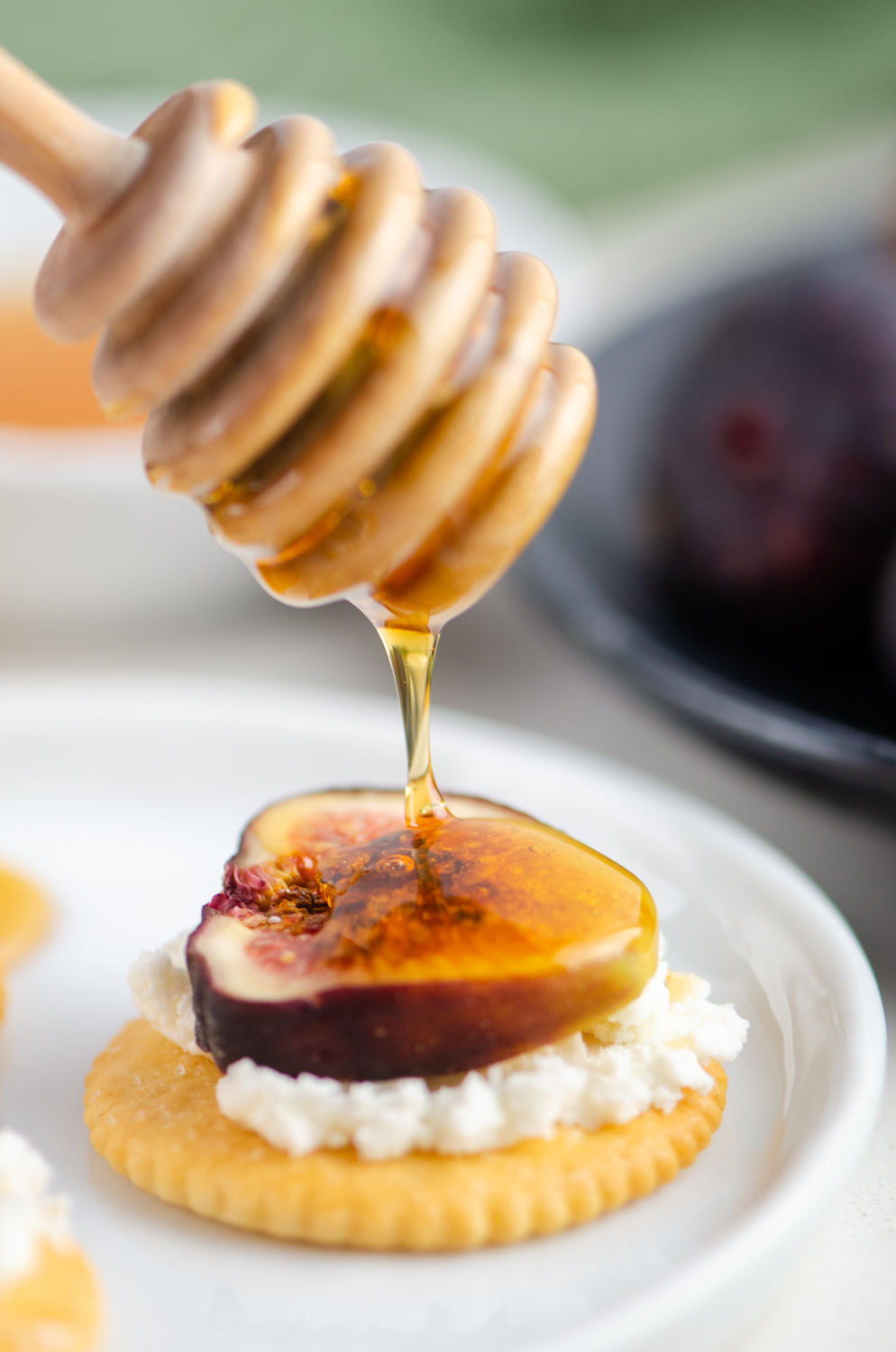 How to make fig and goat cheese bites: 

While I usually include step by step photos in my recipes, showing you each step to making them. Guys, this recipe is so easy it doesn't even need them! You simply get your favorite buttery cracker, spread on some softened goat cheese, place a sliced fig on top and drizzle it with honey. So easy and so good.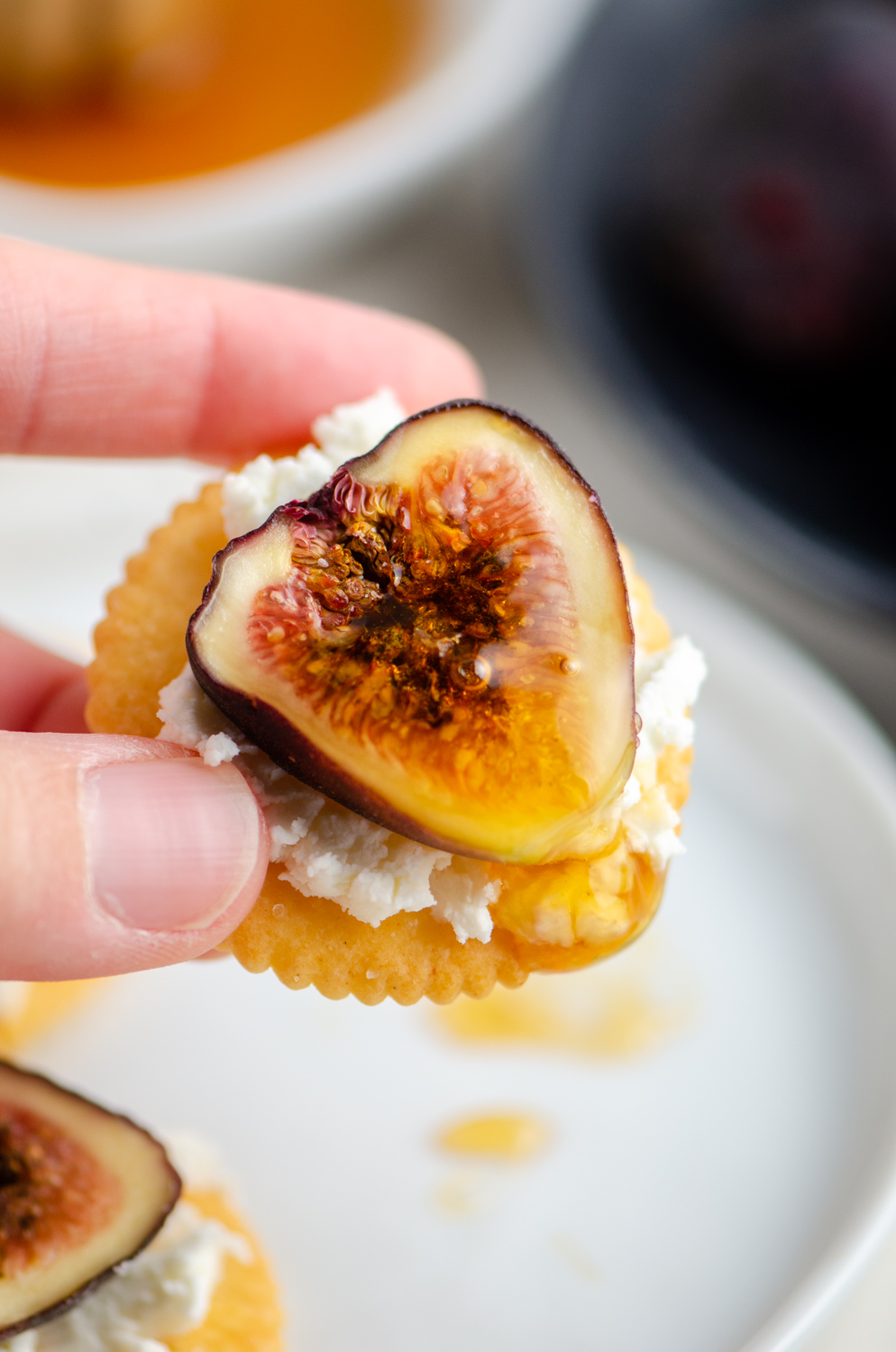 And friends because these Fig and Goat Cheese Bites are ridiculously easy to make they are perfect for parties, or when you just need a quiet snack and a glass of wine after the kiddos go to bed :)
Looking for more easy appetizer recipes? Check these out!
Note: This recipe was originally posted in 2016, it was updated with new photos in 2021.
Fig and Goat Cheese Bites Recipe
Ingredients:
10 - 12 Butter Crackers (eg Townhouse, Ritz)
4 ounces softened goat cheese
2 - 3 Mission or Tiger figs, sliced
honey
Instructions
1
Spread goat cheese on crackers. Place a sliced fig on top. Drizzle with honey. Serve.
Notes
Nutrition facts for estimation purposes only.
Nutrition information
Calories: 377 , Total Fat: 19.5g , Saturated Fat: 7.1g , Cholesterol: 13mg , Sodium: 419mg , Carbohydrates: 46.1g , Fiber: 1.5g , Sugar: 17.6g , Protein: 5.8g