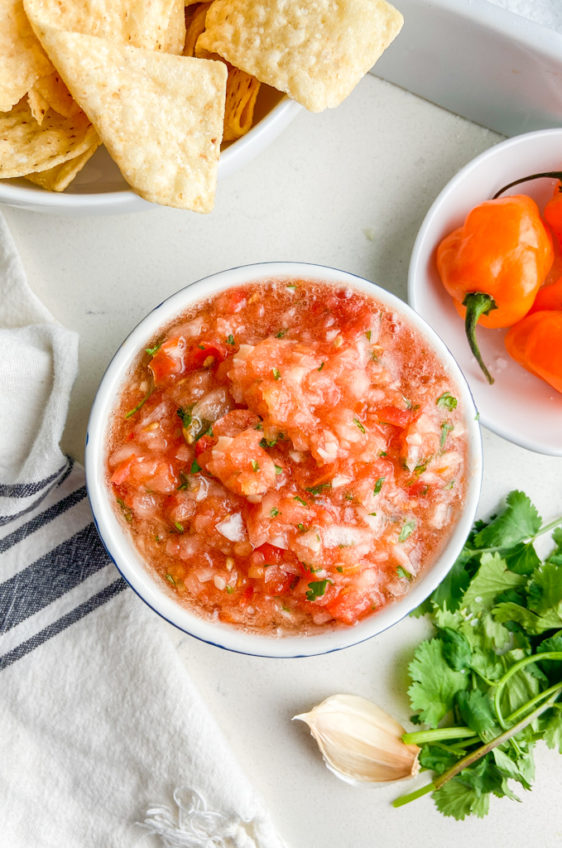 Habanero Salsa
Habanero Salsa is a fresh spicy salsa recipe made with tomatoes, onions and habanero peppers. Perfect alongside homemade tortilla chips!
Okay let me give you a little warning about this habanero salsa: It is not for the faint of heart. It's spicy. Make your eyes water spicy. With that said, it's not all about the heat, this salsa has a wonderful flavor.
It is full of fresh tomatoes, cilantro, onions and garlic. All you need is perfectly salted tortilla chips and you'll have one of the ultimate summer time snacks.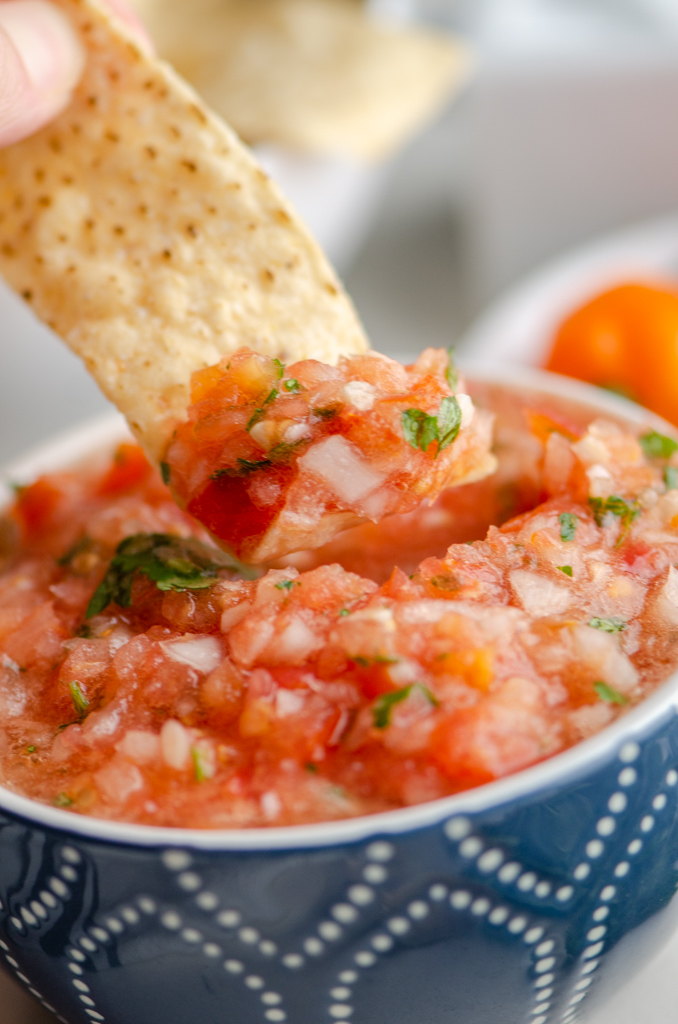 There has been a long standing salsa feud in my house. My husband loves the fresh salsa that you buy in the refrigerated section. While I think it tastes pretty good, I have yet to find one that has the heat that I want. As a result, I always buy a jar of habanero salsa (Mrs. Renfro's religiously). It has that spiciness that I am looking for, but lacks the freshness my husband craves.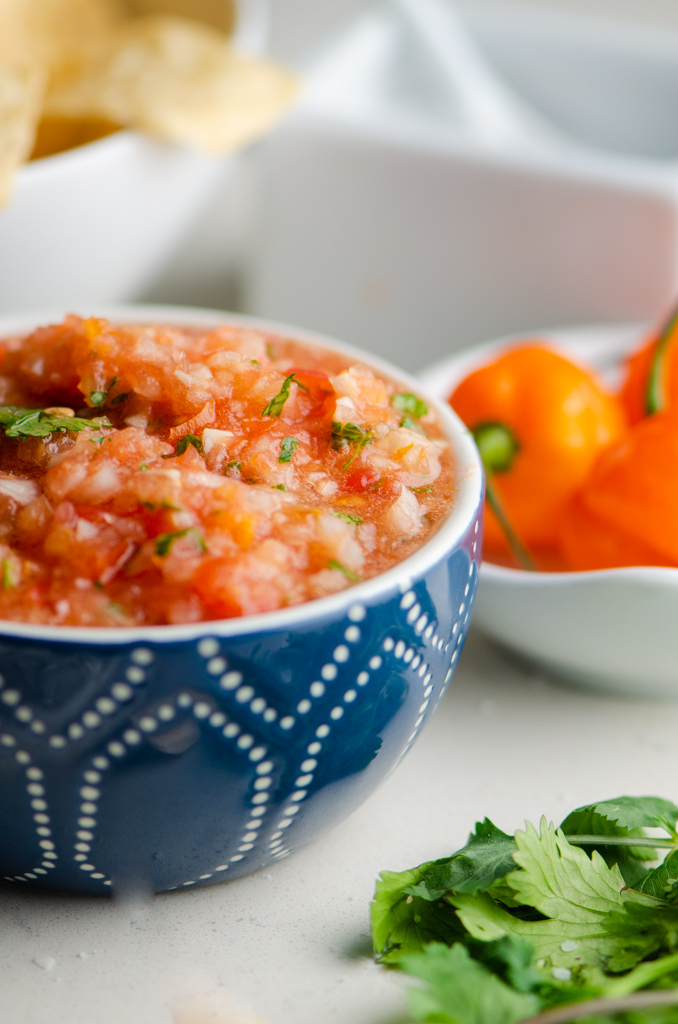 That is where this habanero salsa recipe comes in hand, it has all the freshness of sweet tomatoes, cilantro, onions and garlic as well as a kick, and I do mean kick, from one fresh habanero pepper.
How hot are habanero peppers?
If you've read my guide to chili peppers, then you know that peppers are measured on the scoville scale. To give you a little perspective, on the heat scale habaneros rate between 200,000 and 300,000 scoville units. Jalapenos on the other hand are usually somewhere around the 2,500 to 10,000 range.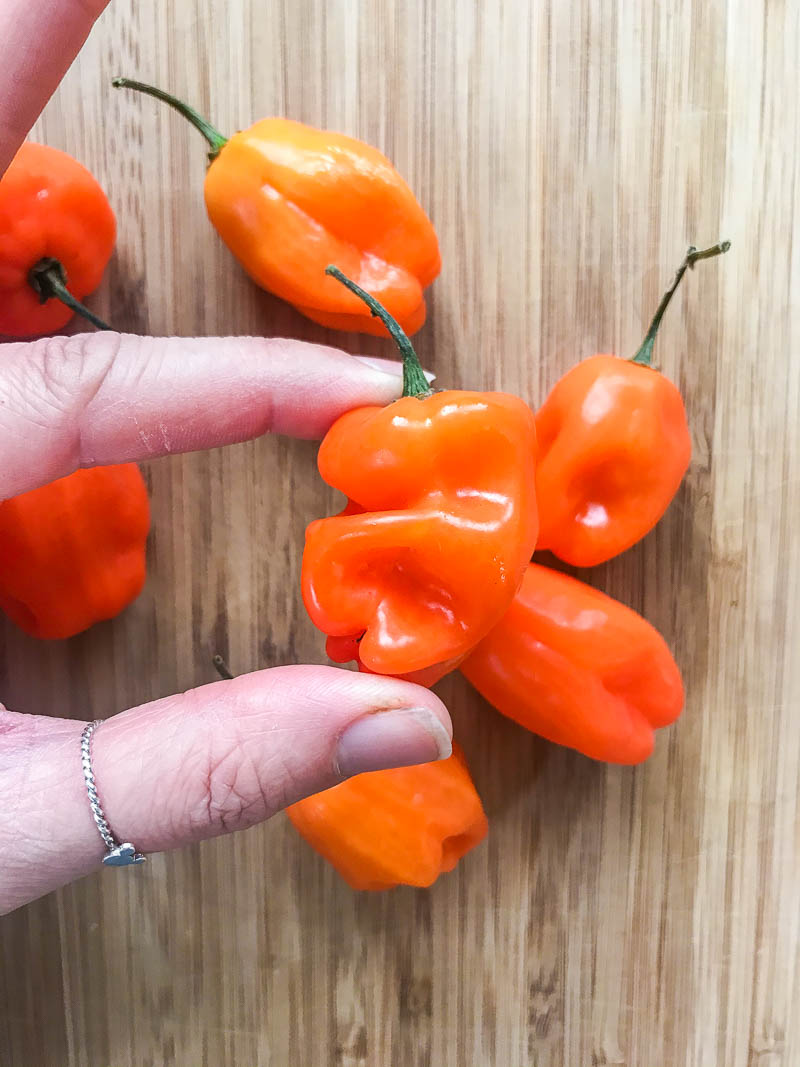 So yes, habaneros are spicy. I also find if you make this salsa a day ahead of time, it gets even spicier. If you are nervous about the heat, you can substitute 1 jalapeno for the habanero if you like. And if you are a glutton for punishment, add an extra habanero.
What ingredients do you need spicy habanero salsa?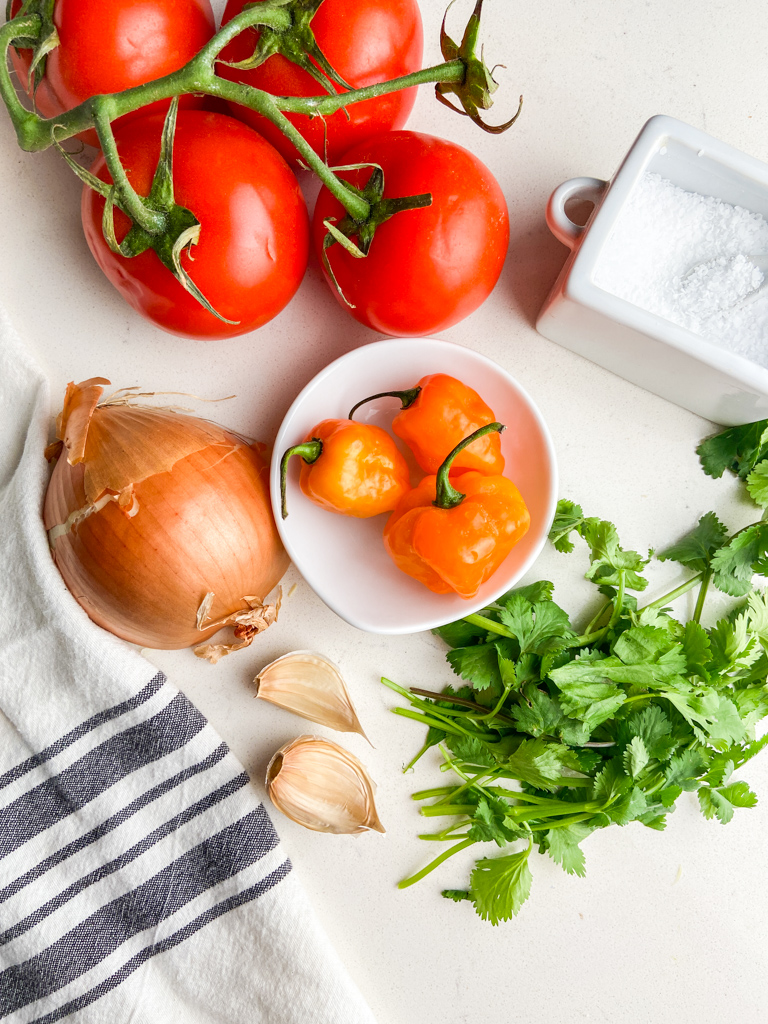 TOMATOES: Vine ripened, roma or hot house tomatoes will work the best!
HABANERO PEPPER: All of the heat is in the seeds and veins inside. If you want to cut down on the spiciness you can remove those.
ONION: Use yellow or white onion.
GARLIC: As much as I love garlic, just one clove for this recipe since it's raw.
VINEGAR: Distilled white vinegar is fine.
CILANTRO: I love pop of color and the freshness that it adds. That being said, the salsa would be just as good without if you're one of those people that doesn't care for it.
SALT: It'll bring out the flavor of each fresh ingredient.
How do you make habanero salsa?
It seriously could not be easier! All you have to do is combine the tomatoes, onion, habanero, cilantro, garlic and vinegar in a blender and pulse.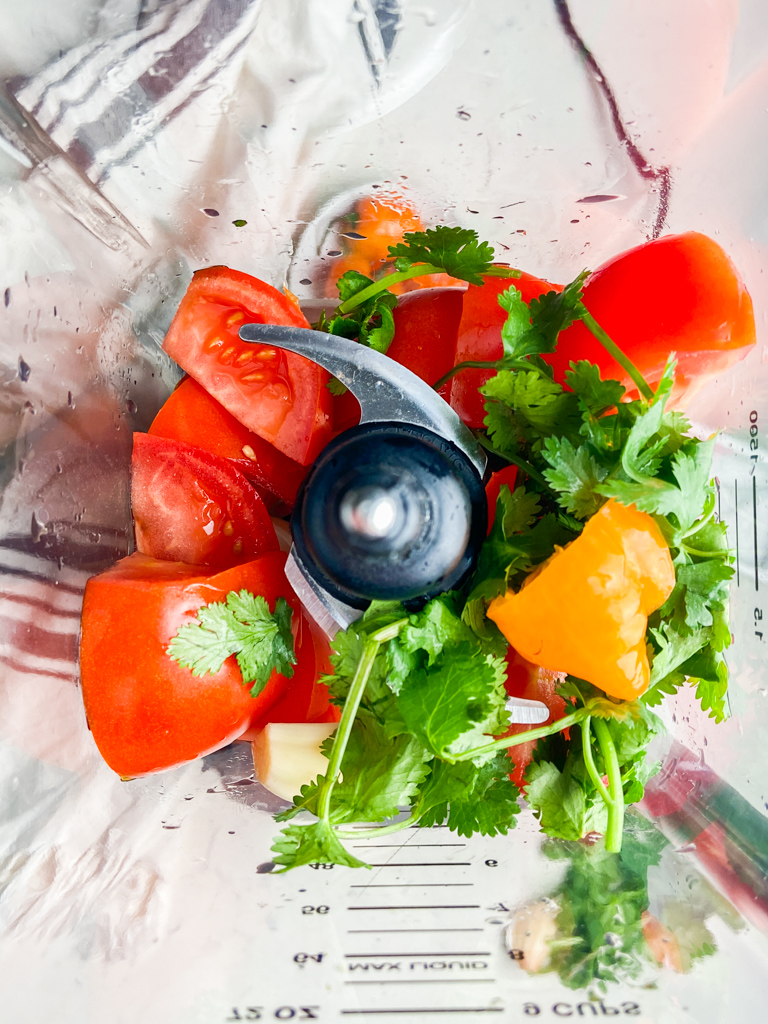 Pulsing is important. Don't simply turn on the blender or the salsa will be too watery. Simply pulse for one second at a time until the salsa reaches desired consistency.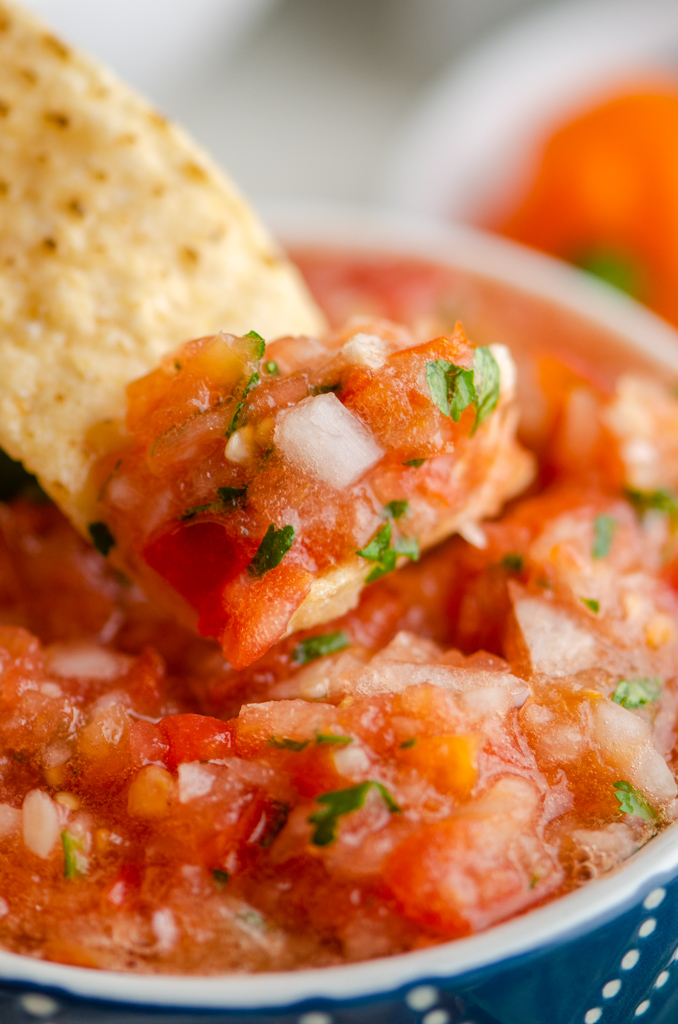 My favorite way to serve this habanero salsa is with chips, obviously. However, it's also good drizzled over tacos or nachos!
Looking for more ways to spice things up? Check out these other Habanero Recipes:
Chorzio Nachos with Habanero Chimichurri 
More Appetizer Recipes:
Note: This post was originally posted in 2009. Updated with nutritional facts, photos and tips in 2021.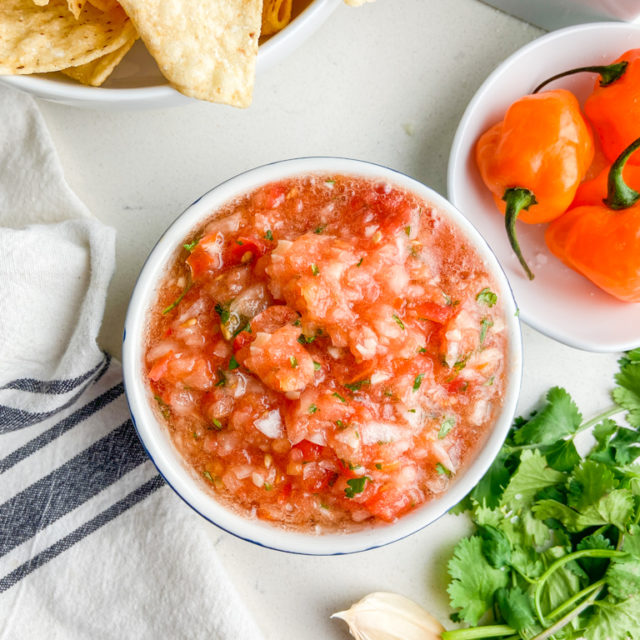 Habanero Salsa
Habanero Salsa is a fresh spicy salsa recipe made with tomatoes, onions and habanero peppers. Perfect alongside homemade tortilla chips!
Ingredients:
3

medium tomatoes

cut in quarters

1/2

medium onion

cut in half

1

clove

garlic

1

habanero

cut in half

1

tablespoon

vinegar

1

handful cilantro

kosher salt to taste
Place all ingredients except salt in a food processor. Pulse about 8-10 times or until desired texture, you can make it as chunky as you would like. Season to taste with kosher salt.

Chill for 20 minutes. Serve.
Nutrition information for estimation purposes only.
Calories:
29
kcal
Carbohydrates:
6.2
g
Protein:
1.2
g
Fat:
0.3
g
Sodium:
46
mg
Fiber:
1.6
g
Sugar:
3.7
g
Keywords:
fresh salsa, habanero, hot salsa, salsa, snack