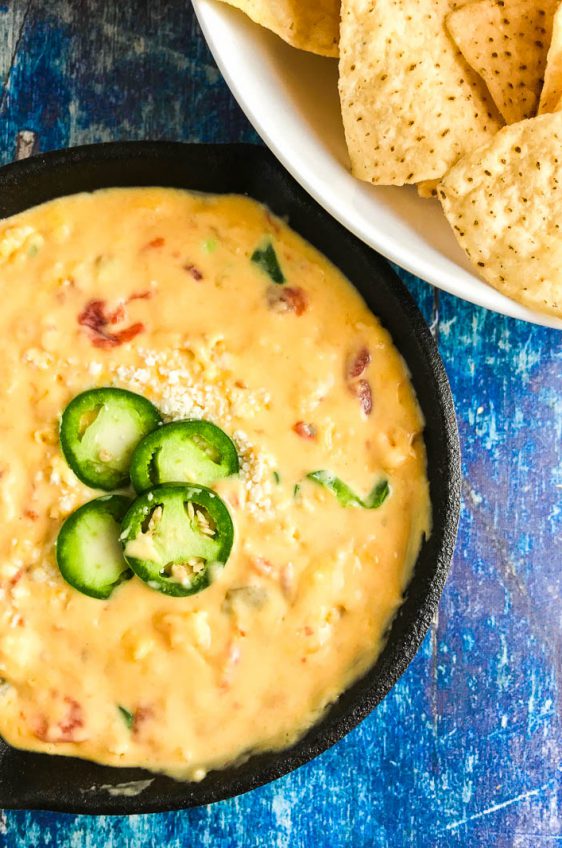 Queso Dip with Three Cheeses
Queso Dip with Three Cheeses is a must for all of your tailgating, parties, summer BBQs. With Velveeta, pepper jack and cotija it's a creamy, cheese dip sure to be a hit
Correct me if I'm wrong, but there is not much better than a bowl of hot melty cheese. Unless of course, that bowl of hot melty cheese is actually a bowl of THREE hot melty cheeses.
And that is exactly what I have for you today.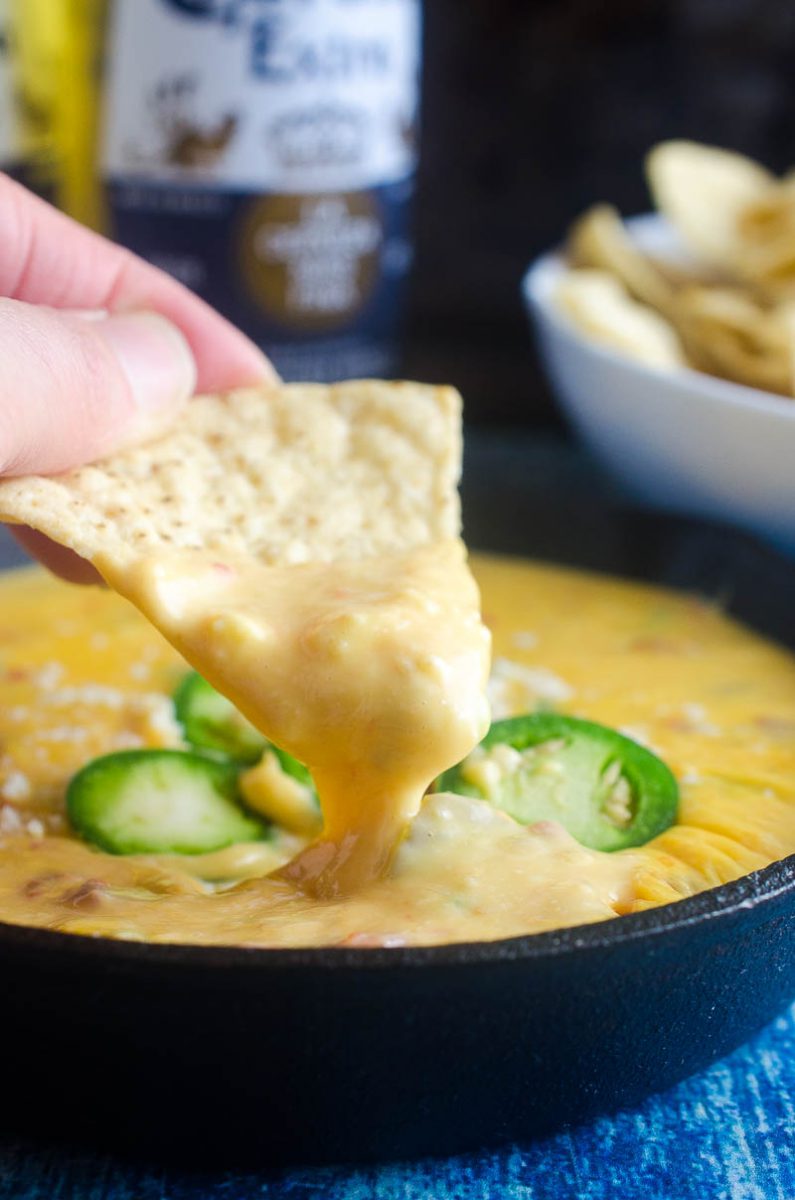 What kind of cheese do you use in queso dip?
There are so many variaties of queso out there. Most of them, like this one, include processed cheese like velveeta, or American. Sometimes cheddar, mozzarella or jack.
Basically, the options are pretty much endless. When choosing a cheese, you just want to make sure that it melts well. For example, cheddar is good, parmesan not so good.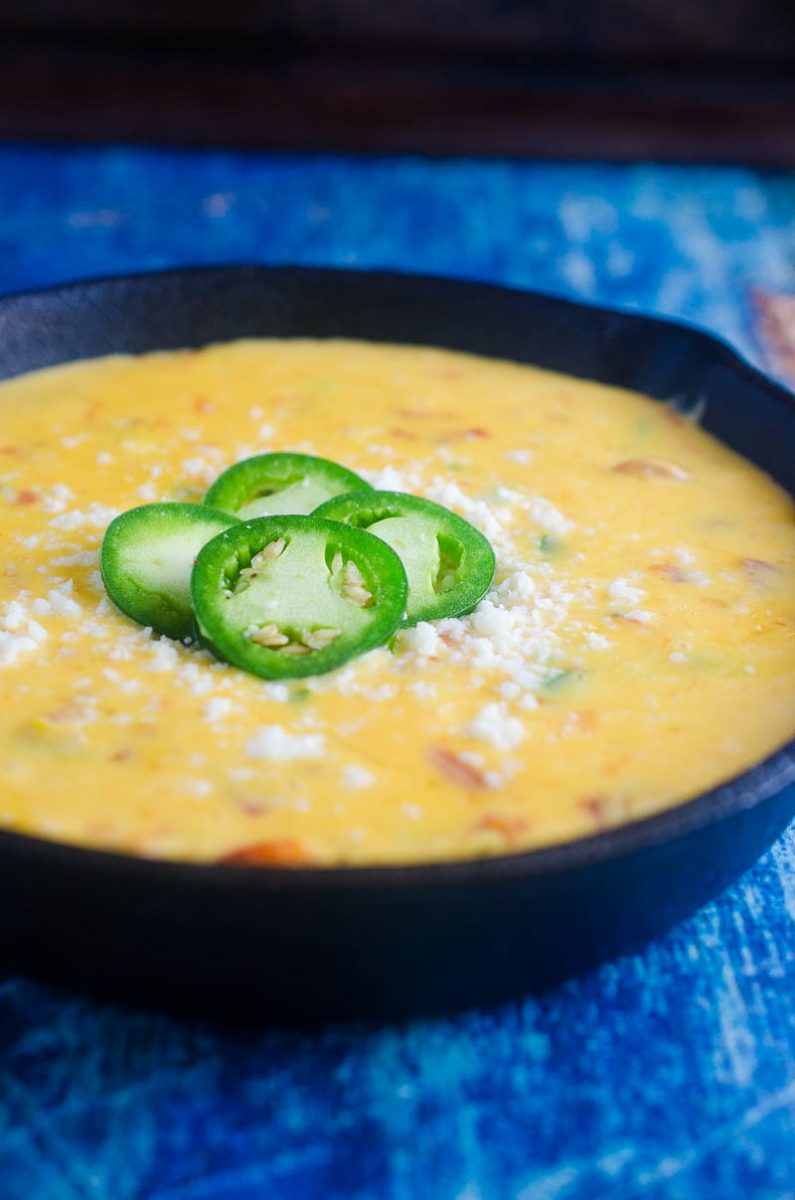 This Queso Dip has not one, not two but three different kinds of cheese: Velveeta, pepper jack and cotija cheese.
Queso dip is always a hit around here. Whether we're making my famous shrimp tacos, bean and chorizo taquitos or just want a snack, tortilla chips and queso dip will make an appearance.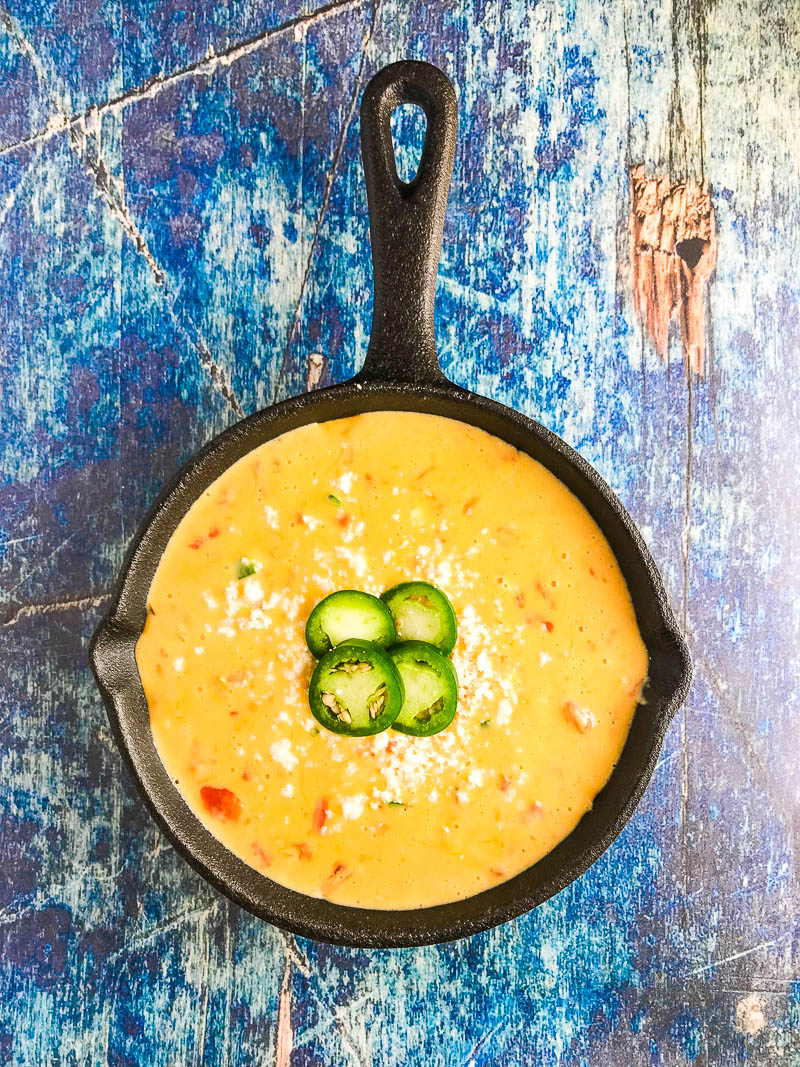 How to make easy queso dip:
Making this queso could not be easier. Seriously.
Step one: Gather the ingredients. You only need five!  Velveeta, Rotel, Pepper Jack Cheese, Cotija and Jalapenos.
Step two: Melt the velveeta and rotel in a pan over medium heat. Once the velveeta has melted whisk in remaining ingredients. Continue stirring until pepper jack is melted.
Step three: Eat.
SEE. EASY!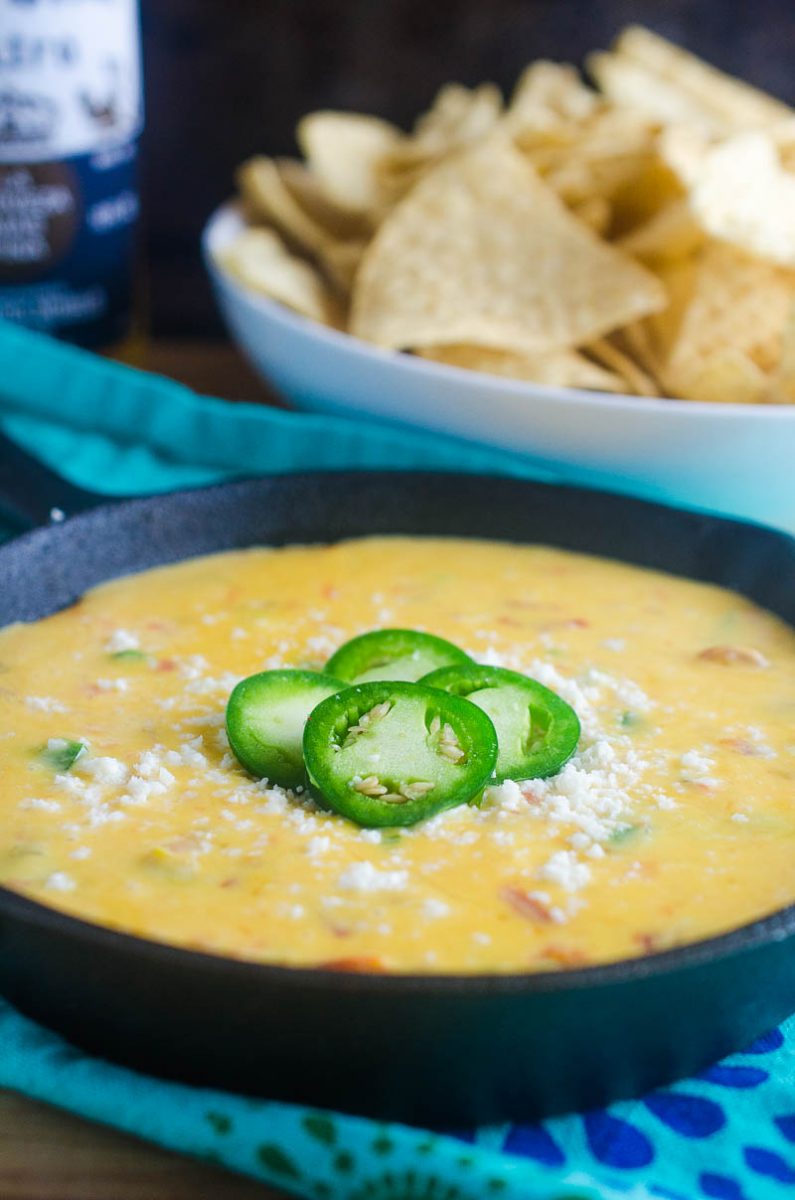 Can you reheat queso dip?
Yes! You totally can. Simply put it in a saucepan and heat until warmed through. You could also warm it in the microwave in 30 second increments until warmed.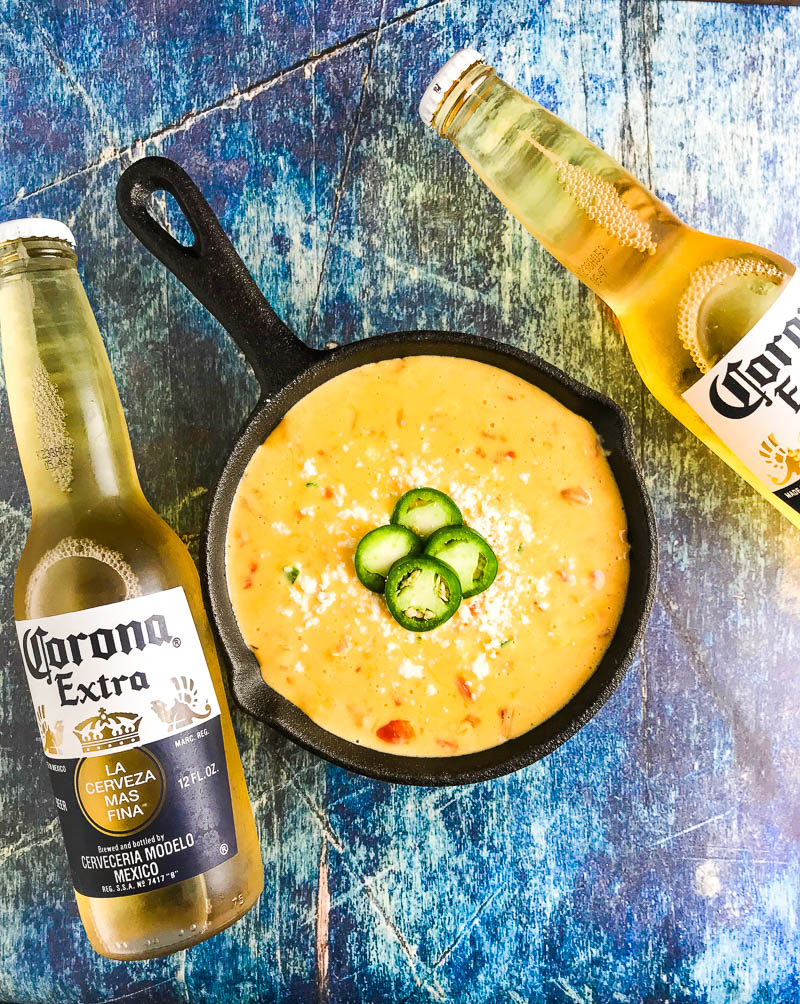 What do you serve with queso dip?
Obviously, tortilla chips are the number one choice. You could also serve it with veggies or as a dip for taquitos.
You could also eat it with a spoon. No judging here.
Because cheese.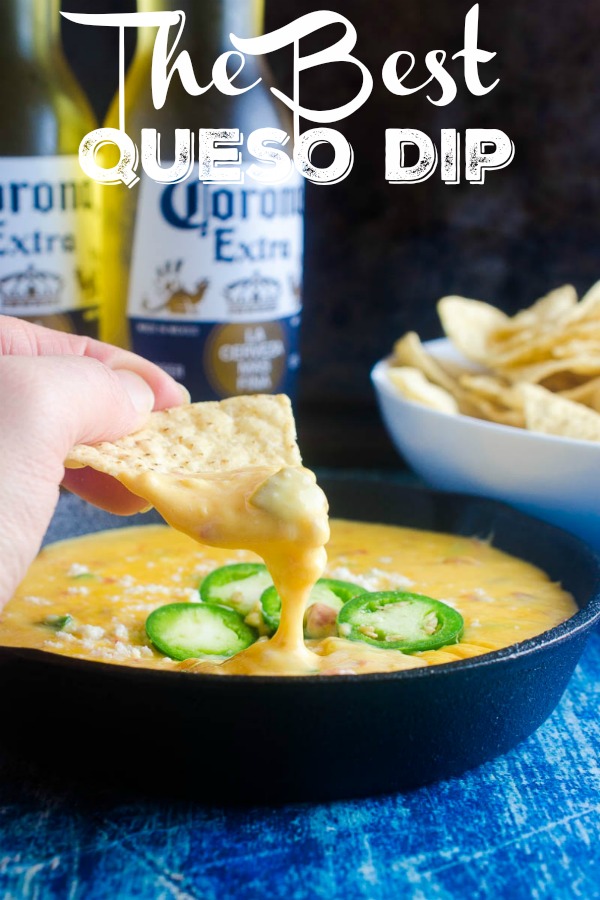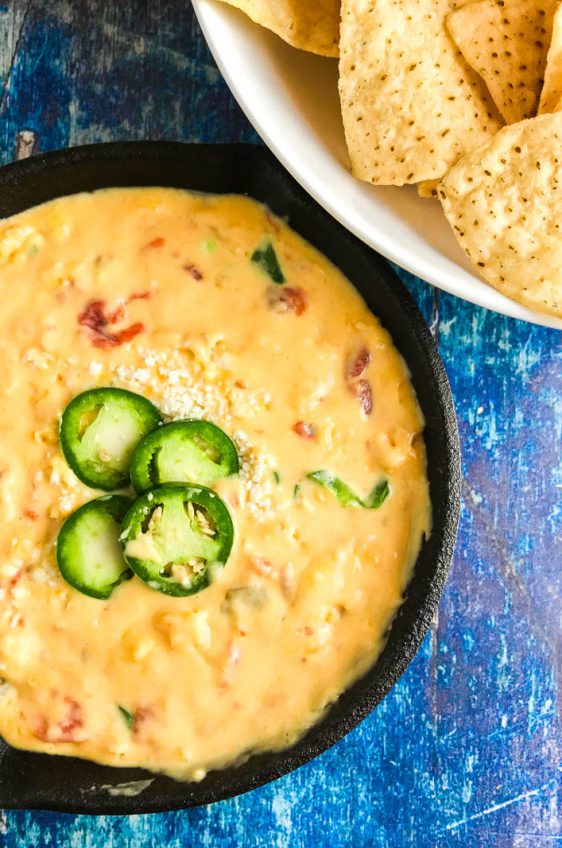 Queso Dip with Three Cheeses
Queso Dip is a must for all of your tailgating, parties, summer BBQs. With Velveeta, pepper jack and cojita it's a creamy, cheese dip sure to be a hit
Ingredients:
1

10 ounce can Rotel diced tomatoes with green chiles

16

ounces

velveeta

cut into 1/2 inch cubes

2

cups

shredded pepper jack cheese

1/2

cup

cojita cheese

1

jalapeno

diced
Combine rotel and velveeta together in a small saucepan over medium heat. Cook, stirring occasionally, until velveeta has melted.

Stir in pepper jack cheese, cojita cheese and jalapeno. Cook until all cheese has melted.

Serve hot with tortilla chips
Keywords:
cheese dip, super bowl, velveeta