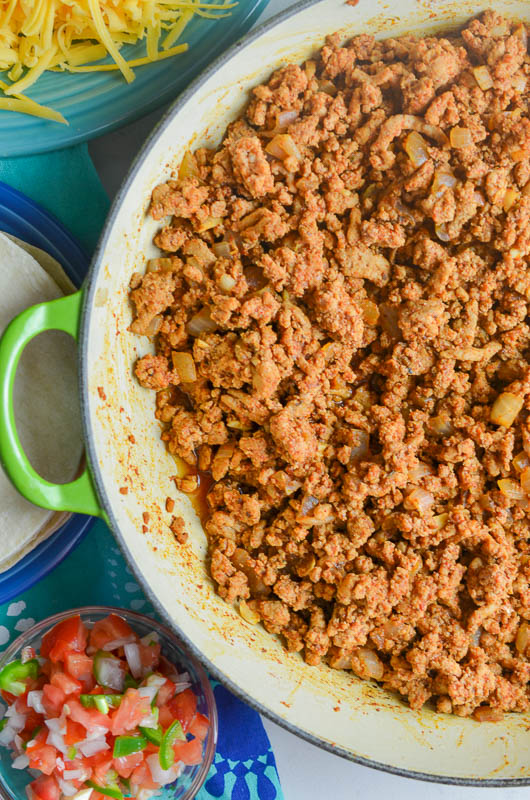 Seasoned Taco Meat
Seasoned Taco Meat is a must for any Taco Tuesday. This recipe uses ingredients you probably have on hand and is great with ground beef, chicken or turkey!
Sometimes dinner is a real struggle. One person wants one thing. Another wants something else. But one of the easiest ways to get your family, yourself included, excited for dinner is to put tacos on the menu. Because I mean, everyone loves tacos. Right?! And when the recipe is this easy, everyone is happy.
We eat tacos on a weekly basis around here and over that time I have perfected the seasoning blend for the taco meat. Yes, the toppings of tacos are great but you've got to have a perfectly seasoned flavorful base to start with. That is where this Seasoned Taco Meat comes in handy and I am going to show you just how easy it is to make!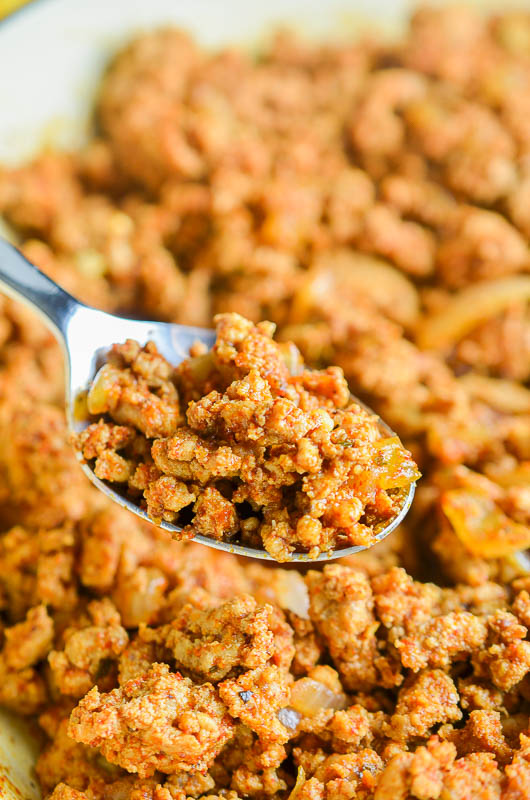 And this recipe is perfect to use with ground beef, ground turkey or ground chicken. I originally tried it with ground beef but slipped in ground turkey recently and my kiddos didn't even notice the difference! A bit healthier and no complaining? A win in the mom book!
What ingredients do you need?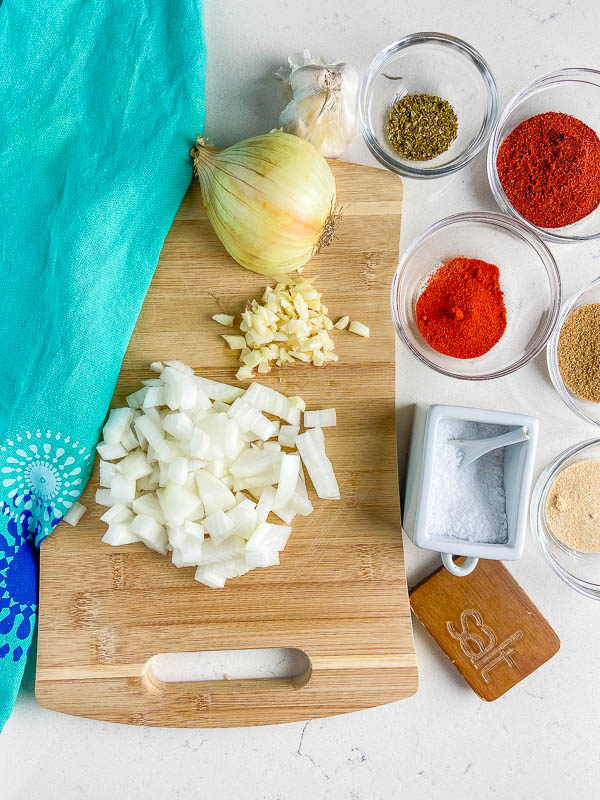 Olive Oil: You can use regular or extra virgin. It's for sautéing the onions and garlic. You can substitute vegetable or canola if that's what you have on hand.
Onions and Garlic: Sautéed onions and garlic always add a great flavor to any dish and this one is no exception. You can use yellow or white onion.
Ground Meat: As I mentioned above you can use any ground meat you prefer. I've tried it with ground beef and ground turkey recently and the boys loved it. You could also use chicken or pork.
DES' TIP: Depending on the meat that you choose you may or may not need to drain the excess fat from the meat after cooking. If you notice a lot of liquid in the pan at this point, drain it. With ground beef you'll have more fat that you'll need to drain than you would if you use ground turkey or chicken.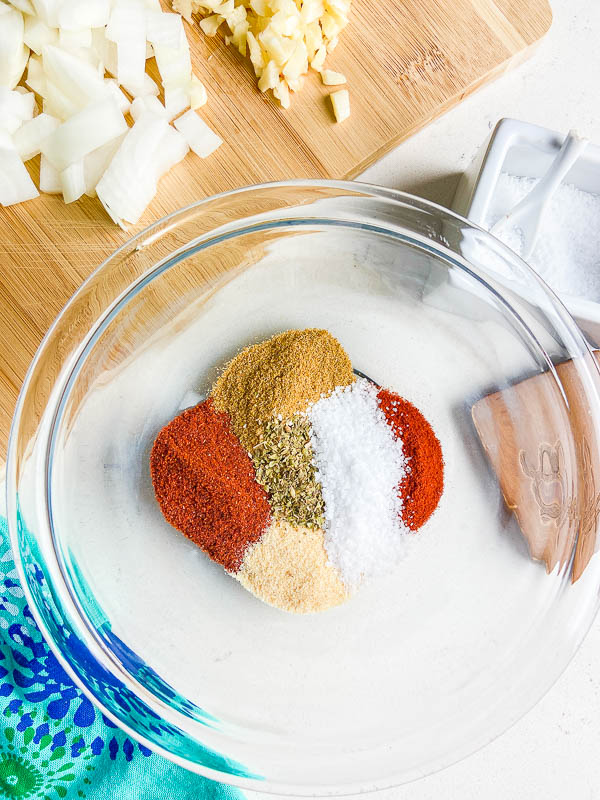 Chili Powder: This is going to give a little bit of heat but also a bit of smokiness to the meat.
Cumin: Has a nutty smoky flavor and is commonly used in latin American cooking.
Onion Powder: Just for a touch more onion flavor.
Dried Oregano: You could also use fresh but just remember the rule of thumb: 1 teaspoon of dried herbs = 1 tablespoon fresh.
Paprika: This adds color and smokiness.
Salt
Water
Step by Step Photos and Instructions:
Step #1: Sauté onions and garlic in olive oil in a large skillet. Cook just until the onions start to soften and the garlic is fragrant.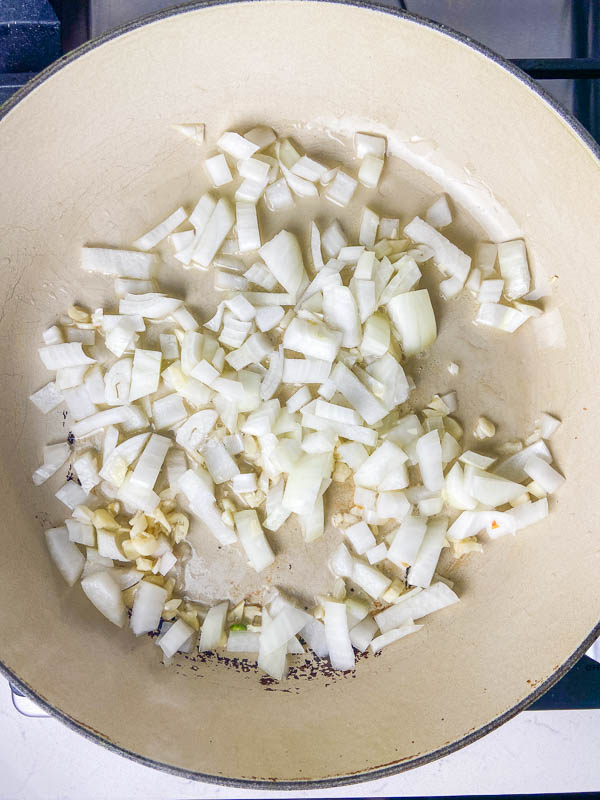 Step #2: Add the meat to the pan and cook until browned. Depending on the meat that you use, you'll want to strain any excess grease or liquid and then return the meat to the pan.
Step #3: Whisk the chili powder, cumin, onion powder, oregano, paprika and salt together in a bowl and then sprinkle over the meat mixture. Pour in water and stir.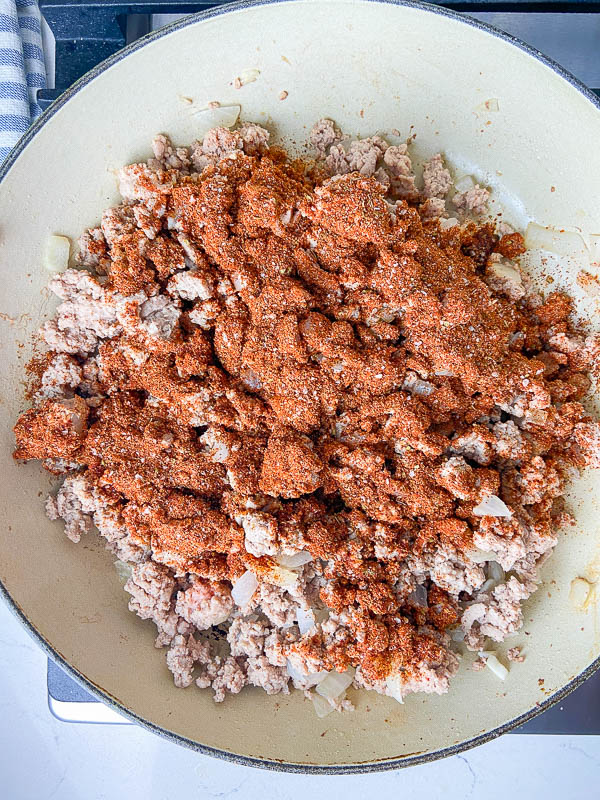 Step #4: Cook meat, stirring occasionally, until water is absorbed. About 5 minutes. Season to taste with more salt if needed.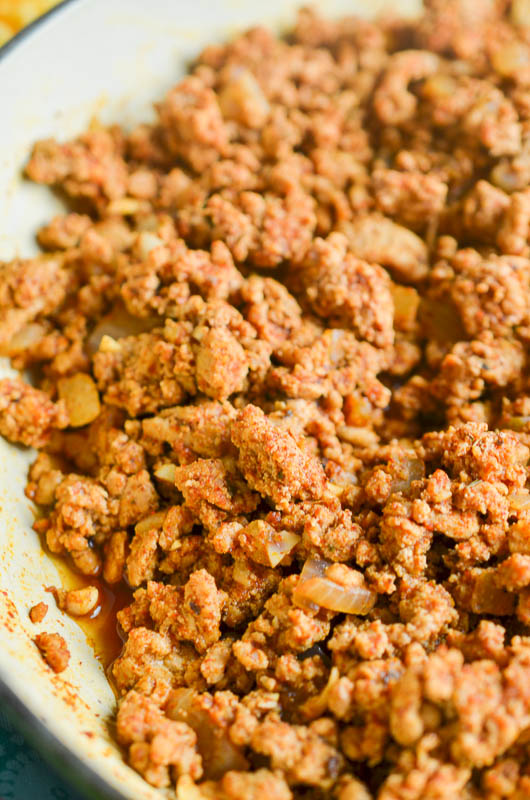 Storing and reheating leftovers:
This recipe can easily be doubled and I do that on occasion so that I can keep some in the fridge to serve throughout the week. I use it for nachos or taco salads.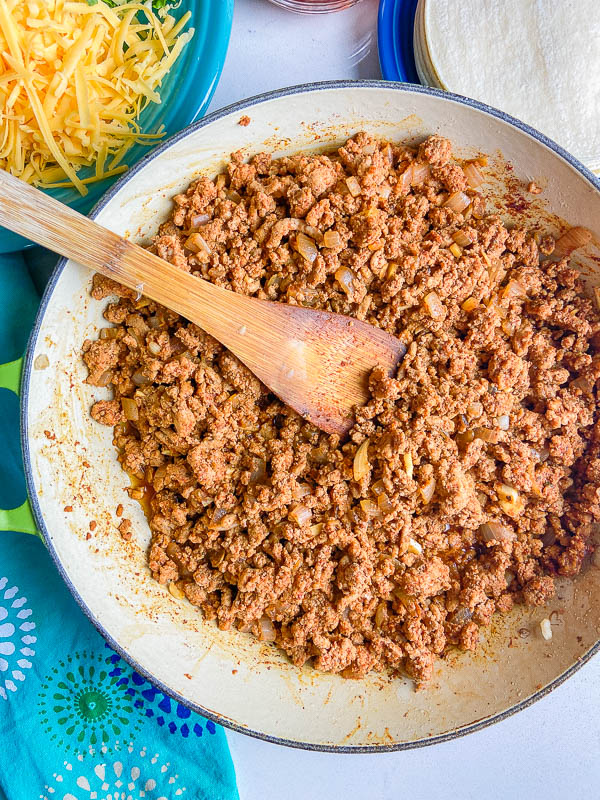 To store the leftovers, once the meat has cooled you can store them covered in the refrigerator. To reheat them you can reheat in a skillet or microwave. You won't need to add any additional water.
Looking for more recipes for Taco Tuesday? You've got to try these:
Habanero Hot Sauce (to really spice things up!)
Shrimp Tacos with Cilantro Sour Cream Sauce
Easy Refried Black Beans from Crazy for Crust
More Easy Weeknight Dinners? Try these!
Instant Pot Filipino Chicken Adobo Recipe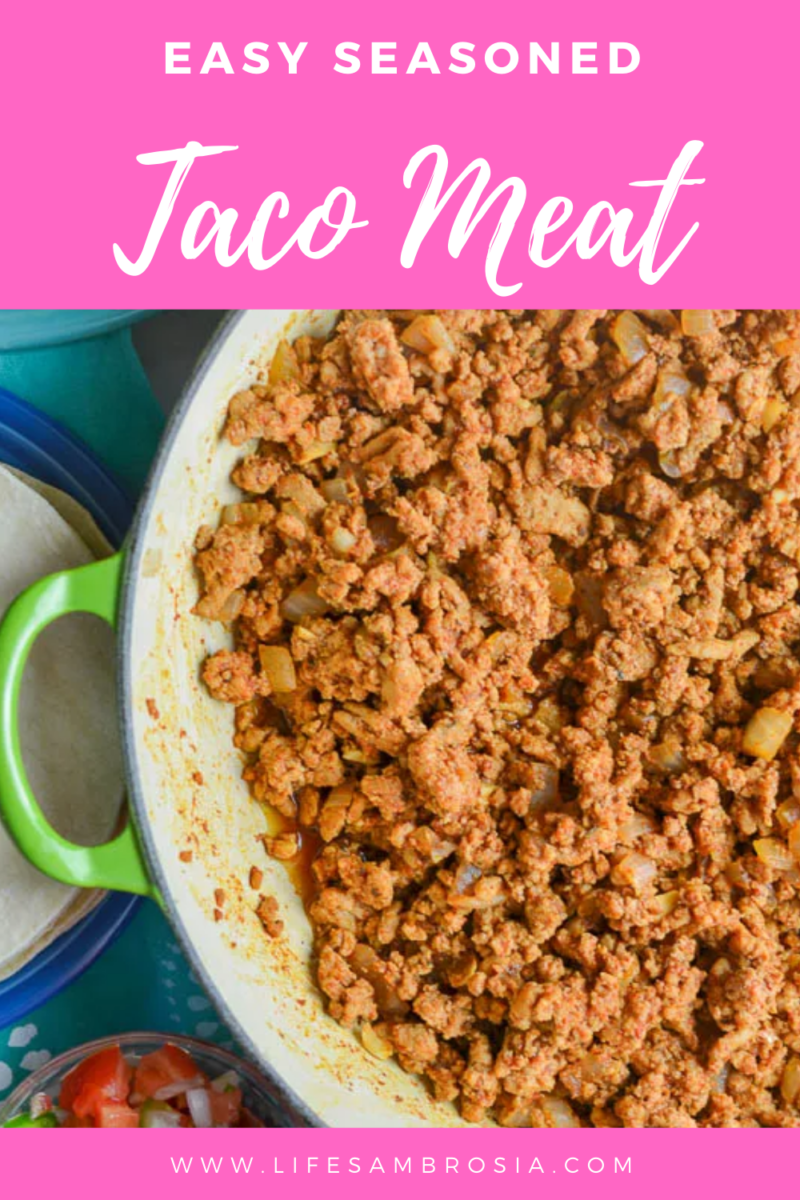 Seasoned Taco Meat Recipe
Ingredients:
1 tablespoon olive oil
1/2 yellow onion, diced
3 cloves garlic, minced
1 pound ground turkey (or beef, chicken or pork)
1 tablespoon chili powder
1 teaspoon cumin
1 teaspoon onion powder
1 teaspoon paprika
1 teaspoon salt
1/2 teaspoon dried oregano
1/2 cup water
Instructions
1
Heat olive oil in. large skillet over medium heat. Add onions and garlic. Cook just until onions are softened and garlic is fragrant 2 - 3 minutes.

2
Add in meat and cook until browned. Drain and return to the pan.

3
Whisk together chili powder, cumin, onion powder, paprika, salt and oregano. Sprinkle over meat. Pour in water. Let simmer until water is absorbed about 5 minutes. Stirring occasionally. Serve.
Notes
Nutrition facts for estimation purposes only and are based on use of ground turkey.
Nutrition information
Calories: 272 , Total Fat: 16.5g , Saturated Fat: 2.7g , Cholesterol: 116mg , Sodium: 725mg , Carbohydrates: 4.3g , Fiber: 1.4g , Sugar: 1g , Protein: 31.8g