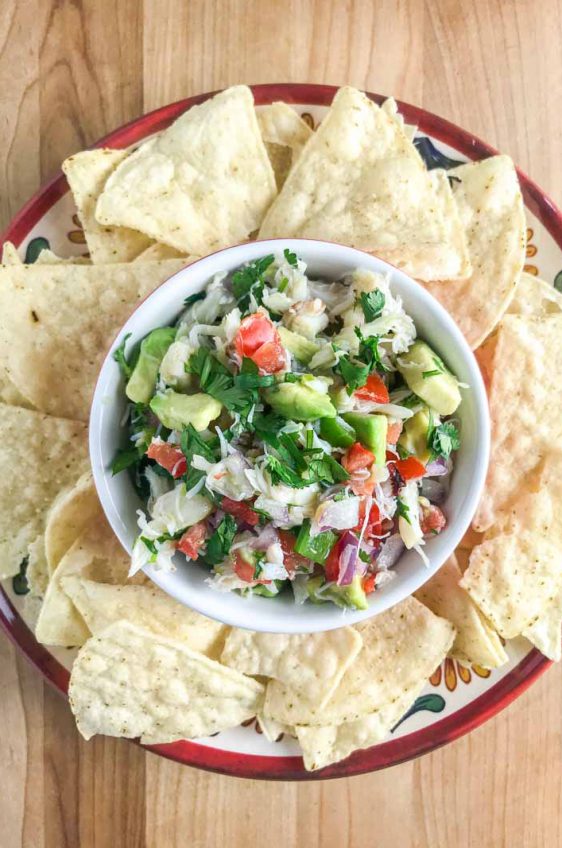 Crab Ceviche
Crab ceviche is a fun twist on a classic! A mixture of Dungeness crab, tomatoes, serrano peppers, onions, lemon, lime, cilantro and avocado. It's like sunshine in a bowl. 

With Cinco de Mayo coming up this weekend, I thought now would be a perfect time to share a recipe for ceviche. This Crab Ceviche is loaded with all kinds of goodies: Dungeness crab, tomatoes, serrano peppers, onions, lime, cilantro and avocado. It's a summer flavor explosion.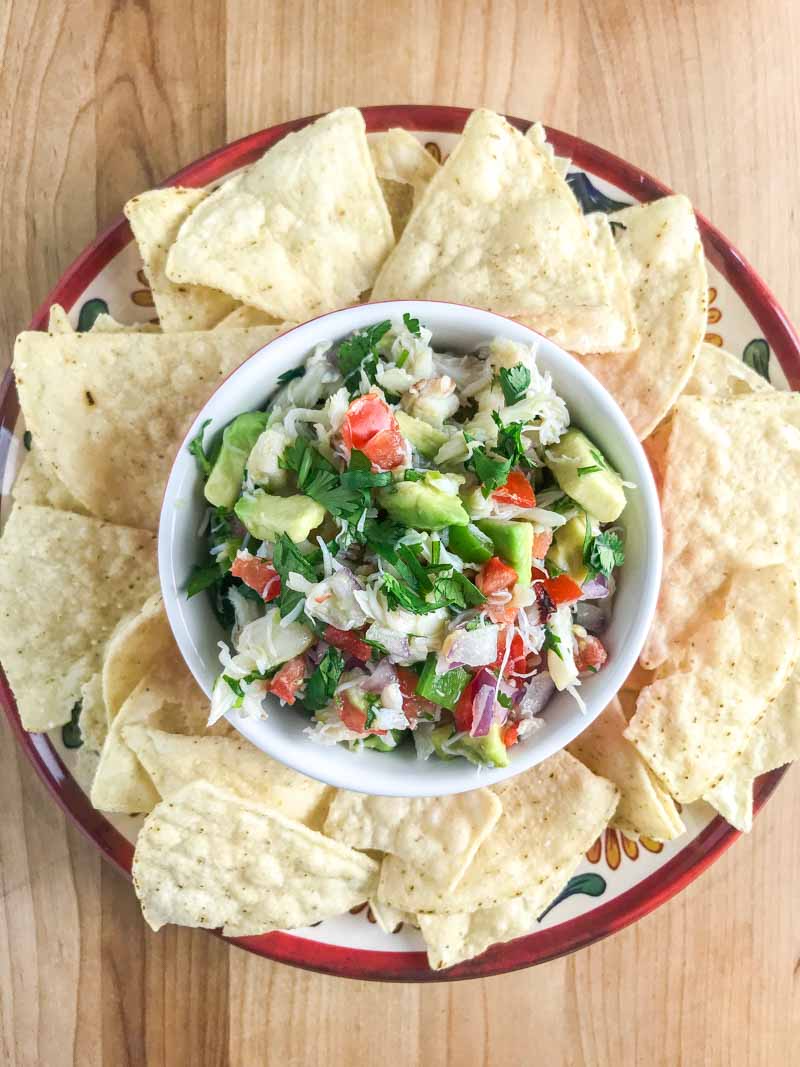 When the sun shines I crave Mexican food. I don't know what it is. Maybe it's because on a hot day nothing sounds better than a cool Corona and chips and guacamole. So when the sun came out last week for the first time in a while, I decided to pretend it was Summer for a day and try my hand at ceviche.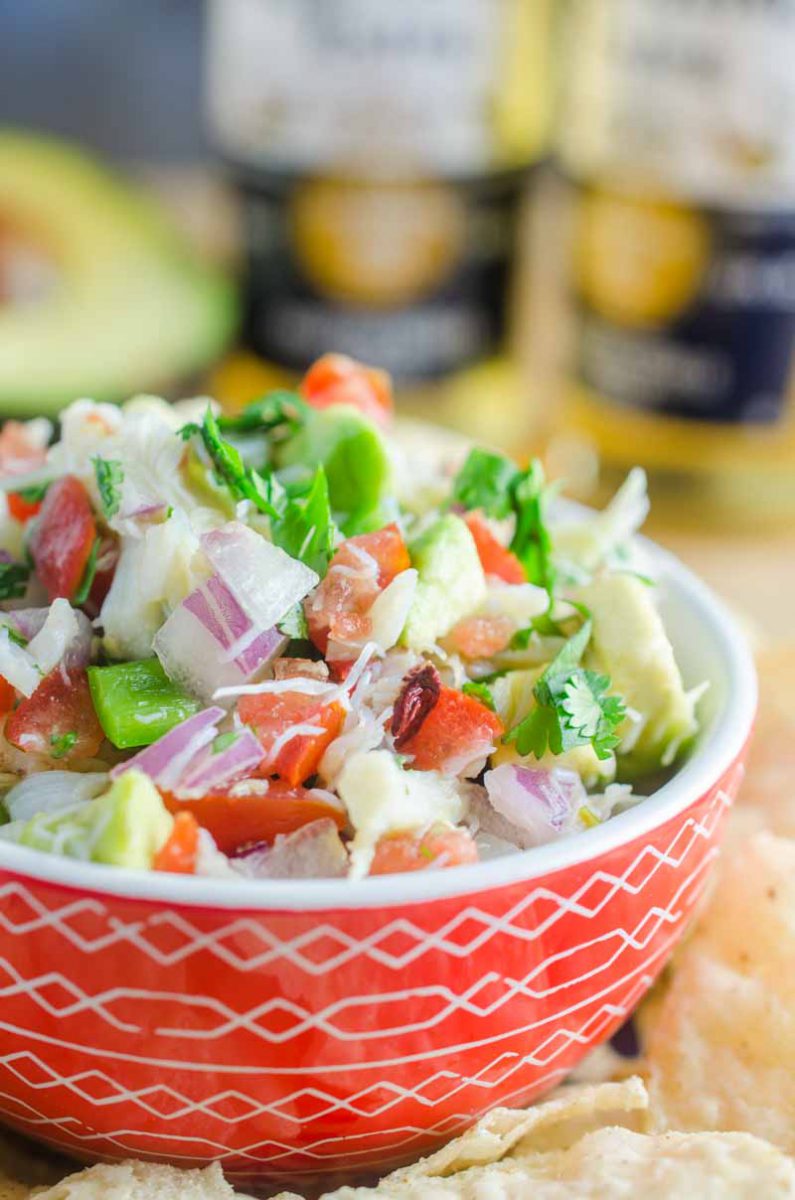 What is ceviche?
It is a cold seafood dish that is popular in Latin America. It is traditionally made with fish, lime, lemon and chili peppers.
Is ceviche cooked?
Ceviche is not cooked in the traditional sense. In most recipes you start with raw fish and the marinate it in citrus which starts denaturation like an oven would do. If you want to learn a little bit more about the science behind it this is a great article.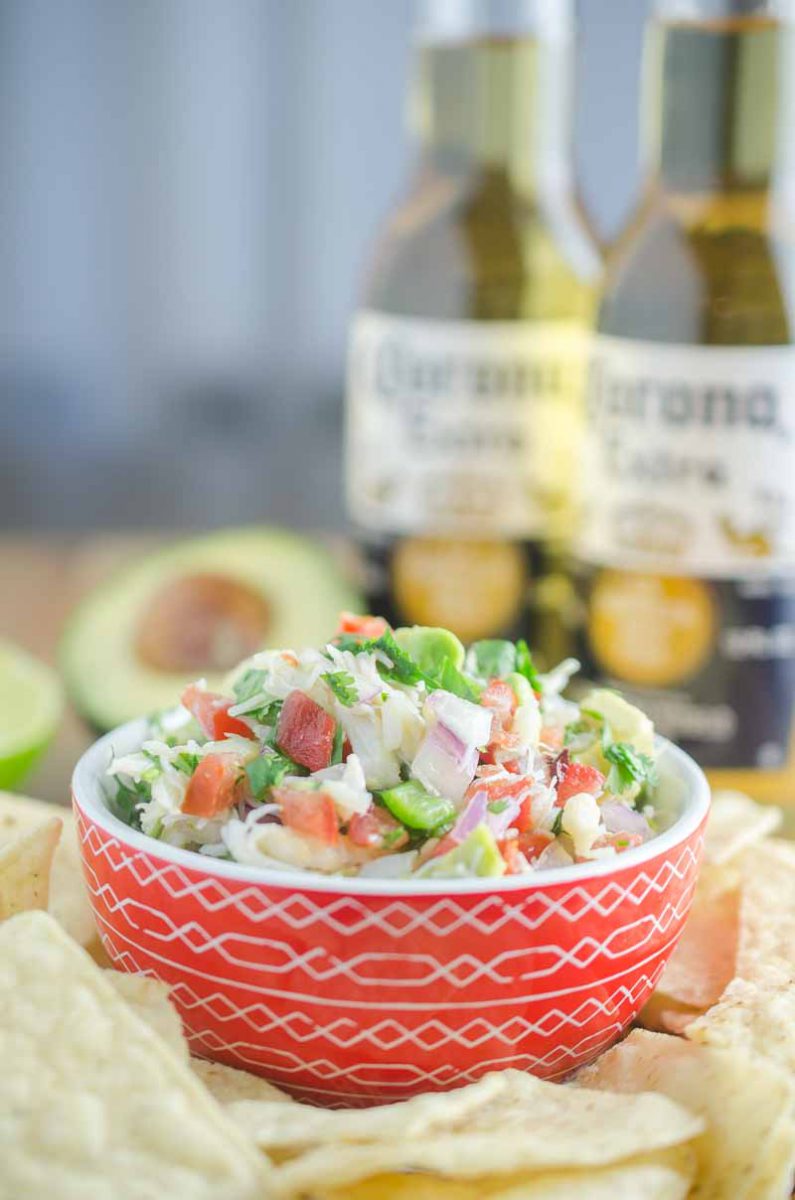 If you're just testing the waters with ceviche and would prefer to start with a cooked fish, then this crab ceviche is perfect for you! This recipe calls for fully cooked dungeness crab in place of the raw fish so no need to worry, just let marinate and enjoy. And enjoy you will because this is scrumptious.
I chose to use Dungeness crab in this recipe because, living in the Pacific Northwest, its what is available. If you can't find it where you live lump crabmeat will do. You will just want to make sure that it is as fresh as possible. The freshness is what makes the dish.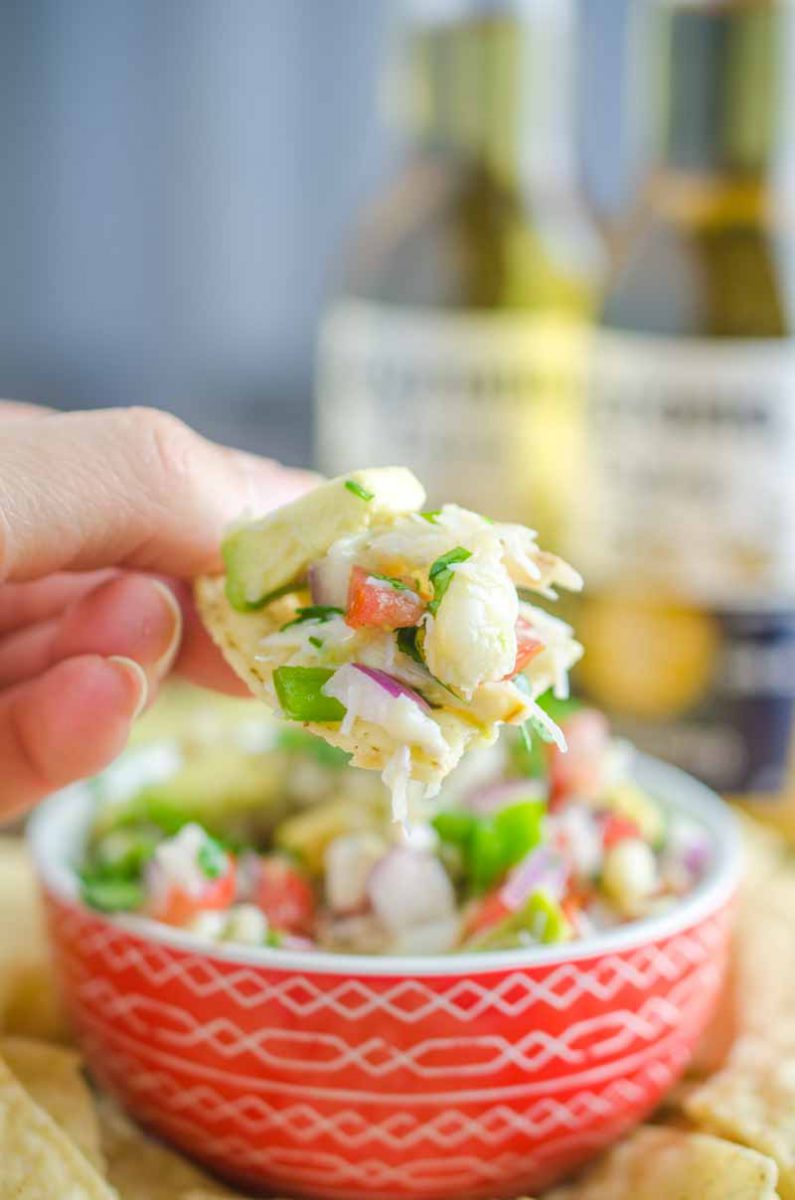 Now, give me this with a Corona and some tortilla chips and I'm good to go. Or maybe even a Strawberry Jalapeno Margarita.
Happy Cinco de Mayo, indeed!
This post was originally published in 2013 and updated with new photos in 2018. 

Crab Ceviche Recipe
Ingredients:
1/2 cup finely chopped tomato, seeded
1/4 cup finely diced red onion
1 serrano pepper, seeds removed and diced
2 tablespoons lemon juice
2 tablespoons lime juice
1/4 teaspoon salt
8 ounces dungeness crab, picked over for shells
1/4 cup chopped fresh cilantro
1 avocado, diced
Instructions
1
Combine first seven ingredients together in a bowl. Mix well. Cover and refrigerate for at least 2 hours.

2
Remove from the refrigerator. Gently mix in the cilantro and avocado. Serve with chips or in tortillas as tacos.
Nutrition information
Calories: 284 , Total Fat: 11.9g , Saturated Fat: 2.3g , Cholesterol: 118 mg , Sodium: 744 mg , Carbohydrates: 6.2g , Fiber: 3.9g , Sugar: 1.4g , Protein: 36.3g