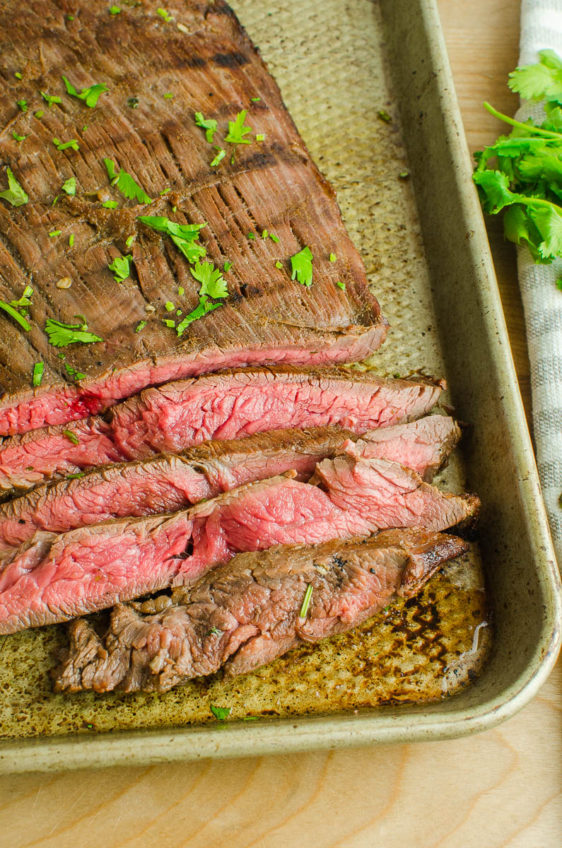 Authentic Carne Asada Recipe
Every Authentic Carne Asada recipe starts with a great marinade. This one has flavors of orange, lime, cilantro, cumin and garlic. Then it is grilled to perfection!
If you're one of those people that just has to order the Carne Asada plate every time you visit a Mexican restaurant, then this recipe is for you. No need to venture out, with a few simple steps and ingredients, you can make this restaurant favorite at home.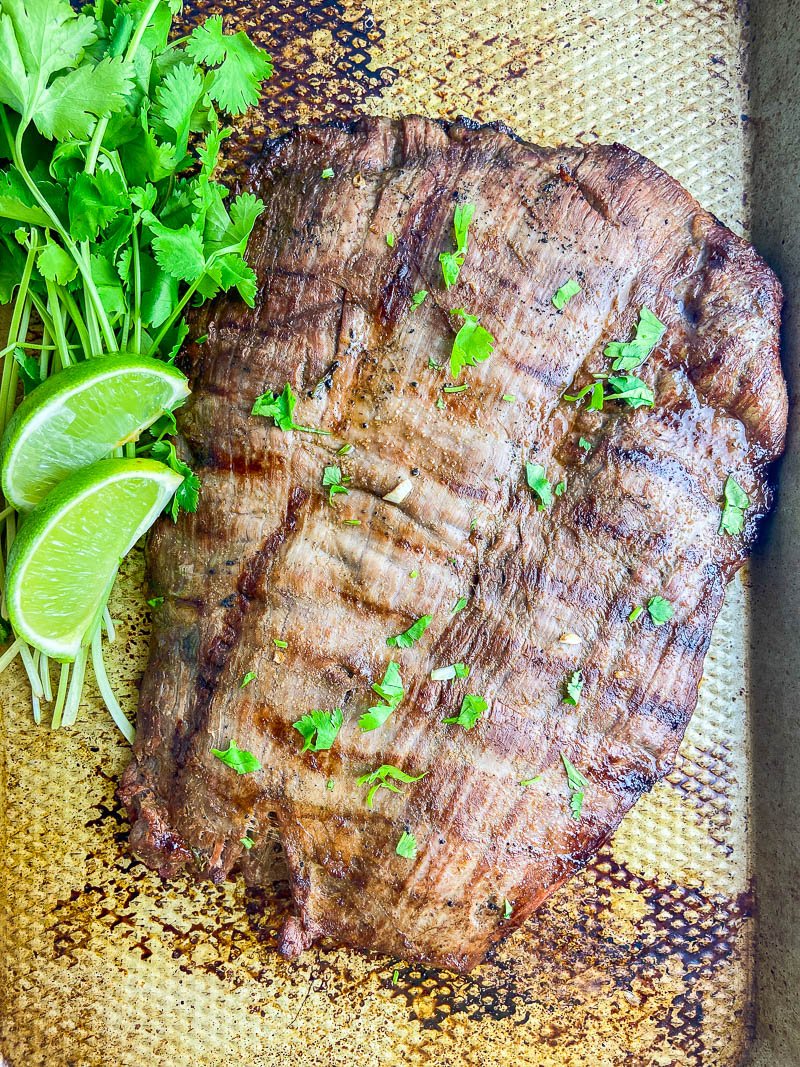 I'm here to show you how! Let's start with the basics:
What is Carne Asada?
The literal definition is grilled meat. Traditionally flank or skirt steak is marinated and then grilled over a charcoal grill.
I prefer to use flank steak. It is lean and has a ton of flavor .Flank steak does have a lot of tough fibers that run through it, though. For this reason, it is essential to cut it thinly against the grain. This will shorten the fibers so that the meat will be easier to chew.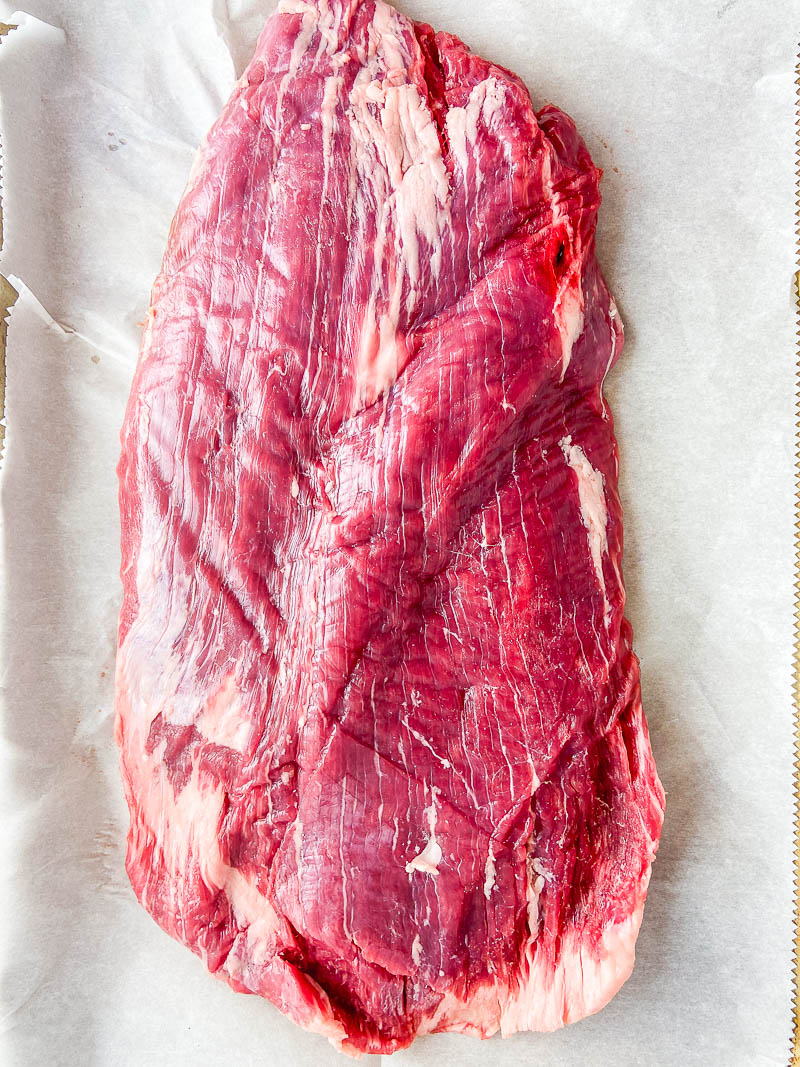 Marinating the meat will also help with tenderization.
What ingredients do you need for Carne Asada Marinade?
The secret to making the perfect carne asada lies in the marinade. The marinade is what is going to give the steak it's flavor as well as help tenderize the meat.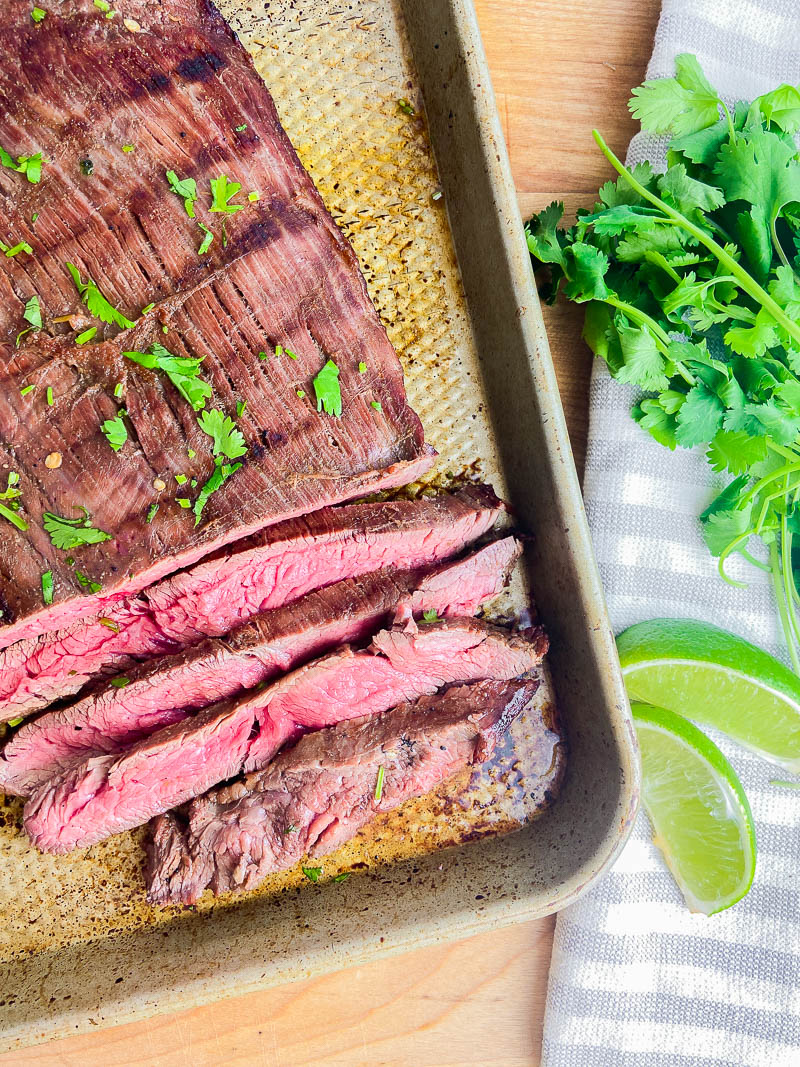 The ingredients for the marinade often vary from recipe to recipe but one thing remains the same: Citrus. Citrus is a must when making authentic carne asada. It helps tenderize the meat while also giving it a burst of bright citrusy flavor.
For this marinade you'll need: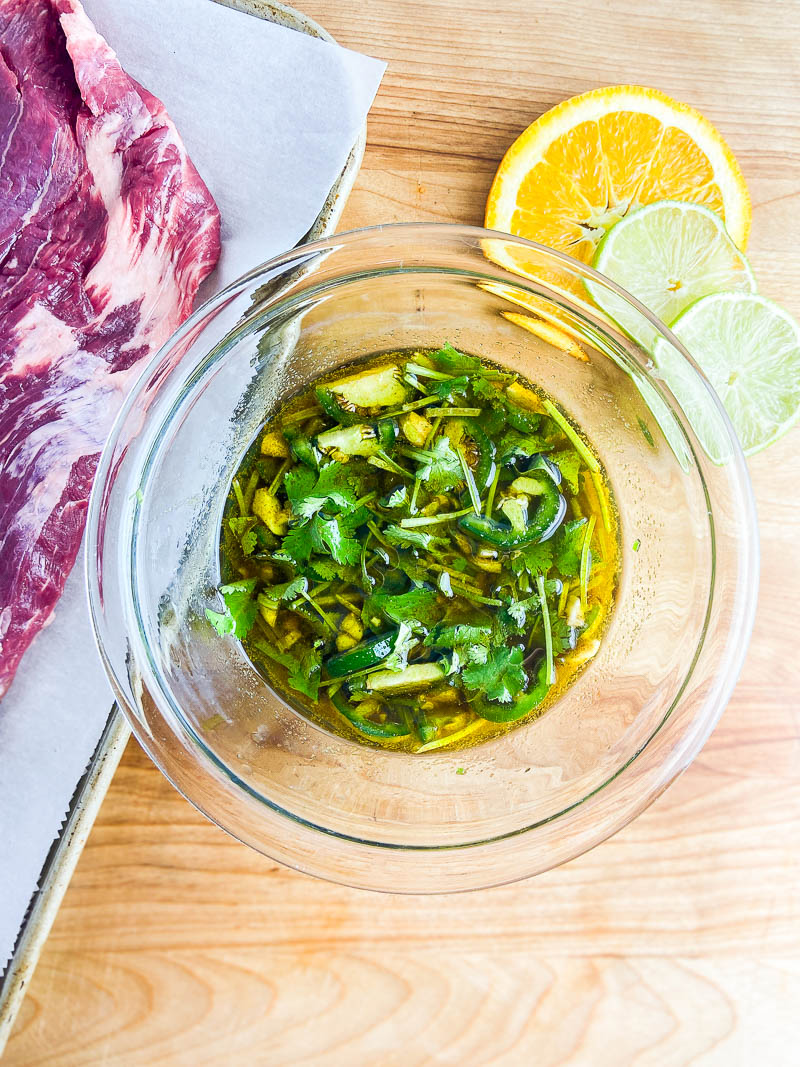 Orange Juice and Lime Juice: I like the combination of both citruses. Make sure you're using freshly juiced fruit in this recipe. You don't want any other additives that you might find in bottled orange or lime juice.
Olive or vegetable oil: Oils are used in marinades to help the meat retain moisture as well as help keep acidic flavors from overpowering the mixture.
Soy Sauce: I use soy sauce in almost all of my marinades because, as a flavor enhancer, it adds a depth of umami flavor.
Cilantro: I know that not everyone enjoys cilantro, if you don't like the flavor you can leave it out.
Garlic: Use fresh minced garlic for the best flavor.
Cumin: Cumin adds a smoky flavor to dishes and is widely used in Mexican cuisine.
Jalapeño: I like the heat that it adds to the marinade. Like the cilantro, it is optional. If you want a little bit not a lot, remove the seeds and the veins inside. You can learn more about handling hot peppers in my guide to chile peppers.
Salt: You don't need a lot of salt for this marinade because of the soy sauce. But I do like to add a bit. Taste the marinade first before adding the salt.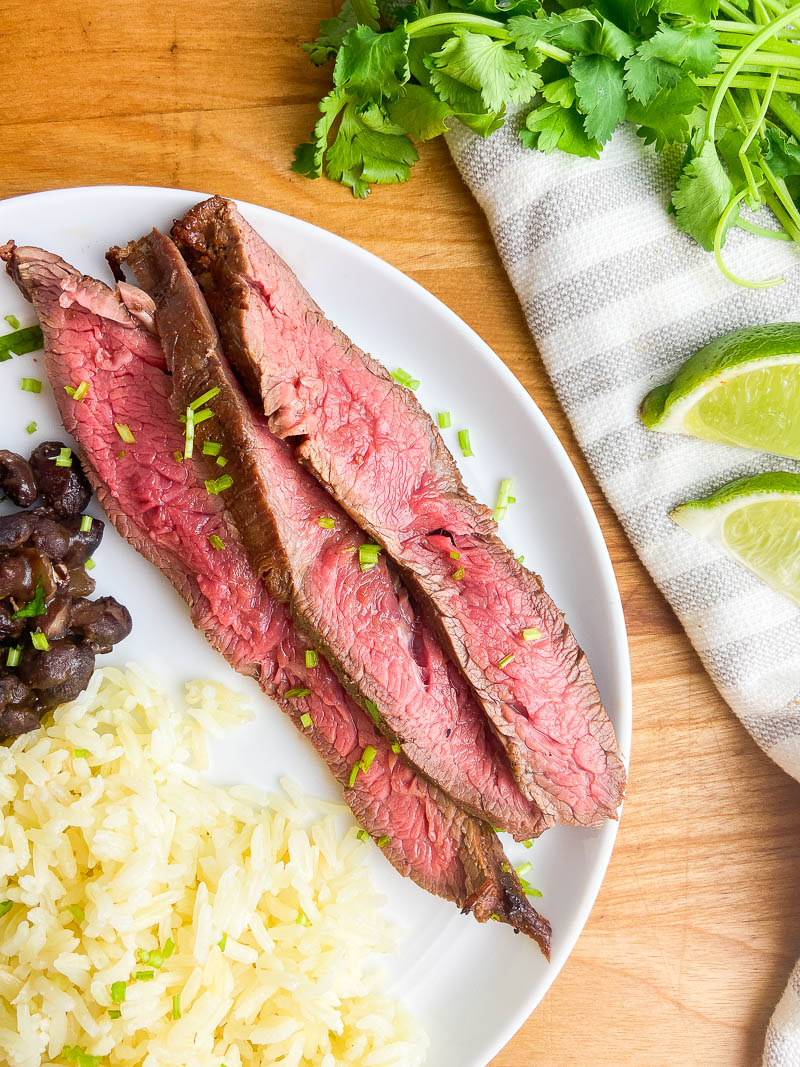 How do you make Authentic Carne Asada?
It could not be easier to make this restaurant favorite at home! Let me show you how with these step by step photos and instructions: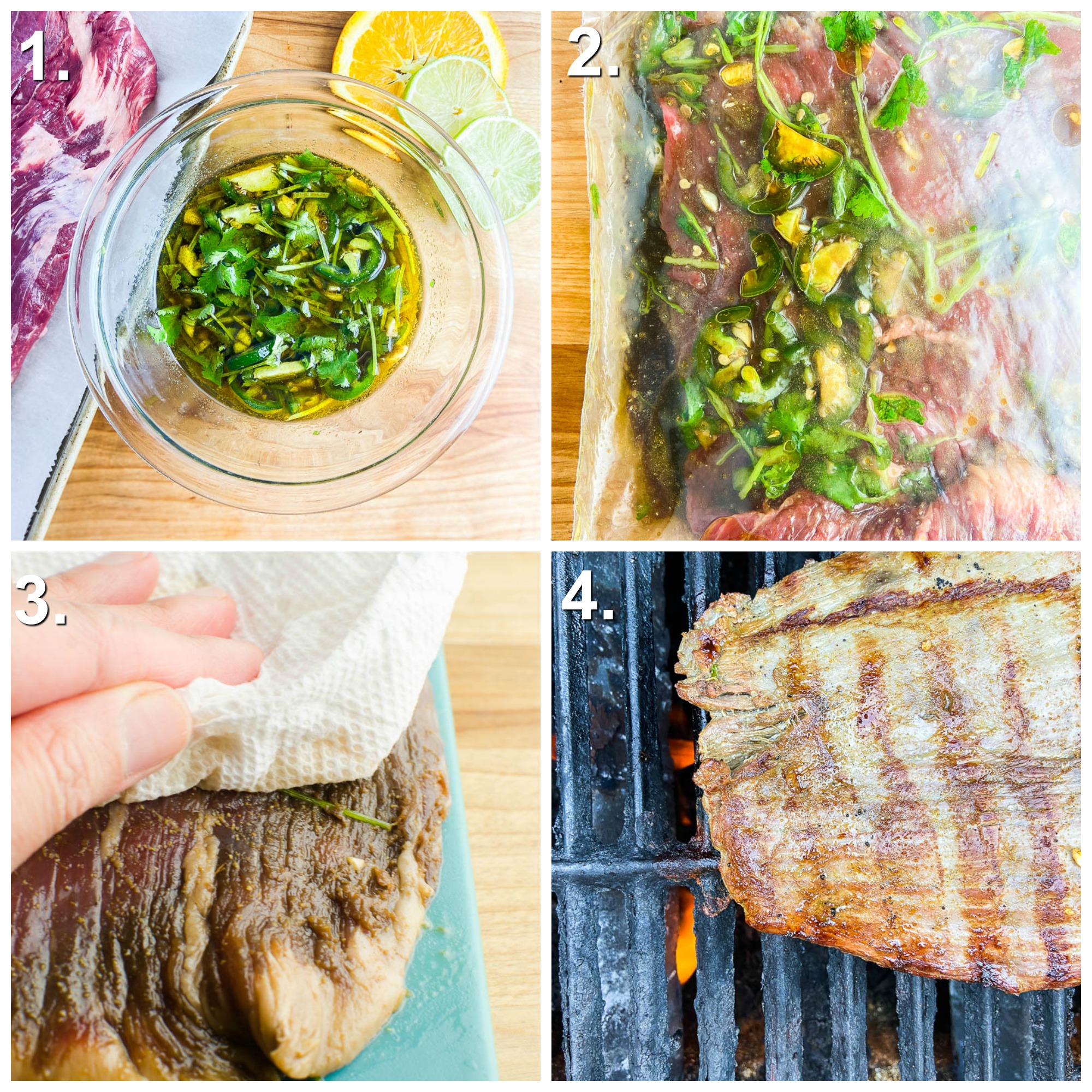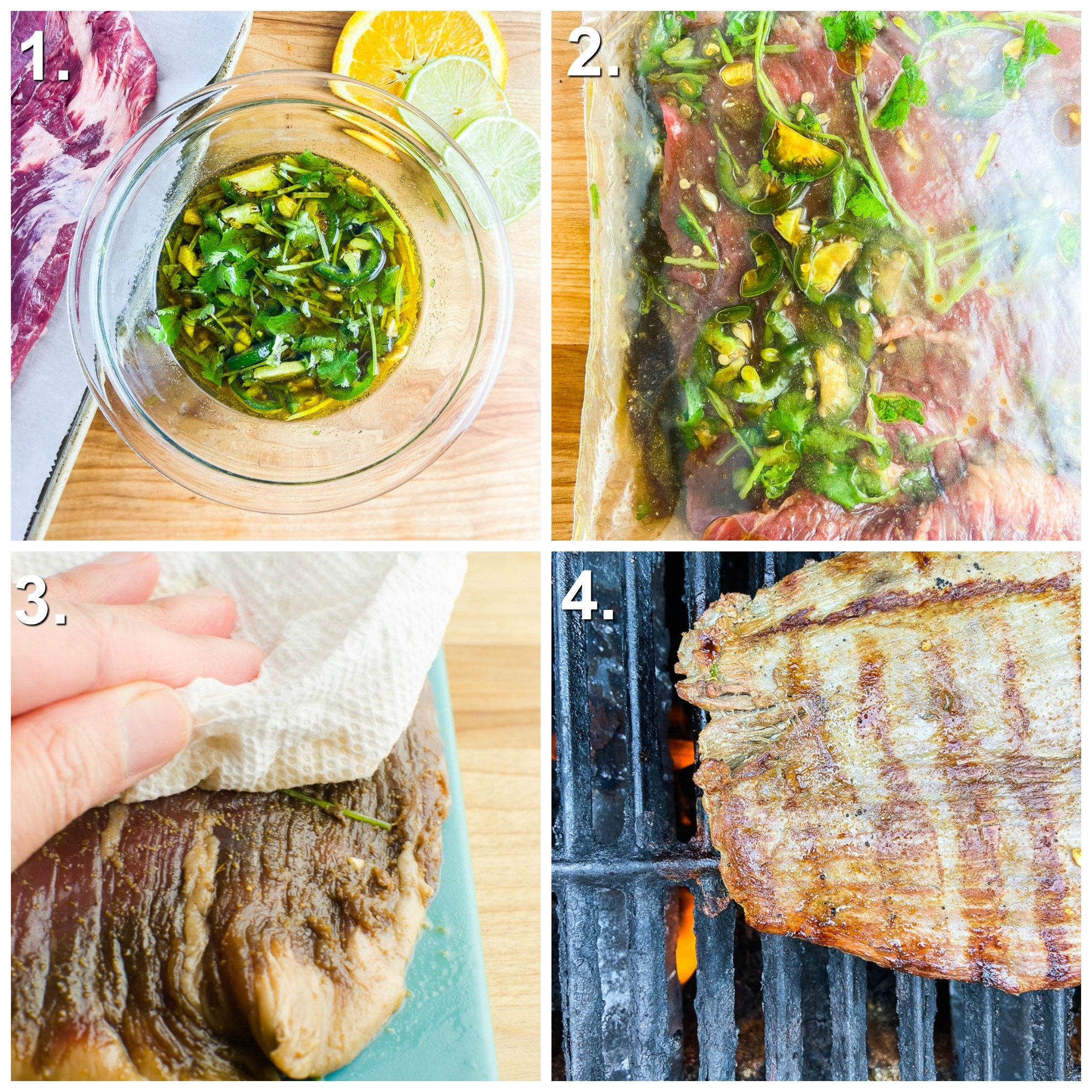 STEP 1: Whisk together all of the ingredients for your marinade. Add the salt last to season to your tastes. But remember you won't need too much because of the soy sauce.
STEP 2: Place the steak in a resealable plastic bag (or a bowl) and pour the marinade over the top. Massage the marinade into the meat. Seal and refrigerate for at least 8 hours, overnight is best.
STEP 3: Remove the steak from the marinade and pat dry. Patting it dry will help the outside of the meat char better when cooking.
DES' TIP: Remove the steak from the refrigerator about 1 hour before you want to cook it to allow it to come to room temperature. This will help ensure that the steak cooks evenly.
STEP 4: Grill the steak to desired doneness. Flank steak is best cooked to medium rare otherwise you risk it becoming too tough.
After you remove the steak from the grill, it is essential to allow it to rest for at least 10 minutes. This will allow the juices to redistribute into the meat, resulting in a juicier bite.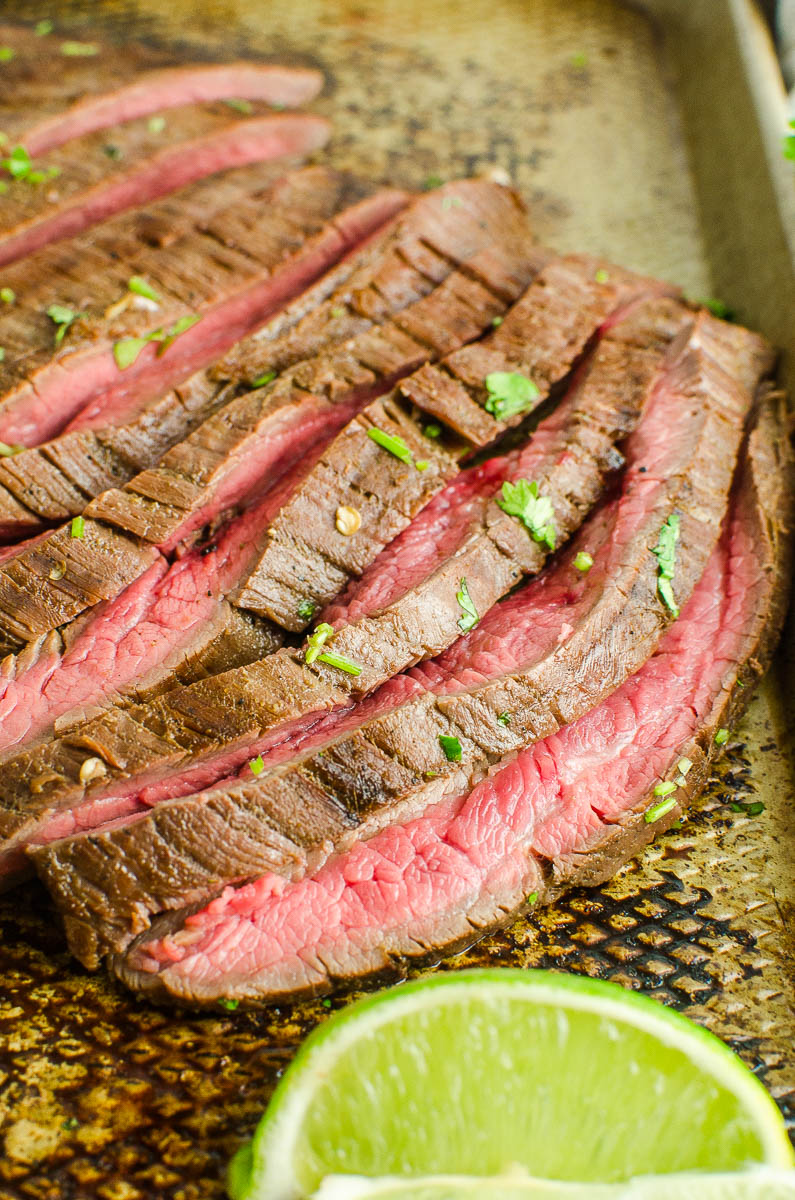 Carne Asada is great when served along side black beans and garlic rice. But you can also use it to make tacos, nachos, burritos and the southern California favorite: Carne Asada Fries.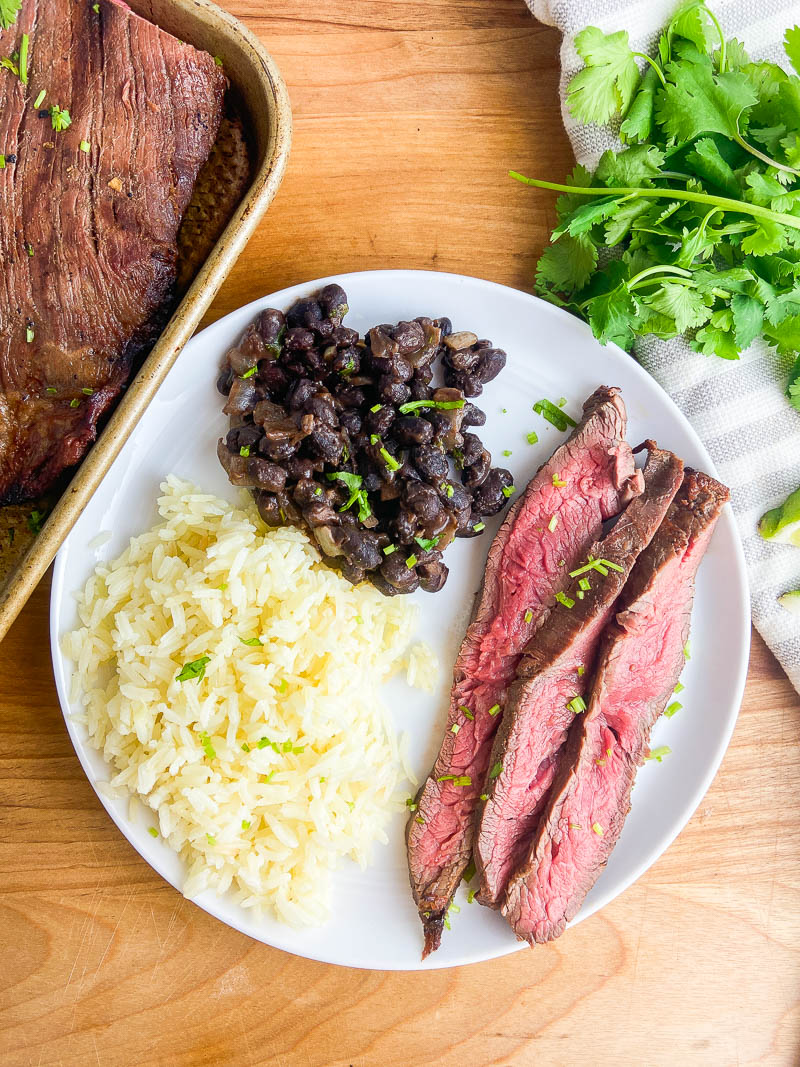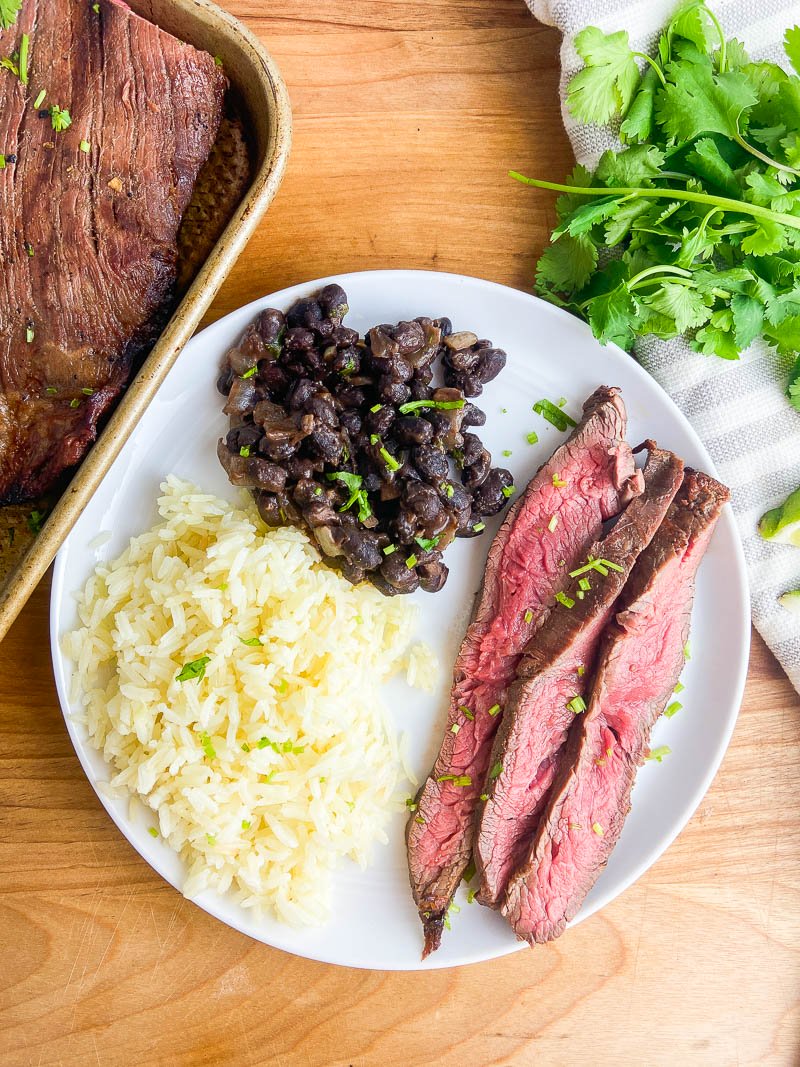 Do you need a grill?
Technically carne asada is grilled. However, if you don't have one you can use a grill pan. Just make sure that you have your kitchen fan on as the meat will make a lot of smoke while cooking.
Some more of my favorite Mexican Recipes:
If you like this Carne Asada Recipes, you'll love these other beef recipes: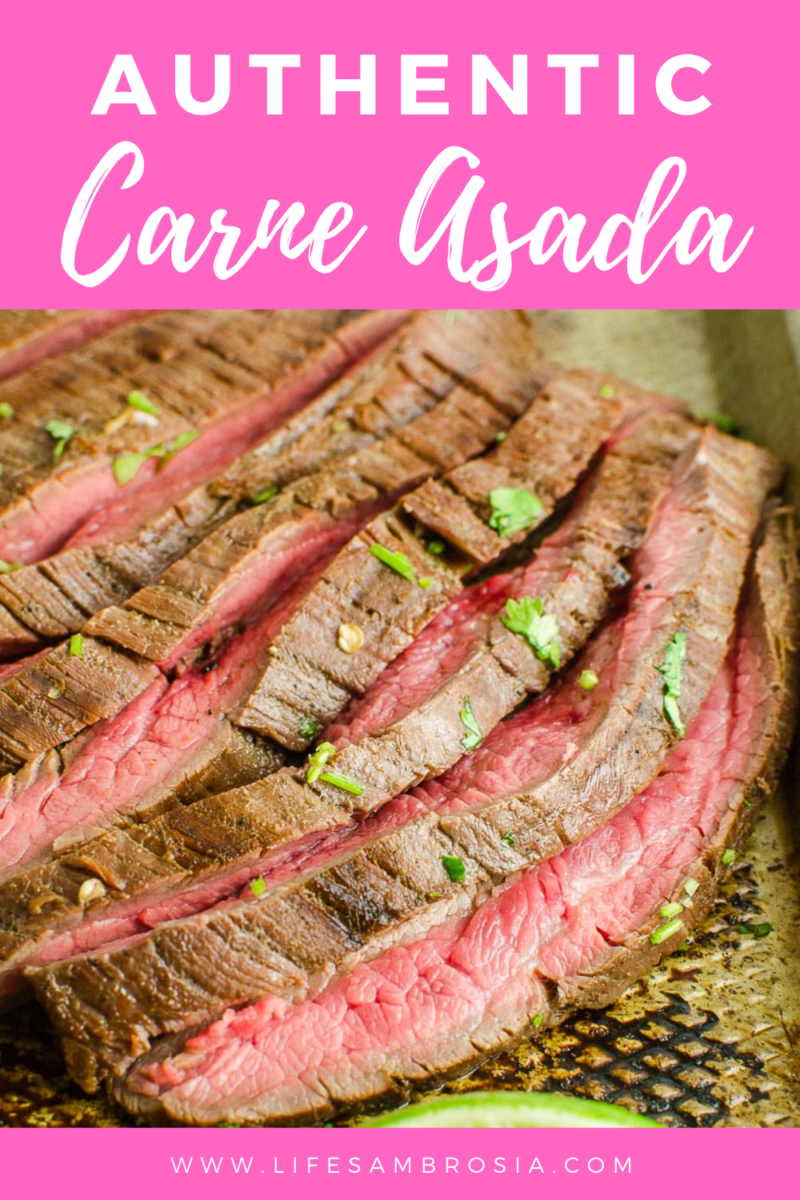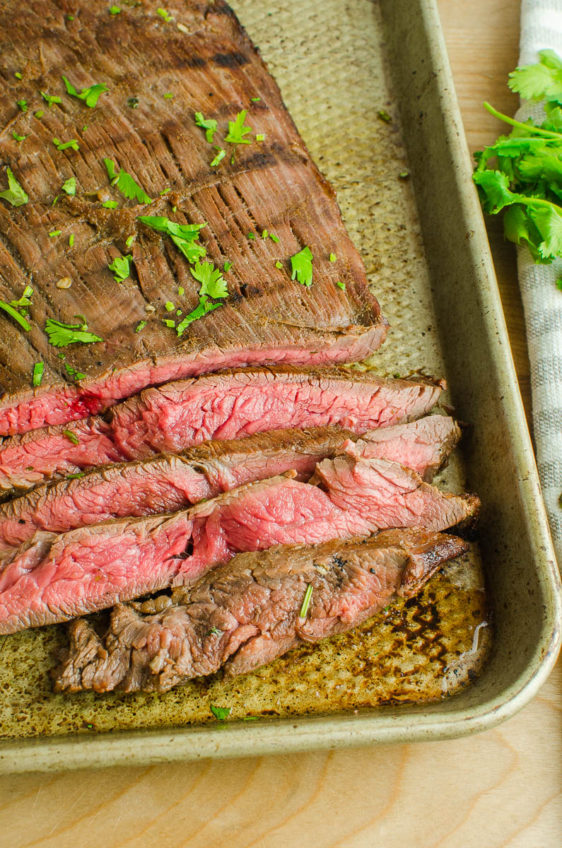 Authentic Carne Asada Recipe
Every Authentic Carne Asada recipe starts the marinade. With flavors of orange, lime, cumin, cilantro and garlic, this is grilled meat perfection.
Ingredients:
Juice of one orange

Juice of one lime

1/4

cup

extra virgin olive oil

1/4

cup

soy sauce

1/2

cup

chopped cilantro

4

cloves

garlic

minced

1

jalapeno

minced

1

teaspoon

cumin

1

teaspoon

salt

2

pounds

flank steak
In a small bowl, whisk together orange juice, lime juice, oil, soy sauce, cilantro, garlic, jalapeño and cumin. Taste and if needed, add salt.

Place steak in a resealable plastic bag, pour ingredients over the top. Seal bag and massage marinade into meat. Refrigerate 8 hours or overnight.

Remove meat from fridge one hour before you want to cook it to allow to come to room temperature.

Remove meat from marinade and pat dry.

Heat grill to medium-high heat. Grill steak 3 - 5 minutes per side for medium rare. Use a meat thermometer for the most accuracy and remember the temperature will rise a couple of degrees while the steak rests.

Allow steak to rest 10 minutes before slicing against the grain. Serve.
Nutrition facts are for estimation purposes only.
Calories:
383
kcal
Carbohydrates:
3.5
g
Protein:
43.1
g
Fat:
21.1
g
Saturated Fat:
6.4
g
Cholesterol:
83
mg
Sodium:
1073
mg
Fiber:
0.3
g
Sugar:
1.3
g