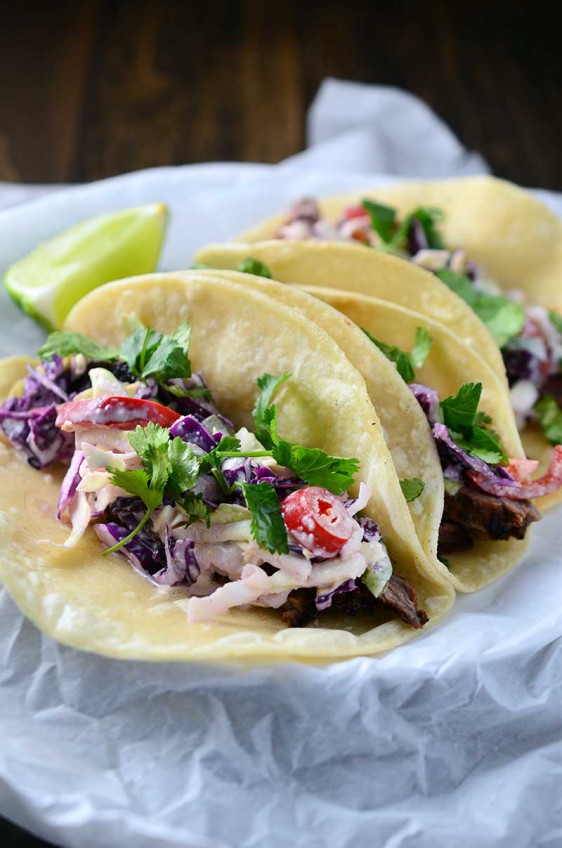 Skirt Steak Tacos with Jalapeno Slaw
Skirt steak tacos are the best tacos recipe I've ever made. The marinated beef is perfectly tender and buttery, and the jalapeno slaw on top gives these tacos a spicy kick.
I know, I know, the internet is all TACO TUESDAY and here I am, sharing this Skirt Steak Taco recipe with you on a Wednesday. But it was either share it today or wait until next week to share it with you and honestly, I just didn't think that it was fair to you to wait. I mean, these Skirt Steak Tacos with Jalapeno Slaw are too delicious not to share now.
When it comes to tacos, I love just about any kind of filling. I love shrimp, chorizo, fish, pulled pork and even prime rib. But skirt steak? Skirt Steak Tacos are my favorite.
But the steak has to be prepared just right.
To get the perfect skirt steak taco takes time. Not a lot of work, mind you, just time. You see, typically a tough cut of meat, skirt steak is at it's best when it has been allowed to marinate at least 8 – 10 hours. At that point, it is taken out of the fridge about an hour or so before you want to cook it, so that it has a chance to come up to room temperature. So yes, there is some waiting, but that is when skirt steak is at its best. Perfectly tender, and almost buttery. Making it perfect for tacos.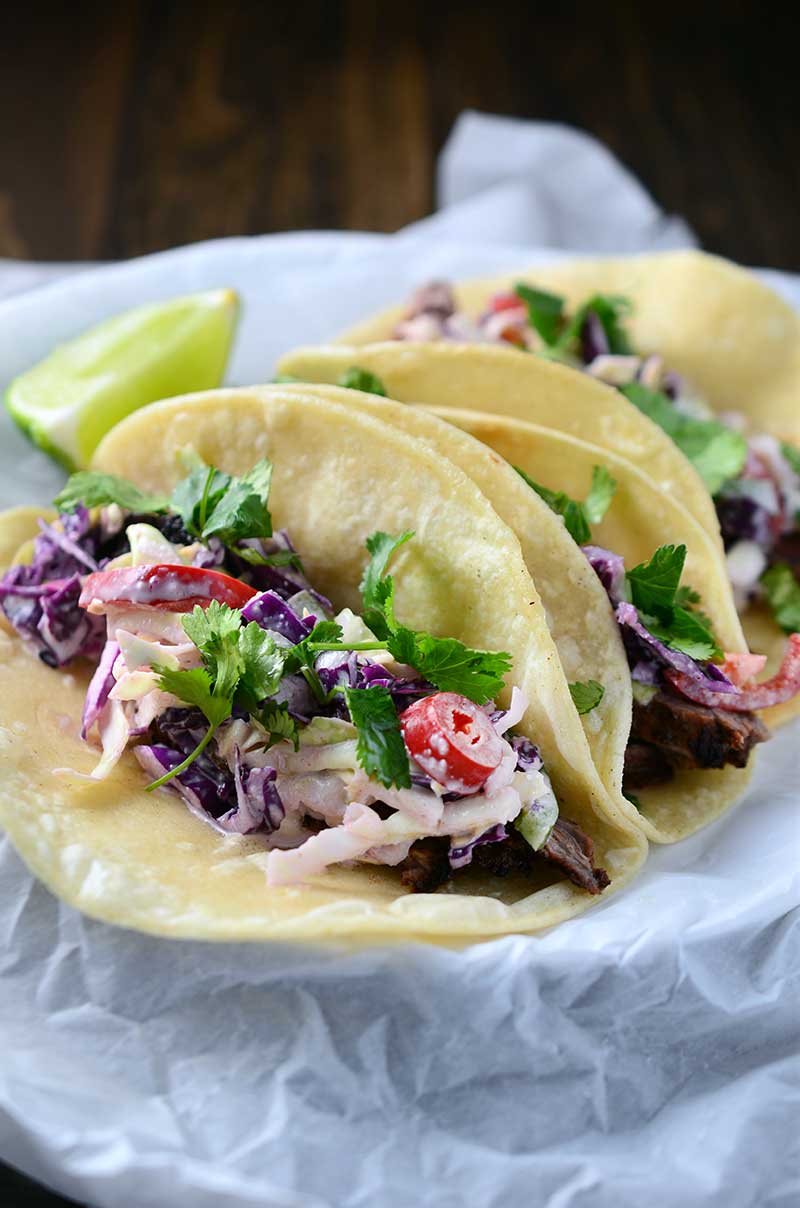 What else is perfect in skirt steak tacos?
Slaw.
Creamy, tangy, crunchy, and in this case, spicy, jalapeno slaw.
I say spicy because this recipe calls for both a jalapeño and a fresno pepper. Not seeded peppers either, we want all those spicy capsaicin filled seeds present.
If you've never had a fresno pepper, it's similar to a jalapeño but red. They fall about the same place on the heat scale and the fact that there are two of them in this slaw means it's not for those who aren't a fan of a little spice.
But if you do like to turn the heat up a bit then you are going to love the jalapeño slaw.  And you are going to love these Skirt Steak Tacos. The soft corn tortillas, buttery marinated skirt steak, crunchy, creamy slaw. It's all there, friends. And it's taco perfection.
So yeah, I could've waited until next week to share the skirt steak tacos recipe with you in time for Taco Tuesday, but then, you couldn't get the skirt steak marinating now so you can enjoy them ASAP.  And that, my friends, would be a travesty.
Skirt steak is great for more than tacos, though. Give it a try in these recipes, too:
Skirt Steak Fajitas
Marinated Skirt Steak with Chimichurri
Skirt Steak Tacos with Jalapeno Slaw Recipe
Skirt Steak Taco Ingredients:
1/4 cup olive oil
2 tablespoons lime juice
1 teaspoon chili powder
1/2 teaspoon salt
6 cloves garlic, minced
1 pound skirt steak
8 - 10 corn tortillas
oil
cilantro
lime wedges
Jalapeno Slaw Ingredients:
3 tablespoons mayonnaise

2 tablespoons red wine vinegar

1/2 teaspoon granulated garlic

1/2 teaspoon salt

1/4 teaspoon cumin

1 1/2 cups shredded green cabbage

1 cup shredded red cabbage

1 jalapeno, julienned

1 freso pepper, julienned



Instructions
1
Whisk together olive oil, lime juice, salt, chili powder and garlic. Place skirt steak in a resealable plastic bag, pour marinade over the top. Seal bag and refrigerate for 8 - 10 hours or overnight.

2
Remove steak from refrigerator about 1 hour before cooking to bring to room temperature.

3
Make the slaw 30 minutes prior to eating. Whisk together mayonnaise, red wine vinegar, garlic, salt and cumin. Add in red cabbage, green cabbage, jalapeno and fresno pepper. Mix to coat. Cover and refrigerate until ready to use.

4
Heat grill or grill pan over medium-high heat. Cook steak 5 - 7 minutes on both sides for medium rare. Remove from heat and let rest for 10 minutes.

5
While steak is resting heat thin layer of oil in a skillet over medium heat. Fry one tortilla 20 - 30 seconds per side and transfer to a paper towel lined plate. Repeat with remaining tortillas.

6
After it has rested, slice steak thinly against the grain.

7
To assemble a taco, place 3 - 4 slices of steak and top with slaw and cilantro. Serve with lime wedges on the side.