Potato salad plays an important role in any summer cookout or picnic. Make this easy potato salad recipe, then expect everyone who tries it to ask you to share the recipe!
I can hardly believe that it is already September 1st. This weekend is Labor Day and somehow summer has slipped away. Even more shocking is that summer has slipped away without me making a batch of potato salad. This is quite the surprise because it really is one of my favorite summer time dishes. But the season isn't over just yet. So with only a few days left until summer's last hurrah, I finally decided to whip some up and share with you my version of this classic side dish.
Potato salad is a funny thing. It is one of those easy picnic side dishes that is so common, everyone and their mother has a version of it. I've seen potato salad recipes with bay shrimp, some with olives, dill pickles, sweet pickles, and even a southern style mustard potato salad with eggs.
This potato salad recipe sticks a little more to the traditional route.
In this classic recipe, there is mayonnaise, mustard, potatoes, dill pickle and red onion. I also add sweet bell pepper and crispy bacon for a little crunch.
Note: It is important not to under cook the potatoes. I've done that before and believe me when I tell you, biting into a raw potato while enjoying this creamy salad is not something that is enjoyable.  At all.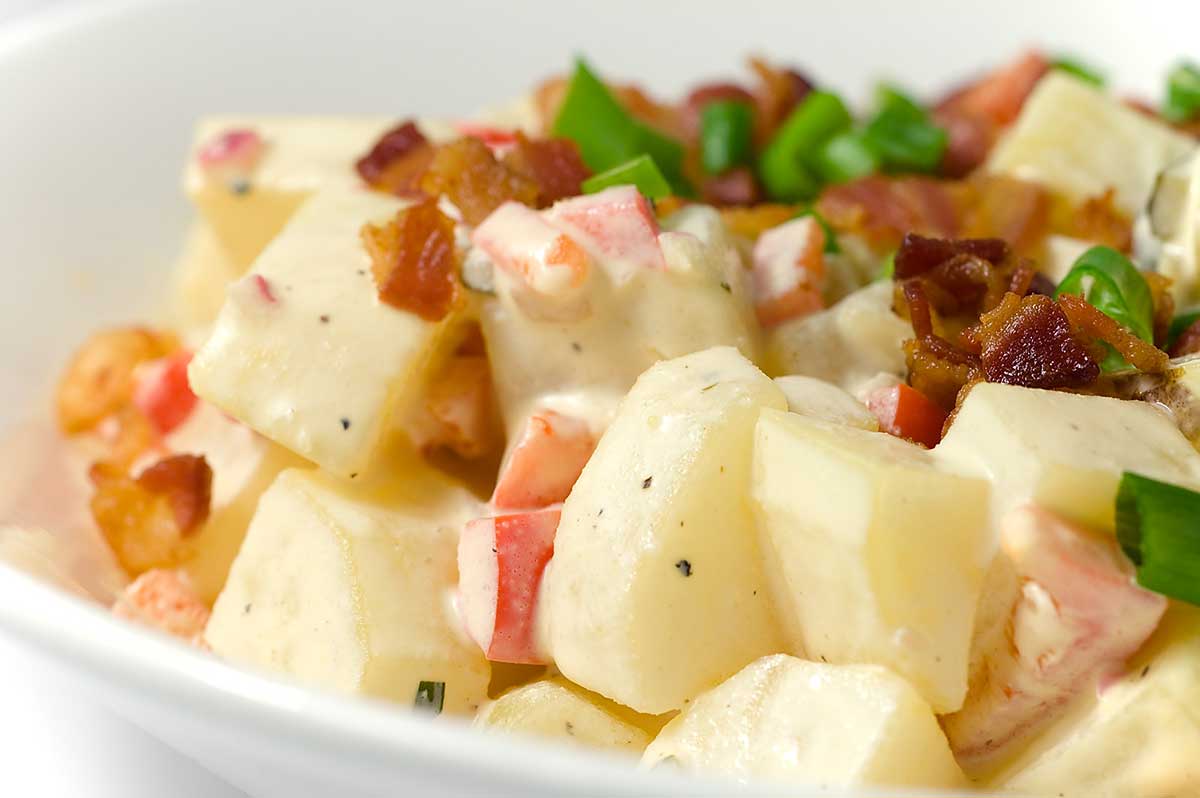 One great thing about this dish is that it goes well with practically everything. Sandwiches, burgers, grilled fish, and even steak.
Do you have any favorite ingredients that you like to add to your potato salad recipe? Come on over to my Facebook page and let me know what you think of MY recipe!
Ingredients:
4 medium russet potatoes
1/3 cup mayonnaise
1/3 cup Dijon mustard
2 tablespoons white wine vinegar
1/4 cup minced red onion
1/3 cup diced dill pickle
1 red bell pepper, ribs and seeds removed, diced
fresh cracked pepper and kosher salt
4 slices bacon
2 chopped green onions for garnish
Instructions
1
Place potatoes in a large pot of liberally salted water (I used 2 tablespoons). Bring to a boil. Reduce heat to medium and cook until potatoes are fork tender. Transfer to a colander and drain. When cool enough to touch, peel and dice into 1 inch pieces.

2
In a large bowl whisk together mayonnaise, mustard and vinegar. Add in red onion, pickle and red bell pepper. Stir to coat. Add potatoes. Toss to coat. Season to taste with salt and pepper. Cover and chill for at least 30 minutes.

3
While the potato salad is chilling cook the bacon in a skillet over medium heat. Once cooked, transfer to paper towel lined plate and set aside.

4
Once potato salad has chilled, remove from refrigerator and stir. Adjust seasonings if needed. Crumble bacon over the top and sprinkle with chopped green onion. Serve.
Notes
Like many dishes, I find that this tastes better the longer the flavors have to mingle. If you are planning an afternoon BBQ, make the salad in the morning and fry the bacon just before serving. Enjoy!