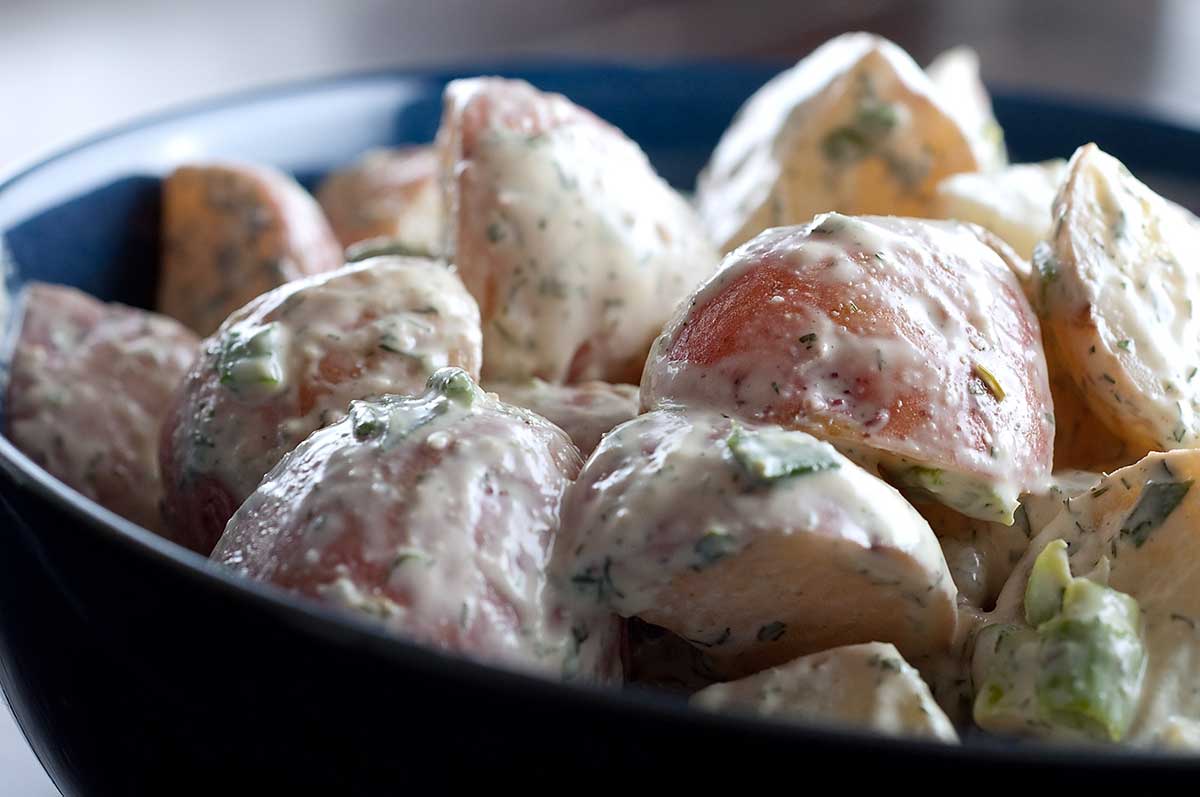 Red Potato Salad with Dill and Tarragon
So the weather here is not exactly cooperating. I'm not going to complain. I'm not going to complain that it just keeps raining or that it's so dark outside that the Cullen's could easily walk around without a care in the world. No, I'm not going to complain. There is nothing I can do about it. As much as I would like, I cannot control the weather. I can however, make my favorite summer time BBQ foods indoors and pretend that it's summer outside. And that is exactly what I did this week with this potato salad. A little different then traditional potato salad with flavors of tarragon, Dijon mustard, dill and sherry vinegar it's quite refreshing.
I decided to use red potatoes for this recipe. I know that traditional potato salad uses russet potatoes but I find them a bit more starchy then red potatoes. I think red potatoes make for a much lighter potato salad. Which during hot summer days, if we ever get them, is a nice change of pace.
Red Potato Salad with Dill and Tarragon Recipe
Ingredients:
1 1/2 pounds red potatoes, skin on, diced into 1 inch cubes
1/4 cup mayonnaise
1 teaspoon dried dill
1 teaspoon dried tarragon
1/2 teaspoon garlic powder
1/4 teaspoon white pepper
1/2 teaspoon kosher salt
1 tablespoon dijon mustard
2 teaspoons sherry vinegar
3 green onions diced
Instructions
1
Place potatoes in a large pot of liberally salted water (I used 2 tablespoons). Bring to a boil. Reduce heat to medium and cook until potatoes are fork tender. Transfer to a colander and drain. Allow to cool.

2
While potatoes are cooking whisk together remaining ingredients. Stir in cooled potatoes. Cover and refrigerate for at least 1 hour. Serve.