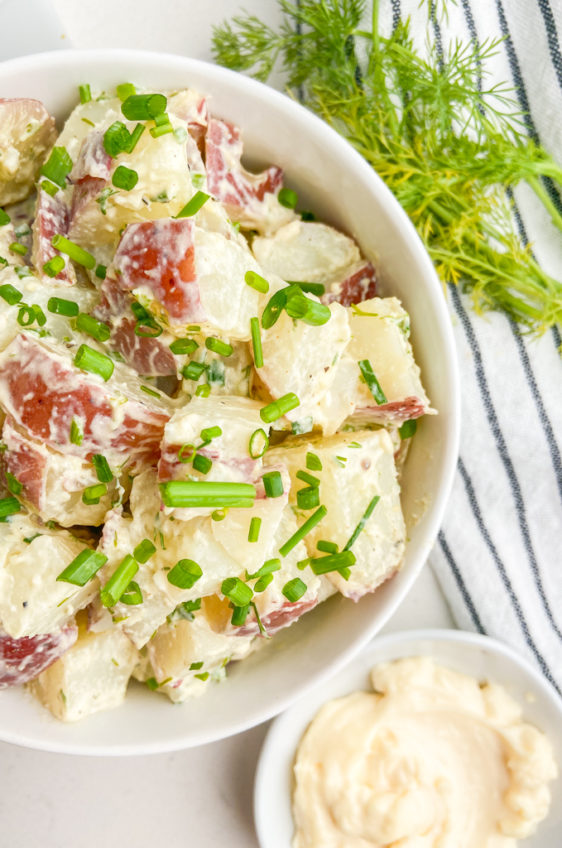 Red Potato Salad
This Red Potato Salad is a twist on the potluck classic. Red potatoes in a creamy fresh herb dressing. It's perfect for BBQs! 
It doesn't get any more classic BBQ side dish than potato salad. It's a staple on just about any summer get together. And while traditional potato salad is always good, this colorful Red Potato Salad with a Creamy Herb dressing is a delicious twist on the classic.
If you're looking for a way to switch things up, give this easy salad a try. You'll love it!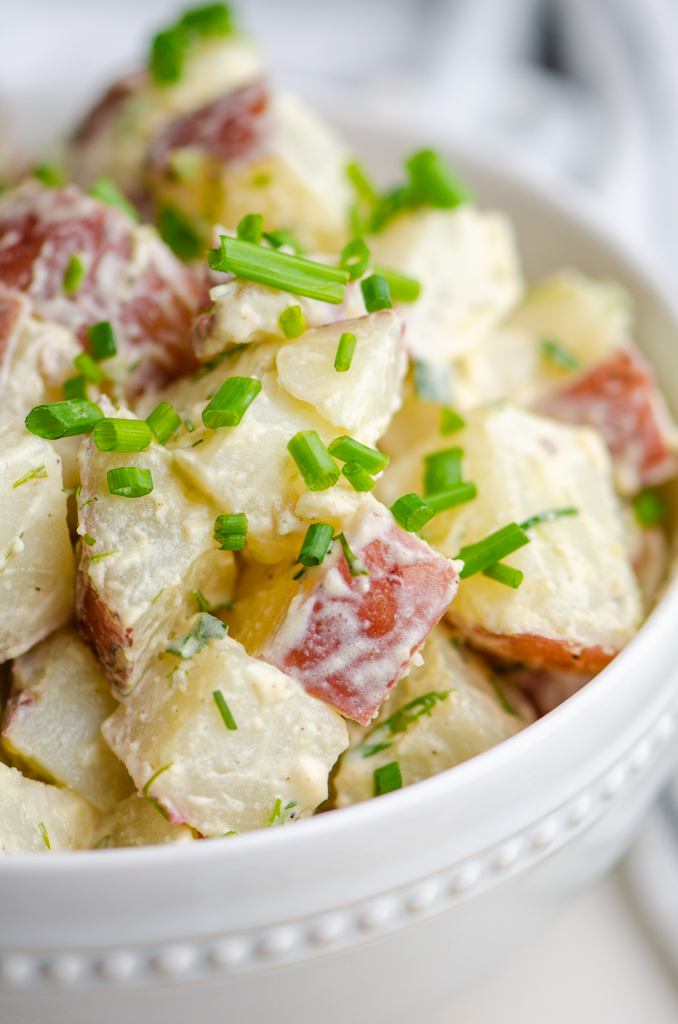 What ingredients do you need to make Red Potato Salad?
RED POTATOES: They have less starch than Russet potatoes and their thin skin is soft so leaving it on doesn't impact the texture of this salad. Plus, the red color is pretty, especially with the fresh herbs!
FRESH DILL/ FRESH CHIVES: Use a tablespoon of each! If you only have access to dried dill and/or chives,  reduce it to 1 teaspoon.
MAYONNAISE: Where the creaminess comes from.
SHERRY VINEGAR: This is a vinegar that you might not always have on hand. It is vinegar made from sherry wine. It's sweet and sour but not overpowering. It's great in this salad, other dressings, drizzled over tomatoes or even added to soups.
DIJON MUSTARD: Dijon mustard is a bit more mellow yellow mustard that you would traditionally find potato salad. It works greta in this recipe!
GRANULATED GARLIC: I like to keep this on hand because it doesn't clump  like  garlic powder. You can substitute garlic powder if that's what you have. If you use garlic salt, omit the other salt in the recipe.
SALT/PEPPER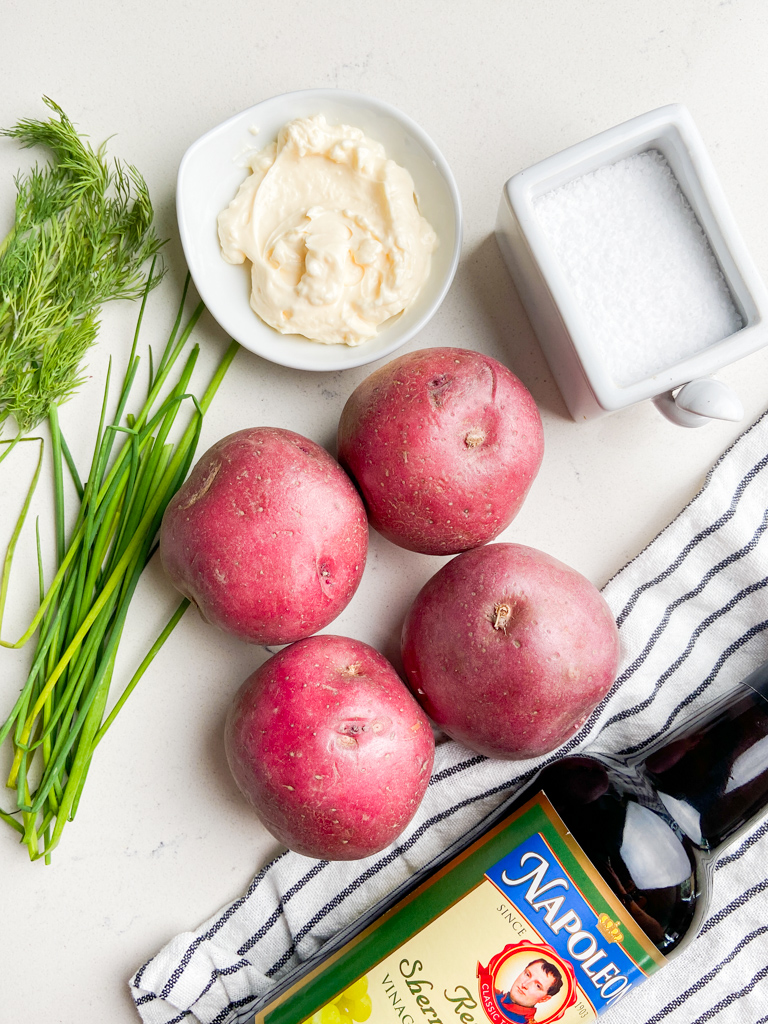 How do you make Red Potato Salad?
It couldn't be easier! First you're going to boil the potatoes until they are fork tender. You don't want them to be too soft that they fall a part, you want them to still have a little bit of a bite to them.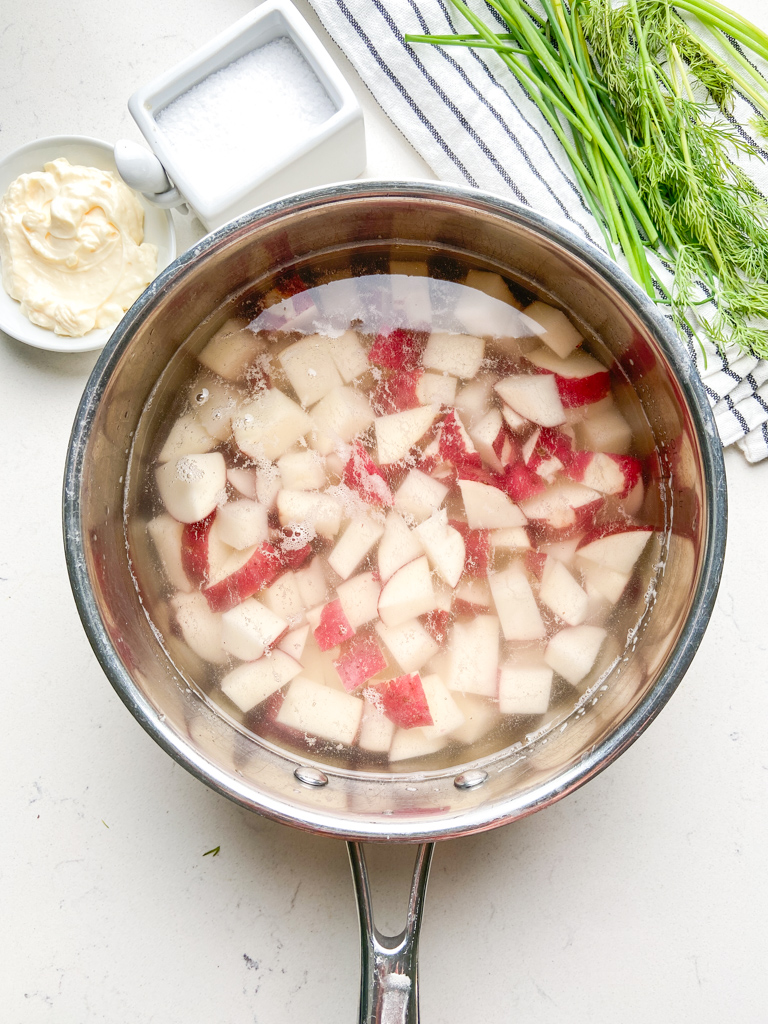 Next, whisk together all the other ingredients in a bowl. After the potatoes have cooled slightly mix them in.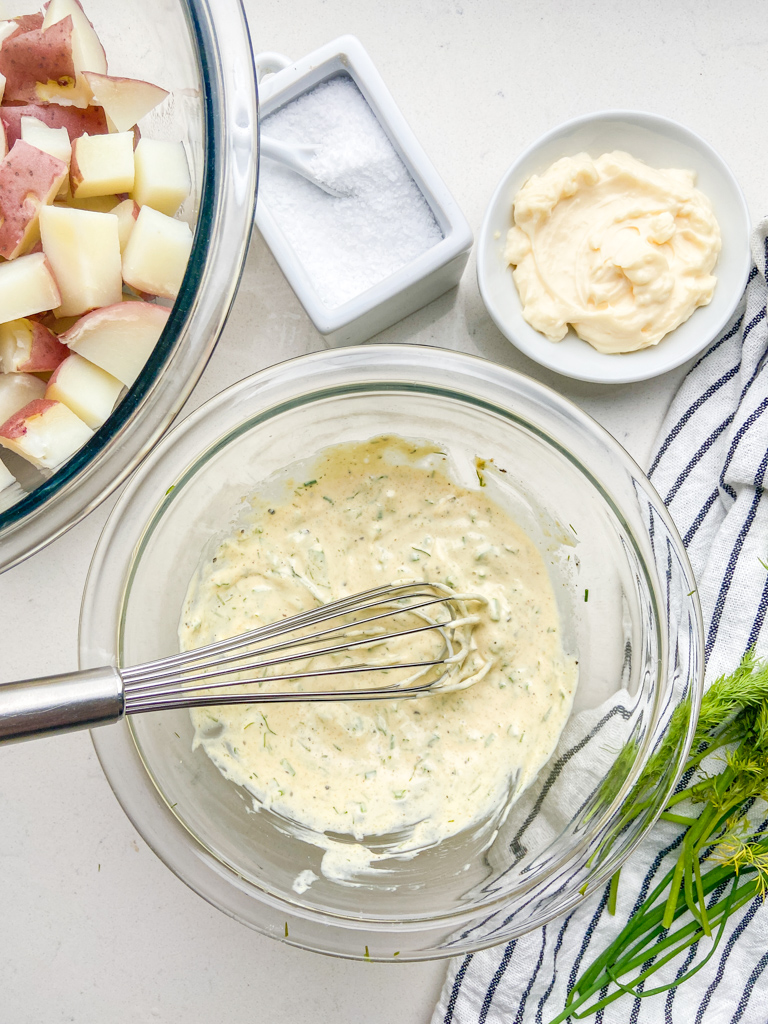 Now the hard part, cover and refrigerate for at least 1 hour. This will give all of the flavors a chance to meld leaving you with a super flavorful Red Potato Salad that everyone will be asking for the recipe for.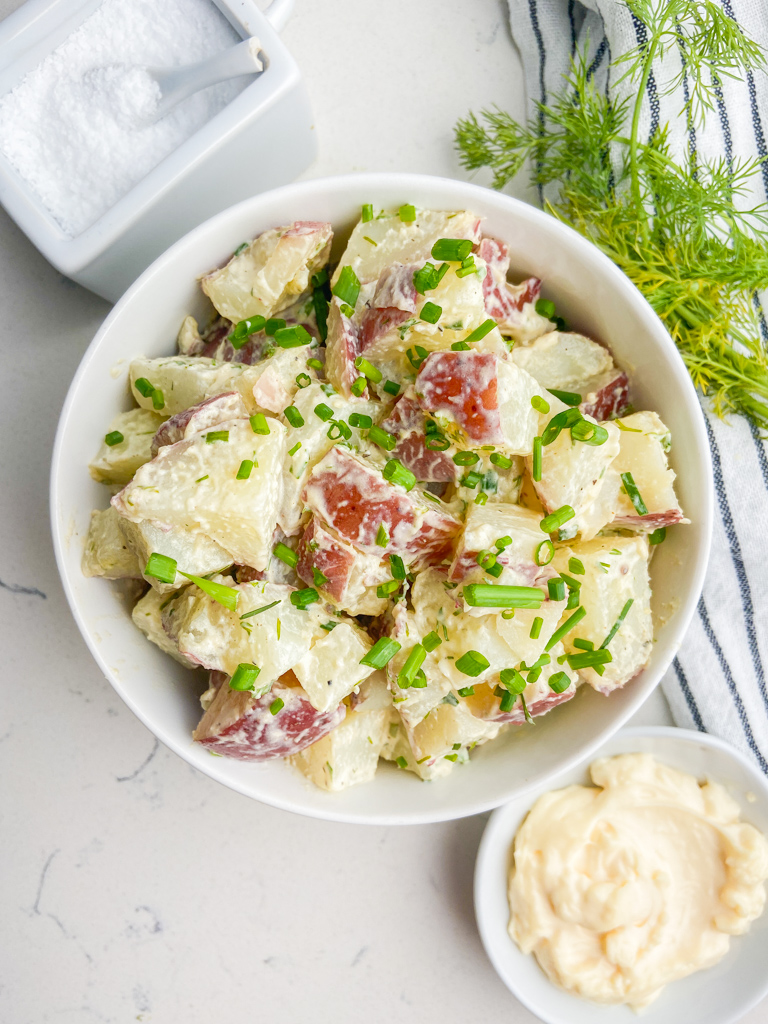 Looking for more salad recipes to bring to or serve at your BBQs? Try these:
Red Potato Salad Recipe
Ingredients:
1 1/2 pounds red potatoes, skin on, diced into 1 inch cubes
1/4 cup mayonnaise
1 tablespoon fresh dill
1 tablespoon fresh chives
1/2 teaspoon granulated garlic
1/4 teaspoon pepper
1/2 teaspoon kosher salt
1 tablespoon dijon mustard
2 teaspoons sherry vinegar
Instructions
1
Place potatoes in a large pot of liberally salted water (I used 2 tablespoons). Bring to a boil. Reduce heat to medium and cook until potatoes are fork tender. Transfer to a colander and drain. Allow to cool.

2
While potatoes are cooking whisk together remaining ingredients. Stir in cooled potatoes. Cover and refrigerate for at least 1 hour. Serve.
Notes
Nutrition facts for estimation purposes only.
Nutrition information
Calories: 186 , Total Fat: 5.4g , Saturated Fat: 0.8g , Cholesterol: 4mg , Sodium: 453mg , Carbohydrates: 32.6g , Fiber: 3.2g , Sugar: 2.8g , Protein: 3.8g