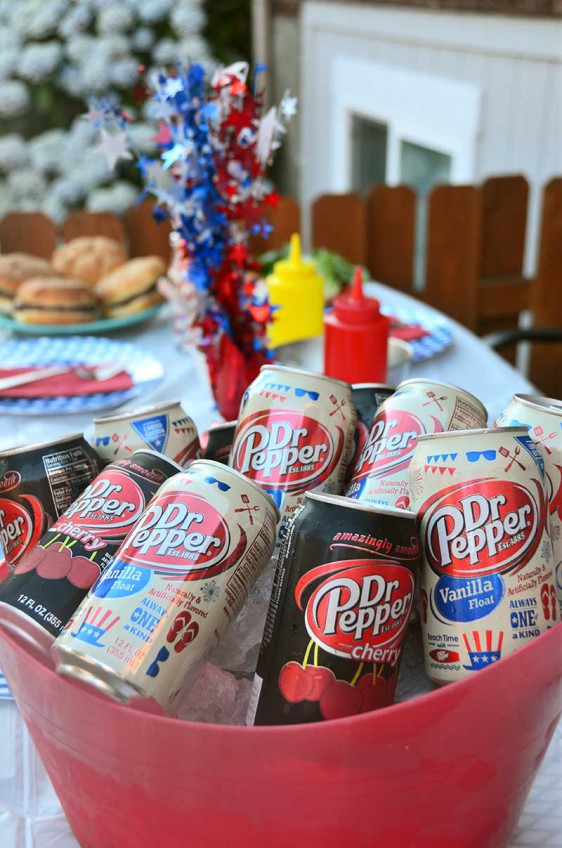 4th of July Party Tips
Are you ready? Tomorrow is the big day! Do you have all of your plans in order? Know what kind of food you're making? Have all the decorations up? If you still need some last minute ideas and recipes, this post is here to help! I'm going to share some of my favorite tips and recipes for a 4th of July party or any backyard summer BBQ.
When you are hosting a backyard summer BBQ the first thing you want to do is make sure you've got your menu planned ahead of time. And make sure you've got lots of things that you can make in advance, so that when the time comes you can really spend the time visiting with your family and friends.
I like to make sure we have a fully stocked burger and hot dog bar. We have all the fixin's mayo, ketchup, mustard, relish, lettuce, pickles and onions. I usually get a plate of those ready in the morning so that when it's grill time, I can just put it out for people to make their own burgers.
I also like to make sure we've got plenty of chips and dip. No matter what, that seems to be the thing that people gravitate to the most. My favorite dip, by far, for any party is my Caramelized French Onion Dip. I shared that recipe almost 6 years ago, and to this day is still one of the most popular on the blog
You have also got to make sure you have plenty of drinks. While we usually have water and beer we also make sure we have something else with a little fizz that everyone at the party can enjoy. That is where Dr Pepper comes in handy. 4th of July comes with a lot of nostalgia. At least in our home. And one of the things that kicks up a lot of memories are different foods and drinks that we loved as children. For Ryan, one of those drinks is Dr Pepper. It is one of Ryan's absolute favorite drinks. Whenever we are out and he wants a soda it has to be Dr Pepper. And when I came home with two cases of the new Dr Pepper Cherry and Dr Pepper Vanilla Float he was over the moon. And to be honest, it's becoming one of my favorites too. Especially the Vanilla Float, I'm kinda in love with it. And they make a great addition to any backyard party. You can find them at select Safeway and Albertsons stores.
It's also nice to have them on hand to make these Dr Pepper Cherry Float Popsicles. And who doesn't love a good popsicle on the 4th of July?
Finally, when it comes to decorations, I like to keep things simple. I like it to have a theme but not look like the theme blew up all over the place :) For my 4th of July celebrations this means sticking with red, white and blue. I picked up some checkered blue and white plates, some red napkins, a cute center piece and a couple of American flags. Simple, easy and fun!
In case you need some more ideas, here are a few more of my favorite 4th of July recipes:
Creamy Bacon, Tomato & Avocado Pasta Salad
Whatever you do, and whatever you eat, I hope that your 4th of July is filled with lots of family, friends and new wonderful memories.
This is a sponsored conversation written by me on behalf of Dr. Pepper Snapple Group. The opinions and text are all mine.