Adobo Shrimp with Tomatoes and Avocado
Adobo Shrimp on a bed of sliced avocado, topped with tomatoes and a squirt of lime. Quick, easy and a reminder that summer is just around the corner. 
Who else is ready for summer and all that comes with it? The sun, the beach, the fresh light foods. I know that I am. And when the weather gave us a glimpse last week, I had to take advantage of it.
When I made Adobo Shrimp a little over a week ago, it was sunny and it was (gasp!) warm in Seattle. I jumped at the chance to make something a little lighter, something that reminded me of summer. Enter this very quick and easy dish. Simply season the shrimp with adobo seasoning and broil them. Then lay the succulent, seasoned shrimp on sliced avocado, top with some diced tomatoes and a squirt of lime.
One bite and I forgot that it was only March.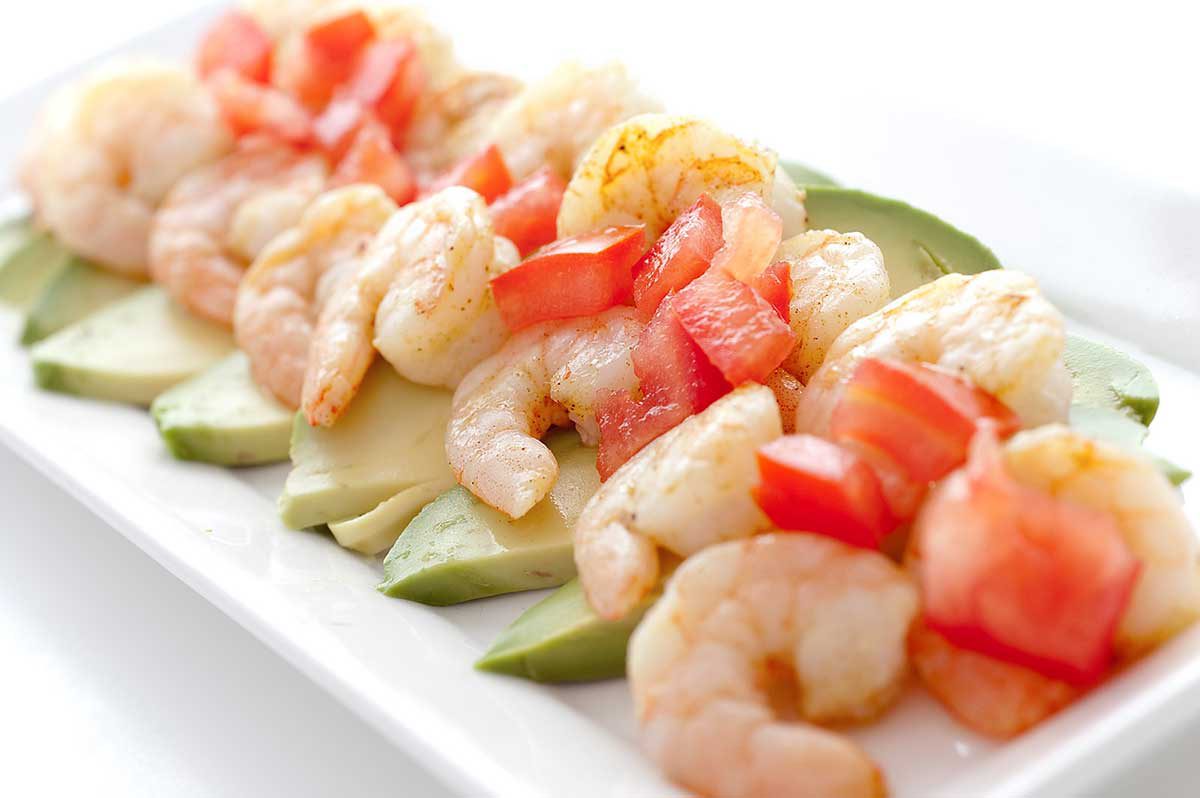 Being part filipino, "adobo" has usually meant Pork Adobo. For this recipe, adobo means adobo seasoning. If you are not familiar with Adobo seasoning, it is an all purpose latin seasoning with garlic, pepper and Latin seasonings. It was the perfect compliment to these shrimp.
I just love avocado. I could seriously sit there all day and eat them by themselves slice by slice, savoring each and every creamy bite. And creamy avocado actually pairs very nicely with crunchy broiled shrimp. That is what made me think of trying this quick dish. It was the perfect light supper and I had dinner on the table in about 5 minutes. It doesn't get much better than that.
And because this Adobo Shrimp comes together so quickly, it also makes a fantastic lunch! Toss everything with some crunchy romaine lettuce and a squirt of lime and you'll have one heck of a salad.
Garlic rice would also be an excellent accompaniment to this Adobo Shrimp.
Adobo Shrimp with Tomatoes and Avocado Recipe
Ingredients:
1/2 pound (51 - 60 count) prawns peeled and deveined
1/2 teaspoon adobo seasoning
1 teaspoon olive oil
1 avocado, pit removed, skin removed and sliced
1/2 lime
1 tomato seeded and diced
Instructions
2
Sprinkle adobo seasoning and olive oil over shrimp toss to coat. Place shrimp on a baking sheet and broil until pink and cooked through, about 3 minutes.

3
Place sliced avocado on a plate. Place cooked shrimp over the top of avocado. Squeeze the juice of the lime over the top. Sprinkle with diced tomatoes.