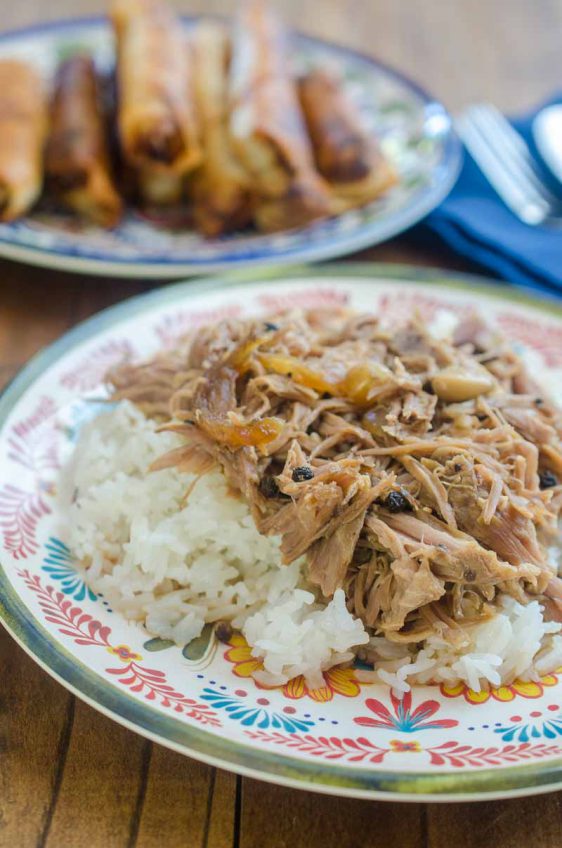 Slow Cooker Pork Adobo
Slow cooker pork adobo is a traditional Filipino dish of pork, soy sauce, vinegar, peppercorns and bay leaves. With this easy pork recipe, it's cooked to perfection in a slow cooker.
One of the things about growing older is that a lot of time families move away from each other. There are new jobs, new schools, new cities. Things that take people to different parts of the state, country or even world. But I find that one thing that can bring us all back together is food. Recipes that remind us of our families. Recipes that remind us of home. This recipe for Slow Cooker Pork Adobo is just that.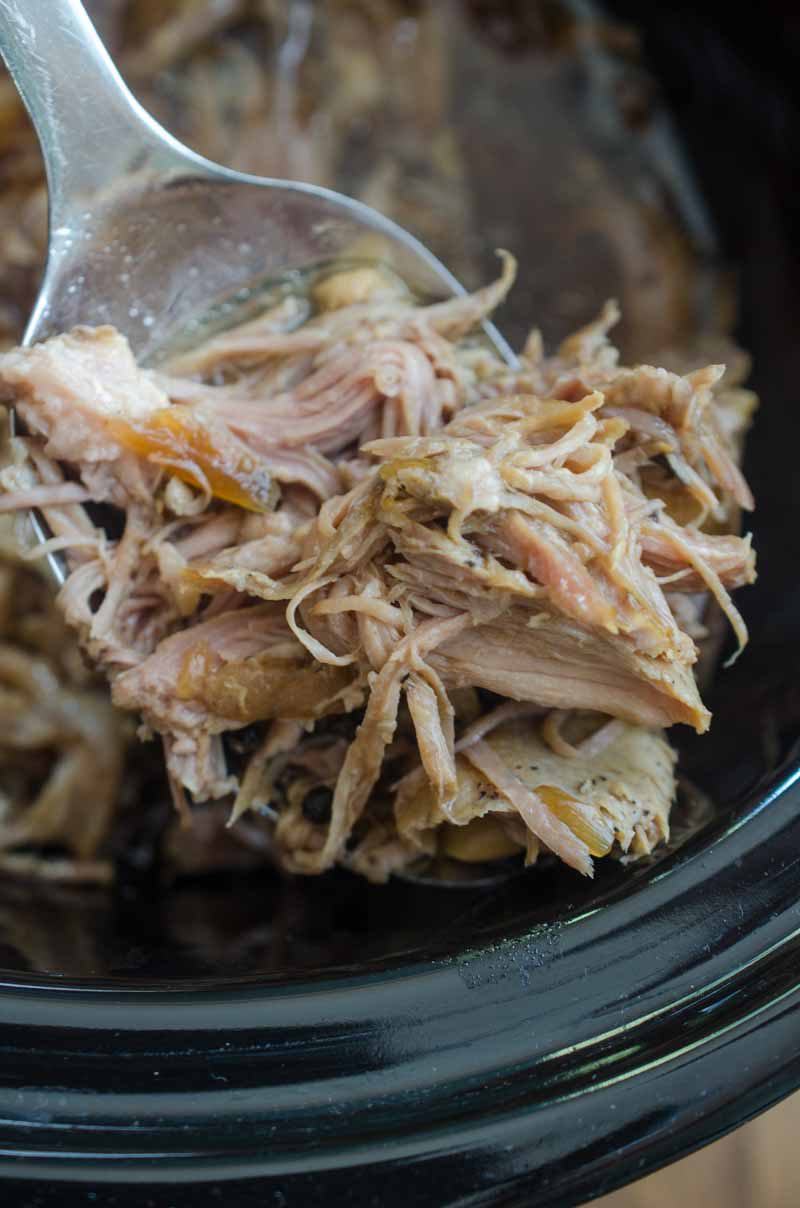 We don't get to see my side of the family very often. I get to see my sister more frequently because she lives closer but my mom, step dad, dad, grandpa, uncles and cousins live out of state. And when I say not very often, we're talking once or twice year kind of thing, but when we get together we have a blast. My family is funny. My family laughs a lot. And my family, not surprisingly, loves food.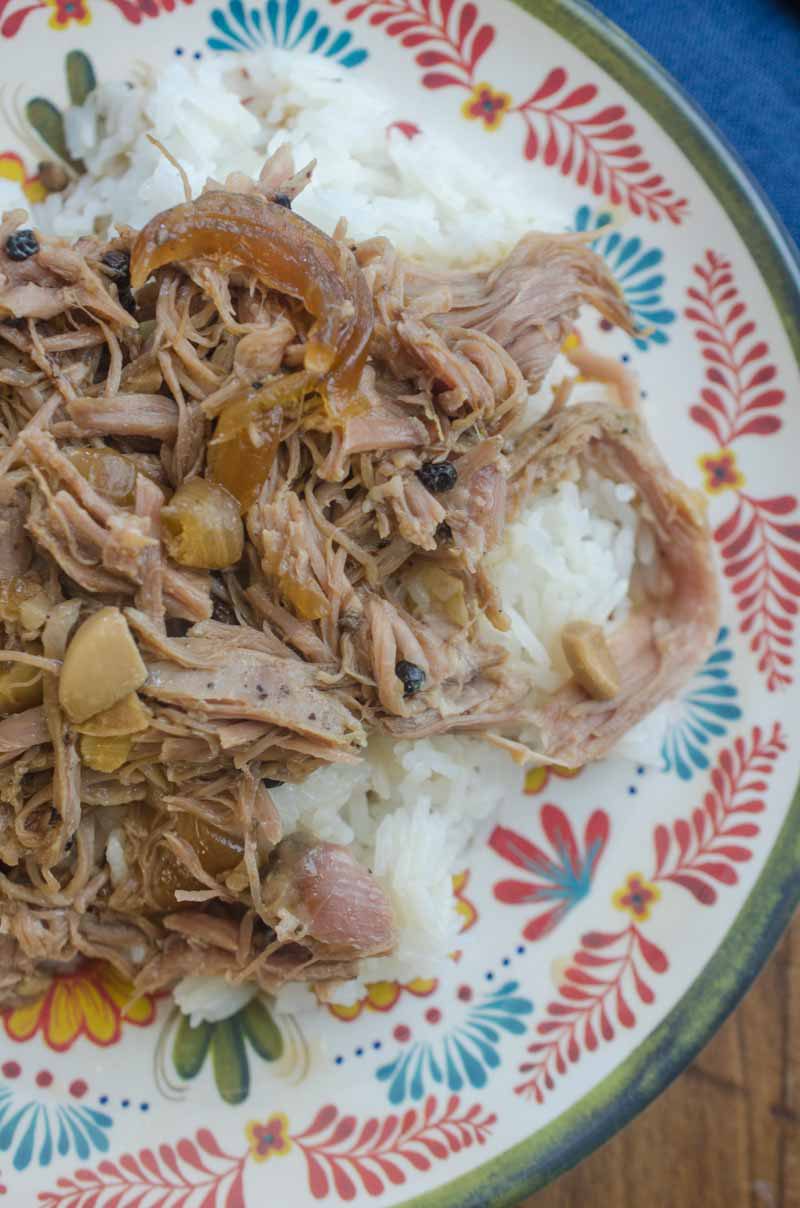 This recipe for Slow Cooker Pork Adobo is one of our family favorites. One that we like to make when we get together. One that I like to make when we can't get together. It is really easy to make, just toss it all in the slow cooker and smell the amazing aroma all day long.
Words to the wise: make slow cooker pork adobo when you aren't home. Otherwise the aroma will leave you drooling all day.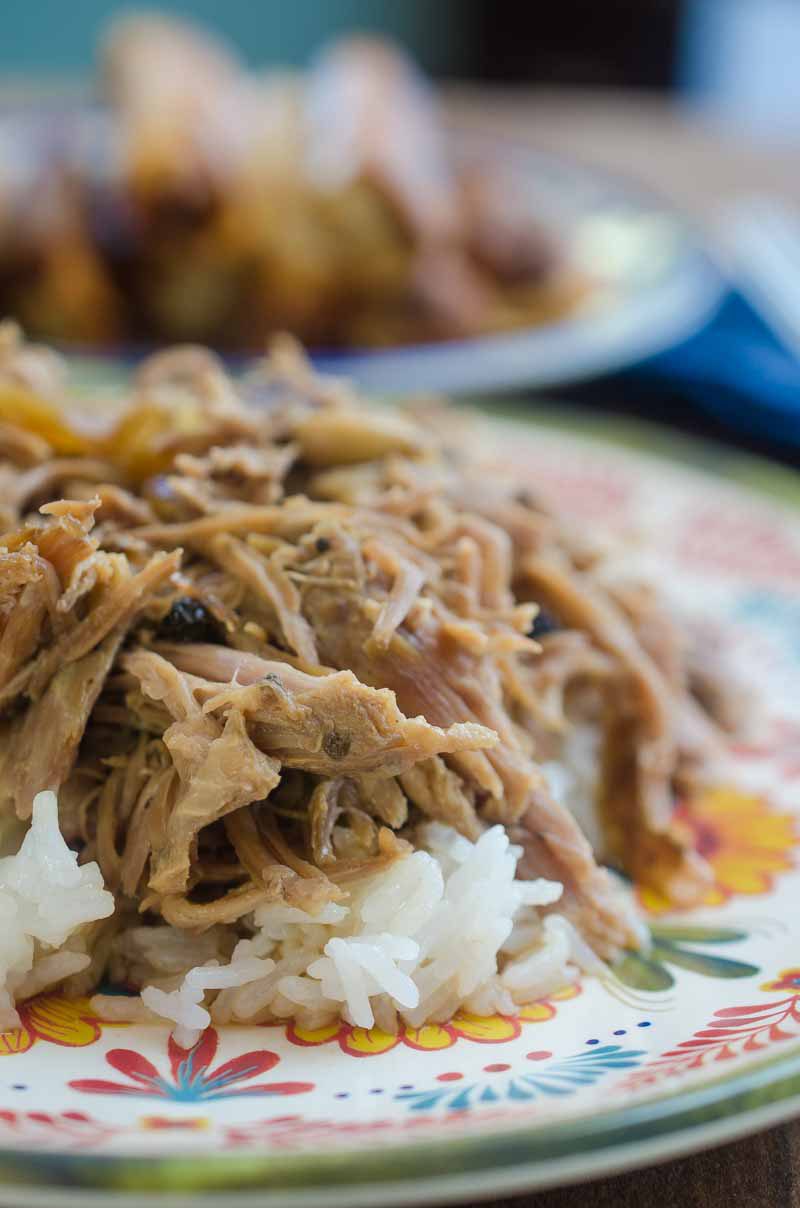 And the flavors of this Slow Cooker Pork Adobo could not be any better. The pork is succulent, the peppercorns spicy and the sauce has just the perfect tang from the vinegar. But my favorite part about this dish is that it tastes like home. And when I can't get there it's the next best thing.
Serve the pork over rice, or with some mashed potatoes. And if you're loving Filipino food as much as I am, a side dish of Filipino beans and rice would be nice!
Watch the video below to see just how tender this Slow Cooker Pork Adobo is!
Slow Cooker Pork Adobo Recipe
Ingredients:
2 pounds pork blade steaks
salt and pepper
8 cloves garlic, chopped
1 medium yellow onion, sliced
1 tablespoon whole black peppercorns or 1 teaspoon coarse ground black pepper
1/2 cup water
1/4 cup white vinegar
1/4 cup soy sauce
3 dried bay leaves
1 1/2 cups jasmine rice
3 green onions, diced
Instructions
1
Combine all ingredients, except rice and green onions, together in a slow cooker. Cook on low for 6 - 8 hours.

2
About 30 minutes before you are ready to eat prepare rice according to package directions.

3
Remove bones and bay leaves from slow cooker. Use a spoon to break apart the meat. Spoon meat and sauce over rice, top with green onions and serve.