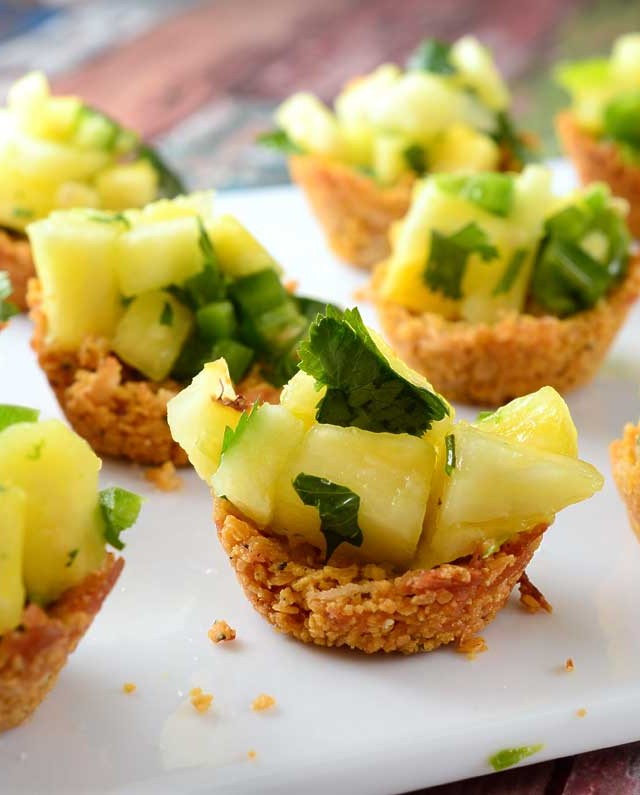 Ancient Grain Coconut Cups with Pineapple Salsa
This post is sponsored by Udi's Gluten Free.
I always love a good cooking challenge. I'm not talking about a challenge with strange ingredients that no one has ever heard of and you have to figure out what it is before you start cooking with it. No, I'm talking about a cooking challenge that uses ingredients that everyone probably has in their pantry and using them in a unique way. That is why when the nice people at Udi's Gluten Free contacted me and asked me to create a recipe to showcase their What the Hack contest I was super excited.
The What the Hack contest requires you to develop and submit a unique recipe using the following ingredients:
One Udi's Product: Ancient Grain Crisps, Millet-Chia Bread or Udi's Gluten Free Tortillas
Three of the following: jalapeno, Parmesan cheese, chocolate chips, nut butter, coconut flakes and pineapple
And an optional protein: turkey, beef, pork, chicken, tofu or seafood
You can also add any other ingredients that you like.
When I developed my recipe, I opted to forgo the protein. Instead I chose the Udi's Ancient Grain Sea Salt Crisps, coconut, jalapenos and pineapple.  I also added some cilantro, lime juice, lime zest, salt and butter to the mix.
And what I made was pretty darn delicious if I do say so myself. AND it was super easy. AND it looks really pretty so it's fit for all of your summer parties this year.
The technique I used to "hack" this recipe was to turn the Ancient Grain Sea Salt Crisps and coconut into a kind of crust cup using a mini-muffin tin. It is pretty much how you would make a graham cracker crust but I used the crisps instead. What I did was pulse the Ancient Grain Sea Salt Crisps in the food processor until they were crumbs. Then I mixed in the coconut and some melted butter. Finally I scooped them into a mini-muffin tin and used the back of a tablespoon to create a indentation in the center and baked them until they were golden brown.
While the cups were cooking I made a super quick and easy pineapple salsa using the other ingredients required in the challenge and a few ingredients not listed. Finally once I allowed the cups to cool, I simply spooned the pineapple salsa into the cups and voila! A snack so good I couldn't get enough.
Do you have a recipe that that you'd like to enter into the What the Hack contest? You totally should. Once you develop your recipe just submit it to Udi's by May 21st 8:00AM Mountain Time. It will be judged on creativity, taste and use of the Udi's product. And guys, if you win the whole shabang you win $3000.00! Pretty fun contest right? I thought so! So what are you waiting for. Go enter!
But make these first. You need a snack while you work.
Disclosure: I was compensated for my time by Udi's Gluten Free but all opinions are my own.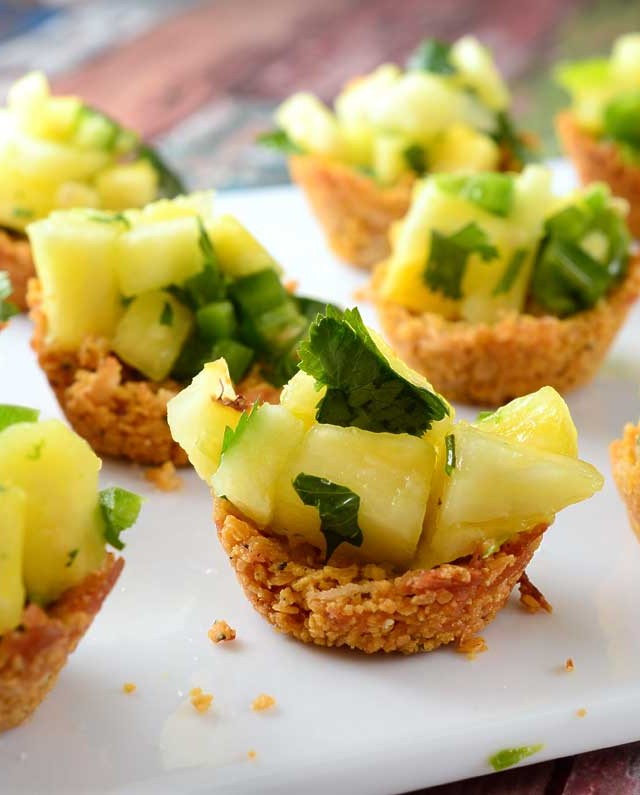 Ancient Grain Coconut Cups with Pineapple Salsa
Crispy, nutty ancient grain and coconut cups with a sweet and spicy pineapple salsa.
Preheat oven to 350 degrees.

Combine crushed Udi's Gluten Free Ancient Grain Sea Salt Chips, coconut flakes and butter together in a bowl. Mix well, until all of the chip crumbs are moist. Place a tablespoon of the mixture into each cup of a mini-muffin tin. Gently press down (I used the back of the tablespoon) to create a bowl in the middle of the cup.

Bake in preheated oven for 8 - 10 minutes or until golden brown. Remove from oven and cool completely.

While the cups are cooking mix pineapple, jalapeno, lime juice, lime zest and cilantro together in a bowl. Season to taste with salt. Let sit at room temperature until ready to use.

Once the cups have cooled, carefully remove them from the mini-muffin tin and place on a serving tray. Spoon the pineapple salsa into the cups and serve.
Note: To make this recipe dairy free simply substitute melted coconut oil for the butter.
Enjoy!
Keywords:
gluten free, pineapple, salsa, udi's gluten free, Vegetarian, what the hack