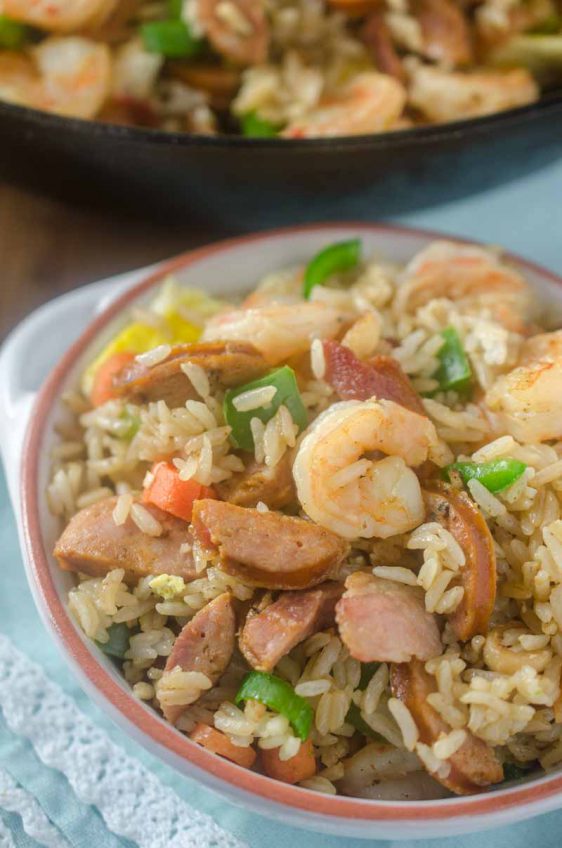 Andouille and Shrimp Fried Rice
Andouille and Shrimp Fried Rice is loaded with all kinds of goodies! Spicy andouille, succulent shrimp, eggs, bacon and veggies. 
Fried rice is one of my absolute favorite comfort foods. I always order it when we go out for Chinese food. Throughout the years, I have tried many different versions of fried rice. I've had it with pork, chicken, shrimp and only veggies Each version has it's own good qualities. I have decided to combine my favorite aspects of each and made this Andouille and Shrimp Fried Rice.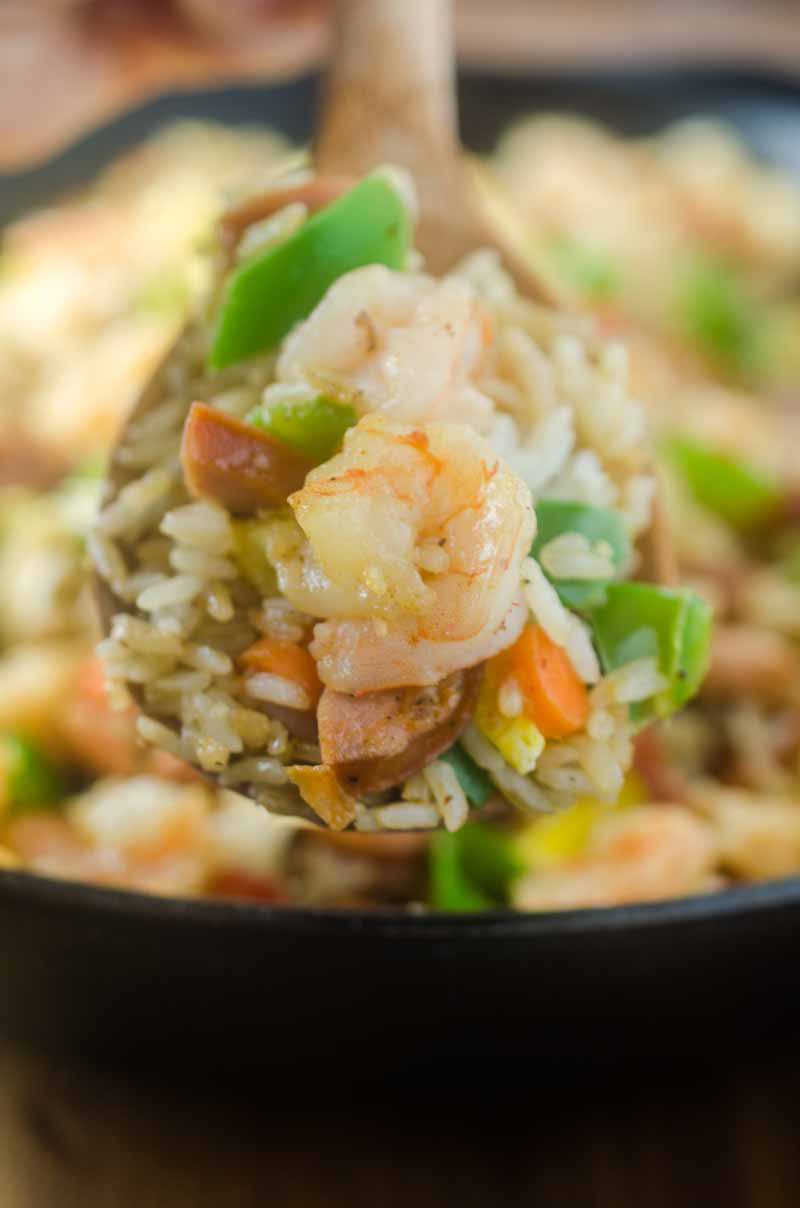 So what are my favorite things to add fried rice you ask? Pretty much all the things. This Andouille and Shrimp fried rice has andouille sausage, shrimp, eggs, bacon, jalapeños, carrots and bell peppers.
I have been adding bacon to my fried rice for as long as I can remember. My dad would always add it to his and finding the little bites of smoky bacon was always my favorite part.
Because…bacon.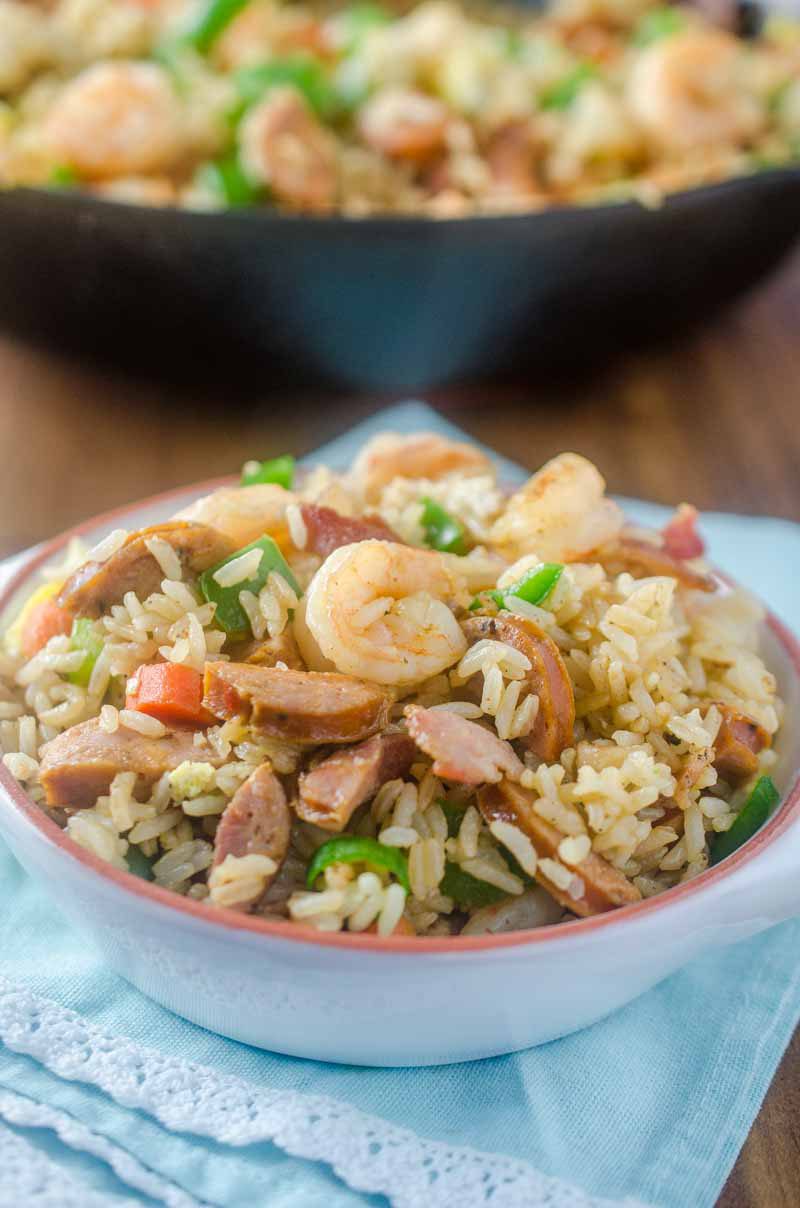 Throughout my years of making fried rice, I have learned one very important tip: Use day old rice. Cold leftover rice works so much better than freshly made rice. I have tried to make fried rice before by cooking the rice right before I fried it and it turned into a mushy blob. Not exactly what I was going for.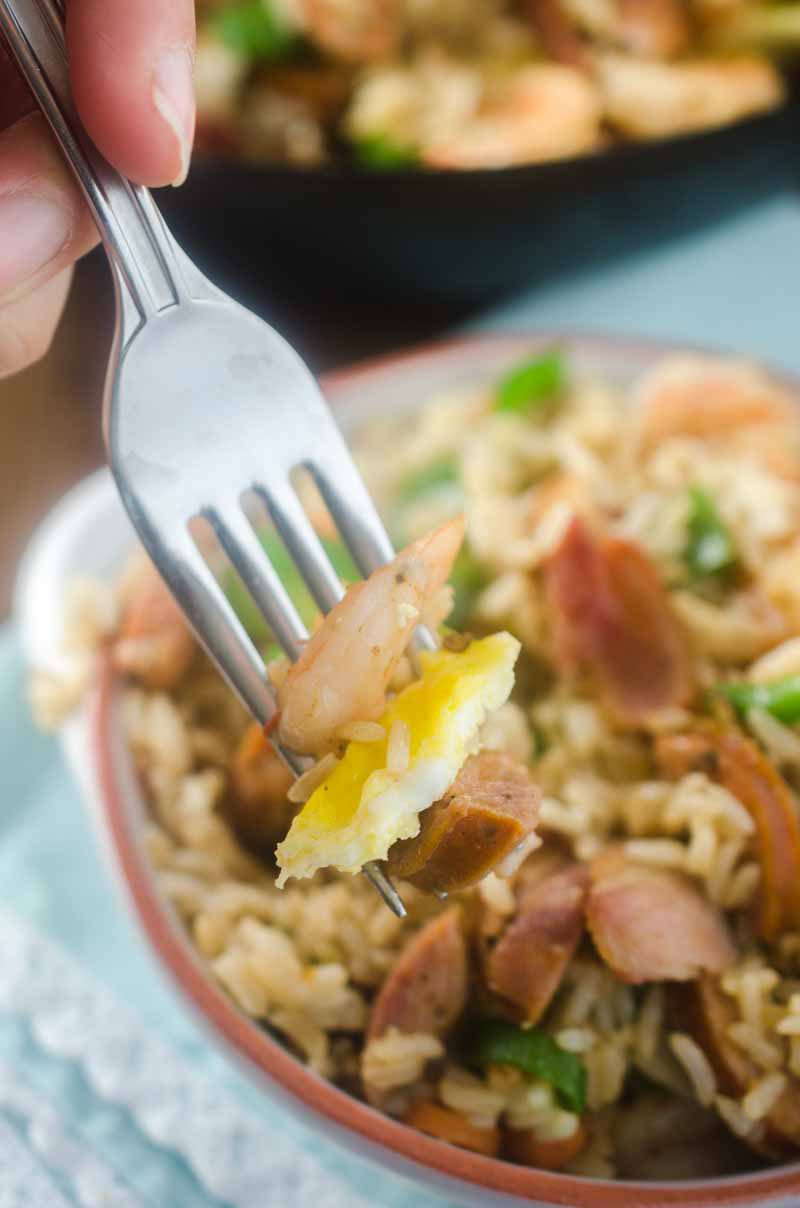 This Andouille and Shrimp Fried rice does have a bit of a kick to it thanks to the jalapeno, andouille and sambal oelek. When I make it just for Ryan and I, I leave all that in. When I make it for my boys (and friends who don't like spicy food) I remove the seeds from the jalapeno and omit the sambal oelek.

Andouille and Shrimp Fried Rice Recipe
Ingredients:
4 slices bacon, chopped into 1 inch pieces
1 teaspoon olive oil
3 eggs
8 ounces andouille sausage
1 pound (51-60 count) prawns, peeled and deveiened
1/4 teaspoon ground ginger
1/2 onion, diced
1 green bell pepper, diced
1 carrot, peeled and diced
1 jalapeno, diced (optional)
4 cups left over cooked rice, cold
2 tablespoons soy sauce
1 tablespoon rice wine vinegar
1 tablespoon sambal oelek chili paste (optional)
kosher salt if desired
chopped green onions for garnish
Instructions
1
In a wok or large saute pan, cook bacon over medium heat. Remove to paper towel lined plate and set aside. Reserve 1 tablespoon of pan drippings.

2
While bacon is cooking, heat 1 teaspoon of oil in a small 8 inch pan over medium heat, add egg and cook on one side until edges curl. Flip once to finish cooking. Once cooked, remove from pan. Roll and slice into thin strips. Set aside.

3
Season the shrimp with 1/4 teaspoon ground ginger

4
Add sausage and shrimp to the bacon drippings. Cook over medium-high heat for 2 minutes. Add veggies and cook 3 minutes, shrimp should be pink and cooked through. Transfer veggies, sausage and shrimp to a plate. Set aside.

5
To the same pan add rice, soy sauce, rice vinegar and sambal oelek. Cook for 2-3 minutes. Return veggies and meat to pan. Toss to combine. Add eggs and bacon. Stir. Garnish with green onions and serve hot.