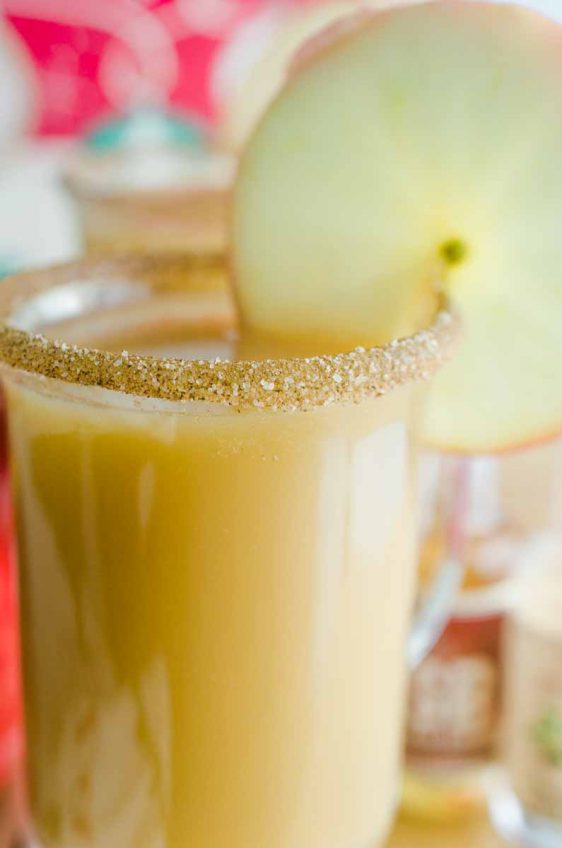 Apple Pie Cocktail
 Apple Pie Cocktail is perfect for fall. With hot apple cider, vanilla vodka and brown sugar bourbon, it's just the drink you need to warm up with this holiday season. 
Disclosure: This post is sponsored by Heritage Distilling. We are grateful for our sponsors as they allow us to bring you delicious free content every week.
It is no secret that fall is my favorite season. I love the leaves, the comfort food like homemade mashed potatoes, and hot cocktails like this Apple Pie Cocktail. A tasty concoction of hot apple cider, Heritage Distilling Brown Sugar Bourbon and Vanilla Flavored Vodka, it's like apple pie in a cup.
And it is the perfect drink to warm up with this holiday season.
Wait what? Did you say holiday season Des? Yes, I did. And I know, I know it's only October, but I have got to share the Heritage Distilling 2018 Spirits Advent Calendar. Because guys, it is a hot holiday gift this season and I want you to get one before it is gone.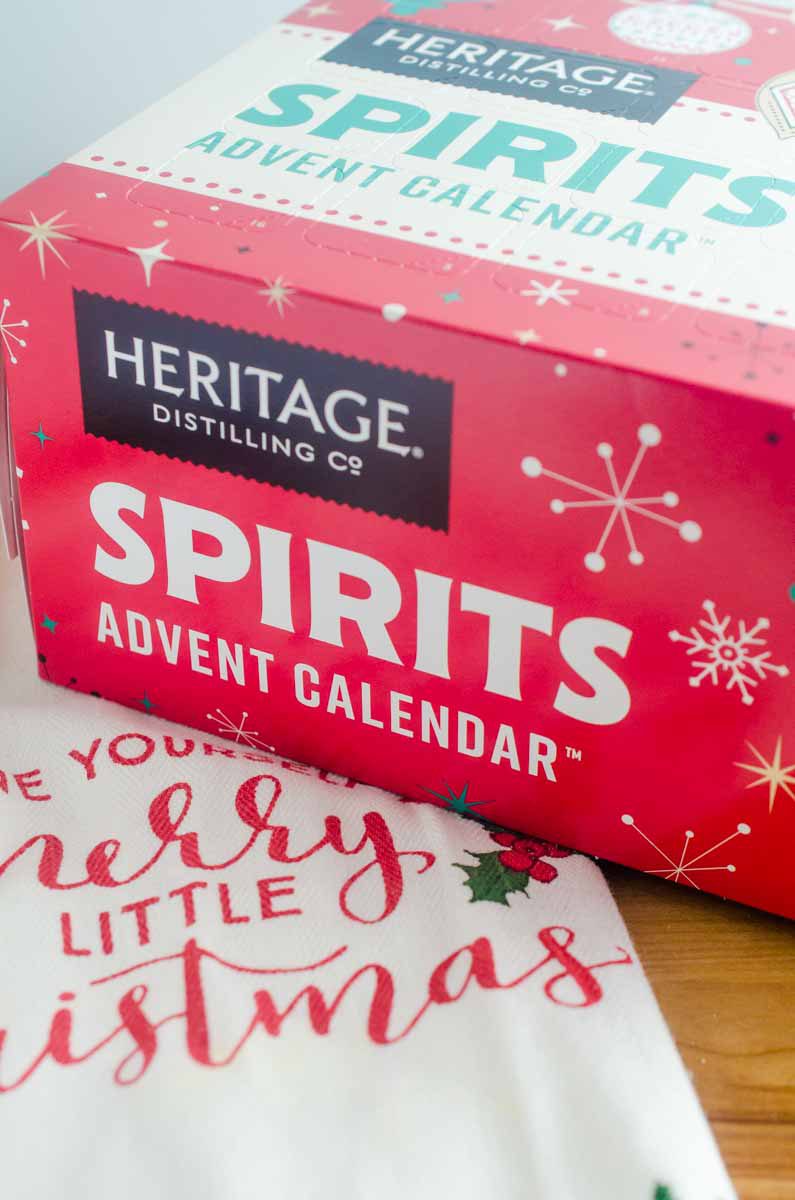 What is a Spirits Advent Calendar?
You know those Christmas advent calendars the kiddos use every year to count down to Christmas? Well this is a version for adults. Fun right? What do you get in the Heritage Distilling Spirits Advent Calendar? ALL KINDS OF GOODIES.
BSB-Brown Sugar Bourbon x 3
BSB 103 x 3
Elk Rider Bourbon x 2
Elk Rider Vodka x 2
Dual Barrel Old Fashioned Ready Bourbon x 2
Dual Barrel Old Fashioned Ready Rye x 2
Coffee Flavored Vodka x 2
Vanilla Flavored Vodka x 2
Blood Orange Flavored Vodka x 2
Elk Rider Crisp Gin x 2
Elk Rider Rye x 2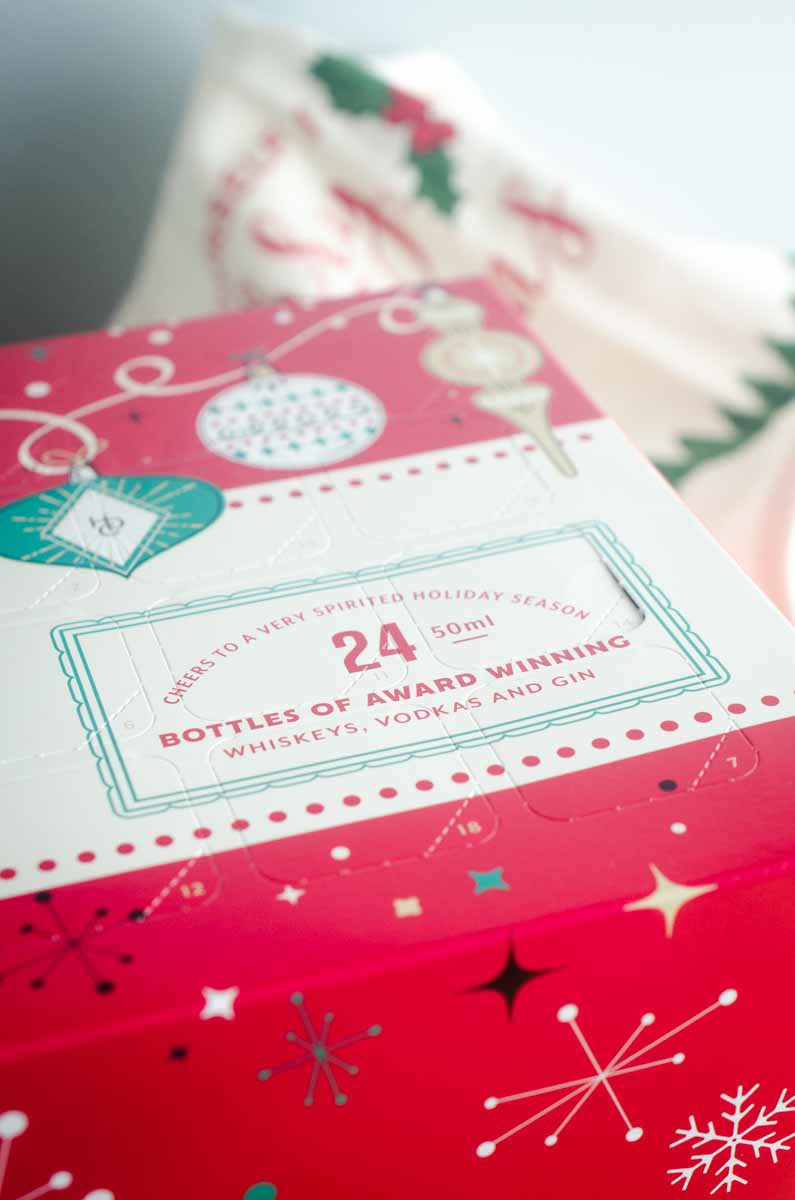 Talk about a spirited holiday season!
How do you make an Apple Pie Cocktail?
It's easy. It is so easy. All you need to make this apple pie cocktail is: apple cider, vanilla vodka and brown sugar bourbon.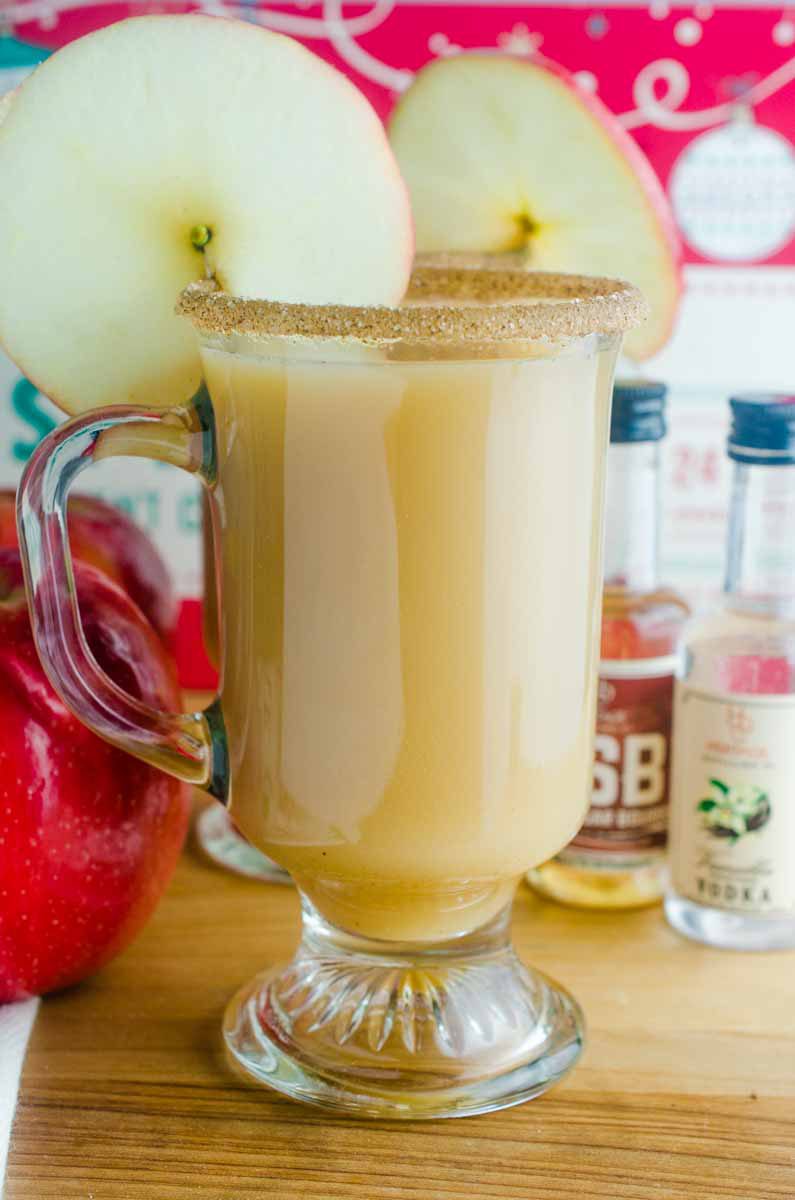 I first became a fan of Brown Sugar Bourbon this summer when I used it to make Brown Sugar Bourbon Caramel Corn. It has notes of cinnamon and brown sugar and from the first moment trying it, I just knew that I would be using it to make cocktails all fall long.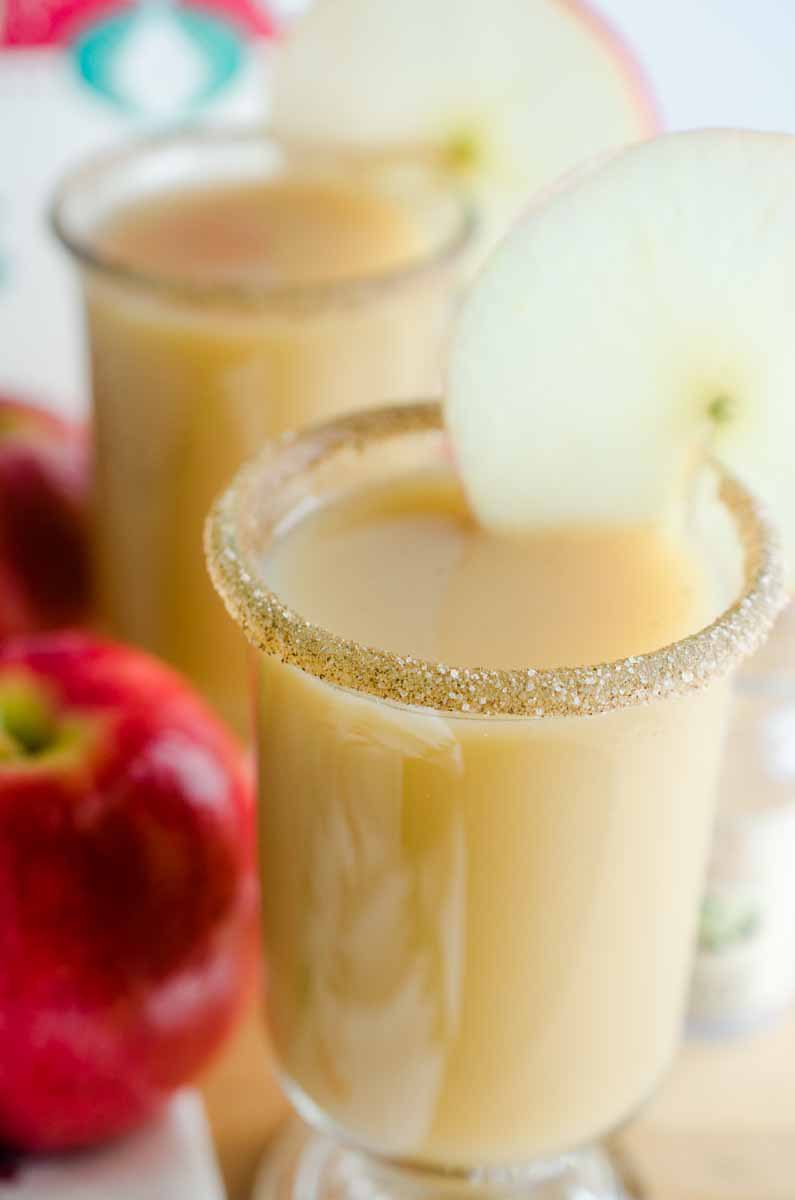 I don't know about you but when I eat apple pie it has to be hot with a scoop of vanilla ice cream on top. All of those flavors combine in this hot apple pie cocktail. Simply heat the the apple cider just until steaming, stir in the vanilla vodka and brown sugar bourbon and you're good to go.
And since every fun fall drink also has a fun fall garnish, I garnish this Hot Apple Pie Cocktail with a cinnamon sugar rim and an apple slice.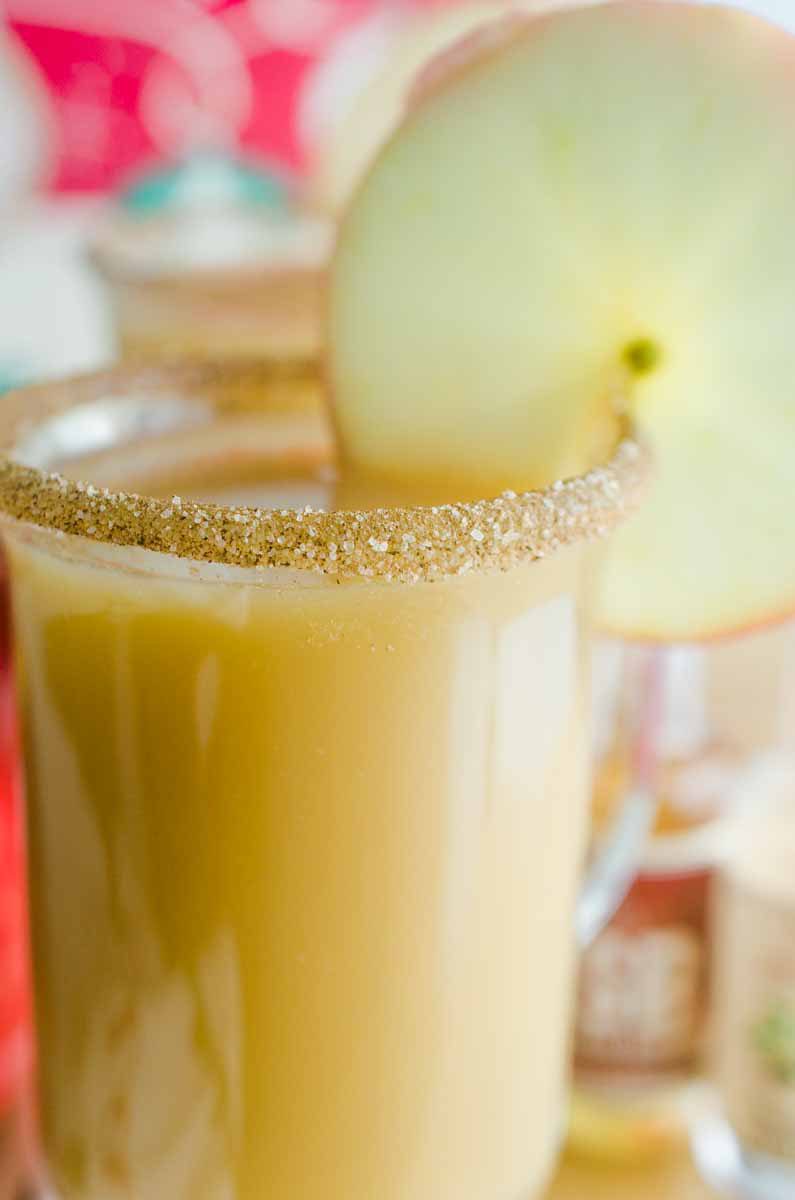 How do you make a cinnamon sugar rim for cocktails?
We've all heard of a sugar rim or a salt rim right? I mean, so often, the rim is one of my favorite parts of cocktails. The cinnamon sugar rim on this cocktail is no exception. Instead of using lime and salt like you would on a margarita, the rim of this cocktail mug is dipped in honey and then in a mixture of cinnamon and sugar. It's the perfect rim coating for all of your holiday drinks this season!
So who is ready to get this holiday season gift giving rolling? Just for Life's Ambrosia readers, Heritage Distilling is offering $10 off any advent calendar (Regular Price $59) that is ordered online. The code is Ambrosia10 and the best part, there is no limit! Order them quickly though, friends, they tend to sell out!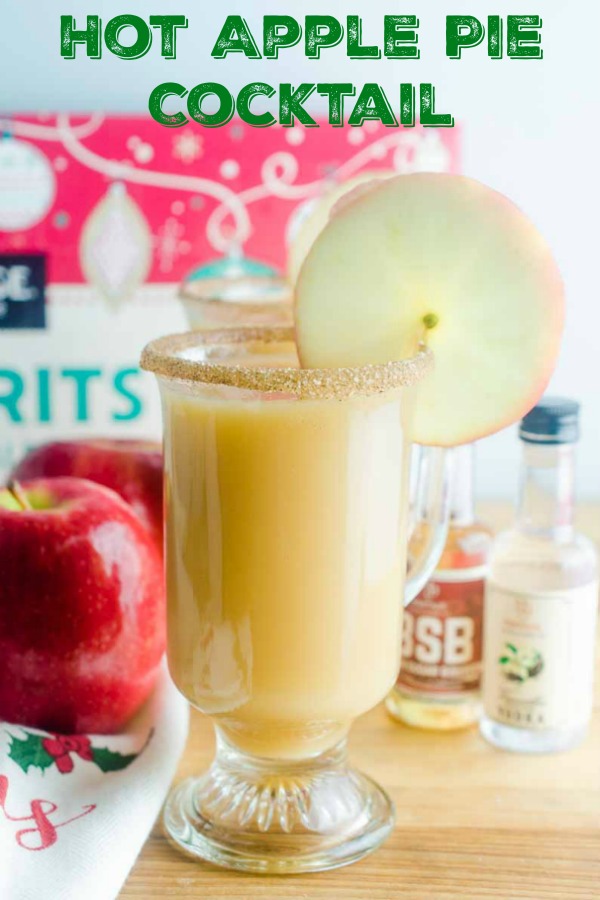 Apple Pie Cocktail Recipe
Ingredients:
2 tablespoons sugar
1 teaspoon ground cinnamon
3/4 cup apple cider
1 ounce Heritage Distilling Brown Sugar Bourbon
1 ounce Heritage Distilling Vanilla Vodka
2 tablespoons honey
sliced apples
Instructions
1
Pour honey onto a shallow plate. Combine sugar and cinnamon together on another shallow plate. Dip the rim of a cocktail mug into the honey and then into the cinnamon and sugar to coat.

2
Heat apple cider until steaming. Stir in brown sugar bourbon and vanilla vodka.

3
Pour into a mug. Garnish with apple slices. Serve.