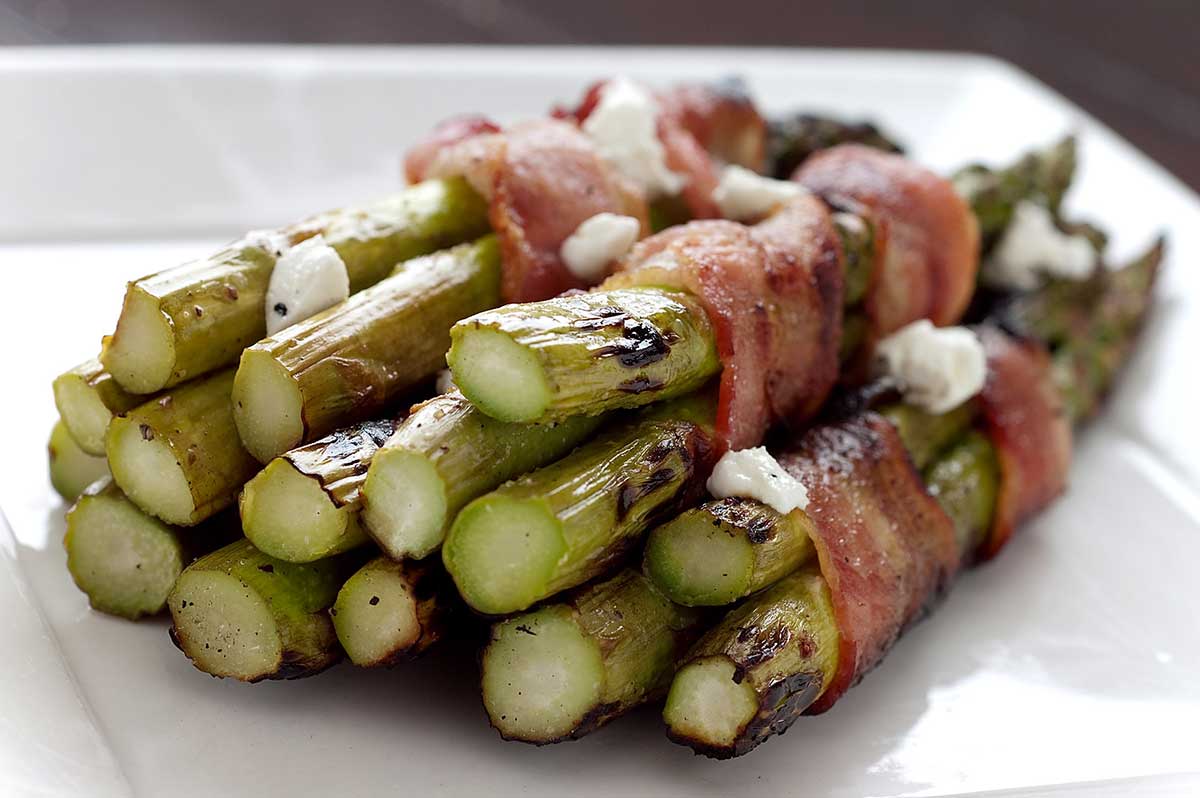 Bacon Wrapped Asparagus with Goat Cheese Crumbles
I like asparagus as much as the next girl, but sometimes its nice to jazz things up a bit. And really, I'm pretty sure that most would agree with me that bacon is the perfect way to jazz up just about anything. And if you don't agree with me…well…oh well for you, more bacon for me. For this summer inspired recipe I seasoned it, wrapped it in bacon, grilled it and topped it with goat cheese crumbles.
The first time I had bacon wrapped asparagus my uncle made in on the grill when he came to visit. I was shocked. Bacon…on asparagus. GENIUS! Since then its become quite the popular spring/summer side dish and I see it just about everywhere. I decided to make it a little different by adding some crumbled goat cheese to the top of the freshly grilled asparagus. It melts slightly giving each bite a little creaminess.
Bacon Wrapped Asparagus with Goat Cheese Crumbles Recipe
Ingredients:
1 1/2 pounds asparagus, trimmed (about 15 spears)
1/4 teaspoon kosher salt
1/4 teaspoon garlic powder
1/4 teaspoon black pepper
1 tablespoon olive oil
5 slices bacon
2 ounces goat cheese crumbles
Instructions
2
Place asparagus in a shallow dish and sprinkle with salt, garlic powder, pepper and olive oil. Toss to coat completely.

3
Divide the asparagus into groups of three. Wrap a piece of bacon around each bundle.

4
Place on the grill and cook over medium heat until the bacon is cooked through and the asparagus is softened about 7 minutes. Serve.