Basil Whipped Goat Cheese
If you are looking for a way to fancy up a meal this summer then this Basil Whipped Goat Cheese is it. And guess what, it is beyond easy to make. 3 ingredients, 1 food processor and you are on your way to a creamy whipped cheese spread that will be your new favorite thing.
I don't know about you, but I can't wait for warm summer evenings. The kind of evening where you don't really want to cook because it's warm. The kind of evening when you instead rummage through your fridge and put together a little appetizer plate with some cheeses, meats, crackers and bread and head out to your patio with a glass of wine and enjoy the cool breeze.
Those are my favorite kind of summer nights.
And they are coming friends. Soon enough they will be here and you better believe that I will have this Basil Whipped Goat Cheese on hand for just the occasion.
I am a huge fan of goat cheese, always have been. It's creamy and tangy and is one of my favorite additions to salads, pizza and just about anything that needs an extra bit of cheese. For this recipe, I decided to make it the star of the show, along with everyone's favorite summer herb: basil.
By whipping the two together, the cheese becomes creamy and there is a little bit of basil in every bite. It is the perfect spread for some grilled bread or crackers. And I am thinking that it would be perfect dolloped on the top of a grilled pizza too.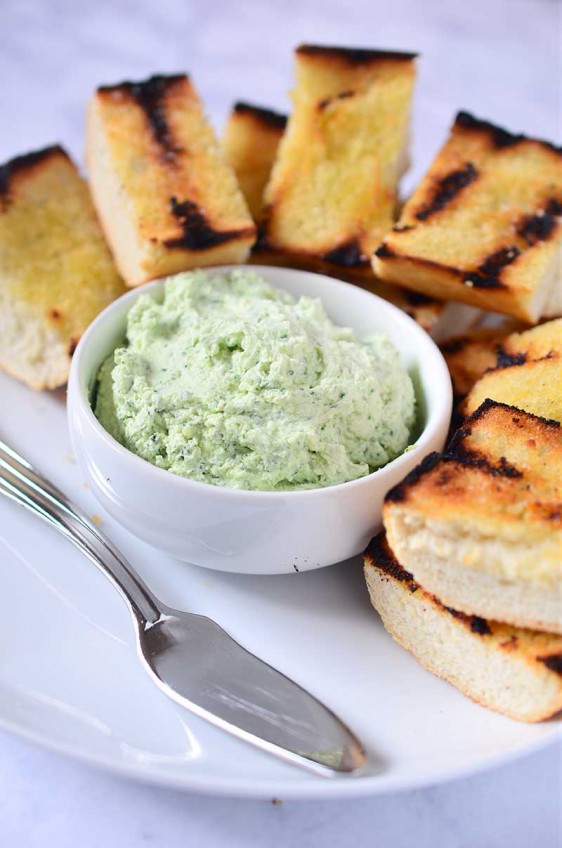 Basil Whipped Goat Cheese
This creamy basil whipped goat cheese is the perfect summer spread.
Combine all ingredients together in a food processsor and pulse until smooth. Serve.

Cover and refrigerate any leftovers. Use within a few days.
Keywords:
appetizer, basil, dairy, Goat Cheese, snack, Spread, Vegetarian