Black Eyed Pea Salsa
Black eyed pea salsa is a bright, fresh dip that will bring you a bit of summer on these cold January days.. Loaded with black eyed peas, corn, tomatoes, onions, jalapeños, cilantro and lime, it's the perfect easy dip recipe to bring a bit of sunshine into your day.
I just tried black eyed peas for the first time on New Year's Day. I know they are popular in the south, but growing up in the pacific northwest, they were not something that was often on the table. Heck, I even have a hard time finding them at the grocery store. But when the new year rolled around, and after hearing over and over how you are supposed to eat them on New Year's Day for good luck, I decided that it was time I try them. I looked all over for some way to cook them and I ended up with a pretty traditional New Year's Day meal of corn bread, collard greens and The Pioneer Woman's Hoppin' John recipe.
And then I proceeded to fall in love with black eyed peas. I decided that I loved black eyed peas so much that it was time to find other ways to serve them. That is where this Black Eyed Pea Salsa comes into play.
This black eyed pea salsa is a lot like Texas Caviar, but without the black beans and Italian dressing.
Instead, the bright fresh flavor comes from cumin, cilantro and a burst of fresh lime juice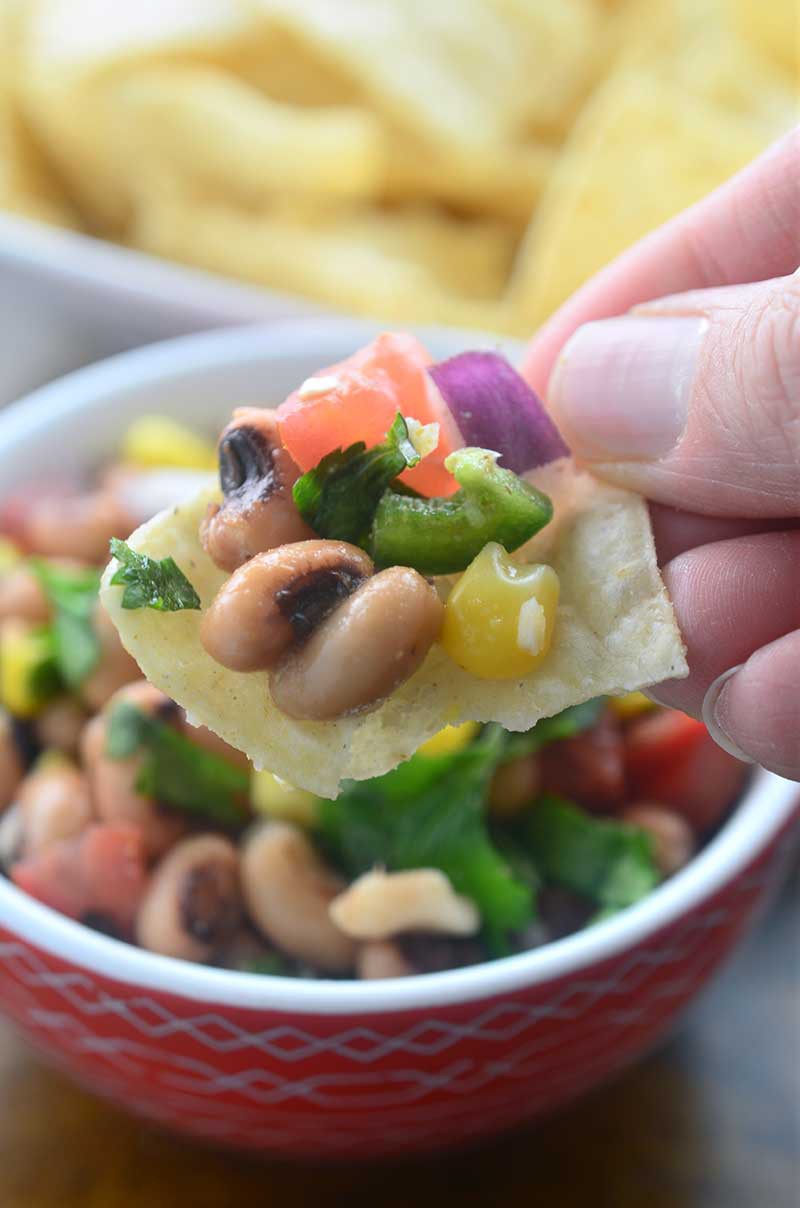 You can serve this Black Eyed Pea Salsa with chips, as I did. Or I'm sure it would be great tossed on a taco salad or in a burrito bowl. Heck, I'm pretty sure that you could just eat it with a spoon as a bean salad.
Whatever you do, just make some black eyed pea salsa. You'll love it. :)

Black Eyed Pea Salsa Recipe
Ingredients:
1 (15.5 ounce) can Black Eyed Peas
1 roma tomato, diced
1/2 jalapeno, diced
1/2 fresno pepper, diced
1/2 cup corn kernels
1/4 cup diced red onion
1/4 cup chopped fresh cilantro
1 clove garlic, minced
1 tablespoon fresh lime juice
1/2 teaspoon salt
1/4 teaspoon ground cumin
Instructions
1
Combine all ingredients together in a bowl. Mix well. Cover and refrigerate for at least 1 hour. Season to taste with more salt if needed. Serve with chips