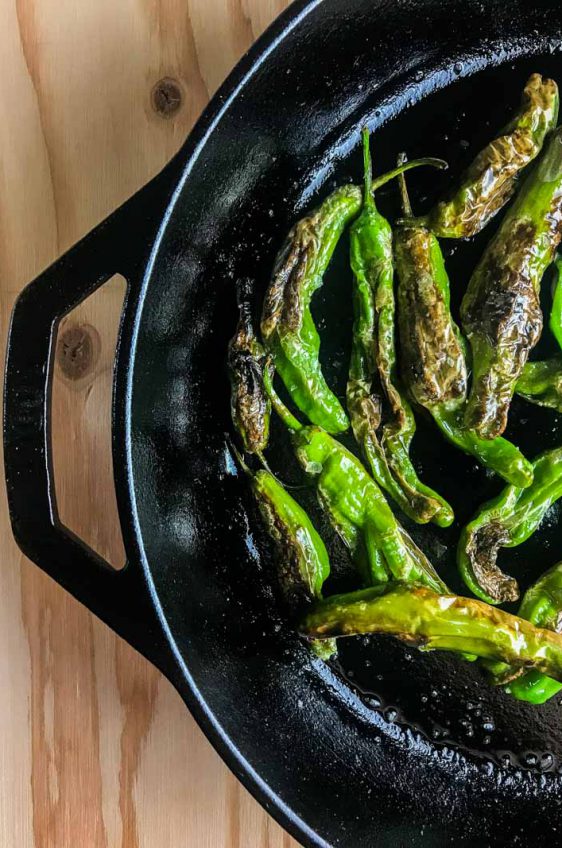 Blistered Shishito Peppers
Blistered shishito peppers are pan fried until crispy and served with a sriracha cream sauce. A quick and easy appetizer for pepper lovers! 
This is a recipe I've been hanging on to since I went to Austin a few years back. I think I hesitated sharing because it's such a non-recipe. The shishito peppers themselves are incredibly easy to make. The sriracha cream sauce is also pretty much a non-recipe.
But the two together are something mighty delicious, friends.  I've actually made them a few times since I've been home so I decided that it was finally time to share these Blistered Shishito Peppers with Sriracha Cream Sauce.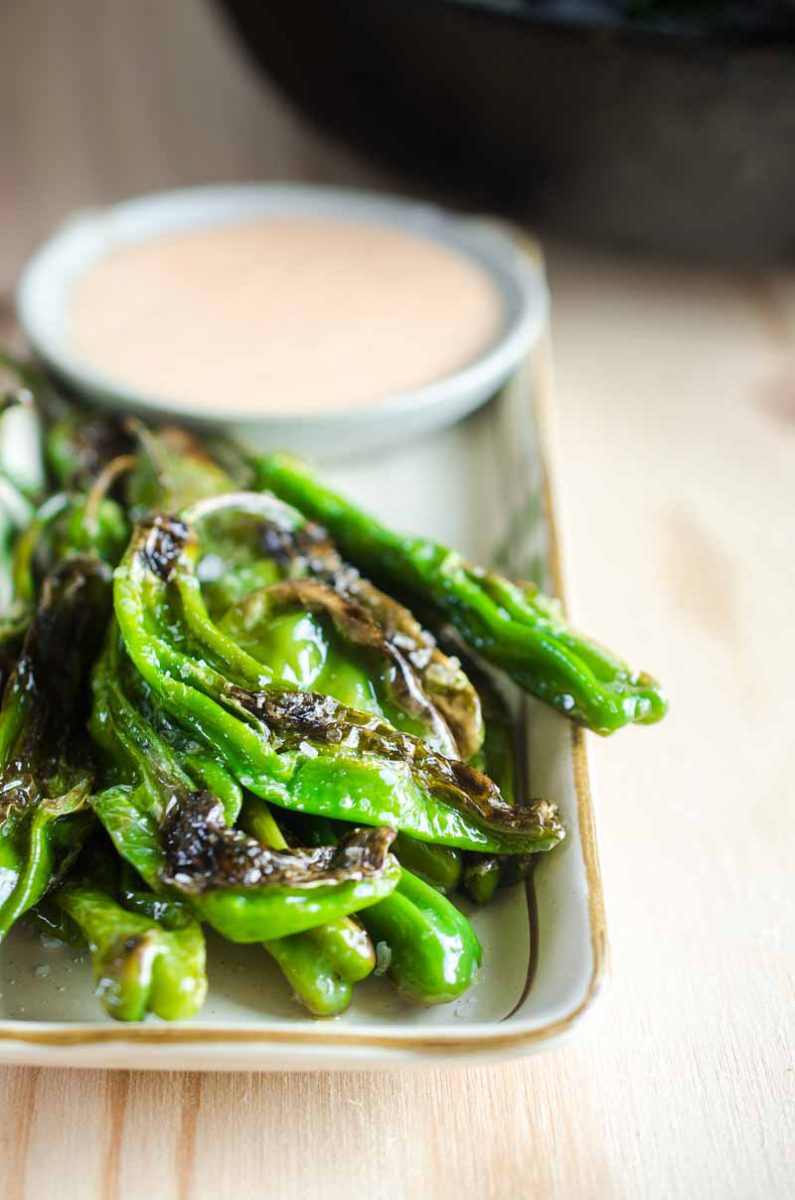 Word of warning. These are addicting.
Seriously.
I first tried them at a buffet style party and I'm not gonna lie,  I pretty much hovered around the table eating these. In fact, I probably ate more than my fare share. But I just couldn't resist.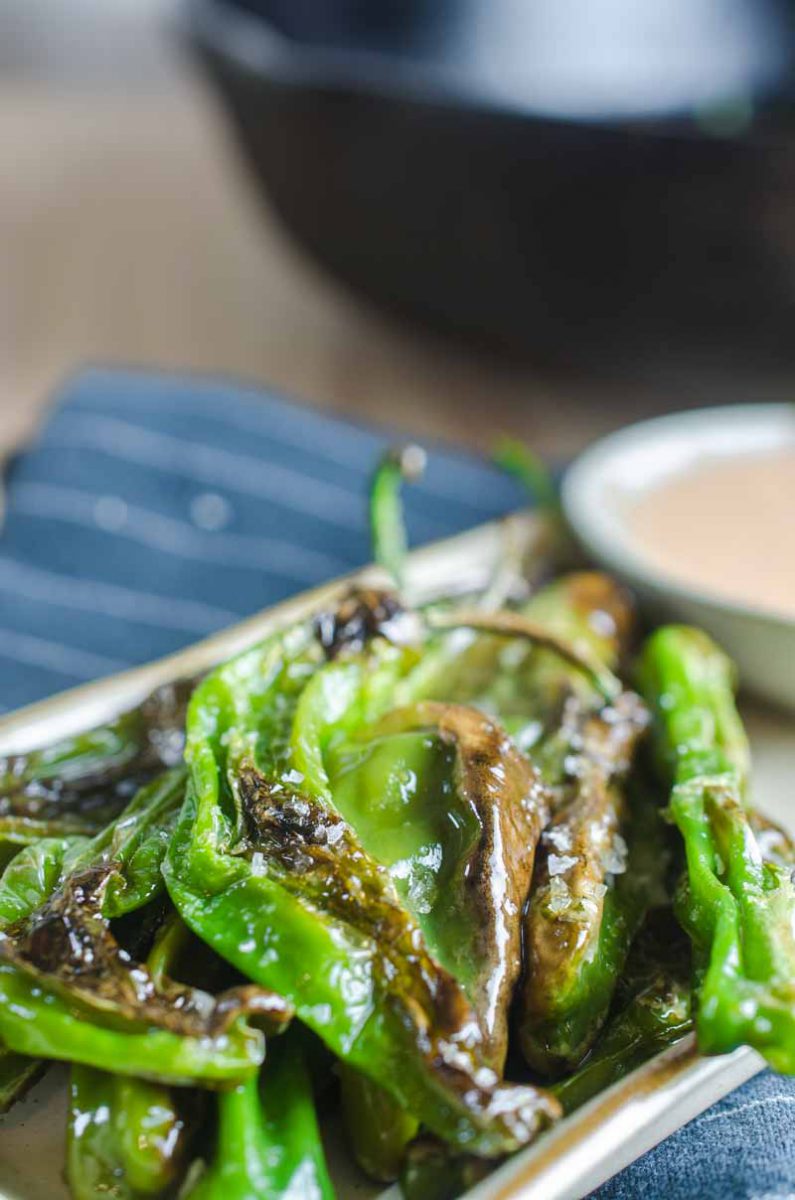 Now whenever I am at a restaurant and blistered shishito peppers are an option, you can bet that I am ordering some.
Are blistered shishito peppers hot?
Don't worry if you're not into spicy food. Despite being peppers, they aren't too spicy. Shishito peppers are actually below the jalapeno and just above the bell pepper on the scoville scale.
What is the scoville scale you ask? It is how the heat level of peppers is measured. At the bottom of the list with a range of 0 to 100 scoville units, you'll find bell peppers and pimentos. At the very top of the list you'll find the Carolina Reaper that has a whopping 1.9 MILLION.
I like spicy, but that is too spicy for this chilehead.
As mentioned above, shishitos usually fall in the 50 – 100 unit range. That being said, every once in a while, you'll get a hot one. It won't be hotter than a jalapeno, but you'll definitely notice a kick.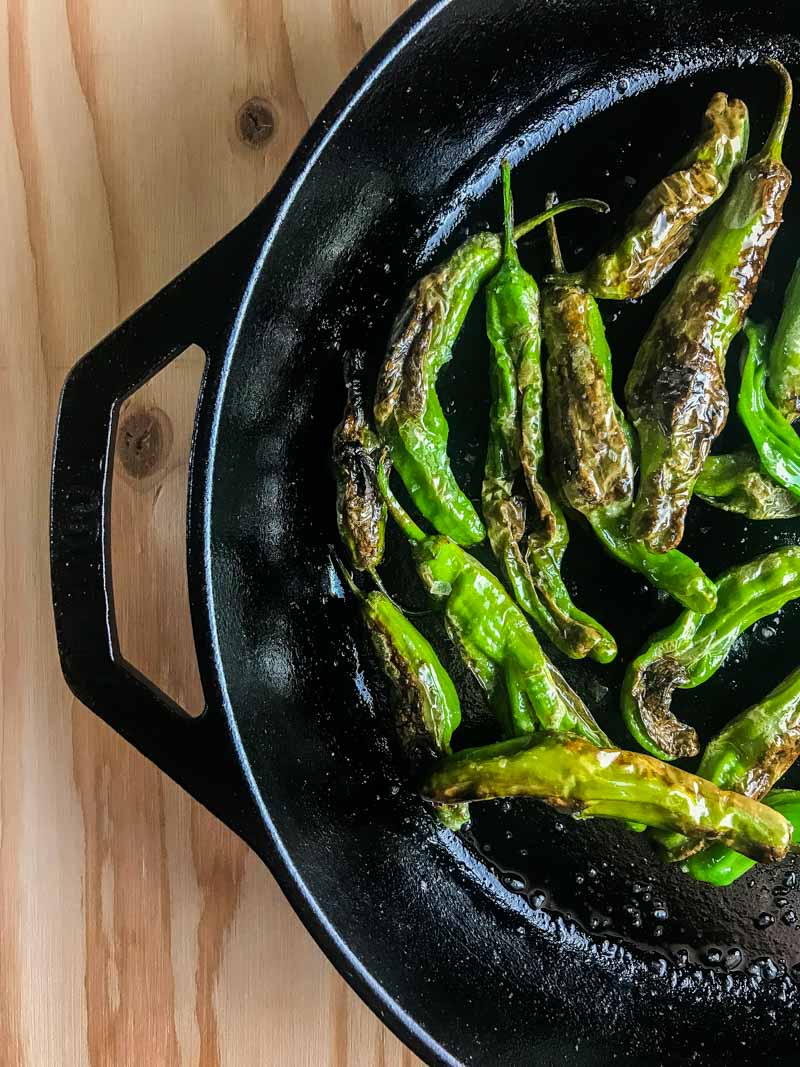 And while the peppers are delicious on their own, I do like heat, as you may have noticed, so I serve these blistered shishito peppers with dipping sauce. But not just any dipping sauce, I decided to make a quick sriracha cream dipping sauce to go with them.  You likely have all of the ingredients you need in your kitchen: mayonnaise, sriracha and rice vinegar. If you don't have rice vinegar you can substitute distilled.
These blistered shishito peppers made the perfect snack: Smoky, spicy, creamy, savory and all kinds of perfection.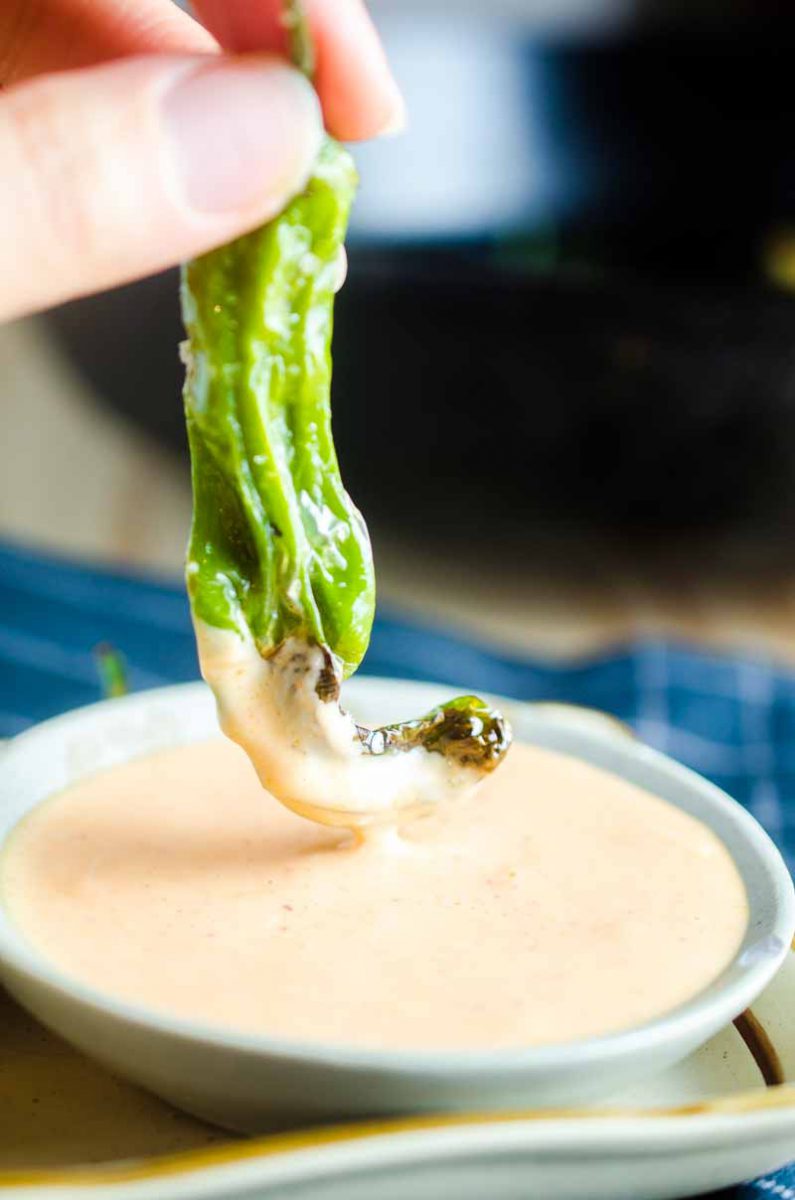 If you love these blistered shishito peppers, you should also try my blistered asparagus! It is perfect for spring!
Note: Post originally written October 2013, updated with new photos 2018.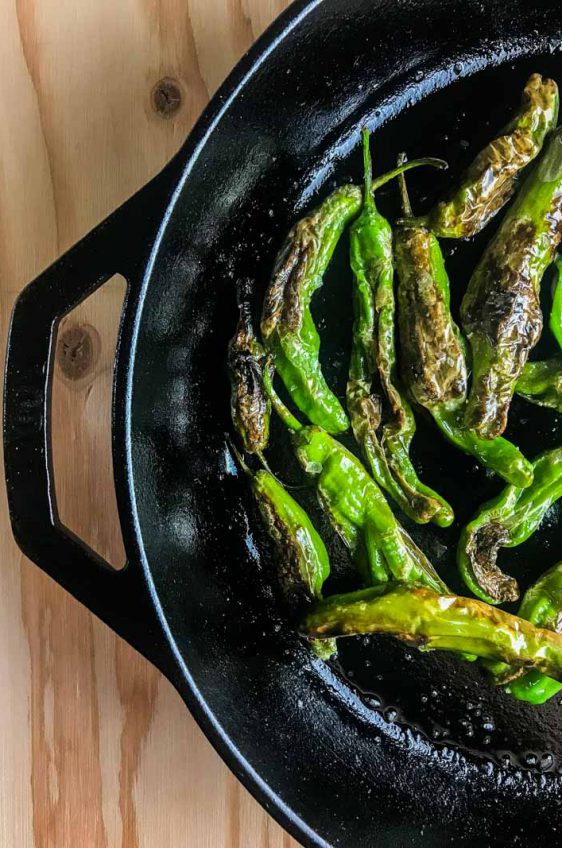 Blistered Shishito Peppers
Blistered shishito peppers are pan fried until crispy and served with a sriracha cream sauce. A quick an easy appetizer for pepper lovers! 
Ingredients:
olive oil

20

shishito peppers

salt

2

tablespoons

mayonnaise

1

tablespoon

rice vinegar

1 - 2

teaspoons

sriracha
Lightly coat the bottom of a cast iron skillet with olive oil. Turn heat to medium-high. Cook peppers just until the skin begins to blacken and blister about 3 minutes. Transfer to a paper towel lined plate. Sprinkle with salt.

Combine mayonnaise, rice vinegar and sriracha together in a bowl. Drizzle a small amount over peppers, serve the rest alongside the peppers.
Calories:
167
kcal
Carbohydrates:
17
g
Protein:
5.1
g
Fat:
9.5
g
Saturated Fat:
1.4
g
Cholesterol:
2
mg
Sodium:
100
mg
Fiber:
10
g
Sugar:
10.5
g
Keywords:
appetizer, asian, Food, game day snacks, peppers, Recipe, shoshito peppers, snacks, sriracha