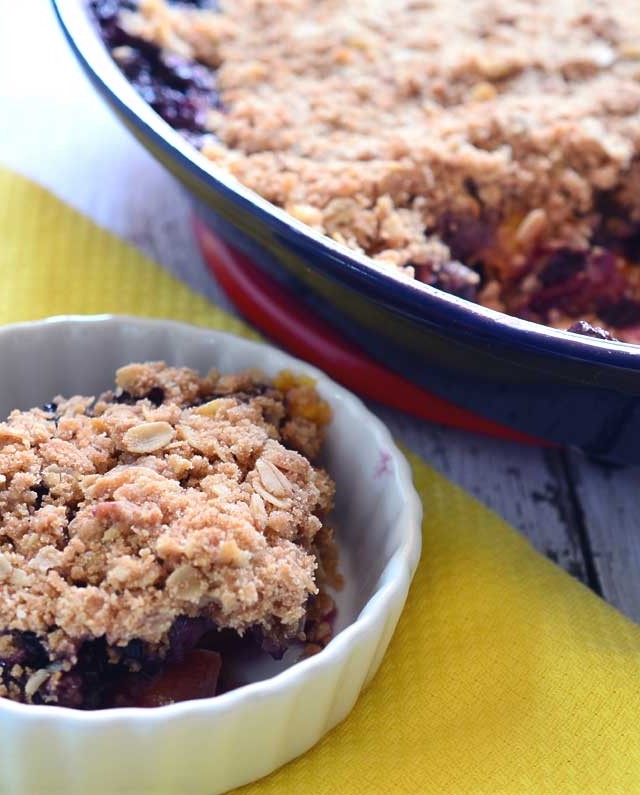 Blueberry Nectarine Crisp
Blueberries are a hot commodity in our house. I can buy a 1 pound container and it doesn't last more than a few days. That is because I have a 2 1/2 year old that just can't get enough of them. Fresh or frozen. He eats a couple bowls a day. So the other day when I was at the grocery store and they were having a huge sale on blueberries I stocked up. I stocked up so that my little man would have plenty of snacks but I also stocked up so that I could make a blueberry dessert. Because well…why not?
Crisp. Cobbler. Pie.
The world of fruit desserts is full of deliciousness. I am, however, a fan of crisps. Cobblers have a little too much bread. Pie crusts are just OK. Crisps, on the other hand, oh I am a sucker for a good crisp. The topping is what gets it for me. The crisp, crumbly, buttery topping. I could eat it by the spoonful.
In the fall apple crisps rule but in the summer it's all about berries and stone fruit. They work so well together. In this recipe I chose to use two of our favorite fruits: blueberries and nectarines. The blueberries are a little tart, the nectarines sweet and juicy and when they are cooked together with a little brown sugar and topped with that buttery crisp topping I love so much, they make beautiful music together. It is the perfect summer dessert , friends, and I am happy to share it with you today.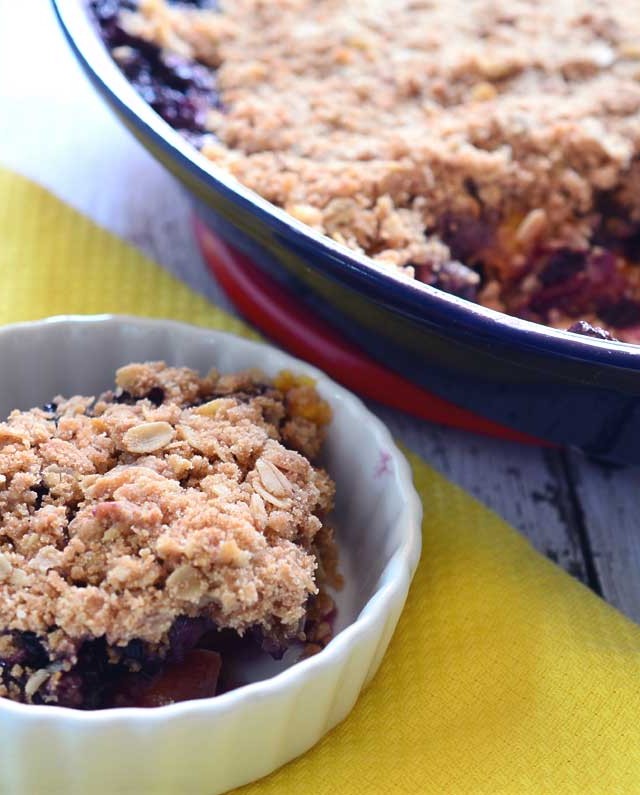 Blueberry Nectarine Crisp
A sweet mixture of nectarines and blueberries topped with oat crumble and baked until golden and bubbly.
Ingredients:
3

medium nectarines

pitted and diced (about 3 cups)

2

cups

blueberries

1

teaspoon

vanilla extract

1

tablespoon

granulated sugar

1/2

cup

plus 1 tablespoon dark brown sugar

1

cup

plus 1 tablespoon all purpose flour

1/4

teaspoon

salt

3/4

cup

rolled oats

1/2

teaspoon

cinnamon

1/2

cup

cold unsalted butter

cut into pieces
Preheat oven to 350 degrees. Butter the bottom of a 2 quart baking dish.

Combine nectarines, blueberries, vanilla, granulated sugar, 1 tablespoon brown sugar and 1 tablespoon flour together in a bowl.

In another bowl combine the remaining brown sugar, flour, salt, rolled oats and cinnamon. Using a pastry cutter, cut cold butter into the mixture until it becomes crumbly.

Pour the nectarine and blueberry mixture into the prepared baking dish. Sprinkle with oat mixture.

Bake in the preheated oven 35 - 40 minutes or until the fruit starts to bubble through the topping and the topping is golden.

Allow to cool several minutes and serve.
Keywords:
blueberries, crisp, dessert, nectarines