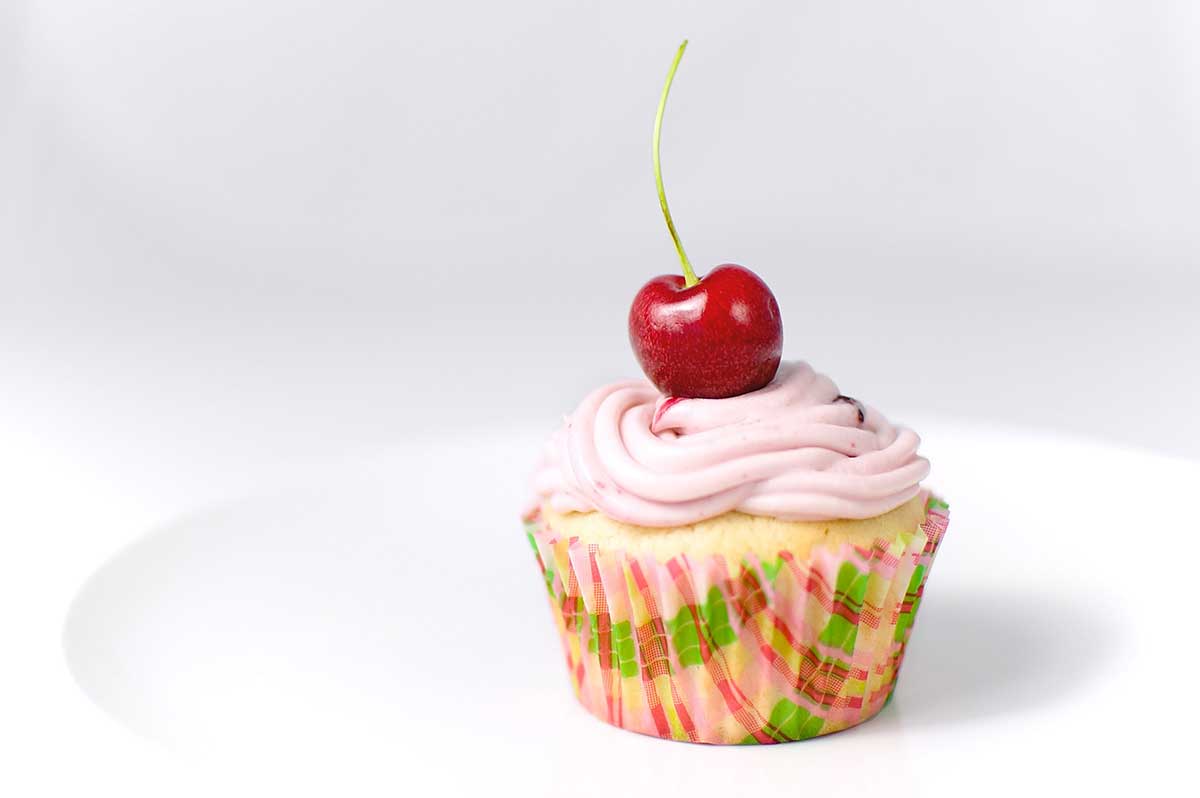 Buttermilk Cupcakes with Cherry Cream Cheese Frosting
After posting a couple of hot and spicy dishes last week, I thought it was time share a sweet treat with you. I could not think of a better sweet treat then cupcakes.  Who doesn't love a cupcake? Especially one as cute as this. And believe me, these soft buttermilk cupcakes with sweet cherry cream cheese frosting are just as good as they look.
Ryan and I planned to have a few friends over to celebrate the 4th of July. On Friday, while I was looking over everything I planned to serve, the one thing I realized we were missing was dessert. I know some may consider it blasphemy to forget such a thing, but it simply slipped my mind. Regardless, there was no denying it, I was serving spicy pepper steak so I definitely needed something sweet. Sure, I could have picked up some cookies or cupcakes at the store but that would have taken all the fun out of it. Instead, I made these little gems and they were the perfect ending to a delightful 4th of July BBQ.
Buttermilk Cupcakes with Cherry Cream Cheese Frosting Recipe
Ingredients:
1 1/2 cups all purpose flour
1/4 teaspoon baking soda
1/4 teaspoon baking powder
1/4 teaspoon salt
1/2 cup (1 stick) butter, softened
2/3 cup granulated sugar
3 egg whites
1/2 teaspoon vanilla extract
3/4 cup buttermilk
Cherry Cream Cheese Frosting (recipe follows)
12 cherries for garnish (if desired)
Cherry Cream Cheese Frosting
1 (8 ounce) package cream cheese, softened

1/2 cup (1 stick) butter, softened

1 tablespoon vanilla

2-3 cups powdered sugar, sifted

1/4 cup cherry preserves
Instructions
1
Preheat oven to 350 degrees.

2
Line cupcake tin with cupcake liners.

3
Sift together flour, baking soda, baking powder and salt. Set aside.

4
In a large bowl, use a hand held mixer on medium speed to beat butter and granulated sugar together until creamy, about 3-4 minutes.

5
Beat in egg whites and vanilla until combined, about 1-2 minutes.

6
With the mixer on medium, beat in 1/3 of flour mixture. Once combined, beat in 1/3 of buttermilk. Continue alternating with remaining flour mixture and buttermilk.

7
Spoon thick batter into cupcake liners. Fill each liner 2/3 of the way full.

8
Bake for 15-20 minutes or until toothpick inserted comes out with a few crumbs on it.

9
Allow to cool in cupcake tin for a couple of minutes. Transfer to cooling rack to cool completely.

10
To make the frosting, use a hand held mixer on medium speed, cream together cream cheese and butter until smooth. Beat in vanilla.

11
Gradually add in sugar. Beat until, thick but spreadable mixture. Fold in cherry preserves. Frosting will turn pink. Once combined, use to frost cupcakes.

12
Once the cupcakes are completely cool, frost with cherry cream cheese frosting. Note: I used a piping bag, but if you don't have one you can place frosting in a large resealable bag with the corner snipped.

13
Place 1 cherry on top of each cupcake.