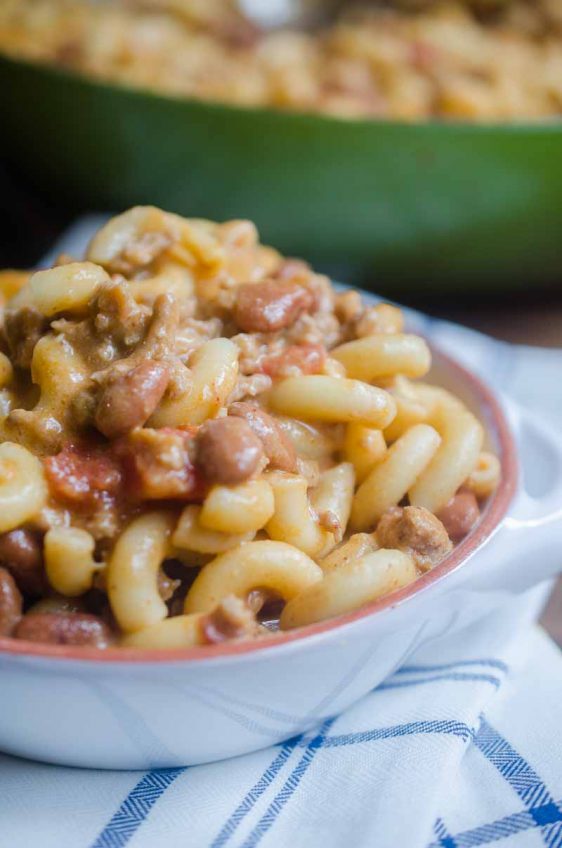 Cheesy Chili Mac
Cheesy Chili Mac. A homemade version of a childhood favorite with homemade mac n'cheese and a quick turkey chili. 
Watch two classics come together to make this childhood favorite!
No, I didn't break out the box dinner today. Instead, I made a homemade version of my favorite box dinner as kid, Cheesy Chili Mac. My mom didn't make a lot of box dinners but every once in awhile when she was particularly busy, out came the box. You've probably had it before, cheesy noodles tossed with a seasoned beef mixture. My sister and I loved it and eagerly watched as my mom scooped the cheesy mixture in to our bowls. This Cheesy Chili Mac is pretty much the same except I use homemade macaroni and cheese and a quick homemade turkey chili.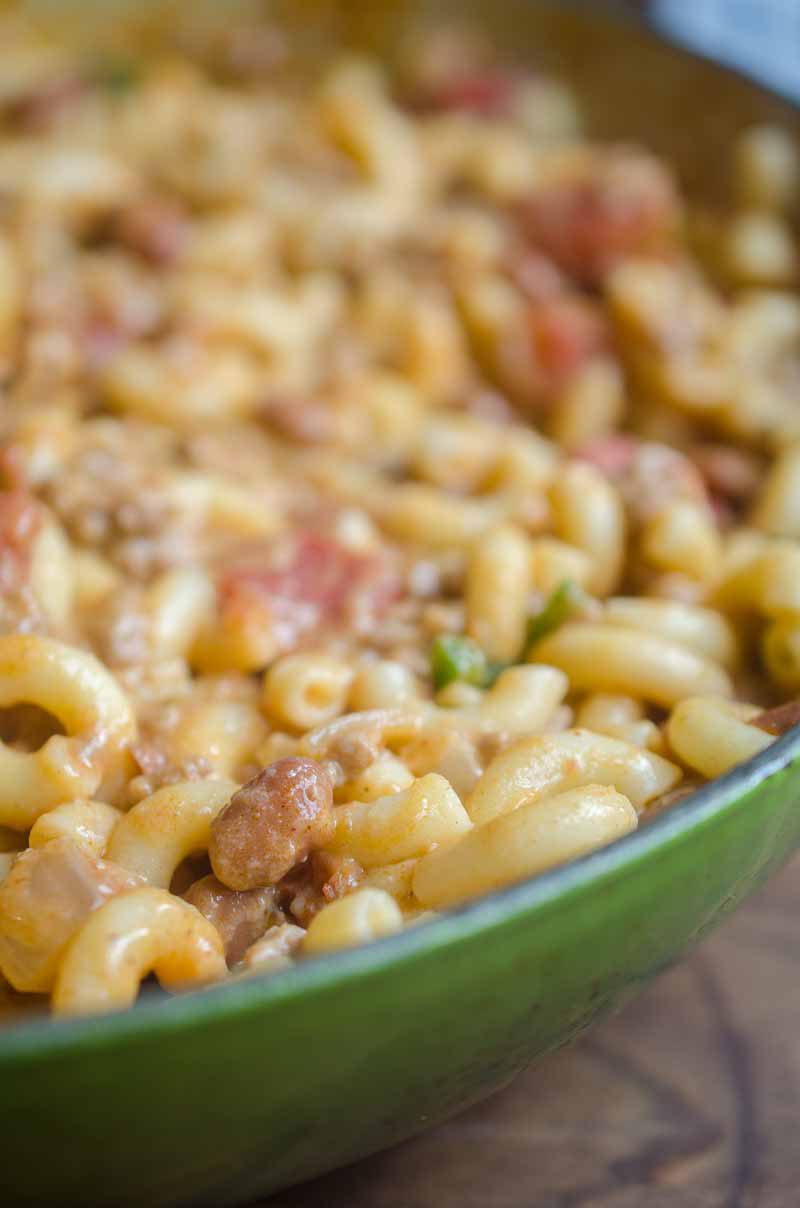 This is not meant to talk down box dinners, they are fine in a pinch. However, I rarely buy them for the simple fact that I like to make my own versions from scratch. I like the fact that when I make them at home I can add whatever flavors I want. I can control what is or what is not in my dinner. For instance, since I like things spicy, I've added jalapenos to this recipe as well as pepper jack cheese. If you're not a fan of all things spicy, leave out the jalapenos. And then substitute monterey jack for the pepper jack. It will still be just as scrumptious, trust me.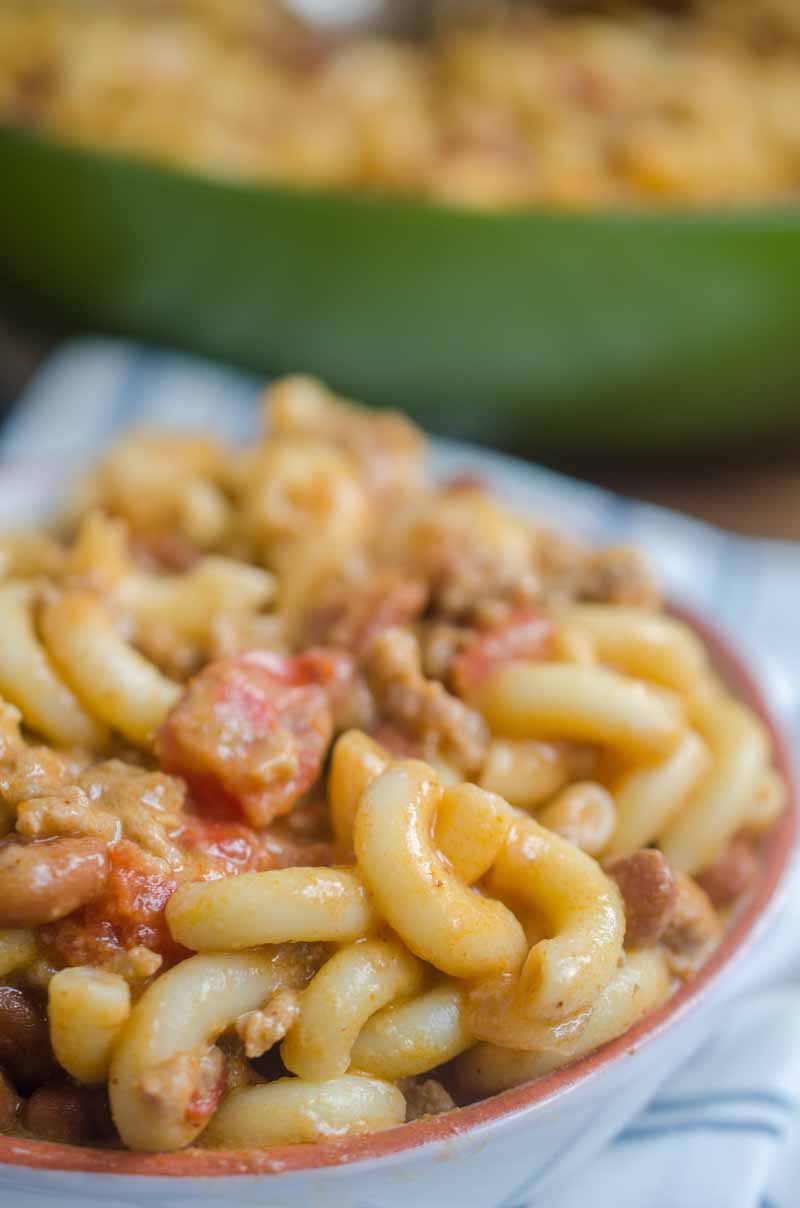 Cheesy Chili Mac Recipe
Chili Ingredients:
1 pound ground turkey
1 teaspoon chili powder, divided
1 teaspoon cumin, divided
1/2 teaspoon kosher salt
1/4 teaspoon garlic powder
1 tablespoon olive oil
1/2 yellow onion, chopped
2 cloves garlic, minced
1 jalapeno chopped (optional)
1 (14.5 ounce) can fire roasted tomatoes, juice reserved
1 (14.5 ounce) can chili beans, juice reserved
1/2 teaspoon hot sauce (optional)
Macaroni and Cheese Ingredients:
2 cups dried macaroni

2 tablespoons unsalted butter

2 tablespoons flour

1 1/2 cups whole milk

2 cups shredded sharp cheddar cheese

1 cup shredded pepper jack cheese

1/2 - 1 teaspoon seasoning salt
Instructions
1
In a large skillet cook combine ground turkey, 1/2 teaspoon chili powder, 1/2 teaspoon cumin, kosher salt and garlic powder. Cook until meat is browned. Strain.

2
In the same skillet heat olive oil over medium heat, add onions, garlic and jalapeno. Cook 5 minutes. Return meat to the pan, stir in tomatoes and chili beans. If mixture appears dry add in reserved tomato and bean juices. Season with remaining cumin, chili powder and hot sauce if using. Reduce heat to low and simmer while you prepare the macaroni and cheese.

3
To prepare the macaroni and cheese bring a large pot of water to a boil and cook the pasta according to package directions. Strain.

4
In the same pan you cooked the noodles in, melt butter over medium heat. Once melted whisk in flour, cook 1 minute. Slowly whisk in milk. Stir in cheeses and cook until melted. Stir in 1/2 teaspoon seasoning salt. Return noodles to pan and cook for 5 more minutes. Remove from heat and let stand for 5 minutes. Stir and season to taste with seasoning salt.

5
Add the macaroni to the chili and mix well. Adjust seasoning if needed.