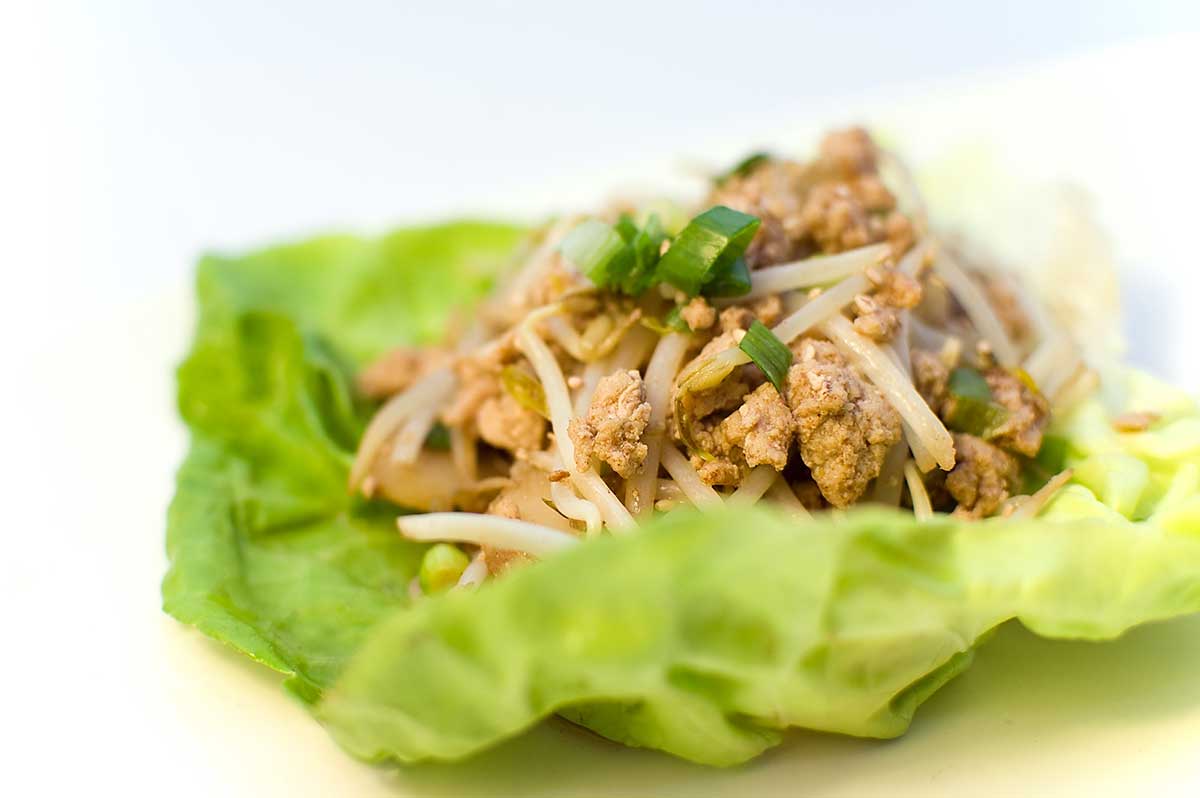 Chicken Lettuce Wraps
From time to time I ask friends of mine what kind of recipes they would like me to share on the blog. I have one friend who suggests sweets each time I ask her because frankly, I think she's obsessed. So imagine my shock when I asked her a couple of weeks ago if she had anything in particular she'd like me to make. I fully expected her to say "Chocolate chocolate cake with sugar filling and sugar frosting topped with sugar" but instead she said, "You know, lettuce wraps would be nice." And I agreed.
I first discovered lettuce wraps a few years ago when the whole anti-carb thing was super popular. I was a server during this time and all of a sudden everyone wanted their food wrapped in lettuce. You don't want that bread with your sandwich? Wrap the filling in a piece of lettuce. You don't want a bun with your double bacon cheeseburger? Sandwich it between two pieces of lettuce, it's healthier right? I seriously had one customer tell me that. I on the other hand, didn't fully embrace the new eating trend because, well any life without pasta is not one that I want to live.  However, one thing I really did enjoy were the Asian style lettuce wraps filled with chicken, bean sprouts, water chestnuts and Asian spices. I love the contrast of the savory, yet slightly sweet filling, with the cool crunch of lettuce.
For this recipe, I decided to use a little Chinese five spice powder which you can find in the Asian aisle of your local grocery store. The most common variety has a bit of cinnamon in it that adds a nice touch of sweetness to the mixture. It also has flavors of ginger root, star anise and cloves.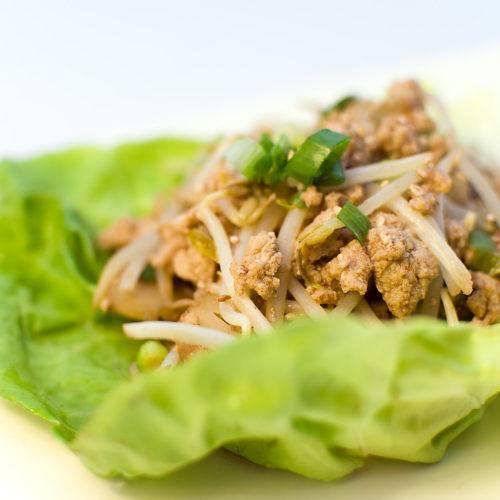 Chicken Lettuce Wraps
Chicken and beans sprouts with five spice powder spooned into cool lettuce leaves.
Ingredients:
1

tablespoon

sesame oil

1

pound

ground chicken

2

cloves

garlic

minced

1

jalapeno or serrano pepper

diced (optional)

1

5 ounce can sliced water chestnuts

8

ounces

bean sprouts

2

green onions

chopped

1

tablespoon

soy sauce

2

tablespoons

teriyaki sauce

1

teaspoon

Chinese five spice powder

kosher salt to taste

8

Boston lettuce leaves

can substitute iceberg or Bibb lettuce

Optional garnishes: roasted sesame seeds

sriracha, chopped peanuts
Heat sesame oil in a large skillet. Add chicken and 1/2 of minced garlic, cook until chicken is no longer pink. Transfer to a colander to drain liquid. Return the cooked chicken to the pan.

To the pan add jalapeno (if using), water chestnuts, bean sprouts, green onions, soy sauce, teriyaki sauce and Chinese five spice. Continue cooking, stirring occasionally, until bean sprouts are softened, about 5-7 minutes. Season to taste with salt.

Gently rinse and pat dry lettuce leaves.

Spoon mixture into leaves just before serving. Or place chicken mixture in a bowl next to lettuce leaves and let people dish up for themselves. Serve with roasted sesame seeds, sriracha or chopped peanuts as garnishes.
By the way, I told my friend I was writing about her, and she said the chocolate chocolate cake with sugar filling and sugar frosting topped with sugar actually sounded good. I told you she was obsessed. Enjoy!
Keywords:
appetizer, asian, asian food, bean sprouts, bibb lettuce, boston lettuce, chicken, diet, Food, ground chicken, healthy, lettuce, low carb, PF Changs, Recipe, snack, water chestnuts